Have you ever wondered why there is a massive variation in rifle scopes' prices? Since cheap and expensive are subjective terms, let me use your rifle's price as the benchmark. You could have come across glasses that are pricier or cheaper than your rifle and wondered why some of them are very expensive.
Why Are Rifle Scopes So Expensive?

Some rifle scopes are so expensive because of their durability, repeatability, and quality. Generally, higher-end scopes have high-quality, defect-free glass, better focal planes, and eye boxes. Manufacturers often spend highly to design and produce these scopes, resulting in high prices.
Read on for insights into why expensive scopes are worth the money, why you should avoid buying cheap scopes, and what to consider when deciding how much to spend on one.
---
Are Expensive Scopes Worth It?
In my opinion, this isn't a simple yes/no answer. Riflescopes are worth it depending on your needs, such as how long you look through your scope and whether you enjoy doing that.
To reinforce my point, let's consider the answers to these questions:
Would you need a Top-notch scope to hunt deer at 100 yards?
What about if you're counting points at 300 yards?
Nonetheless, expensive rifle scopes are generally better than cheaper ones in the following ways:
Glass Clarity
High-priced scopes have glasses that are free of chromatic defects. They have uniform, high-edge clarity and impressive light transmission that creates good brightness. Therefore, a pricier scope is recommendable if you hunt during daybreak or nightfall.
Better Eye Box and Focal Plane
High-priced scopes often use first focal planes and have more forgiving eye boxes. This means more eye relief and less strain.
Repeatability
With a cheaper scope, a ¼ MOA click is more likely to change from one to the next. Conversely, you can move a high-end scope by 10 clicks in one direction and 10 clicks back without changing the point of impact.
Durability
Higher-end, premium scopes are more durable.
This YouTube video compares expensive and cheap scopes in greater detail:
---
Problem With Cheap Scopes
The price of a scope is an indicator of several aspects, such as its quality and durability. Although you may sometimes find cheaper scopes that are durable and of satisfactory quality, their price tags usually indicate how much effort the manufacturer put into production.
For example, it would be contradictory for a company to spend generously on research and development but offer lower prices.
What if the cheaper scope fails just when you're aiming at the target? This unexpected failure can be painful, especially if you're participating in a competition.
Let's look at some of the reasons you should not buy cheap scopes:
Low-quality Glass
Inferior quality glass is easy to spot. You can put your scope on full magnification and have a gander. An out of focus scope will not provide a clear image no matter the magnification.
Less Likely to Hold Zero
I cannot overemphasize the need to determine the ability of
the scope you're about to purchase to hold zero. Although most scopes will adjust effectively, you're more likely to encounter challenges with cheap scopes since they are poor at keeping you at zero.
Uncoated Glass
Lower end scopes often have single coatings on their glass surfaces. As a result, they are prone to fogging. Besides, their performances deteriorate drastically when these coatings get scratched.
Durability
How would you feel if a simple bump shattered your scope into pieces? The chances of having such an experience are higher when you use cheaper scopes.
Budget scopes lack rubber armor, are made of inferior quality materials and lack the solid scope tubes that more expensive ones have. Therefore, cut-rate scopes have weaker shockproof resistance.
Waterproofing
Besides shockproof resistance, you need to worry about environmental resistances, such as waterproofing and fogging resistance. Most high-end scopes have high-quality housings that are haze and fog-free. However, cheaper scopes tend to have leaky housings.
Light Transmission
Cheaper scopes usually have a low level of light, making them difficult to use when the light level is low, such as in the morning and evening. That some light is lost as it reflects off the objective lens can make them unusable during these periods.
Conversely, quality scope manufacturers often coat lenses with multi-coated compounds that discourage glare and encourage light transmission.
---
How Much To Spend on a Rifle Scope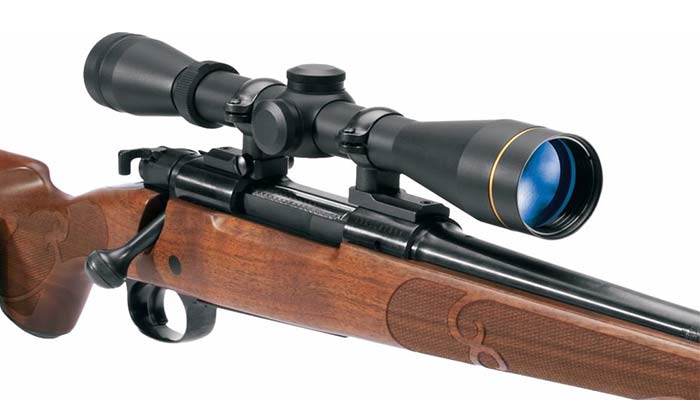 Several blogs have come up with different "rules of thumb" on how much one should spend on a scope. If you search this information on the web, you'll discover that the most common suggestions are:
You should spend at least half of the price you paid for the gun on the scope (the 2 to 1 ratio).
Buy as much rifle scope as you can afford.
Spend at least $250 on a scope.
However, I prefer to look at it differently – how much to spend should depend on your needs as a shooter. And make sure you get what you pay for.
Therefore, before deciding on a budget, I'd advise that you consider the following:
How Do You Intend To Use the Rifle?
The money you allocate for glass should be defined by your plans for the rifle.
For example, why would you buy a high-end scope if you use your rifle for hunting deer within a short range of 75 yards?
Conversely, suppose you participate in long-range F Class shooting or bench rest shooting. In that case, you'll definitely need a higher quality scope. Notably, you may discover that some types of scopes are best suitable for specific types of shooting. Therefore, you'll spend more on glass than in the deer-hunting case.
What Image Quality Do You Need?
That you want to buy a rifle scope indicates you have better aims at targets. However, you can only achieve this if the image is clear, meaning it has to be of high quality.
As I've highlighted before, cheap and expensive rifle scopes have different light transmissions; thus, they have different image qualities. Therefore, you need to ask yourself: "What level of quality do I need when shooting?" Before deciding on how much to spend on the glass.
As a rule of thumb, you should focus on the scopes' lenses' quality since it is directly related to image clarity. In most cases, you'll spend more on better lenses.
What Adjustment Capabilities Do I Need?
Depending on how you use your rifle, you should determine the types of adjustments you'll require to make to your scope.
You should be keen on the available options' adjustment capabilities to determine if they're worth the money. Good scopes have constant reference points, making it easy to take different shorts. Therefore, you are highly likely to spend more on them.
---
The Best Rifle Scopes
Now that I've not given you a definite answer on how much to spend on scopes, let me mention the best scopes on the market:
The Best Budget Scopes
The Best High-End Scopes
Zeiss Victory: Waterproof, fog proof, and has capped turrets and an illuminated reticle for optimal performance.
Steiner T5Xi: Comes with a one-piece 34mm (0.11ft) tube for greater windage adjustment and elevation.
Leupold Mark 5HD: Water and fog proof. It's ideal for hunting. There is an even more expensive version of this scope.
For more insights into what to consider when choosing a rifle scope, I recommend that you watch the following video:
---
Final Thoughts: Why Are Rifle Scopes So Expensive?
Why rifle scopes are expensive is a subjective question without a yes/no answer. Nonetheless, the key aspects that make some of them more costly to acquire than others include quality, durability, repeatability, and light transmission.
Generally, high-priced scopes have longer lifespans, fewer chromatic defects, and are waterproof. They're also fog proof and have constant reference points for easier aiming.
To avoid buying a scope that does not meet your needs, I advise that you consider the following questions:
How do you plan to use your rifle?
What image quality do you need?
More Related Articles: