Archers everywhere enjoy putting their own fletching on their arrows. While this can sometimes be difficult to do, having the right equipment, such as a fletching jig, can make the job a lot easier. How can you choose the right size though?
To choose the right size for fletching jigs, you first need to know the diameter of the arrows you'll be using, as not all fletching jigs fit every size. Then, you'll need to determine the type of fletching you'll be applying to your arrows. While most jigs fit most arrows, it's not guaranteed.
The rest of this article will discuss more in-depth on how to choose the right size for fletching jigs. Throughout this article, you'll also learn the following about fletching jigs and arrows:
The different arrow sizes and how they correlate to fletching jigs.
The different types of fletching and which work best for certain situations.
The difference between long and short fletchings.
Some recommended fletching jigs.
---
What Is a Fletching Jig?
If you're new to archery, you might not know what a fletching jig is or if it's even worth the money. While technically, you can apply fletching to your arrows without a fletching jig, using a jig will make things a lot easier.
A fletching jig is a device that holds an arrow in place to apply fletching. While it doesn't apply the fletching for you, it provides a stable and secure hold on the arrow, making the whole process so much easier. It also helps ensure the vanes are spaced correctly.
---
Determine the Diameter of Your Arrows
Not all arrows will fit every fletching jig. Arrows have varying diameter sizes, and while many fletching jigs are universal, some only work with specific arrow shaft sizes.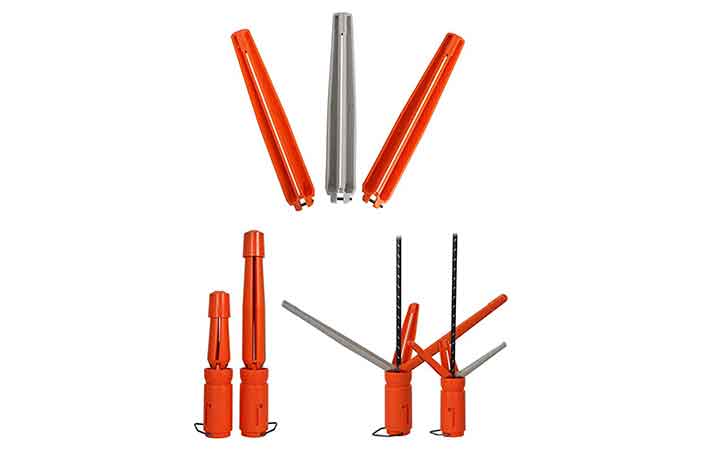 For example, this Easton EZ Fletch Jig from Amazon comes in two sizes: small and large. The small size fits any arrow shafts 20/64″ (51/163 cm) in diameter, and the large size is said to fit anything bigger than that.
If there are specific arrows you prefer, checking the diameter of the arrow shaft is essential, as the diameter of the arrow shafts typically varies depending on preference.
---
Determine Your Fletching Type
The different types of fletching are also essential to consider when choosing the right size for fletching jigs. Fletchings vary in size and spacing, so not every fletching jig will be a perfect fit for all fletchings.
While there are inserts you can add to your fletching jig to make a specific fletching work, knowing what you want to use on your arrows will make it easier. There are three main fletching types:
Helical
There are two different kinds of helical fletching: left and right. Which helical you buy depends significantly on what way you want your arrow to spin. For example, using a left helical will make the arrow rotate clockwise, while a right helical will turn counter-clockwise.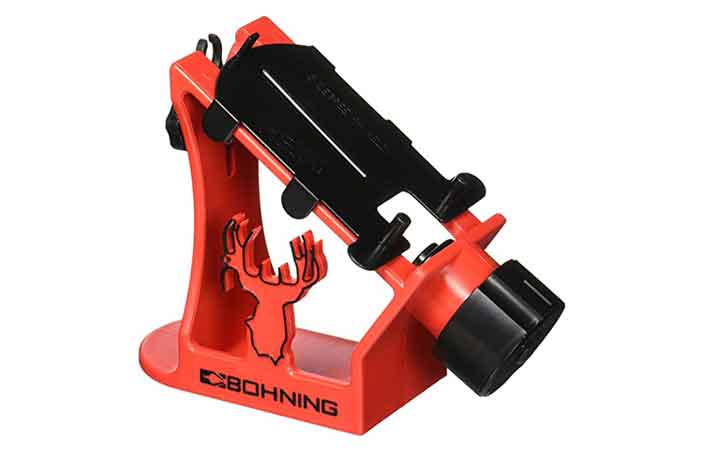 For most helical fletching, a specific fletching jig is needed. The Bohning Blazer Helix Fletching Jig on Amazon is an excellent option for any helical fletching fans, as it's easy to set up and operate and a great choice for any fletching beginners.
Straight
The straight fletchings are a great option for those who don't want any spin to their arrows, as they sit straight on the arrow rather than at a curve. This makes for a straight shot when using the arrows.
Most fletching jigs will work with straight fletching; however, always check the shaft diameter.
Offset
Offset fletching is similar to helical, except instead of the fletching having a curve, they sit straight on the arrow, but a slight offset. Applying offset fletching gives you more room to work with when it comes to arrow rotation, which means that you can choose how curved you'd like the arrow to be.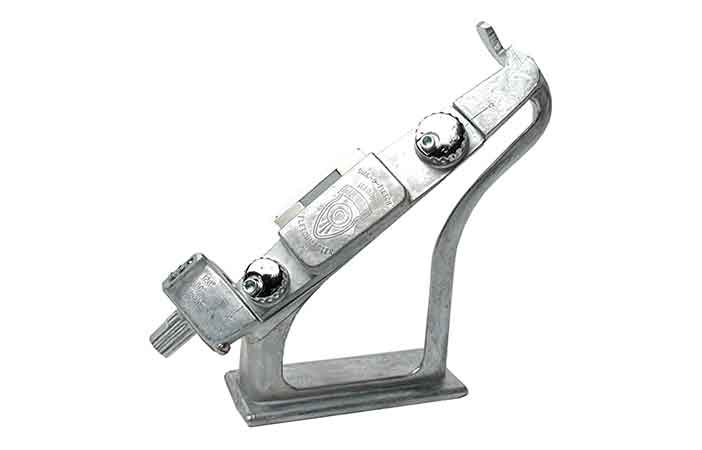 Several jigs work for offset fletchings, such as the Bitzenburger Machine and Tool Jig from Amazon. This jig works for straight, right, and left offset fletching and is best used for target shooters.
Which Fletching Works Best?
While the type of fletching you use typically comes down to preference, how you use the arrows is also an essential thing to consider. For example, if you're shooting indoors, you won't have to deal with wind. Therefore, straight fletching should work just fine.
However, if you're shooting outdoors at a long distance, helical fletching would be better, as these fletchings work to stabilize the arrow in flight.
---
Determine Your Fletching Length
Fletching comes in different types, but it can also be of different lengths. There are smaller, low-profile fletchings as well as longer and high-profile ones.
Like choosing a fletching type, the size you use depends on your purpose for shooting.
Shooting at long distances requires shorter fletching, while short distances are great for longer fletchings. In addition, the wind plays a significant factor in fletching sizes. Large fletchings might get caught on the wind and drag, so longer distances do better than shorter fletchings.
However, if you're shooting indoors, the size of your fletching will mostly come down to preference.
As fletching jigs come in different sizes and are made specifically for certain arrows or fletching, you'll want to choose a jig that fits your preferred size fletching.
---
What Are the Best Fletching Jigs?
There are many fletching jigs available, and choosing the right size for a fletching jig can seem like a chore. If you typically shoot the same type of fletching in the same environment, it might be a bit easier.
However, if you like to change it up, finding a jig that works for you can be more difficult. Below, I'll list a couple of highly-rated fletching jigs from Amazon: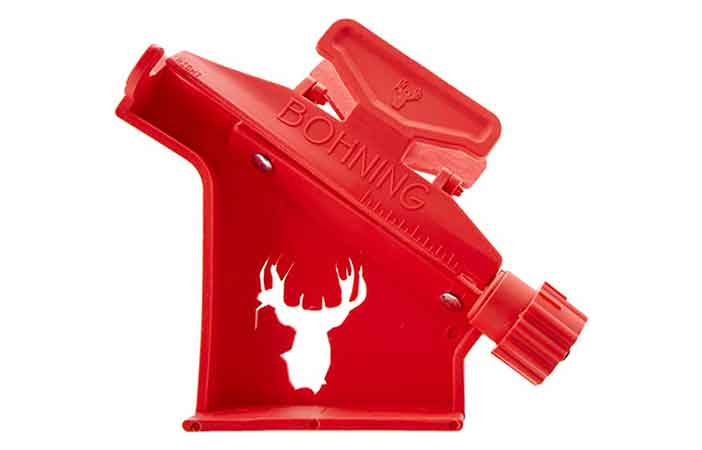 This fletching jig is fairly priced and fits all arrow shaft sizes, so you don't need to worry about the diameter of your arrows. It comes with a right-wing clamp but can also be bought with left clamps or straight clamps, and is compatible with fletchings up to 6″ (15 cm) in length.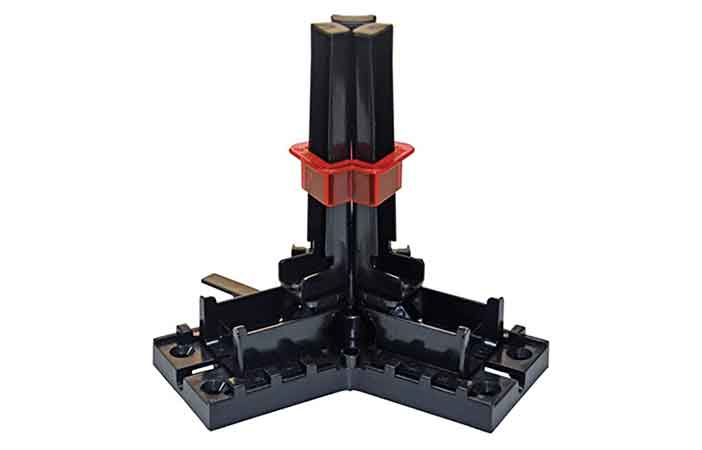 This fletching jig is an excellent option if you want to fletch multiple vanes at once. In this case, you can fletch up to three vanes at a time. In addition, the jig itself is easy to set up and operate, making it a favorite for those who are new to fletching their own arrows.
The only downside to this jig is that it only works with arrow shafts with push-in nocks.
---
Final Thoughts: How Do You Choose the Right Size for Fletching Jigs?
Trying to choose the right size for fletching jigs can be confusing if you're new to fletching. However, paying attention to the size of the arrows and arrow shafts that you use, the type of fletching, and the fletching size you prefer will ensure that you choose the size for your fletching jig.