Tired of your same old empty backyard, a leafy woodland with no four-legged antlered friends? Or are you exhausted from waiting forever for them to come to your cone of vision? Whether you are a wildlife dweller that enjoys watching animals enjoy in your fields or a hunter that scares away animals every time by making noise after waiting for an entire day, the best deer feeder will help you keep deer in your range and hunt them.
Ranging from a simple hanging one to a complex, automated one, deer feeders can be very helpful for you and the deer as it improves their health and increase the deer population in your area.
It is essential to choose the best deer feeder in terms of durability, cost, and purpose of how you want to interact with the animals. Here are the best 7 deer feeders that check all these boxes.
---
Quick Comparison: Top 7 Deer Feeders of 2023
| | | |
| --- | --- | --- |
| | Wildgame Innovations Quick Set 225Tri-Pod Deer Feeder has a durable poly barrel and a galvanized steel spinner plate with the quickest time of 15 minutes to set up the feeder. Carry up to 225 pounds of feed with no harm from the wind. | Read Our Review |
| | Moultrie Pro Magnum Tripod Deer Feeder has a body of shielded metal to avoid rust and spinner plates that provide an even flow of feed. An additional option is a second battery with an impressive steel collar lid for varmint. | Read Our Review |
| | With a quick-lock structure that is easy to use and pocket-friendly makes Moultrie 30 Gallon Spin Cast Deer Feeder one remarkable feeder. Easy to assemble, supports solar sources, and fitted estimator that shows the feed level. | Read Our Review |
| | With no battery or any hard parts to assemble, Buckeye Gravity Feeder has a UV-resistant polyethylene material with 3 feeding stations and a detachable lid that is easy to feed the deer. | Read Our Review |
| | Redneck Outdoors T-Post Gravity Feeder has a 4x5" feed mouth with a green concave body that can be easily secured on the tree or a post. Made with a material that is for all-weather type and requires no other surveillance. | Read Our Review |
| | With a bracket and ratchet belt, the On-TimeMoultrie Hanging feeder can be attached to a tree with an unconventional 30-degree spin-cast feeder creating a narrow trail. Can be used for deer and fish. | Read Our Review |
| | Stand and Fill Wildlife & Deer Feeder is a perfect choice for hunters due to its durability and functionality. Packed with mechanical parts included a powerful motor secured in the powdered coated surface and long metal legs with 9 feed times per day. | Read Our Review |
---
7 Best Deer Feeder Reviews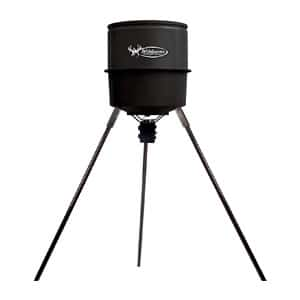 The first deer feeder that tops the list being the best deer feeder is a tripod deer feeder manufactured by Wildgame innovations.
With a straightforward construction manual, this deer feeder is simply an impressive innovation, as it allows you to occupy your time in understanding the local deer patterns instead of getting erratic with complex and lengthy manuals.
Its minimal design structured weighing 37 pounds, with a durable poly barrel and a tripod incorporated with a galvanized steel spinner plate, is ideal for attracting the targeted species making it a perfect result for one's money.
Accurate to its name, Quick-Set 225 deer feeder has a quick setup time of just 15 minutes in which you can have a completely functioning deer feeder. Its design structure is strategically developed with durable coated legs and a strong weather resistance frame to overcome any problem.
Quick Set 225 hands you all the power according to your preference as it comes with a comprehensible timer with four feed times along with a fixed funnel that disperses feed precisely. Moreover, to keep your hungry friends happy, it can carry up to 225 pounds of feed including, protein pellets and corns.
Pros:
Affordable compared to other brands
Easy to put together
The timer works nicely
Cons:
Some users experienced product quality issues
You can't adjust the distance between the hole and the spinner
---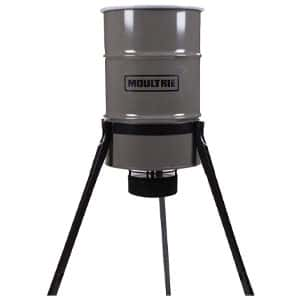 Moultrie 30-Gallon Pro Magnum Tripod Feeder is one of the best deer feeders in the market with an extensive list of features that ensures customers of its durability, resilience, and lifetime guarantee, forming a continued assurance between you and the feeder.
Moultrie Pro Magnum has manufactured a series of feeders, known for their indestructible structures and durable qualities that makes them top the feeder charts. It is constructed with galvanized and shielded metal to prevent rust inside the frame.
This tripod also includes long metal legs with locking lugs and systematically designed spinner plates that allow a smooth flow of feed by obstructing the wind. Its particular all-metal structure is designed to keep away the obstinate varmint and pests at all times. On top of that, it also contains a steel collar lid and a varmint guard to protect the feed thoroughly.
The 30 gallons Pro Magnum can carry 200-pound feed supported by its completely metal body and comes with an adjustable timer with up to 6 feeding times daily with an adaptable duration button of 1-20 seconds. It also has an option for a second battery to increase field time. Moreover, it features a fitted feed level and battery indicator with external solar panel connectors.
Pros:
Works great with a solar charger
Well worth the money
The remote control works nicely
Cons:
Some customers complained about customer service's availability
Some customers experienced control panel issues
---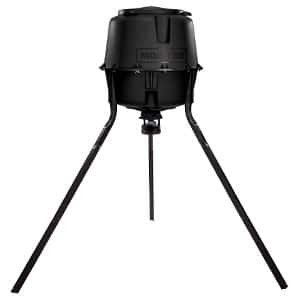 If economical and proficient is used together for any deer feeder, it is undoubtedly used for Moultrie 30 Gallon standard deep feeder. With a reasonable cost, this spin-cast deer feeder works efficiently like all other feeders.
It comprises Moultrie's effortless yet accessible Quick-Lock structure, which is one of its kind, allowing you to assemble all its parts in no time. With 5.5 feet fill height, it has galvanized metal spin plates incorporated with long metal legs that protect the body and counter the wind attacks without affecting the execution.
With this cost, it is easy to think about the requirement of tools to compile the whole feeder together, but this Quick-Lock standard feeder only needs a pair of hands and a few minutes. Just a little push and twist and, it's ready to go in the field for your young antlered friends.
It also features a digitally programmable timer that gives the user complete control of when and how much feed it should diffuse. It can be adjusted up to 1-20 seconds four times a day.
Moultrie 30 Gallon Spin Cast Deer Feeder also supports solar power sources with an external power port and contains Feed Level Estimator that prevents you from going crazy thinking about when to full the hopper again.
Pros:
PVC sleeves around the legs prevent squirrels and raccoons
Comes with decent instructions
Easy and quick to assemble
Cons:
The spinner does not work fast enough
Some customers complained that scheduled distributions did not work
---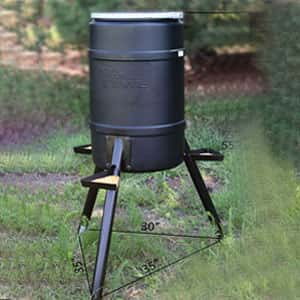 What if you can keep your antlered and whitetail friends in your backyard with a feeder that requires no tools to be assembled, not even your hands. Buckeye Gravity feeder 71540, manufactured by On-Time, makes you step out of your imagination as it is what you want.
Structured with protected metal, Buckeye Gravity Feeder comes with an unmoving body with no batteries to displace.
The hopper of gravity feeder weighs about 27.5 pounds fabricated with a durable polyethylene material with UV resistance abilities with steel legs for solidity on the ground preventing any disturbance.
Buckeye feeder holds a design with three feeding stations, unlike any other feeder that provides enough feeding room for animals for easy consumption. With just 1.5' height of the ground, this feeder is ideal for a variety of animals.
Its internal core that comes with a no wastage job guarantees zero seeds are abandoned, along with a removable lid that makes filling and cleaning relaxing. These little things make Buckeye Gravity 71540 feeder incredible that ensure easy, effortless feeding.
Pros:
The funnel works flawlessly
Great value for the money
Cons:
It doesn't keep any feed dry as advertised
Hard to put together
---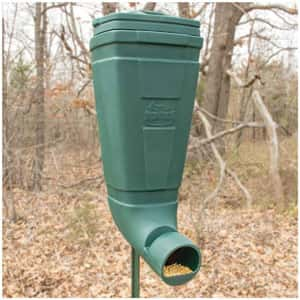 As a user, an ideal feeder will be easy to set up and easy to fill. Similarly, for your long leg friends, the best feeders are those that are easy to reach and easy to eat from.
Outdoor T-Post Gravity Feeder is a creation from Redneck that ensures all four of these qualities with one extra one, a grassy green color.
It is built with a durable polyethylene material with a concave back, a tilt at the neck just the height of the animals, and a mouth of 4×5" that is reachable for deer.
Polyethylene feeder body makes it all-weather friendly and requires no extra attention as it does not contain any machine-driven parts.
Gravity Feeder requires the least amount of effort to set up. Fix it on the tree or secure it to the fencing t-post as it comes with easy-to-use mounting bolts. Moreover, with a transferable cover, filling the feeder becomes the easiest part. With its easily manageable qualities, it's a complete package for you and animals that will surely enjoy having a little snack in it.
Pros:
It can hold a full 50 lbs bag of corn without any issues
Very entertaining to watch
Very sturdy
Cons:
We couldn't find any with this one
---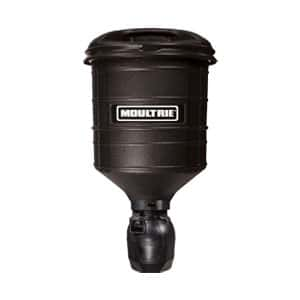 If you need a little more perspective and direction to manage the feeding plans, you require the Directional Hanging Feeder manufactured by Moultrie. This 29×17 inches feeder will maximize the feeding distance that will eventually interest more deer.
Constructed a little differently from the traditional feeder with 360-degree spin feeders, Directional Hanging Feeder is engineered with a new design with a 15-gallon hanging mount that emits feed in a slimmer 30-degree pathway.
Moultrie is the best deer feeder when it comes to assembly. In a neutral black color, Moultrie Hanging Feeder can easily be placed on a tree with its included bracket and ratchet strap that requires no more than a minute to fix. Its 30-degree spin-cast feeders prevent the wastage of feed and guide animals into the open.
With the capacity to hold up to 100lb of feed, it also contains a digitally programmed timer with six feed times daily. Along with deer and raccoons, this hanging feeder can also be utilized for feeding the fish. With no extra mechanical parts, it is easy to fill and clean.
Pros:
Has at least a 12A-hr rating capacity
Easy to attach to trees or poles with the provided straps
Motor slings food very well
Cons:
The brand should be more specific about the types of battery (Energizer battery -6v and 5 amp)
Some customers complained the motor didn't handle the weight of being full
---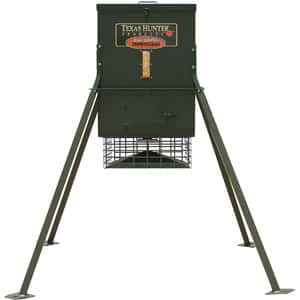 Hunters are required to have fully functional feeders along with an eye on the movement of animals.
Stand and Fill Wildlife and Deer Feeder is one of those feeders that is a must-have for hunters as it is engineered by the company known for its durability and affordable services called Texas Hunter.
One of the most prominent is the TF300L4 Stand and Fill legs that provide strength and resilience. Stand and Fill is a 4-foot of incredible beauty with a galvanized steel hopper and funnel, powdered coated with a raw green that avoids corrosion and provides camouflage from nature's most dangerous with metal legs that come with stabilizing stakes to prevent any intrusion of wind.
From the top to its bottom, this feeder is mechanically manufactured with high technology to provide every little important detail to make feeding easier. It contains spinner plates made up of stainless steel with a steel gate to stop it from turning.
The working apparatus is the 12 volts motor that controls the whole feeder, enclosed in the feeder by locked doors for the safety of the timer and the motor. Although it has a complex interior, the feed input process is just a simple three-button process that feeds 9 times per day.
Other minimal features include an integral sight gauge that lets you keep an eye on the feed from a distance and foot paddings for the legs for more secure stability. Furthermore, a varmint guard is also included to remove waste.
Pros:
Easy to hook up solar panel
Easy to program
Cons:
Not water-proof
Some customers wished it had a hinge for the lid
---
Conclusion: The Best Deer Feeder
With the availability of a great range of deer feeders in the market, it is necessary to choose the one that is secure and pleasant for you and the animals. When it comes to the quest for the best deer feeder, the answer is not an easy one. Thankfully, we have covered only the top deer feeders the market currently offers.
We are confident that Wildgame Innovations Quick Set 225Tri-Pod Deer Feeder is a game-changer when it comes to durability with its durable coated legs and strong weather resistance frame. Other alternatives also offer exceptional features, as well. Make sure you examine all the leading feeders we have covered above before making your final decision.