If you love hunting or wildlife watching, you'll need to have a pair of night vision binoculars in your arsenal. At nighttime, everything is different, and you might have the chance to spot a rare species or bring home a more desirable prey. But once you find the right pair of night vision binoculars, how far can you see?
Night vision binoculars can see as far as 400-800ft (121.92-243.84m), but some powerful devices can see as far as 1300ft (396.24m). This viewing range can be shortened by certain visibility conditions such as rain, fog, or small prey, while the recognition range is shorter than the detection range.
With the right pair of night vision devices, you can see as far as you need to identify your prey and enjoy your hunting outing. Find out how all you need to know to buy the best night vision binoculars for your needs.
---
How Far Night Vision Binoculars Can See
It can be challenging to know precisely how far a pair of night vision binoculars will see because it can depend on many aspects, including the viewing range of your device, which can be more or less powerful than another.
Generally, digital night vision devices will see as far as 400-800ft (121.92-243.84m), while more powerful devices have an impressive range of over 1300ft (396.24m).
However, these distances reflect the viewing range in ideal visibility conditions. Some factors, including visibility, weather conditions, and the size of your prey, can affect these ranges of your optics.
To understand this, you'll need to understand how night vision binoculars work. In layman's terms, night vision devices work by amplifying the available light (Starlight Technology) in your viewing range.
Certain low-light conditions might appear as pitch dark to the human eye, but even in the darkest conditions, some light is still present, which belongs to the marginal portion of the infrared light spectrum.
This light is invisible to our eyes but can be amplified by the mirrors inside the binoculars, which will make it possible for you to see the objects in your viewing range.
You can learn more about how night vision binoculars work in the video below:
---
Detection Range vs. Recognition Range
It's important not to confuse the detection range of your binoculars with the recognition range. The detection range is the one that allows you to detect an object at a distance, which is usually much greater than the recognition range.
For example, you can notice a human profile standing 300m (984.25ft) away, but you won't be able to recognize its features until you get much closer to the figure.
The recognition range is the range at which you can recognize these features, which is usually much shorter than the detection range.
In any case, you should always look for a pair of binoculars that guarantee the highest image quality. Clear images with high binocular ratings can help you identify an elusive prey or enjoy your night wildlife watching outing.
Independently from the detection range, binoculars with the highest image quality are those that offer high-resolution imaging.
---
What Affects Visibility and Range?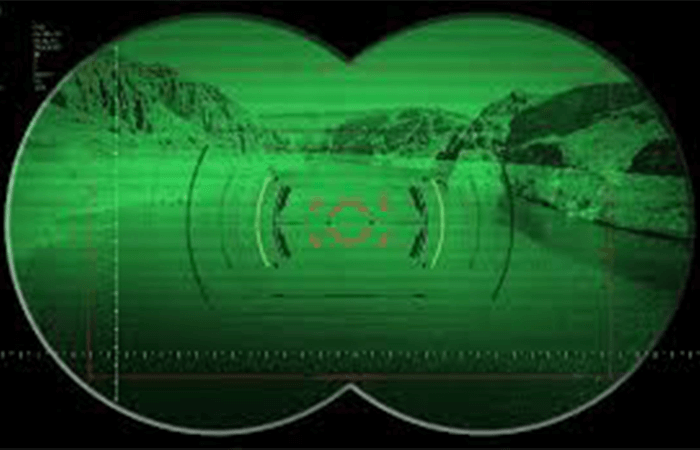 The visibility and range of your binoculars will vary depending on your objective lens, infrared illuminator, environment, and conditions. For example, on a night without moonlight or in poor weather conditions, your viewing range will be limited.
As a general rule, the brighter the environment is, the greater your visibility range will be. However, the quality of your device will impact it. Some of the factors affecting your visibility range include:
What You'll Use Them for
Depending on how and where you'll use the binoculars, you should look for different features. If you are only hunting at a short range, you don't need your binoculars to see as far as 400m (1,312.34ft), but you might prefer greater light-gathering capabilities.
Image Quality and Resolution
Your binoculars might have an excellent visibility range, but if the field of view doesn't support it, the detection range can be much shorter.
Weather and Visibility
In foggy, dark, or rainy conditions, you won't see as far as the maximum visibility range. If your usual hunting site has poor visibility conditions, you might opt for more excellent image quality and magnification instead.
Related reading: Does Night Vision Work in Total Darkness
---
Night Vision Goggles vs. Night Vision Binoculars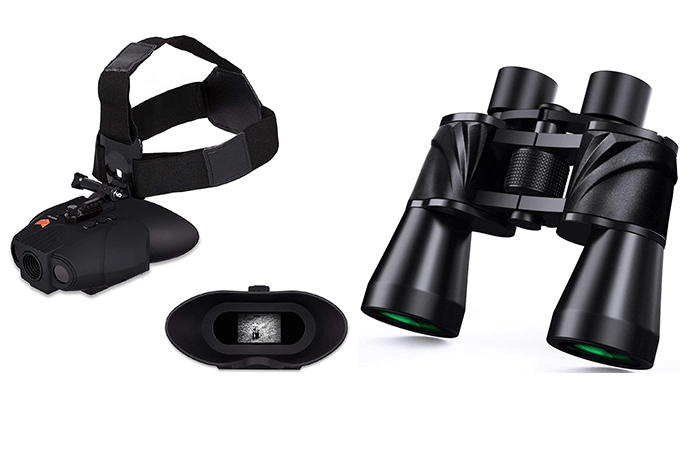 Night vision goggles are different from night vision binoculars, as they generally use light enhancement techniques or thermal imaging to make the most of the visible light present in the atmosphere.
Digital NVGs will use an infrared ray that will bounce off objects and allow you to detect them and can be extremely powerful but more expensive than binoculars.
An essential difference between the two is that goggles usually have only a 1x magnification power. At the same time, NVs can offer higher image quality, better magnification, and a narrower field of view.
Here are some of the best night vision goggles and binoculars you can buy online:
Related reading: Night Vision vs. Thermal Scope
---
Final Thoughts: How Far Can Night Vision Binoculars See?
There's a wide range of night vision binoculars on the market to choose from. An extensive viewing range is essential if you want to watch wildlife after dusk.
Most night vision binoculars will grant you an impression detection range of 200 to 400ft (60.96 to 121.92m), while other higher-quality models can see as far as 1300ft (396.24m)!
Keep in mind that the detection range is usually much greater than the recognition range, and the viewing range of night vision devices can be affected by weather and visibility conditions. Some binoculars also offer good magnifying power.
Related Articles: