Binoculars are smart and highly versatile pieces of equipment with various functions. Hunting binoculars are great for spotting game, but they can also be your best friends in other exciting outdoor adventures such as stargazing. Whatever your favorite outdoor activities are, you won't regret having a high-quality binocular in your arsenal!
You can use hunting binoculars for stargazing; they're an excellent entry-level alternative and easy to use. You'll need binoculars with a minimum of 7x magnification and 35mm (1.38 in) in aperture. With the right binoculars, you'll see several planets, clusters, and nebulae in the deep sky.
If you already have a good pair of hunting binoculars, you already have the perfect device to start exploring the sky tonight! Keep reading to learn about the best binoculars for stargazing and what to expect from them!
---
Benefits of Using Binoculars for Stargazing
Binoculars can be expensive pieces of optics, but all hunters and outdoors adventurers will need to have one of them in their arsenal.
After all, they are essential to stalking your prey and securing a target! At the same time, your binoculars might have many more applications than you would expect!
For example, you can use them for stargazing. They are a great entry-level alternative to high-end telescopes.
And even amateur astrologists who have been looking at the sky for years know that a pair of binoculars can help them quickly look at the sky without setting up a bulky telescope.
In the video below, you can learn the basics of setting up your binoculars for a stargazing session:
Alternatively, read on for more benefits and tips!
---
You Learn Your Way Around
When approaching something so extensive and fascinating as the night sky, it might take you years to find your way around!
Using a telescope to look at the different astronomical objects is undoubtedly a great way to explore them. But when you're still a beginner, a pair of binoculars can help you find your way around using both of your eyes.
Gazing at the sky and identifying a particular object is a skill that can take months to master. And, practicing it with a binocular means that you'll know exactly where to look once you upgrade to a powerful telescope.
They Are an Excellent Entry-Level Alternative
When taking up an interest in astronomy, you should always do so in stages. There is so much to know that you can easily get discouraged without first mastering the basics.
Ideally, there are three stages to consider:
Start by exploring the night sky with the naked eye. This will give you an overview of where the constellations and planets are in the sky.
Use binoculars to explore the brighter deep-sky objects.
Invest in a high-quality telescope to deepen your knowledge.
And, if you're taking these steps to explore the galaxy further, you can see how a pair of high-quality binoculars can be convenient!
The range of a binocular is a factor to consider. Regular night vision binoculars usually have a viewing range of about 400 to 800 feet. But with high powered astronomical binoculars, you can look at different planets, star constellation clearly from earth.
Related reading: How Far Can Night Vision Binoculars See
They Are Suitable for a Quick Look
Telescopes are definitely the most potent tools for amateur astrologists. However, setting up one can take time, and the settings will need to be adjusted depending on what you wish to see!
Even if you're skilled at working with a telescope, you'll find that it takes time to get it ready.
However, if something has caught your attention and you don't want to miss out on a beautiful night sky, binoculars are a ready-to-use solution.
---
Tips for Picking the Right Binoculars for Stargazing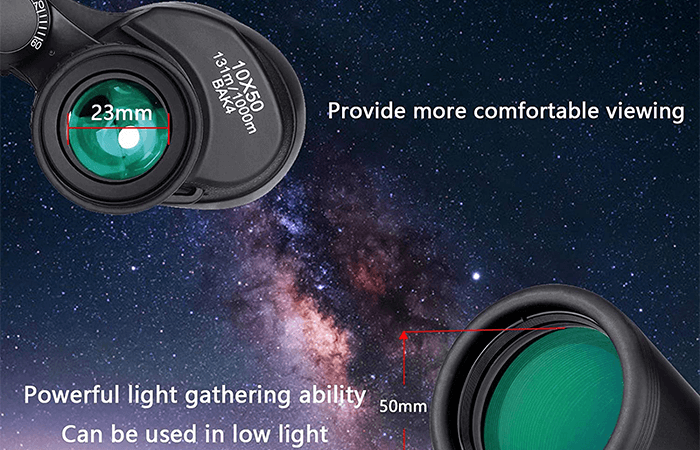 While binoculars are an excellent option for stargazing, not all binoculars are right for the job.
Firstly, it is essential to understand your binocular rating, magnification power, and objective lens aperture diameter by looking at the numbers on it.
You're likely to find something like "10X50". The number before the x represents the magnification power, while the one after is the aperture.
The larger the aperture, the greater the light-gathering capabilities of your binocular. And, as you can imagine, this is important when looking at the night sky!
For stargazing, you'll need a binocular that has:
At least a magnification power of 7x
An aperture greater than 35mm (1.38 inches)
The greater the aperture, the clear the picture will be so that you can look at objects at a distance in higher definition. However, binoculars with over 70mm in aperture might require a tripod.
Here are some of the best binoculars for stargazing you can buy online:
---
What To Expect From Stargazing With Binoculars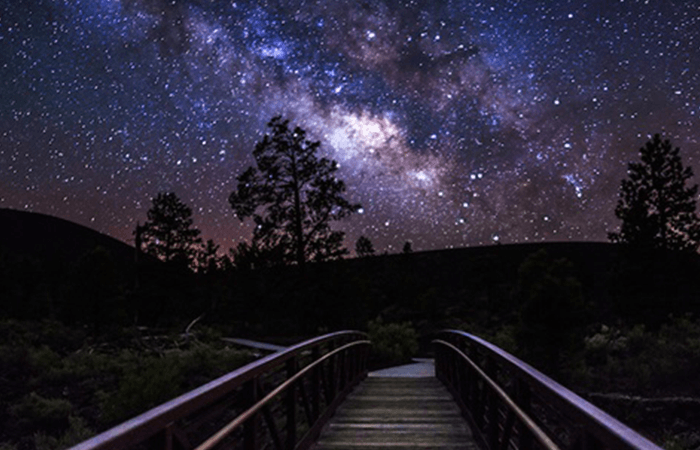 Binoculars might represent an entry-level device for stargazing, but they still offer you a great view of the milky way or star clusters. Once you have mastered how to use them properly, you'll be able to enjoy clear views of:
The Moon
Planets such as Mercury, Venus, Mars, and Jupiter
Saturn's rings
Clusters galaxies, and nebulae
Satellites
Some brighter asteroids
---
Final Thoughts: Can You Use Hunting Binoculars for Stargazing?
If you have a pair of high-quality hunting binoculars in your arsenal, you can use them for stargazing.
Using binoculars to explore the sky allows you to learn your way around the sky, star cluster, milky way with two eyes, making it easier to use a telescope when you're ready to invest in one.
You can also use binoculars as a quick way to gaze at the stars without having to set up a bulky telescope.
With the right higher magnification power and light-gathering capabilities, you'll pinpoint Mars, Venus, the Moon, and other astronomical objects, including clusters, nebulae, and galaxies.
Related Articles: