A high-quality pair of binoculars is any outdoorsmen's best friend. Whether you are into birdwatching, hunting, stargazing, or hiking, binoculars are a must-have in your arsenal. However, when spending hours in the wild, you might need to hold your binoculars for hours at a time, which is why their weight becomes an essential factor to consider.
Binoculars vary in weight, depending on magnification power, housing, and build. Some compact binoculars can weigh less than 1lb (0.45kg), but models with an extended range such as 10×56 weigh as much as 3lbs (1.3kg). Binoculars that weigh more than 1kg can be uncomfortable if handheld.
Depending on how you will be using it, you could opt for a more powerful but heavier model or a lightweight, easy-to-carry binocular. Here's all you need to know about the weight of your binocular.
---
How Much Do Binoculars Weigh
Binoculars can vary in size and weight. If you want a small, compact binocular that can quickly come with you on your next birdwatching trip, you won't need to carry more than 1lb (0.45kg) in your backpack.
However, if you are serious about hunting, hiking, or wildlife watching, you might opt for larger, more powerful binoculars. Some of the ones with high binocular rating, and bigger objective lens. Such as 10×56, can weigh as much as 3lbs (1.5kg).
At the same time, if you have a more significant budget to spend, you can invest in the Zeiss or Swarovski models, which don't ask you to compromise between weight and magnification. Thanks to their higher quality components and materials, these binoculars are both powerful and lightweight.
Weight is also essential if you want to hold your binoculars or use a harness. Most outdoors people agree that binoculars are comfortably handheld as long as they weigh less than 1kg (2.2lb).
---
Weight and Magnification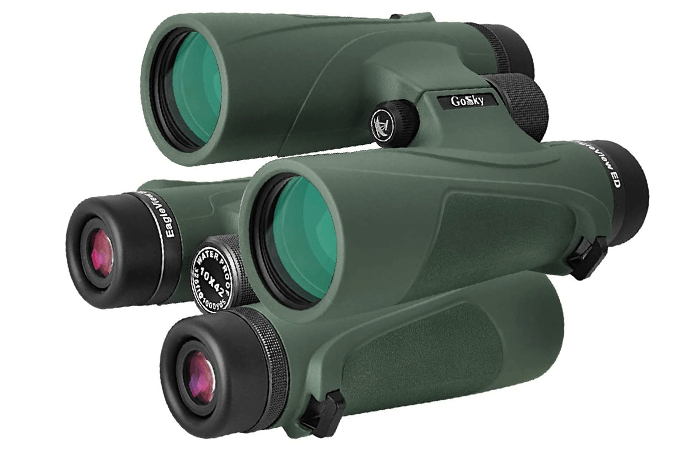 The weight of your binoculars depends on the material they are made of and their magnification power. One of the most common mistakes beginners make is to always opt for the highest magnification power, but this can have considerable downsides.
The magnification power will make your binoculars much heavier and more difficult to enjoy your hunting or birdwatching trip. When the magnification is high, the image you will see will be shakier unless your grip is extremely stable or you invest in a tripod.
Most birdwatching experts agree that a magnification power of 8x is suitable for most outings and will allow you to enjoy a lightweight binocular.
Related reading: What Do Different Numbers Mean in a Rifle Scope?
---
How Important Is Weight for Binoculars?
The weight of binoculars is not an essential aspect for everyone. For some, especially those who need a lightweight model that can be handheld for hours, the weight and make are crucial factors.
For example, bird watchers or hunters will need something comfortable to carry around and hold for more extended time frames. At the same time, these binoculars need to offer a large field of view and magnification.
In the video below, you can find all the factors to consider when buying binoculars:
---
Balance and Weight Distribution
The net weight of your binoculars is a vital factor to consider in the buying process, but the binoculars' weight distribution can be even more critical.
Some binoculars with a low net weight might be poorly designed and heavier at the front, making them much less comfortable carrying and holding. But heavier binoculars might be designed with a better balance of materials and components, making them more comfortable to hold steadily.
Naturally, the quality of objective lens, materials, and designs can also impact your experience, for example, as magnesium bodies are known to be rugged but lightweight. Alternatively, you can opt for aluminum alloy or aluminum casing.
---
Are Lightweight Binoculars Better?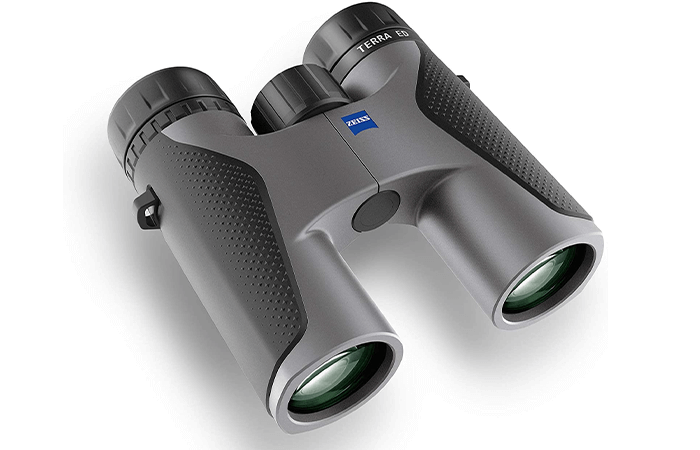 The weight of a binocular is not necessarily an indicator of its quality, as a binocular can be heavier because it boasts a higher magnification power or higher-quality materials.
However, it is essential to distinguish between older and newer models. If you have ever seen Porro prism binoculars, you know that heavy, bulky binoculars are not always the most powerful ones.
The latest development in optics has given Roof prism binoculars, which are smaller, lighter, and can suit most uses. These binoculars generally weigh under 1lb (0.45kg) and don't require you to compromise with quality or magnification power. 
But, roof prism binoculars are more pricey than porro prism binoculars with comparable magnification and objective lens diameter specs.
---
Final Thoughts: How Much Do Binoculars Weigh?
Binoculars vary in weight. While some models don't weigh more than 0.5kg (1lb), some can be as heavy as 1.5kg (3.3lb). It all depends on the model, make, housing, and magnification power.
Some binoculars are designed to be handheld for short timeframes, so you might need to compromise with their magnification power or quality.
In any case, high magnification power is not always suitable for your needs. For example, you might still prefer lighter, more versatile binoculars that can be easily handheld for birdwatching or hunting.
Related Articles: