Thermal scopes and night vision have been around for almost a century. They're used for military operations, camera recording systems, photography, hunting, and more. If you're having a tough time differentiating these unique types of imaging or want to know which is best for you, you've come to the right place.
When it comes to a thermal scope vs. night vision, thermal offers optimal viewing without a need for a light source, but night vision makes the target much easier to see. You can use thermal vision to track body heat, removing the effectiveness of camouflage. Night vision is typically much clearer.
Throughout this article, we'll also cover the following information about thermal scopes vs. night vision:
The history and purpose of both imaging types
Downsides and upsides of using thermal scopes or night vision
What you should know before trying either device
---
Night Vision vs. Thermal Scope: Usage and History
Thermal scopes and night vision are useful for all sorts of applications. You can use them for hunting, but some prefer using a thermal scope as a monocular for hiking and other outdoor activities. Both types of imaging have been used for close to 100 years, including countless upgrades to improve its viewing capabilities.
Thermal imaging and night vision were both created during war times, making them immediately useful for troops and lookouts. However, their abilities go far beyond the battlefield. These days, top-notch variants are available to civilians and military members worldwide.
Let's dive into the historical significance and usefulness of thermal scopes and night vision below.
Night Vision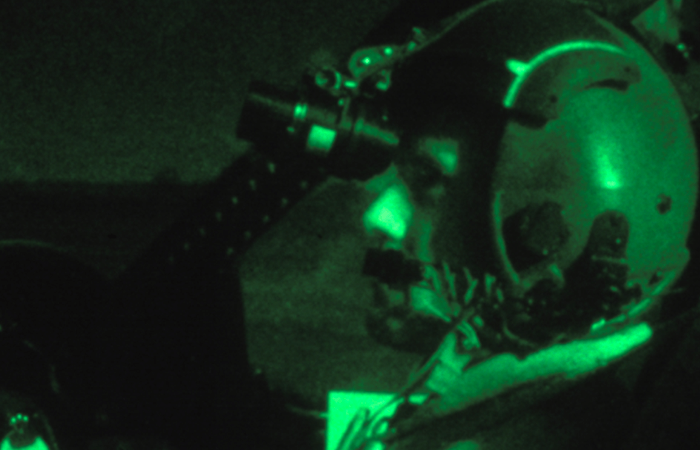 Night vision was invented right around the same time as thermal imaging. AGM Global Vision claims night vision was heavily used through World War II. This invention provided a significant advantage over thermal imaging because it reduced blurriness and excess brightness.
Furthermore, night vision came with several generations of improvement. There are currently three night vision generations. Gen 1 offers the basic advantages of seeing targets at night, but it doesn't last too long or produce a clear picture.
Gen 2 quickly became a military favorite, overshadowing the 1st generation with thousands of usage hours, clarity, and distance. Gen 3 is the best on the market, doubling almost every Gen 2 statistic.
Related reading: Gen 2 vs Gen 3 Night Vision
Thermal Scope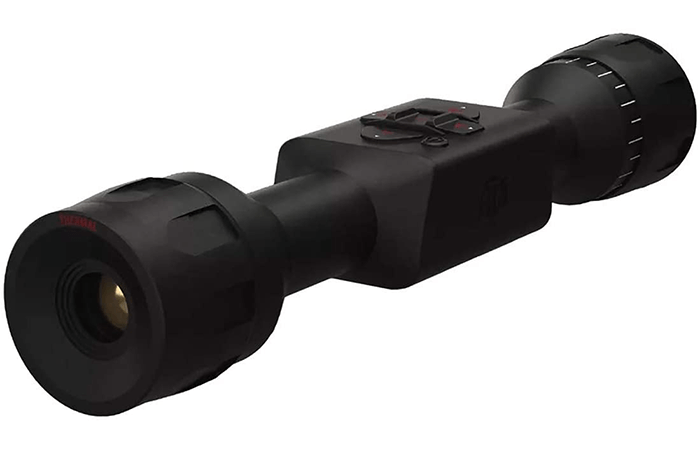 The first thermal scope was made in the 1920s, but people have used red lighting to target body heat and similar research effects since the 1800s. Thermal scopes have the unique advantage of working around camouflage by highlighting warmth. As long as the target produces heat, it'll be seen.
Thermal scopes can see through fog, too. If you're trying to see an animal or another target through dense fog, forestry, camo, or other obstacles, thermal scopes get the job done. However, history has proven thermal scopes aren't the best for clarity since they're often excessively bright around warm targets.
---
Night Vision vs. Thermal Scope: What You Should Expect
If you're ready to try a thermal scope or night vision, you should know why they're far from the same. There are dozens of dissimilarities, even though they both clarify an image when it's difficult to see. They're both excellent at revealing your target, but using the wrong sight for a specific situation can make it useless.
Thermal scopes are a top-of-the-line choice for many people, but they're not as popular as night vision goggles and cameras. Most people don't need the high-tech ability to see heat signatures unless they're hunting or in combat.
So, what should you expect when you're choosing between a thermal scope or night vision?
Night Vision
Night vision doesn't work through camouflage, but it provides a much clearer picture with limited distortion. If you get Gen 2 or 3 night vision scopes, goggles, and binoculars, you'll have access to thousands of hours of usage, crystal-clear images, and reduced brightness.
The primary downside of night vision is the fact that bright lights can cause adverse effects, such as blurriness.
If you want a high-quality set of night vision equipment, you could try the JStoon Night Vision Goggles. They offer a video camera for recording, a wide lens for easy viewing, and a 32GB memory card. You can see everything over 900 feet away, regardless of the time of day.
Thermal Scope
When using a thermal scope, you'll be able to see body heat, lights, vehicles, and anything else that emits heat. As you've read earlier in this article, thermal scopes provide the unparalleled advantage of seeing targets through camo.
It's a tactical upgrade compared to traditional scopes, making it excellent for those who hunt or are in the military or police force.
The ATN Thor 4 is a great example of a high-end thermal scope. It comes with multiple zooming options, over ten sizes to choose from, WiFi connectivity, HD video recording technology, and more. You can use it as a monocular or attach it to a rifle for improved sight any time of day.
---
Performance Advantages and Disadvantages
You might be inclined to choose night vision for its optimal clarity or thermal scopes for their heat signature, but there's a lot you should know first.
For example, night vision binoculars or goggles are more convenient than a thermal scope if you don't have a weapon to mount it. You can attach night vision goggles or binoculars to a helmet whenever you need to.
Another consideration is the high price of thermal devices. They're more expensive to produce than night vision gear, which is why they're not as common on residential properties.
However, there's quite a list of benefits if you decide to get a thermal scope. Below, we'll cover the pros and cons of both options.
Advantages of Night Vision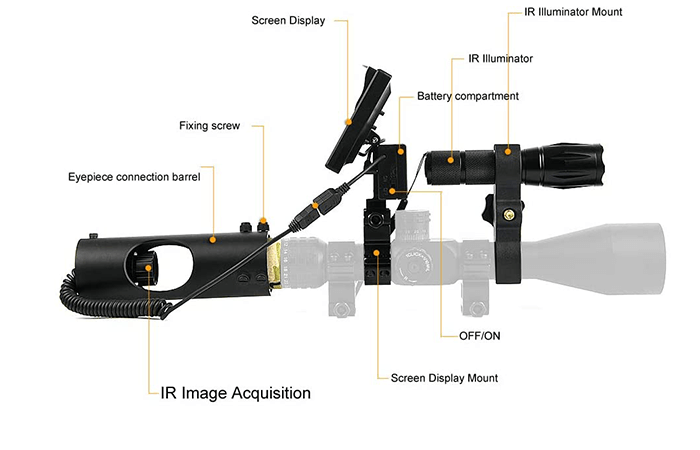 Night vision is significantly clearer than any other type of imaging at night. You can clearly differentiate your target from its surroundings, as long as it's not camouflaged or hidden behind smoke, fog, and similar obstacles. There's not much of an outline, so you can see it without a problem.
Night vision typically comes in gray, green, or regular colors with limited color contrast. All three variants let you decide the contrast, enhancing its results. Whether you're using a night vision scope, goggles, binoculars, or cameras, there's no denying its effectiveness and usefulness when there's a subtle light source with any color choice.
There are several night vision generations to choose from. As mentioned above, there are three night vision generations. If you want to save money, Gen 1 and 2 are the best choices. Gen 2 night vision is quickly becoming the primary choice for everyday usage, but Gen 3 is more than worth it for additional hours, clarity, and distance.
You can find night vision gear much cheaper than thermal imaging, even if you choose the highest generation. It clearly shows even the best night vision gadgets don't come near the price of thermal scopes.
Disadvantages of Night Vision
Night vision technology depends on external light sources. If there are no flashlights, streetlights, or other sources, you might not be able to see anything. Fortunately, many night vision devices produce subtle light to let you see things, even if it's not the clearest image available.
Camouflage protects targets against night vision devices. Perhaps the biggest disadvantage of choosing night vision over a thermal scope is the fact that it can't see through camo, fog, smoke, foliage, water, and so on. It's severely limited by the environment, which is worth considering before making your final decision.
Related reading: Can You Aim Using Night Vision Goggles
Advantages of Thermal Scopes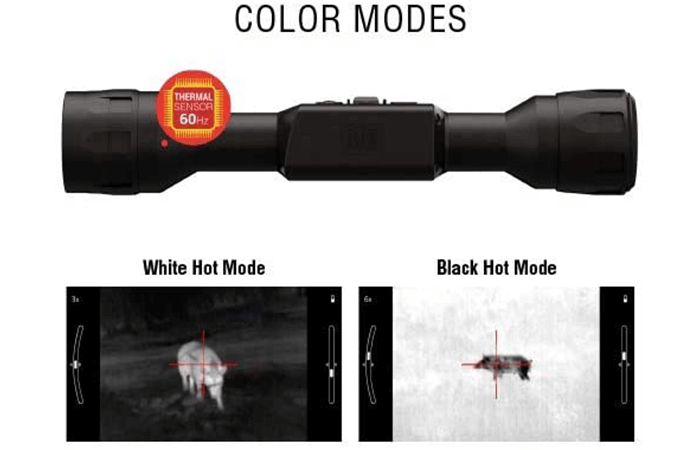 Thermal scopes can see through camouflage and similar obstacles. Even if your target is hiding behind a bush or tree, you can see their outline if they're producing heat. This pro significantly outweighs the advantages of many modern targeting systems, which is why it's used on drones, rifles, and so on.
They trace heat, so there's no need for an additional light source. Whether you're out in the woods or near a busy city, thermal scopes will pick up heat trails of anything producing warmth. Thermal imaging removes the need for flashlights or lasers.
Thermal scopes have a massive color contrast, so you don't have to worry about losing sight of your target. Most of them display the heat as yellow, red, orange, green, and white. These colors are far different from the dark blue imaging (some use gray backgrounds for additional contrast).
You can typically switch between several colors when using a thermal scope. Many thermal scopes have two to four color modes, letting the user find the best solution for their vision. You can set the color mode for optimal contrasting, reduced light penetration from artificial sources, and more.
Disadvantages of Thermal Scopes
If there are too many bright lights in the area, you'll have difficulty finding your target. While the light color doesn't influence thermal scopes, the heat they give off can significantly differ. If there's too much heat in an area, your target might blend in with their surroundings better than if they used camo.
Thermal scopes are almost always much more expensive than night vision equipment. The technology is much more advanced and pricier to produce, driving the cost several times higher than night vision. If you're on a budget, this issue might be the deciding factor.
Performance Wrap-Up
Both options perform incredibly well in specific scenarios. Rather than claiming one is always better than the other, you should consider the environment, your intentions, and what type of target you're looking for. Night vision might have top-notch clarity with the proper conditions, but thermal imaging is a tactical nightmare for the opposition.
The ability to see through dark nights without blurry images is unseen in almost any other part of the industry. Thermal scopes and night vision gadgets are both ideal, which is why you might want to think about using both of them.
If price is an issue, start with night vision, then work your way up to thermal scopes if you need the heat-tracing perks.
---
Here's the final case for night vision and thermal scopes:
When to Choose a Thermal Scope
Thermal scopes are ideal for those who hunt, look through camouflage, or move through dense, foggy terrain. You can see anything with a heat signature in front of your scope, but you won't always be able to make out the image. Excess heat trails or lack of depth can limit the functionality of your thermal scope.
Many people believe thermal scopes are exclusive to military and police operations. While they're becoming more prevalent in these fields, they shouldn't be overlooked in the hunting community.
If you're hunting animals known to seek cover, a thermal scope could be the best decision you've made.
Here are some suggestions for the best thermal scopes:
When to Choose a Night Vision
Night vision is ideal for those hunting, hiking, or enjoying the outdoors when it's dark outside. Too much light can hinder a night vision scope, so you shouldn't use it during the day.
If you enjoy hunting and fishing at night, you'll love your new night vision equipment. There's nothing better than crystal-clear vision in various colors.
Another reason night vision should be at the top of your list is it doesn't get clouded or blurred by excess heat. You can view your target right when you look at them without wondering what the outline might be.
Here are some suggestions for the best night vision devices:
---
Final Thoughts on Night Vision vs. Thermal Scope
Whether you're comparing a thermal scope vs. night vision or want to know why you should invest in either of them, you should review our final thoughts.
Both products are good for hunting, but thermal scopes might be a bit overboard for most applications outside of hunting, police, and military situations.
However, there's a case to be made for thermal scopes and night vision equipment. It would help if you also considered the time you're using the device since night vision is virtually pointless unless you're using it at night.
Thermal scopes can be used throughout the day and night, making them versatile and usable for a longer time.
Related Articles: