Centerfire and Rimfire guns are labeled by the ammo they use: Rimfire guns use rimfire ammo and centerfire guns use centerfire ammo, with the barrel and many other parts of the gun determining which style of ammo is used. There are various differences between these two guns, primarily the way they fire a bullet.
When it comes to rimfire vs. centerfire, the differences are in what type of ammo is used and the way the guns fire. Rimfire ammo fires from the primer within the rim, whereas centerfire ammo fires from the primer in the center. Also, centerfire ammo can be reloaded, but rimfire ammo cannot.
Throughout this article, we'll also breakdown the following information about rimfire vs. centerfire guns:
The history of both types of guns and ammo
Which one is the better choice for you
Various guns that use rimfire or centerfire ammo
Pros and cons of both options
Quick Navigation


So let's dive into the details.
---
The History of Centerfire and Rimfire Guns
Despite their differences, centerfire and rimfire guns have similar origins. They date back to the mid-1800s, making them a classic choice for people who like guns.
Whether you enjoy the reloadable traits of centerfire ammo or the cheaper rimfire variant, there's an interesting history behind both options.
Centerfire guns are undoubtedly the most common style in modern times. They're the guns that use ammo with the small circle on the bottom. If you've seen this style of ammo, you're likely using a centerfire gun. There are many other differences we'll dive into, but let's explore their origins first.
The Origins of Rimfire Guns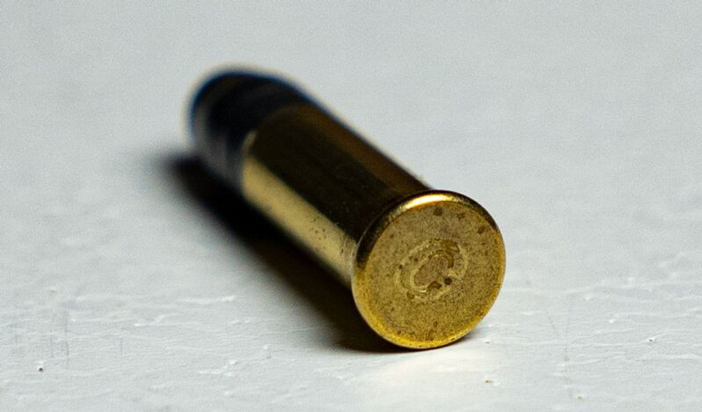 Rimfire ammo was the original style of modern ammunition. According to Sniper Country, rimfire guns have been around since 1845. Most long-barreled .22's use rimfire ammo, making them rimfire guns.
Although they're almost two centuries old, rimfire guns remain a popular choice for millions of gun owners.
The primary reason rimfire guns lost the popularity contest to centerfire guns is they're not reusable. You can reload a centerfire cartridge, but not a rimfire cartridge. However, rimfire guns and ammo are usually significantly cheaper than their rimfire counterparts.
Whether you're using them for nostalgia or a low-budget hunting experience, rimfire guns are not likely to go away any time soon.
The Origins of Centerfire Guns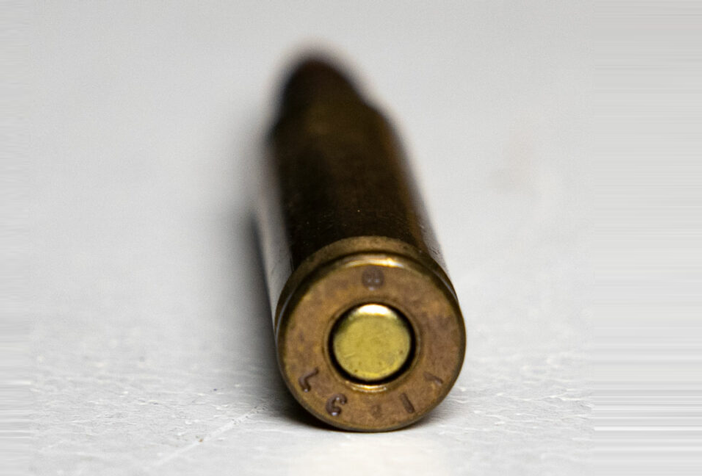 While the origins of centerfire guns date back to a couple of decades before rimfire ammo gained high-quality powder (and power, for that matter), modern centerfire ammunition and guns weren't invented until the mid-1850s.
The 10-year gap (give or take a few years) between rimfire and centerfire guns gave the advantage to rimfire. Still, accuracy, reusability, and power made centerfire guns the popular choice soon enough.
Centerfire guns use cartridges that can be reloaded. Since the ammo's core has a primer rather than the outer edges, it's slightly more accurate.
Furthermore, centerfire ammo became the primary choice for military usage worldwide before the 1900s. It remains the top choice for almost every military, but that doesn't mean it's the best option for everyone.
---
The Difference Between Rimfire and Centerfire
Rimfire and centerfire guns might've been invented around the same time, but they have dozens of differences. And understanding these differences will help you determine which gun is the right choice for you. Here are the five biggest differences between rimfire and centerfire guns.
Centerfire Ammo Is Reloadable; Rimfire Ammo Is Single-use
Perhaps the biggest advantage of using a centerfire gun is you can reload the ammo cartridges with new bullets. It saves a lot of money in the long run, though centerfire ammo is pricier than rimfire ammo.
The Primer Is Stored Differently
Target Barn explains that both guns get their name from the primer's location in the ammunition cartridges. Rimfire ammo has the primer around the edges, which is why it's called 'rimfire.' Centerfire ammo has the traditional circular primer on the bottom.
Centerfire Ammo Has a Narrower Ignition Than Rimfire Guns
When the firing pin hits the cartridge, rimfire ammo has a wide ignition that fills the whole casing. However, centerfire guns have a narrow ignition, which results in more power, distance, and accuracy, depending on the gun.
The Firing Pin Hits the Ammo in Different Spots On Both Guns
The firing pin is designed to strike the primer, launching the bullet out of the casing toward the target. As you could imagine, a centerfire's firing pin hits the center, whereas a rimfire's firing pin hits the bullet cartridge's rim.
Both Types of Ammunition Are Exclusive to Specific Guns
Centerfire and rimfire ammunition are not interchangeable; You cannot use a rimfire cartridge in a centerfire gun and vice versa. This would cause all sorts of issues, primarily due to the power and firing pin's location of either gun. Always ensure you're using the proper ammo for your firearm.
As you can see, there are more than enough differences between centerfire and rimfire guns to make people picky about their decisions.
Whether you're a beginner or an expert in the firearm industry, it's important to know the pros and cons of both guns. If you want to know which one is right for you, read on.
---
Centerfire vs Rimfire Guns: Performance Comparisons
There's no denying the impressive power behind both guns. There's a reason they've been used for many decades! Although, you can't expect the same performance from centerfire and rimfire guns. They have different uses, ammos, and expectations. Each gun has its pros and cons.
Here's a breakdown of the advantages and disadvantages of centerfire and rimfire guns:
Pros of Centerfire Guns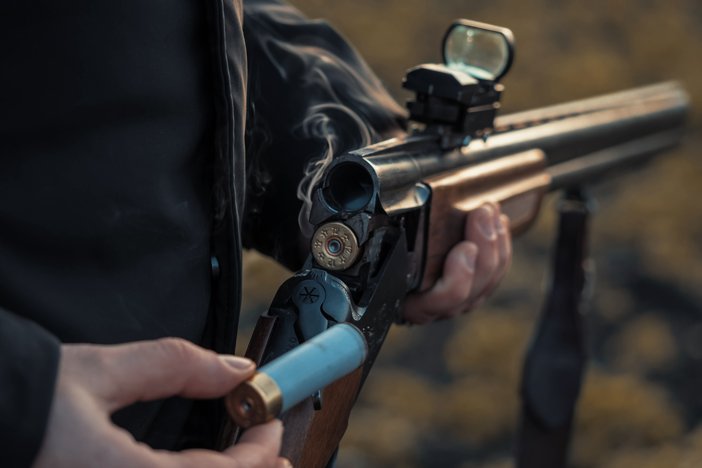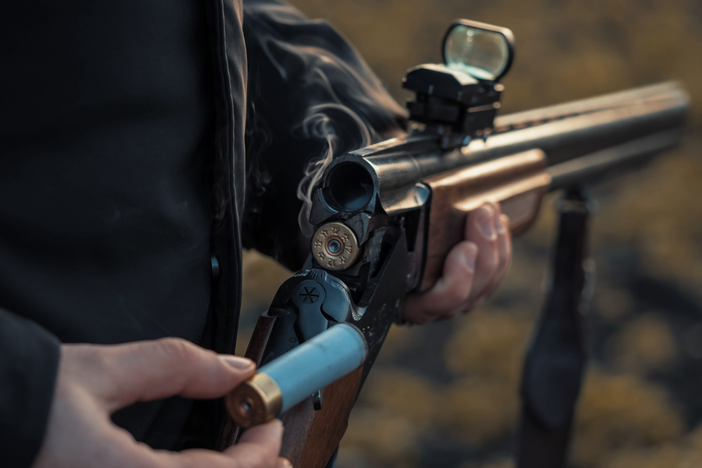 Centerfire Guns Typically Boast Better Accuracy and Power
As mentioned earlier on the page, the narrow firing pin striking area propels centerfire ammo with much more precision and power. The concentrated pressure makes centerfire guns a better choice for those hunting big game or zeroing a rifle scope.
You Can Reload Centerfire Cartridges
When you shoot a centerfire gun, the cartridge pops out the side. You can fill it with a primer, powder, and a bullet to reuse the cartridges.
This process is difficult for beginners, but it's well worth investmenting the time since you can save money instead of buying new ammunition every time.
You Can Find a Centerfire Gun of Any Size
Centerfire ammunition varies in size, but you can find a rifle, handgun, and anything in between that uses centerfire ammunition. Remember to use the correct caliber, but you don't have to sacrifice power and accuracy (or any other benefit) when choosing your favorite firearm.
They're Better for Home Defense and Long-distance Shooting
Whether you're hunting large animals or looking for something to protect your home and family, centerfire guns are the best choice. There's no competition when it comes to long-range firing or reliability.
Cons of Centerfire Guns
Centerfire Guns and Ammo Are More Expensive
Since you can reload it, fire further, expect more reliability, and enjoy more power, centerfire guns aren't as cheap as the competition. The ammo is also pricier for the same reasons.
However, you can get quite a bit of centerfire ammo for a reasonable price if you buy it in bulk.
Centerfire Ammo Is Sometimes Heavier
If you're backpacking in the woods and want to bring a centerfire gun, expect the ammo to weigh a bit more than rimfire ammo. The guns weigh close to the same, though. The firing pin variation is minimal, so the ammo is the only weight factor.
Pros of Rimfire Guns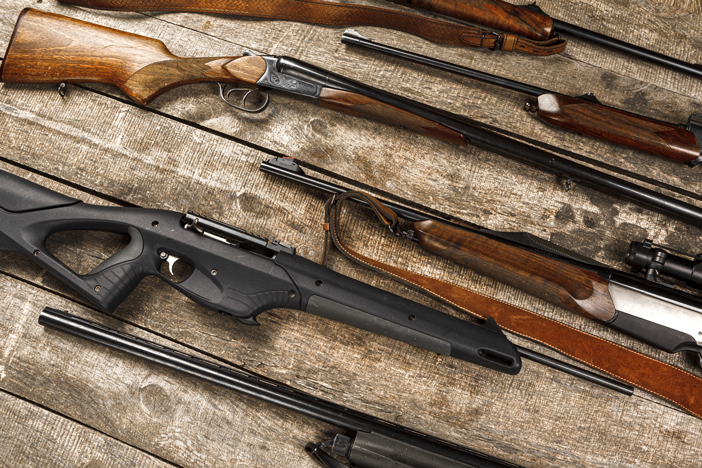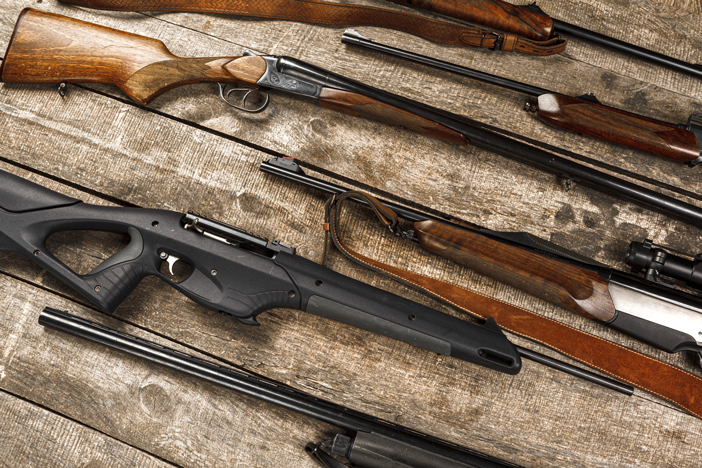 Rimfire Ammo Is Much Cheaper
If you're on a budget and don't want to break the bank, rimfire ammo is likely the best decision. It's not too expensive for various reasons, most of which you'll find in the following section. Nevertheless, the price reduction can be quite tempting.
Rimfire Guns Have Less Recoil, So They're Easy for Beginners
If you're tired of heavy-duty recoil or want to learn the basics of shooting a firearm, rimfire guns offer excellent low-kickback benefits. Rimfire guns have less recoil because they're not as powerful, and the primer isn't as concentrated as centerfire guns.
Rimfire Ammo Is an Excellent Choice for Training
Whether you're choosing it for the low-recoil properties or inexpensive price tag, rimfire guns are a top-notch way to improve your accuracy at the range. You don't have to use it as a hunting rifle in the woods, but why not hone your skills?
Cons of Rimfire Guns
You Can Only Use the Cartridges One Time
Unlike centerfire guns, a rimfire gun's cartridge isn't reusable. Once you fire the round, it's permanently dented and misshapen. Using it again will risk damaging your firearm or exploding the cartridge, which causes various drawbacks and hazards.
Rimfire Guns Aren't as Powerful as Centerfire Guns
Those seeking the power of modern firearms should steer clear of rimfire guns because they're not as impressive. From the firing pin to the primer's location, rimfire guns aren't designed to create a massive impact and trajectory like centerfire guns.
Some Say Rimfire Guns Aren't as Reliable as Centerfire Guns
Though it's a very small chance the gun will have an issue, a rimfire is more likely to have an issue than a centerfire. PewPew Tactical states many rimfire guns have a 1% to 2% malfunctioning chance, which is more than most of us would like to risk.
Performance Conclusion
Now that you know the primary differences and pros and cons between centerfire and rimfire guns, you can decide which one you should get. Centerfire guns reign supreme in terms of power, precision, and almost every other feature.
However, you can use rimfire guns to train your skills and improve your aiming. They're also a great choice for hunting small game.
Related Reading: Spotting Scope for Hunting
---
Reloading Centerfire and Rimfire Ammo
As you now know, you can't reload rimfire ammo cartridges. Both types of ammunition load into their guns the same way.
However, centerfire cartridges can be reused. If you want to choose a centerfire gun without spending too much money on new ammo every time you head to the range, you can use a few tools to reload them.
Here's how you can reload a centerfire gun, unlike a rimfire gun:
Clean and Reshape the Cartridge
Never reload a bent, damaged, or dirty cartridge. You'll cause problems when reloading it into the gun or when the firing pin hits the primer.
Wipe any debris with a soft microfiber cloth to prevent it from getting scratched. It's important to take each step slowly. There are plenty of trimmers and reshapers on the market.
Insert the New Primer and Trim the Cartridge
Again, there are tools to add a primer to a cartridge. You can use the Lyman Products Universal Priming Tool to prime your centerfire gun cartridges. Slide the clean, reshaped cartridge into the tool, close it with your hand, and it'll press the primer onto the ammo casing.
Add the Gunpowder to the Cartridge
Follow the manufacturer's recommendations to find the correct quantity and type before following this step. It's important not to use too much or too little gunpowder. You could risk damaging the gun or not firing the bullet far enough.
Either scenario can be dangerous. Never overload the cartridge; This risky practice can ruin the cartridge forever.
Slide the Bullet Into the Top of the Cartridge
Ensure it's snug, then you're good to go! Outdoor Hub has an in-depth tool analysis to make sure you're following all of the necessary safety precautions when reloading centerfire gun ammunition.
Make sure the ammo faces with the pointed end outward. Wobbly or loose bullets can become hazardous or ineffective.
If you're using a rimfire gun, dispose of the casings when you're done firing them. Never try to reload a cartridge when using a rimfire model.
There's nothing to activate the primer once it's been used, nor will the cartridge return to its original shape; Even if you tried using the tools mentioned above, it wouldn't work.
Available Centerfire Ammunition
One of the best traits of a centerfire ammunition is the fact that you can find any gun size that uses it. You'll have to find the right ammo, but you'll always be able to use a centerfire round.
Also, far more guns use centerfire rounds than rimfire rounds due to the previously mentioned pros and cons.
The following is a list of the most common centerfire ammo cartridges:
243 Winchester
300 Winchester Short Magnum
30-06 Springfield
62x39mm Soviet
270 Winchester
223 Remington
7mm Remington Magnum
338 Winchester Magnum
30-30 Winchester
22-250 Remington
308 Winchester
7mm-08 Remington
300 Winchester Magnum
There are a few other options also, but these cartridges are the most popular on the market. Always make sure you're choosing the proper size for your firearm.
Also, not all centerfire cartridges can be refilled. Brass casings are the most common reusable casings, so keep them in your mind when choosing your new favorite centerfire ammunition.
If you're interested in choosing a rimfire gun, you're in luck. There are plenty of cartridges to choose from, too. They're usually cheaper, but we'll analyze the top choices worldwide for people opting for a rimfire gun below.
Available Rimfire Ammunition
There are far fewer guns and ammunition that work for people seeking rimfire rounds. However, if you're set on using rimfire guns, you still have a decent-sized collection to choose from. They have a cheap price tag and simple design, making them an attractive choice for many people.
Here's a list of the most popular rimfire ammunition sizes:
22 Long Rifle
22 Winchester Magnum Rimfire
22 Short
17 Winchester Super Magnum
22 Long
17 Hornady Magnum Rimfire
17 Mach 2
These rounds are undeniably the best rimfire cartridges around. As you can see, they're significantly smaller than most centerfire rounds. Anything too big would explode or break apart in a rimfire gun. They're tiny because the primer would intend or blast in a random direction upon impact.
If you've used a .22 gun, there's a high chance you've shot a rimfire round. Despite their small size, rimfire .22's have been known to cause quite a bit of damage.
Their small size often prevents the bullet from gliding through the target, so it doesn't create an exit wound. This process can lead to a messy cleaning process if you're hunting animals, but it's irrelevant if you're only using it to practice at a target range.
---
Centerfire vs. Rimfire: What Are the Similarities?
While we've provided several examples throughout this article of how these two guns are different, there are some similarities between centerfire and rimfire guns.
It's important to understand these similarities as some beginners will confuse one gun for another, thinking something is an exclusive feature. Here are a few of the most common similarities:
Both Guns Use a Primer Near the Cartridge's Bottom
The primer is struck by the firing pin, which launches the bullet from the casing. If they didn't have a primer near the bottom, it would be nearly impossible to shoot either gun. Centerfire and rimfire guns rely on the primer's placement for optimal results.
Both Require Gunpowder to Propel the Bullet
The gunpowder causes a controlled explosion that leads to unparalleled powder. It was optimized in the mid-1800s, right after centerfire guns and ammunition became more popular than centerfire guns and ammo.
Centerfire and Rimfire Guns Use Brass Casings
Although some centerfire guns use different materials, brass is the only reloadable cartridge. Rimfire guns use brass casings, too. However, their cartridges are far too thin to be reused. They're dented and chipped when fired, making them unusable.
Quick Tip: If you're having trouble identifying the gun, remove a cartridge and look at the bottom. If there's a circular primer, it's a centerfire gun. If it's flat brass, it's a rimfire gun.
---
Final Thoughts About Centerfire vs. Rimfire Guns
It's difficult to say one is always better than the other, but many people believe centerfire ammunition is the winner.
There's too much accuracy and undeniable power packed into every centerfire gun, making it superior to rimfire guns in most situations. That being said, there are several reasons to choose a rimfire gun.
If you're on the fence between these guns after reviewing the whole post, consider the case points below.
The Case for Centerfire
If you want to get the most out of your firearm, a centerfire gun should be your top choice. Being able to reuse ammunition saves money and develops an invaluable skill you can use for many years to come.
Furthermore, centerfire guns rely on the most updated technology and craftsmanship to improve numerous traits.
A centerfire gun boasts precision and distance, two of the primary factors to consider when choosing a firearm. It's hard to overshadow these features, despite the debate between centerfire vs. rimfire guns and ammunition.
While centerfire remains the clear winner, we should explain why rimfire guns might be better for you in the next section.
The Case for Rimfire
Although they're not the primary choice for many experienced gun owners, there's a case to make for rimfire guns. Perhaps the most intriguing reason to invest in a rimfire gun is the inexpensive ammo.
You don't have to buy pricey cartridges, which is worth noting for those who don't have a big budget for hunting. Speaking of which, rimfire guns are great for hunting small animals.
Another reason to choose rimfire guns is they're great for practicing. Since they're not as accurate as centerfire guns, improving your aim with a rimfire gun will result in significant growth when you switch to a centerfire.
There's also barely any recoil when using a rimfire gun, making it ideal for people with a smaller frame or those learning how to fire a gun.
Whether you're practicing using firearms or prefer to save money, rimfire guns are worth trying. Just because they're no longer the leading choice in the industry doesn't mean they'll be obsolete any time soon. The best way to know which one you prefer is to head to a range and test both styles!