If you've been experimenting with different methods of hunting, you've likely come across bows. Hunting with a bow can be an exciting, unique experience, but you'll soon find that you need a bow sight to make your shots more accurate. If you've noticed the pins on it, you might wonder what they mean.
The pins on a bow sight allow you to aim at different distances. If your pins are fixed, each of them represents a distance (i.e. 10, 20, and 30 yards), and if the pins are mobile, you can adjust them to the distance increment that you prefer. The more pins you have, the accurate your shots will be.
If you're looking for the best bow sight for your needs, you'll want to look at what the different pins mean and how to make the best of them. Learn all you need for more accurate shots below.
---
What Do You Need a Bow Sight For?
Hunting with a bow can be a different, exciting way to stalk your prey and enjoy the great outdoors. However, like when shooting with a gun or rifle, there's a lot to learn before heading towards your hunting site for bow hunting.
The first step is to practice aiming with a bow. However, when you start to shoot at a greater ranger, you'll find that this can be extremely challenging without using a sight (instinctive shooting).
Just like an iron sight at the end of your gun's barrel, the sight on a bow allows you to aim more precisely and at a greater distance. The sight mounted on your bow tells you where the arrow's projectile is pointed.
Like other types of hunting optics, there's a wide range of sights on the market. The simplest ones are composite rings with three to five pins on them, either mobile or fixed. 
However, more complex devices give you the option of:
Ability to fine tune the entire sight or all the pins at once
Using fiber optics.
An aiming ring that can increase your chances of a perfect shot.
Anti-vibration technology graduated scales.
Camouflage patterns.
---
What Are the Pins on a Bow Sight For?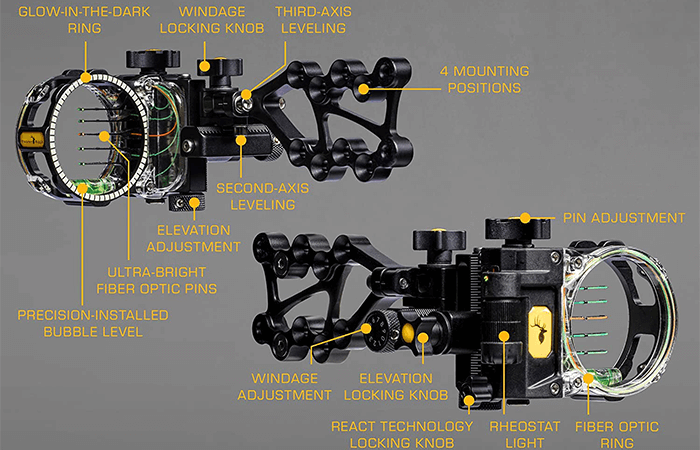 The pins on are indicators that help you aim more accurately, as each pin is positioned to indicate a certain distance. Depending on how you have set them up, they'll point at different yardage.
Generally, 3-pin sights will aim at 10, 20, and 30 yard pin (9.14, 18.29, and 27.43 meters), allowing you to cover a broad range. When moving the pins up and down their tracks, you can adjust the sight housing and pins depending on elevation and windage.
In some cases, you can also remove the pins altogether to allow for specific wind conditions.
Some premium sights also offer a feature called gag-adjustments, which allow you to move all the pins together, move the sight maintaining the yardage difference between them by increasing or reducing the overall range.
This feature is essential when shooting from a significant elevation or in particular wind conditions.
The more pins you have on your sight, the smaller the increments can be. For example, if you only have three pins, you might set them up at 10, 20, and 30 yard pin (9.14, 18.29, and 27.43 meters), or 15, 30, and 45 yards (13.72, 27.43, and 41.15 meters).
However, if you have five pins on your sight, you can set them up at closer points, such as 20, 25, 30, 25, and 40 yard pin (18.29, 22.86, 27.43, 22.86, and 36.58 meters). Pin sights with so many pins allow you to be covered in most situations.
---
Types of Pins on a Bow Sight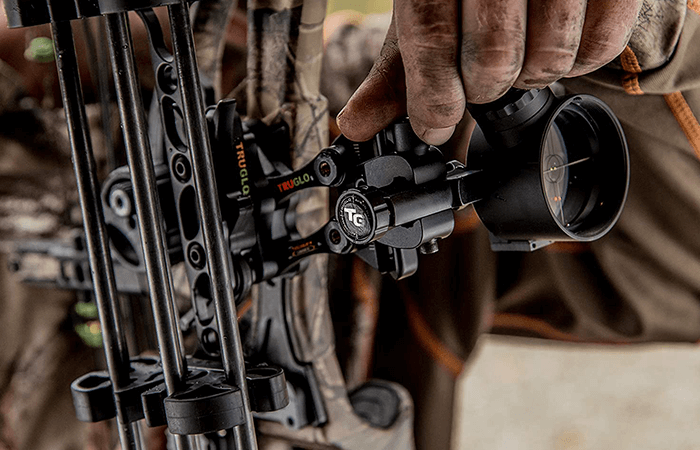 There are several types of bow sites, and the pins on them can vary. In some cases, you might not have pins at all if they are substituted for pendulum or treestand sights.
Here are the common types of pin sights and the differences you'll notice when setting them up:
Fixed Pins
These are the most common types of sights which are particularly popular among hunters. Generally, these sights boast between three and five pins which are set before your hunting session as you won't be able to move the sight during use.
Moveable Pins
While they might have different pins, these sights usually have a single point adjusted every time before shooting. Thanks to these devices' design, you can adjust the sight housing and pins in just a few seconds before the shot. However, they're recommended for more expert bowhunters.
Based on number of pins on a bow sights can be categorized into these two types:
Single Pin Sight
Single-pin features one aiming point. You move up and down to match the distance to sight your target. It has a sight tape, which plots distance guiding your sight movements. The sight tapes have to check your arrow speed to provide precise distance markings.
Multi Pin Sight
Multi-pin sights are scopes with multiple pins – usually 3, 4, 5 or 7. All of them are set to different distance markings. For example, the pins in a 6-pin sight might be set at 15, 20, 25, 30, 35, and 40 yards.
Related reading: Single Pin Sight vs Multi Pin Sight
Another type is a peep sight. Using a peep sight depends on your personal preferences. Some hunters like to use them as a supplement to their front-end bow sight.
It is a small sight that is attached to the bowstring. When you are at a full draw length, peep sight helps you see through the bowstring towards your target.
Based on the direction of the pins bow sights can be classified into these two types:
Vertical Pin Sight
Vertical pins offer a cleaner sight picture. It does not obstruct your field of view because the pins are perfectly aligned with your target.
Horizontal Pin Sight
Horizontal pins are the market standard for pin sights. But it provides a lot less visibility than vertical pins. It is more complicated and expensive to manufacture a sight with a row of vertical pins.
Both types of sights have their advantages and disadvantages. However, it depends on the personal preferences of the user.
Related reading: Vertical Pin Sight vs Horizontal Pin Sight
You can learn more about setting up your bow sight in the video below:
---
Final Thoughts: What Do the Pins Mean on a Bow Sight?
Pins on a bow sight are indicators that allow you to accurately aim at a target. Depending on how many pins you have on your sight, you'll set it up in different increments. The more pins you have, the more precise your aims will be.
You may want to consider investing in a bow sight with mobile pins. You may set them up so you can aim at a distance of 5 or 10 yards (4.57 or 9.14 meters).
With time, you can increase your range to 20 or 30 yards (18.29 or 27.43 meters). More pins give you more freedom to choose the distance and precise shots.
More Related Articles: