If you've looked into scopes and are in the market for one for your rifle, you have probably noticed that they come with multiple controls. These are commonly known as turrets, and they help harmonize the rifle scope's image targeting with your gun's shot-target.
What Is a Custom Turret and Do You Need One?

A custom turret is a scope controlled customized to your ammunition, rifle, and firing conditions, including the elevation and the climate you're hunting in. You need a custom turret if you want to improve your shooting accuracy and minimize the adjustments you must make between shots.
In this article, you'll learn more about what they are and how you order them. You'll also discover the three advantages of having custom turrets and whether they're worth it or not, depending on your hunting experience and the kind of animals you hunt.
Custom Turret 101
A turret is traditionally an elevation control mechanism governing larger barrels like air cannons and battleship guns. This is not to be confused with the turret you'll get customized to your hunting rifle. When it comes to rifles, the adjustable knob-like fixture that sits atop the rifle scope is referred to as a turret.
While it may not physically change the angle of your gun's barrel, it does control the optics to help you shoot more accurately.
In that sense, it matches a traditional ammunition turret. The hunting community has a consensus on the value of turrets.
Over a long distance, a turret is as essential as the scope because, without it, you might as well use binoculars. But to unlock its accuracy benefits, you can get it customized to two factors.
Elevation
Your shooting environment determines this. Are you mostly shooting at sea level? Are you shooting at a higher angle or even from the top of a hill?
Often, the kind of prize you're hunting determines the elevation as much as the environment. If you're hunting birds, you're not likely to shoot at sea-level unless the bird is an ostrich.
Ammunition Load
The load in your chamber can vary in weight, and the turret must account for it. Therefore, you have to make sure and customize the turret to match the angle you're shooting at and the weight of your ammunition.
When ordering, the manufacturer will ask you about certain specifications. Here are some of the things you must note before requesting a custom turrets cap.
The Distance You Want To Be Zeroed At
If you are zeroed at a hundred yards, then each one unit yardage change will add another hundred yards to your shot. The rifle scope will zoom accordingly to zero in on the target.
It is ideal for getting zeroed at a round figure that you can easily calculate mentally as you may change the yardage between shots because the animal you wish to hunt isn't likely to get taken down by a single shot.
The Bullet Weight and Caliber You'll Use
In customizing a turret, the value comes from accuracy as curated to your specifications. Therefore, the minimum detail required for the turret to qualify as a customized one is the bullet weight and caliber you're going to use.
Most manufacturers will want to know more about your rifle and ammunition to fine-tune the scope's accuracy accordingly. Make sure to let them know about scope height, muzzle velocity, and ballistic coefficient.
If this sounds overwhelming, you can simply visit the specialist with your rifle and ammunition. The experts will determine the specifications upon examining the rifle and the bullets.
External Conditions
Finally, you will let the manufacturer know the kind of climate and environment you'll shoot in. As mentioned earlier, this includes the elevation as well.
This is relevant because the climate determines the bullet's velocity, and the scope has to function in conjunction with it. If the specifics seem daunting, simply let the manufacturer know the state you hunt in and the general angle you position your rifle at.
Why Custom Turret?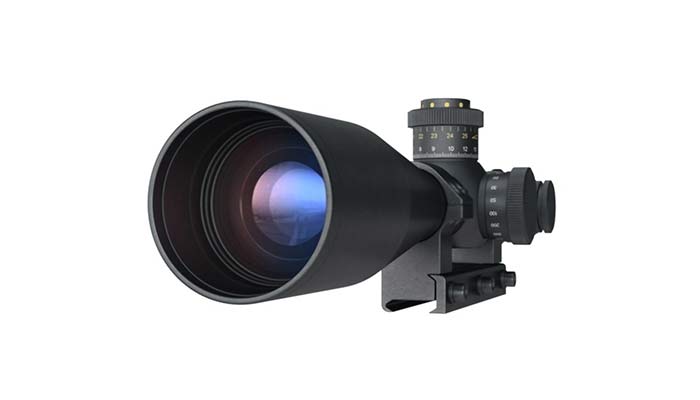 As you may have noticed, ordering custom turrets don't just cost money but requires time and effort to communicate your shooting specs accurately. So, why do you need to go through this when most scopes come with at least two turrets?
Because there are key advantages available exclusively with customization of your ballistic turret. Below are some of these pros.
Better Speed
Turrets don't control your bullet's velocity. However, they minimize the time between subsequent shots. Unless you're long range shooting with sniper-like accuracy, you will need to fire multiple shots to take down a large animal.
It is unlikely that the animal will stand in a position to receive these rounds. That's why you want to be able to shoot every time without adjusting and changing too many settings on the rifle scope.
Having a custom turret label makes everything else stationary, so you only switch the yardage as the animal tries to run and shoot the subsequent rounds without wasting time.
Higher Accuracy
Scopes help you shoot more accurately by adding a telescopic targeting ability to your shooting arsenal. However, without the right adjustment, a scope is as good as looking through your camera's zoom while independently firing a gun.
Being able to see your target clearly doesn't help with precision if your rifle isn't harmonized.
You may not need a custom turret to coordinate your weapon with the scope but to harmonize it on a minute level with every fine variable taken into account; you need an easy to use custom turret. A custom turret improves your scope's ability to enhance your precision further.
Novice Friendliness
Finally, you may need it because you value your time. It is possible to work with two-turret and three-turret scopes to eventually have a level of familiarity that produces the same degree of accuracy as a custom turret.
But why spend years of missing targets and wasting rounds to develop such accuracy when a custom turret can simply shorten your learning curve and speed up the time it takes for you to bring elusive prey home every time?
Is Custom Turret Worth It?
Now that you know what a custom turret is and how to order one, and you have a fair idea of its advantages, let's explore whether these turrets are good for you. If any of the following descriptors accurately define you, you should get a custom turret.
You Shoot Animals That Don't Fly or Climb
If you shoot birds or monkeys, there is little a custom turret can do for you as their attempts to escape change the elevation alongside the yardage.
As mentioned earlier, a custom turret will help you hit targets at the same elevation across different distances. However, if you shoot almost any other animal, you'll benefit from a custom turret.
You Miss Targets Even With a RifleScope
If you're already using a scope but end up missing the mark, it is a sign you need further precision offered by the turret label.
The only way to miss while having a hunting scope is if you haven't sufficiently harmonized the scope with the rifle or have work to do on your timing. A custom turret helps you in both these areas.
Final Thoughts: What Is a Custom Turret and Do You Need One
A custom turret is a handy controller that can help harmonize your scope with your ammunition and rifle. It helps reduce the time it takes between shots by simplifying the adjustment process.
Suppose you don't like to spend too much time tweaking knobs and changing settings and want to come as close to "auto-precision" as possible.
In that case, you can get a custom turret by giving details of your rifle, ammunition, elevation, and weather conditions to the manufacturer.
More Related Articles: