Whether you love to hunt or practice target shooting, having a rifle is not enough to offer you the best shooting experience. Riflescopes or telescopic sights are a great addition to your arsenal.
However, when it comes down to selecting the right scope for your rifle, it can be challenging to know what's best for you, especially if you choose between two of the best Vortex Optics riflescopes Viper and Diamondback.
The Vortex Diamondback is an affordable scope in an aircraft-grade aluminum case, making it resistant to recoil and long-lasting. The Vortex Viper is a step up from the Diamondback and is a better choice for increased low light clarity, eye relief, and more powerful optics.
When it comes down to improving your shooting experience, it is crucial to consider your budget, skill level, and use. Below, you can find out the differences between the Vortex Diamondback and the Viper in terms of optics, comfort, performance, and use. Let's get started!
---
Vortex Rifle Scopes: An Overview
As you will quickly notice, both the Vortex Diamondback and the Viper belong to the Vortex Optics collection of high-quality hunting and shooting accessories. Vortex Optics is one of the best manufacturers on the market, creating anything hunters and shooters might need to improve their experience.
Vortex Optics, which has been an American veteran family-owned business since 1986, has become one of the leading distributors of high-quality riflescopes and hunting and shooting gear.
Whether you are looking for a simple red dot sight or need a more advanced scope, Vortex offers some of the best optics on the market.
The Viper and Vortex Diamondback HP riflescopes are only two models of an extensive collection, including the exclusive Razor HD and the Golden Eagle HD. So, investing in a rifle scope from Vortex allows you to know that your money is well-spent.
Nonetheless, buying a rifle scope can represent a substantial investment for any hunter or target shooter and it is essential to get it right. Find out the best model for your needs below.
---
A Quick Comparison of Vortex Viper & Vortex Diamondback Riflescope
If you are in a rush to find the best Vortex Optics rifle scope for your need, the table below can help you.
| | | |
| --- | --- | --- |
| | Viper | Diamondback |
| Magnification | 6.5-20x | 3.5-10x |
| Parallax Setting | 50 yards (45.72 m) to infinity | 100 yards (91.44 m) |
| Eye Relief | 3.1 in (7.87 cm) | 3.3 in (8.38 cm) |
| Max Windage Adjustment | 65 MOA | 65 MOA |
| Tube Size | 30 mm (1.18 in) | 25.4 mm (1 in) |
| Turret Style | Tall Capped | Capped |
| Adjustment Graduation | 1/4 MOA | 1/4 MOA |
| Max Elevation Adjustment | 65 MOA | 65 MOA |
| Travel Per Rotation | 12 MOA | 15 MOA |
| Field of View | 17.4-6.2 ft (5.3-1.89 m)/100 yds (91.44 m) | 35.8-13.5 ft (10.91-4.11 m)/100 yds (91.44 m) |
| Objective Lens Diameter | 50 mm (1.97 in) | 50 mm (1.97 in) |
| Length | 14.44 in (36.68 cm) | 12.5 in (31.75 cm) |
| Weight | 21.6 oz (612.35 g) | 16.2 oz (459.26 g) |
If you wish to know more about the two options, the sections below will cover everything you need to know.
---
Introduction to Vortex Viper & Vortex Diamondback Riflescope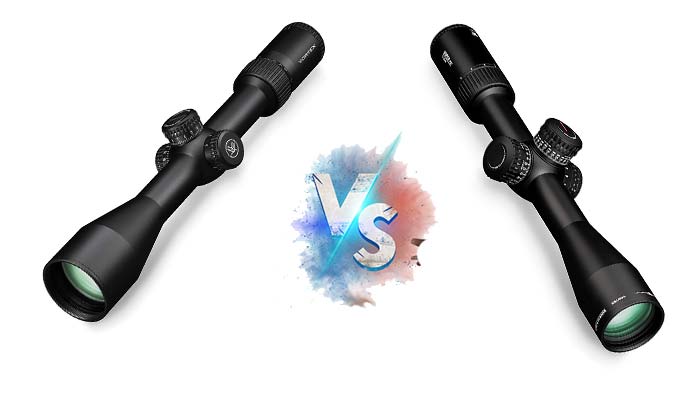 Not all rifle scopes are made the same, which might make your choice more challenging, but it also allows you to count on a wide variety of products to choose from.
While the Viper and the Vortex Diamondback HP are both designed and manufactured by one of the best companies, they serve different purposes. Here's an overview to get started:
Viper Rifle Scope
The Viper rifle scope is created for experienced hunters or target shooters looking to find a reliable enough scope to withstand any condition. This premium rifle scope boasts features such as multi-coated optics, the Precision Glide Erector System, and the Precision Force spring systems.
When combined, these elements allow this rifle scope to withstand moisture, rough terrains, and low-light conditions.
While Vortex Optics creates the Viper as a unique rifle scope, the Viper collection includes:
Viper
Viper PST Gen II
Viper HS – T
Viper HS LR
Viper HS
You will also be able to find different models to suit your first or second focal plane preference.
If you are unsure between the two options, remember that:
In the first focal plane devices, the bdc reticle will enlarge or diminish in size according to the magnification.
In the second focal plane device, the bdc reticle will remain of the same size independently from magnifications.
Since this characteristic can significantly impact your shooting experience, it is essential to pick a rifle scope in accordance with your preferences.
Diamondback Rifle Scope
The Diamondback represents a more affordable option for beginner hunters or as a significant step up from a classic iron sight.
Vortex Diamondback HP riflescopes boast a one-piece, virtually-indestructible design in aircraft-grade aluminum alloy. This characteristic sets this affordable rifle scope far beyond others in the same price range.
Indeed, the sturdy body allows it to withstand the powerful recoil of a magnum, and the Argon purging makes it waterproof and fog-proof.
The Diamond rifle scope collection by Vortex includes both first focal plane and second focal plane devices, including:
Diamondback
Diamondback Tactical
Diamondback 2-7X35 RimFire
---
Vortex Viper vs. Diamondback Rifle Scope: Magnification and Optics
If you are investing in a rifle scope to improve your hunting or target shooting experience, you will be doing so to access the power of optics. Many marksmen decide to invest in optics because of simplicity.
When picking a rifle scope, it is crucial to understand the numbers that come with it. In most cases, these refer to the magnification power of that device. For example, rifle scope with the number "3-9×40" will have a magnification power of 3 to 9 times the naked eye.
When selecting the right rifle scope for your needs, it is worth keeping in mind that you might not need the highest magnification power. Also, if there are more options than the ones you need, you might find the scope harder to use.
The Viper and the Vortex Diamondback HP boast the enhanced optics that have made Vortex scopes such an appreciated brand. Check out the specs below.
Viper
The Viper rifle scope boasts superb optics that make it a premium model on the market. Some of the characteristics of this rifle-scope include:
XD™ Lens Elements: XD™ Lens, or Extra-Low Dispersion Glass, allows you to obtain a crisp image through the lens. The XD™ can improve color fidelity and image resolution, which will offer you clear and sharp images.
XR™ Fully Multi-Coated Optics: This Vortex proprietary system allows the air-to-glass surfaces of the scope to benefit from multiple anti-reflective coatings. In turn, you can enjoy better light transmission and more precise images in low-light conditions.
Precision-Glide Erector System: Some of the scopes in the Viper range boast impressive magnification ranges. This system allows marksmen to use the magnification options freely and smoothly move through the various zoom stages.
Some of the magnification ranges you can enjoy with a Vortex Viper rifle scope include:
6.5-20X50
6-24X50
5-25X50
4-16X50
4-16X44
3-15X44
2-10X32
1-6X24
Diamondback
Vortex Diamondback HP might better fit the budget scopes category, but they don't have much to envy compared to the Viper models. Some of the characteristics of Diamondbacks are:
Multi-coats: The proprietary multi-coating system devised by Vortex is designed to protect any air-to-glass surfaces in the rifle. This system increases the reflective and light transmission power of the lenses.
Waterproof, fog proof, and shockproof design: While the optics of this rifle scope might not be as refined as the Viper's ones, you can still enjoy a clear field of view in any conditions.
Precision-Glide Erector System: This system is necessary to enjoy the tremendous magnifying power of this scope without issues. It allows you to move through each zoom phase without delays.
Fast Focus Eyepiece: The Diamondbacks scopes are excellent options if you like to be at the center of the action. This eyepiece system allows you to cut down on adjusting times.
Some of the magnification options you will get with this rifle scope include:
6-24X50
4-12X40
4-16X44
3.5-10X50
3-9X40
2-7X35
1.75-5X32
---
Vortex Viper vs. Diamondback Rifle Scope: Who Are They For?
When looking at the specs of Viper and Diamondback, it is easy to see that the Viper is a premium rifle scope, while the Vortex Diamondback comes as a simpler version. However, this does not make the Viper the ideal rifle for every marksman.
Understanding what you will be using your rifle for is the first step to find the magnification power, optics, price range, and easy use you need. For example, if you will be practicing target shooting at an amateur level, you won't require your target to be magnified.
Oppositely, if you are hunting in the wild for larger or smaller animals, you might need to shoot from a distance which requires increased magnification power. Remember that telescopes are preferable over signs because they offer simplicity in aiming and shooting.
If you are struggling to carry and use your hunting or shooting gear, you should consider opting for a simpler version. Here's the best option between the Viper and Diamondback HP, depending on what you plan to do with them:
Viper Rifle Scope
The Viper comes in a wide range of magnification powers. With some models magnifying a target between 6 and 24 times, the Viper scopes represent an excellent option for hunters or target shooting to practice in various settings.
At the same time, the Viper riflescopes are more complex than the Diamondbacks and might not be the best first scope for beginner hunters. Indeed, in a situation when you have to be smooth, silent, and quick, the improved functionalities of the Viper might slow you down.
At the same time, if you are looking to improve your marksman skills and shoot long-range targets, the parallax effect correction between 50 yards (45.72 m) and infinity can significantly improve your experience.
Diamondback Rifle Scope
Diamondback HP 4 are simpler models that come in a restricted range of magnification powers. However, some of the models within this collection still yield a 24x magnification power, which is enough for hunters targeting smaller animals.
With a parallax effect correction of 100 yards (91.44 m), these scopes might be enough for medium-distance shooting or target shooting. Thanks to their price tag, they are a suitable option for a beginner marksman who looks to upgrade to a scope from a traditional iron sight.
---
Which One Is Better? Vortex Viper or Vortex Diamondback Riflescope
Buying a rifle scope for your hunting or shooting gear represents a significant investment. That is why it is crucial to find a model that suits your needs best.
While there is no "one-formula-fits-all" in terms of the best rifle scope, it is vital to compare performances and pricing options. Check out the reasons why you should opt for Viper or Diamondback HP.
Performance
In terms of performances, the Viper is a superior choice to the Diamondback HP but not necessarily when in correlation to their price tag. Indeed, the Viper rifle scope and the other models within the Viper range are designed with the needs of an expert marksman in mind.
Here are a few points to keep in mind about Viper rifle scopes' performance:
They are available in various magnification powers, which makes them perfect for target shooters and hunters alike.
They boast technologies that offer you a clear field of view, both at the center of the sides.
They are made of aircraft-grade aluminum alloy, which makes them resistant to any conditions.
They offer an enhanced Parallax correction for long-range shooting.
Diamondback HP 4 also boasts the same kind of casing and fog-proof, shockproof, and waterproof abilities. However, you can expect a decrease in quality optics compared to the Viper.
Indeed, Diamondback rifle scopes might be less suitable for low-light conditions and night sessions. At the same time, Diamondbacks fall in a much lower price range, and for that price, these are among the best ones on the market.
Pricing
Generally, Viper rifle scopes are more expensive than the Diamondbacks. Depending on magnification power, MOA, optics' quality, and focal plane, you can find Viper rifle scopes between $500 and $1000.
Instead, Diamondbacks are available for a much lower price range, between $180 and $350. While these scopes' prices can put the Diamondbacks in the "budget" category, they represent an excellent entry point for any beginner marksman.
---
Cases for the Vortex Viper Vs. Diamondback
Viper Rifle Scope
It's a premium rifle scope that comes with the features you need for long-range shooting. You can find second and first focal plan options available, as well as enhanced Parallax correction and a variety of magnification powers. Ultimately, the Viper is a more expensive riflescope perfect for expert marksman.
Diamondback Rifle Scope
The Vortex Diamondback HP rifle scope is an excellent option if you prefer a more affordable rifle scope that is virtually indestructible. It comes with an aircraft-grade aluminum alloy body as well as waterproof, fog-proof, and shockproof features.
It is still an advanced scope but does not offer Viper's clarity, especially in low-light conditions.
---
Final Thoughts: Vortex Viper vs. Diamondback Rifle Scope
Once you get into the sport of hunting or target shooting, you will always be looking for new ways to take your experience to the next level.
Buying the best rifle scope for your needs can make it easier to improve your aim and secure a target. However, no two riflescopes will work in the same way for a marksman. So choose what you suits you the most.
More Related Articles: