With Its Top-notch Optical System and Dead Hold BDC Reticle, Vortex's Viper Hs Lr 4 Is One Of The High Performing Scope
What We Like
Clear glass for perfect vision
Comfortable eye relief
Dead Hold BDC Reticle
Ultra-strong and durable
What We Don't Like
A little on the pricey side
The reticle is a bit thin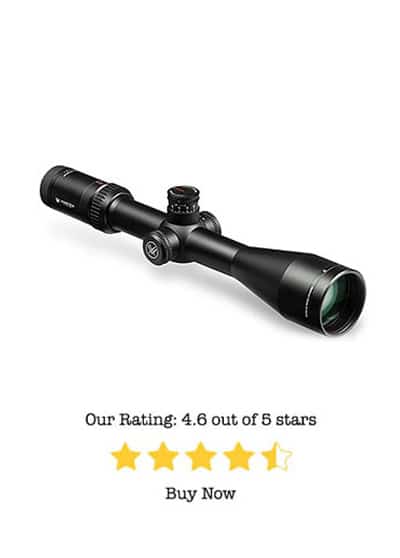 Bottom Line
Based on our review, the Vortex Viper HS LR Second Focal Plane 4-16Х50 well worth the investment thanks to its high performance between its advanced optic system and exposed turrets for easy elevation adjustment.
Plus, with Vortex's lifetime warranty, you'll rest easy knowing that if anything goes wrong they'll easily help you remedy the issue.
Why We Love the Vortex Viper HS LR 4-16X50 Scope
Hunting is a quiet, precision based sport that requires using a high-performance scope to shoot your prey.
Luckily, Vortex Vіреr HS LR long range scopes specialize in giving hunters exactly what they need. With its incredible features, it's no wonder Vortex 4 is a highly-rated brand that gives its competition a run for their money. We loved using this scope, and we think you will too.
Related: Leupold Rifleman 4-12x40mm Riflescope Review
---
It Has an Impeccable Dead-Hold BDC Reticle
Тhе Vortex Viper HS LR 4-16Х50 provides its user with greatly extended ranges because of this well-crafted reticle. The focal plane and second focal range that the Viper long range provides is top-notch. Your field of view at 100 yards ranges from 27.4′ to 7.4′ thanks to its 4 16×50 magnification lens zoom range and fast focus eyepiece.
If you're target shooting at the shooting range or big game hunting in the wilderness, this MOA reticle is sure to come through for you.
The second focal plane on this reticle is also the best in its class, thanks to the clarity its glass provides. Even as you magnify the Viper HS LR 4-16X50 onto your target, your prey won't change in size.
This means you'll get a more accurate shot when adjusting the magnification settings on the reticle of one of the best scopes on the market! Plus, the glide erector system makes sure your zoom is smooth and flawless no matter the conditions you're in.
It's a Scope That's Built to Last
The Тhе Vortex Viper HS 4-16Х50 is built to last with a 30 mm aluminum tube foundation, finished with a black matte surface. Thanks to this 30 mm piece tube, you are guaranteed to have better windage and elevation travel, not to mention how easy it is to adjust for magnification versatility.
The Armortek coating and hard anodized finish on the scope ensure it is scratch-resistant and protects the exterior of the lenses.
Plus, the Vortex Viper HS LR 4-16×50 capped windage turret keeps the sleek lines of the scope in pristine condition, meaning it won't get caught on clothing, pack scabbards, or rifle cases.
Not only is it structurally sound, but the long-range scope Vortex Viper 4-16X50 is equipped with the best aspects possible for optimal magnification setting.
One of the most precise scopes on the market, the Viper has fog proof, waterproof lenses due to its Argon-purged assembly. The Vortex Vіреr HS 4-16X50 with multi-coated, XD glass makes sure you never miss a shot due to lack of clarity.
---
It Has a Great Elevation Turret and Side Focus
As far as rifle scopes go, not all of them include an exposed elevation turret. This is even true of other long-range Vortex scopes.
Still, luckily this one includes an exposed turret for max elevation adjustment for the best accuracy possible, whether it's a target or moving prey you're aiming for. This has proven to be the most accurate setup with Dead Hold BDC Reticle at 300 yards.
Elevation adjustments are a breeze thanks to the turret's easy to read, fast, and precise mechanisms. This exposed turret also helps elevation correction even more than the other long-range scopes Vortex offers.
As for the Vortex Viper HS LR 4-16×50 extra side focus, this riflescope addition works well in any condition. Located on the left side of the scope, the side focus only further hones the advanced optical system Vortex is known for.
Even when you're in shooting position, you can easily adjust your image for the optimal focus to complete your shot. Coupled with its easy reticle focusing and forgiving eye box for optimal eye relief, you're sure to make your shot count.
Related reading: Vortex Crossfire II 3-12X56 AO Hog Hunter Review
---
Price
Scope of this range and ability can go anywhere from $649-$747.49. While it may be quite the investment for a beginner, seasoned pros will know exactly how to operate and use this scope. It's well worth the investment, as shown by its zoom lens mechanism, state-of-the-art erector spring system, and excellent side focus adjustment.
If you're a long-distance hunter looking for the correct amount of power (and even a little more) for big game hunting, Тhе Vortex Viper HS 4-16Х50 has you covered thanks to their Viper model.
Coupled with its impeccable bullet drop adjustments, windage turret, and shockproof, rugged exterior, this scope is the best choice possible. While it does trend toward higher prices for a scope, the cost is well worth it for the construction and overall experience of using this outstanding equipment.
Plus, every scope comes with a lifetime warranty from Vortex, which provides quality customer service.
---
Final Verdict
Although it's a bit pricey, your investment in the Тhе Vоrtех Орtісѕ Vіреr 4-16Х50 Second Focal Plane will pay for itself in no time with its state-of-the-art BDC reticle, elevation and windage turrets, and comfortable eye relief.
The accuracy and durability you'll get from this scope will pay for itself time and time again. Whether you're hunting elk or shooting targets, using this scope will only enhance and benefit your gun.
We hope our helpful Vortex Viper HS LR 4-16X50 review has opened your eyes to all the possibilities this long-range scope can provide you with.
With its built-to-last aluminum framework and crystal clear XD glass, once you make the switch to the Vortex Vіреr HS 4-16X50, you'll wonder why you ever tried anything else in the first place.
---
Related articles: