If you love the outdoors, a spotting scope is the one piece of equipment you can't skip. Thanks to these instruments' optics and magnification power, you can enjoy clear views of your target, whatever species they may be.
However, finding the right Vortex spotting scope for your needs is crucial, especially as these tools can be a massive investment for any outdoorsmen.
Vortex Diamondback is an affordable, fog-proof, and waterproof scope created in ArmorTek®. Viper Hd offers better optics, improved low-light capabilities, and long-distance color and image fidelity. The ultra-light Razor HD provides distortion-free HD images and unparalleled optics.
If you are looking for the perfect scope to take your hunting or bird watching experience to the next level, Vortex models are among the best. In this article, you will find out which one is the best fit for your needs.
---
Vortex Spotting Scopes: What You Need To Know
Over the last few years, the number of spotting scopes on the market has increased. That's because these instruments are much more powerful than binoculars, with optics comparable to the more powerful telescopes.
As spotting scopes have started to become increasingly lightweight, easy to transport, and versatile, hunters and outdoorsmen have begun adding them to their toolkits.
Vortex is one of the leading global manufacturers of hunting optics. While the company is proud to still be a family-owned and veteran-owned American business since 1986, it has been expanding worldwide. Today, you can find dealers across America, Europe, South Africa, and Australia.
The company's scopes have always been synonymous with high-quality materials, outstanding optics, and unrivaled customer service. Let's find the perfect hunting optics for your needs below.
---
Vortex Diamondback vs Vortex Viper Hd vs Vortex Razor HD Spotting Scope: An Overview
The Vortex collection of spotting scopes include more than 14 unique models, and it can be hard to find the perfect one for your needs without considering the several factors that come into play.
In the sections below, you can find more details and specs about the different scopes. However, if you are in a rush, here are each scopes' specs:
| | | | |
| --- | --- | --- | --- |
| | Diamondback | Viper HD | Razor HD |
| Magnification | 20-60X85 16-48X65 | 15-45X65 20-60X85 | 11-33X50 22-48X65 27-60X85 |
| Objective Lens Diameter | 85mm (3.35in)65mm (2.56in) | 85mm (3.35in)65mm (2.56in) | 85mm (3.35in)65mm (2.56in)50mm (1.97in) |
| Linear Field of View | 108-60ft (32.92-18.29m)/1000yds (914.4m) | 136.5-67.8ft (41.61-20.67m)/1000yds (914.4m) | 138-84ft (42.06-25.6m)/1000yds (914.4m) |
| Angular Field of View | 2.1°-1.1° | 2.6°-1.3° | 2.7°-1.6° |
| Close Focus | 24.6ft (7.5m) | 23ft (7.01m) | 26.2ft (7.99m) |
| Eye Relief | 20.3-18.3mm (0.8-0.72in) | 17.8-19.6mm (0.71-0.77in) | 16.7-17mm (0.66-0.67in) |
| Length | 16in (406.4mm) | 14in (355.6mm) | 14.8in (375.92mm) |
| Weight | 60.9oz (1726.49g) | 59oz (1672.62g) | 56.8oz (1610.25g) |
You can also find an overview in the video below:
---
Magnification and Optics Difference
The most important aspects to consider when selecting the best spotting scope for your needs are magnification power and optics.
The magnification power or zoom capabilities of a spotting scope refers to how far you can look with that instrument. You will always find the magnification power and lens diameter of the specific numbers' scope on its body.
For example, if it shows 20-60×80, 20-60×, that refers to the magnification power of 20x to 60x zoom.
The number after the "x" refers to the lens's diameter, and in this case, that's 80mm (3.15in). Wider lenses offer better light-gathering and low-light capabilities and can also widen your field of view.
Here is how the Diamondback, Viper Hd, and Razor compare in optics and magnification power:
Diamondback
The Diamondback is one of the best models on the market that still belongs within the "budget" category. While extremely resistant to any terrain and weather conditions, this also boasts the optics you need to step up your hunting game.
In terms of magnification power, you have:
20-60X85 (Angled or Straight)
16-48X65 (Angled or Straight)
In terms of optics, two factors will impact your experience:
The HD Optical System
Just like the other models in the Vortex collection, the Diamondback boasts an HD optical system. This factor improves resolution, reduces chromatic aberration, and promotes color fidelity.
It Is Fully Multi-coated
Every air-to-glass surface in it is covered in anti-reflective coatings that improve light transmission and reduce distortion.
Viper HD
The Viper HD is undoubtedly a considerable upgrade to the Diamondback. The biggest differences are in the price range and optics quality. The Viper HD comes in an angled or straight version, and it boasts magnification powers that vary from 15x to 60x.
Here are the magnification powers you will find:
15-45X65 (Angled or Straight)
20-60X85 (Angled or Straight)
In terms of optics, Vortex has packed its Viper models with some features that can truly improve your hunting or bird watching experience. Here are a few:
HD lens
The lenses mounted on the Viper spotting scopes are premium glass that minimizes dispersion. The HD quality guarantees high resolution and color fidelity, even when zooming in at 60x.
It Is XR™ Fully Multi-coated
Just like in the Diamondback case, the Viper's air-to-glass surfaces are all multi-coated with anti-reflective features.
Dielectric Coating
The several dielectric layers that cover the prism improve the image quality, especially in low-light conditions.
Razor HD
It is among the best spotting scopes on the market and the Vortex collection's premium model. If you are looking to upgrade your current scope and improve long-distance images, zoom power, and eye relief, this is the scope for you.
It comes in the following magnification powers:
11-33X50 (Angled or Straight)
22-48X65 (Angled or Straight)
27-60X85 (Angled or Straight)
The optics of this scope are among the best ones you'll find, thanks to the following factors:
APO system
This index-matched system has the task of correcting color disruption across the visual spectrum. So, you can count on precise, bright, sharp, and authentic colors across your field of view.
HD lenses
These lenses are responsible for the HD images you can enjoy with the Viper HD. The HD technology enhances color fidelity and resolution while minimizing aberration and light dispersion.
XR™ Plus Anti-reflective Coatings
The several layers of anti-reflective coatings covering any air-to-glass surface increase image clarity through the optimal light transmission.
Plasma Tech
This state-of-the-art technology improves the coating's performance, durability, and resistance to elements.
Vortex Diamondback vs Vortex Viper Hd vs Razor Spotting Scope: Who Are They For?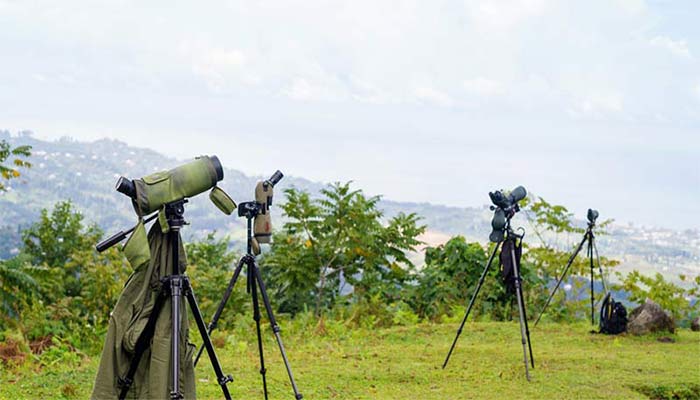 The Vortex scopes are among the highest-quality scopes on the market, and they can be quite pricey for outdoorsmen or marksmen. Therefore, it is crucial to find the model that best suits your needs without adding too much weight to your backpack (or blowing through a budget).
It is important to remember that more features aren't always better, especially if you are still at the beginning of your hunting journey. Indeed, having to deal with multiple features and technologies while stalking an animal can even worsen your experience.
Here, you can find a breakdown to find the perfect match for your needs:
Diamondback
The Vortex Diamondback is excellent beginner-level equipment. While you can only find two magnification power ranges within the collection, this is enough for most average hunting trips.
Indeed, the 20-60X85 allows you to aim at a target at a distance, especially if you are stalking in a wide-open field. Oppositely, the 16-48X65 is lighter, more affordable, and suitable for shorter-range targets.
Aside from its affordable price, the Diamondback is also an excellent investment because it is constructed in ArmorTek®. This patented material makes its body ultra-hard and resistant to scratches, moisture, oil, dirt, fog, and shock.
Vortex Viper Hd
As we have already seen, the Viper represents an upgrade from the Diamondback for most hunters. They also boast two ranges of magnification powers, and they are suitable for stalking animals at a closer or further distance.
Additionally, these scopes' unparalleled low-light capabilities make them perfect for hunters who love to be the first or last ones in the field—no matter the light, temperature, or weather conditions.
The Viper scopes also boast some convenience features that make them suitable for hunters who don't have extensive experience, such as:
Adjustable eye cups to match your eyes' needs
The helical focus for finer zoom adjustments
Sunshade to protect the lens from glare, rain, or snow
Razor HD
It is one of the best spotting scopes on the market, and its unrivaled optical elements make it the ideal choice for expert hunters looking to take their stalking experience to the next level.
As we have seen, the HD optical elements of the Vortex Razor allow you to always snap entirely clear and sharp images, with minimal aberration and high color fidelity—no matter what magnification phase!
Just like the Viper Hd, the Razor provides one of the best user experiences for intermediate and expert marksman and outdoorsmen. Some of them can't miss features of this scope include:
Adjustable eye cups to meet the needs of your eyes, whether you are wearing glasses or not
Helical adjustment for magnification
Built-in sunshade to offer you the clearest views regardless of glare or precipitations
Adjustable viewing angles thanks to the rotating tripod ring
Adjustable eye relief capabilities
---
Which One Is the Better Spotting Scope?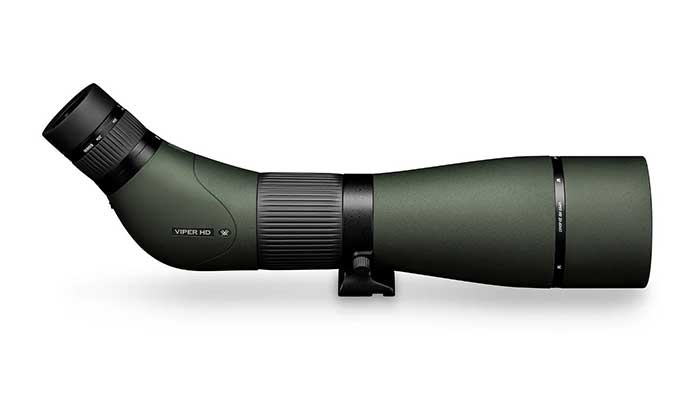 It can be challenging to understand whether the Diamondback, Viper, or Razor scope is better because it mostly depends on your needs and circumstances.
Of course, the Razor offers the best optics, magnification ranges, and convenience features.
Nonetheless, if you are still a beginner marksmen, the many features and refined characteristics of this might get in the way of your hunting experience.
Find out about the performance of Vortex scopes and their price range below.
Performance
As we have seen, the Razor is the best-performing spotting scope in the Vortex collection. Undoubtedly, its low-light, magnification, and HD capabilities make it the most sought-after scope for an expert marksman.
Nonetheless, its price tag can be absurd for most hunters and outdoorsmen. In this case, you should consider the following factors:
All models are waterproof, shockproof, and fog proof and resistant to glare and dirt.
The Diamondback does not offer advanced HD capabilities as the other models do, but it is much more affordable.
They all boast convenient features such as the helical focus.
The Viper is better for shorter-range targets, but the Razor is an even better option with its 11x magnification.
If you tend to practice in low-light conditions, the Viper and the Razors are better choices than the Diamondback.
Ultimately, it is worth keeping in mind that Diamondbacks might fall in the "budget" category of Vortex spotting scopes, but they still have a much better performance when compared to other scopes in the same price range.
Pricing
The Vortex collection is created to be appealing to any marksmen, from beginners to experts. However, several factors might affect the price you will pay. These factors include the magnifying power, optics, and construction features.
Here is a rundown of the pricing of the different models:
Diamondbacks: Diamondbacks are priced between $500 and $600, depending on their magnification power.
Viper: There are four viper models, and they range from $1050 and $1350.
Razor HD: These are the most expensive scopes in the Vortex range, and their price can vary between $1000 (for the model with a low 11-33X50 zoom capability) and $2000 depending on the magnification range.
Diamondbacks are appreciated for their affordability, while Razor is excellent premium scopes. Vipers are a great compromise between extensive magnification ranges and refined optics.
Here are some hunting optics suggestions from Vortex Optics:
---
Final Thoughts: Vortex Diamondback vs Viper vs Razor HD Spotting Scope
When it comes down to selecting the right scope, you should be looking into its construction and optics. In terms of structure, all Vortex models are created in ArmorTek, and they are resistant to moisture, fog, dirt, shock, and scratches.
Instead, you will find some differences in terms of optics that make it easier to pick from the different models. Here is a conclusive comparison:
Diamondback: The Diamondback is an excellent entry-level option for beginners. It is also affordable, resistant to the elements, and long-lasting. Its optics are superior in standard hunting settings.
Vortex Viper Hd: This scope is the perfect compromise between refined optics and an affordable price. It can be used successfully in low-light settings and provide distortion-free images.
Razor Hd: This scope is a dream for any expert marksman and provides some of the best optics on the market. It can be used in any light condition without having to deal with distortions or aberrations. It provides clear images, a comfortable eye-relief system, and ease of use.
More Related Articles: