Vortex's Diamondback Rifle Scope Has Fully Multi-coated Optics is Fully Weatherproof, Ideal for Big Game, Slug Shotgun, and Long-range Applications
What We Like
High-quality glass
Great value for quality riflescopes
Easy to dial-in
What We Don't Like
Not the best in terms of eye relief
No attached, easy flip-up lens caps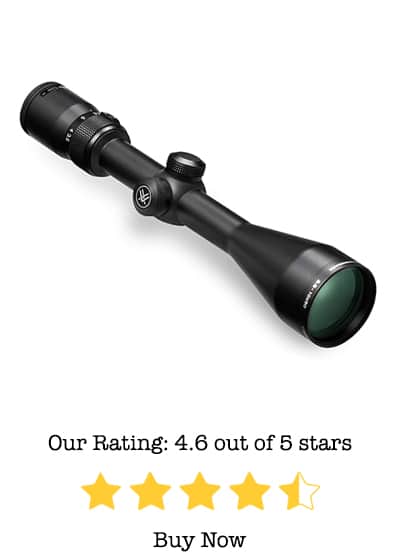 Bottom Line
The Vortex Diamondback 4-12X40 scope is by far the best, especially against the Vortex Crossfire. The Dead-Hold model is reliable and stable, allowing for excellent tracking and steady aim in your field of view with a low-cost investment.
Vortex Diamondback Review Introduction
If you're looking for a reliable, crystal clear scope that's perfect for big game hunting, your search is over. After our Vortex 4-12×40 review, this excellent scope should be the only thing in your crosshairs.
Between its durable structure and easy dial-in design, this Vortex scope is the perfect addition for any long-range shooter or hunter. While their scopes are manufactured in China, Vortex is a proud Wisconsin-based company.
---
Why We Love the Vortex Diamondback 4-12×40
Our Diamondback review optics will prove that this is a scope worth buying. We're here to take away the guesswork, and this Vortex scope is one of the best scopes on the market.
This rifle scope blows the Vortex Crossfire out of the water with its long-ranging focal plane, a fast-focus eyepiece, and advanced optics technology.
The Vortex Diamondback 4-12×40 is efficient and durable. Whether you need improved optics for brush hunting or fasten it on your slug shotgun, you can't go wrong with the Diamondback scope. It is shockproof thanks to its fully multi-coated, hand anodized finish.
The glass objective lens itself is fog proof, waterproof, and anti-reflective, sealed behind an impenetrable O-ring. On top of all these features, the Vortex Diamondback is also one of the most affordable scopes available, especially compared to the Crossfire.
Related reading: Vortex Crossfire II 3-12X56 AO Hog Hunter Review
---
Great Image Clarity
A scope needs to have impressive optical features when it comes time to shoot. If zooming in leaves your second focal point a grainy mess, there's no way you'll catch your prize.
Luckily, the Diamondback Vortex makes sure your image is just as precise zoomed in thanks to its state-of-the-art optics technology and glide erector system. This is especially impressive given its longer range compared to the Crossfire.
The lenses on the Vortex are multi-coated for extra clarity, no matter the time of day or activity—from target shooting to a hunting trip.
This scope will provide a clear, fog proof, and waterproof image, whether early in the morning or close to sunset. As a bonus, this Vortex scope comes with a lens cloth to keep your glass lenses clean and flawless.
---
Easy to Adjust BDC Reticle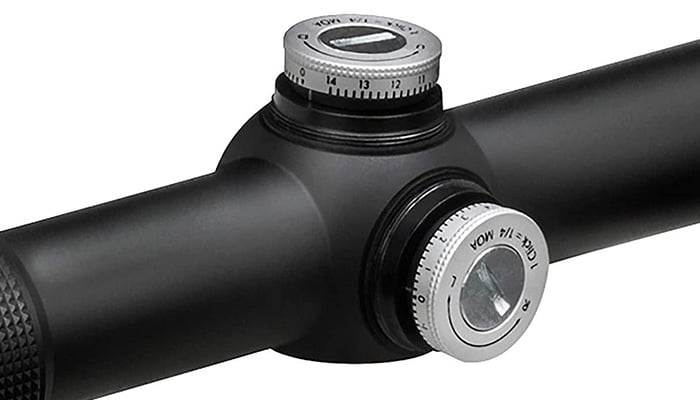 This Vortex scope is fashioned with state-of-the-art metal against metal turrets on its BDC Reticle. This protection allows users to zero resets after they've already sighted-in 300 feet.
Once that's done, your second focal plane still comes through clear as day and will enable you to sight in even more for an added hunting advantage.
The Diamondback provides a field of view of 100 yards of 32.4' to 11.3', much longer than its competitors' second focal ranges, including the Crossfire.
Besides the ability to zero reset the BDC reticle MOA, adjusting the reticle itself is quick and easy. Both the Diamondback and Crossfire boast easy reticle adjustments, but only one had optics that truly excel.
With its assertive, audible clicks, it's easy to know just how much you've modified the scope. Plus, the knobs are both cold-weather and glove-friendly, so no need to worry about a lack of response when adjusting in the colder seasons!
---
Durable Construction and Design
What makes this stand out among competitors is its durability. If you were to drop your gun on accident and have the scope hit the ground, you wouldn't even worry about replacing the Diamondback because of its sturdy single-tube design.
Because Vortex makes both the Diamondback and Crossfire, they are made of the same aircraft-grade material.
While the outside may sustain some scratches and wear-and-tear, the overall function wouldn't be affected.
The exterior of the Diamondback scope can endure pretty brutal hunting trips but still work just as well at the end of the day. Can competitors say the same of their optics products?
Related: Vortex Viper HS LR 4-16X50 Review
---
Aspects that Could Use Improvement
Unfortunately, not everything is perfect with the Diamondback 4-12X40. While the optics are outstanding, this scope can use some improvement when it comes to eye-relief.
At times, this scope can almost be uncomfortable to use. This is where the Crossfire has the Diamondback beat, as it has more forgiving eye-relief components.
Another feature that could be improved on the Vortex Optics is the protective gear that comes with the lenses. While these lens caps are fine, Vortex would do well to consider making them attached to the scope itself.
Having flip-up caps would alleviate the stress of what happens if you lose a lens cap. Again, this isn't a design flaw or non-selling point, just something the company could improve in the future.
---
Price
As mentioned before, Vortex Diamondback scopes are incredibly cost-efficient. This scope ranges from $179 to $199.99 and is a fraction of its competitors' cost.
The Vortex Optics can range from $199-$299.99 alone! You'll save money and get a product with a longer field of range at 300 feet at a more affordable price.
With an impeccable Dead Hold BDC Reticle, a focal plane spanning over 100 yards, and multi-coated lenses, this scope is worth the small investment.
Your hunting trips will be even more sure-fire with this impeccable piece of equipment. You may even convert your friends to try Vortex scopes after they see how great yours is.
---
Final Verdict: Vortex Diamondback 4-12X40 Riflescope Review
Vortex Diamondback scopes are superior to Vortex Crossfire scopes. From multi-coated lenses for clear sight to its unwavering BDC Reticle, our Vortex Diamondback 4-12×40 review shows this scope is well worth the investment.
While relief on the eye may not be the best on this hunting scope, it's a small price to pay for such focal plane accuracy.
---
Related articles: