---
Vortex Optics Crossfire II Second Focal Plane is suitable for hobby hunters looking for a quality, reliable scope
What We Like
Powerful enclosed motor for optimum performance
Compact and lightweight design
Versatile usage with an adjustable depth guide
Tool-free bit change
Lifetime warranty
What We Don't Like
Doesn't work well with certain bubble levels
Prone to losing focus at any range greater than 150 yards
You lose extended eye relief when you zoom out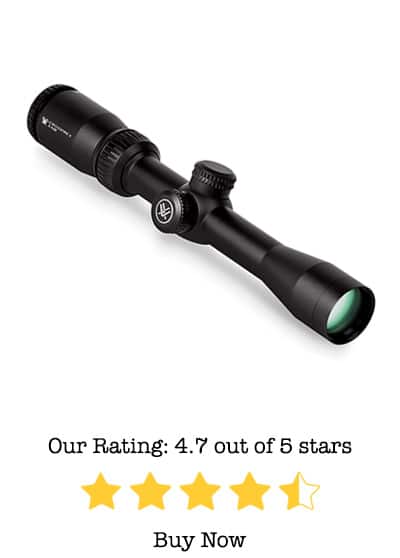 Bottom Line
The Vortex Crossfire II 2-7×32 scope is suitable for hobby hunters looking for a quality, reliable scope where holdover and wind conditions cause problems.
Vortex Optics Crossfire II Review Introduction
If you've done any hunting, whether occasionally or regularly, you know the value of a good rifle scope because you've learned that maintaining your cover and distance is nearly impossible without one.
Whether you're hunting large or small game, or just practicing at the range and want a new rifle scope, you should check out the Vortex Crossfire II series.
We did some work and wrote up a Vortex Crossfire II buying guide to help you decide what's best for your hunting. For a simple, basic, economical scope, the Vortex Crossfire II gives you the optics, clarity, and aiming ability you want for a good value.
Rugged and accurate with a Dead Hold BDC reticle, you can stop wondering about holdover and windage problems while sighting in on your prey with ease.
Related: Vortex Crossfire II Review
---
Design and Specifications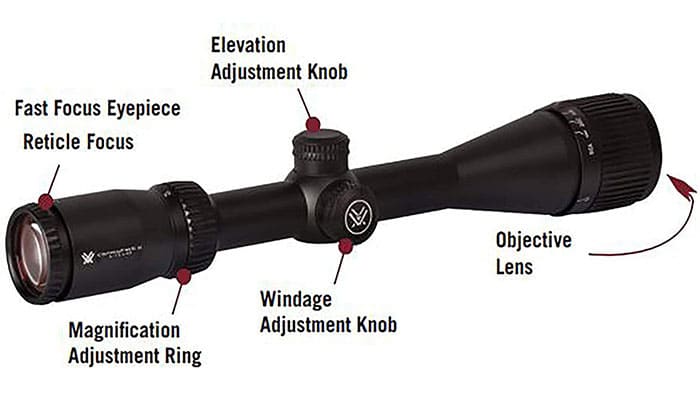 The Vortex Crossfire II scope has a single-piece, aircraft-grade aluminum tube for durability, maximum focus, and improved accuracy.
Vortex Optics also uses a proprietary coating on its lenses to prevent reflection and reduce glare, and increase light transmission for higher visibility.
The Dead Hold BDC helps eliminate problems with windage correction and holdover estimation, giving you the ability to sight in on your quarry with ease regardless of wind conditions.
Length: 10.71 inches
Weight: 14.3 ounces
Tube size: 1 inch
Eye relief: 3.9 inches
Magnification: 2-7x
Objective lens diameter: 32 mm
Field of view: 42-12.6 ft/100 yards
Parallax setting: 100 yards
Travel per rotation: 15 MOA
Maximum windage adjustment: 60 MOA
Maximum elevation adjustment: 60 MOA
Adjustment graduation: 1/4 MOA
Turret style: Capped
---
Vortex Crossfire II Performance and Features
The Vortex Crossfire II scope has many features we like that we feel will add to your hunting experience, especially if you find yourself hunting in windy conditions.
Furthermore, you get an excellent value for this scope, and it works with a variety of hunting rifles.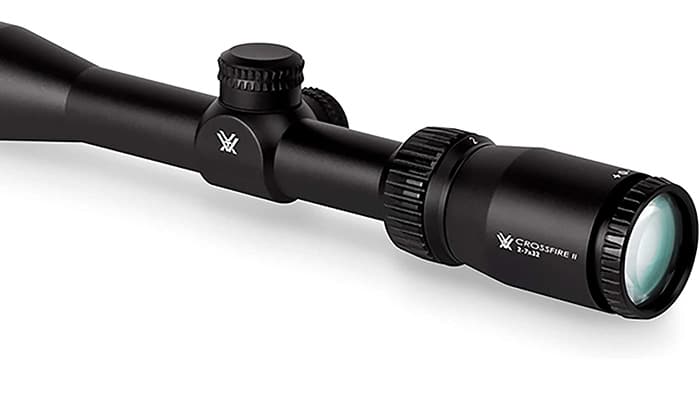 Anodized, Single-Piece Aluminum Tube
Even if you've only been hunting a few times, you probably already know that you need a durable scope that holds still.
The Vortex Crossfire II has an anodized, single-piece tube made from aircraft-grade aluminum to give you that extra ruggedness you need out in the field.
Vortex purges the tube with nitrogen and seals it with o-rings, which helps prevent lens fogging and keeps moisture out of the scope. Despite that, we found that the lenses do tend to fog just a little in cool and humid weather.
Proprietary Lens Coatings
If you're looking for a scope that increases light transmission for better sighting, the Vortex Crossfire II scope uses a proprietary coating on its lenses to accomplish that.
Vortex Optics puts these coatings on all glass surfaces exposed to the air to reduce reflectivity, ensuring you have a clear view at all times.
Dead Hold BDC Reticle, Second Focal Plane Reticle
Some Vortex Crossfire II scopes have an illuminated reticle to help you with your point of aim in low light conditions, including at night. This particular scope doesn't have that, so if you want an illuminated reticle, this scope is not for you.
They offer three different scope options. The V-Plex reticle is an all in one duplex reticle. The V-Brite reticle uses the V-Plex reticle as the base, but the center is marked with a red dot.
However, it does have a Dead Hold BDC reticle, which has hash marks to aid you with holdover and windage estimates. We also found that the second focal plane reticle maintains the reticle's visual scale no matter what your magnification.
Finally, while this scope has extended eye relief to help prevent injury as your rifle recoils, you lose that feature as you zoom out.
Low-Profile, Hand-Adjustable Capped Turrets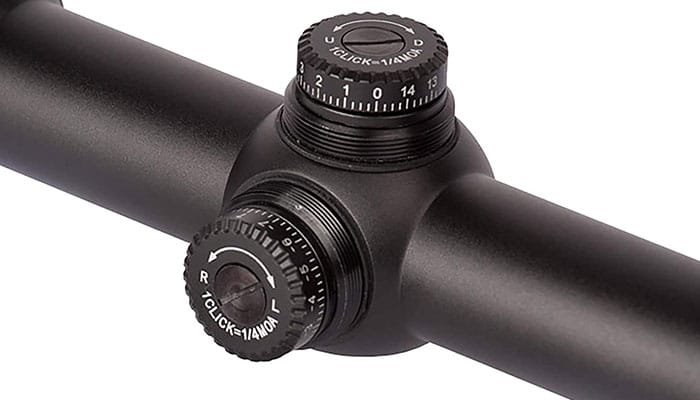 Capped turrets are fine if you don't need to make any adjustments quickly. Many veteran hunters prefer exposed turrets for that reason, and we feel that what you want depends on what you're doing.
Even with the capped turrets, though, you can maintain your zeroing after you reset them. The capped turrets on the Vortex Crossfire II are hand-adjustable, and the caps provide excellent protection from the elements and other potential problems.
Shock Proofing
Rifles recoil. We all know it. And those of us who have higher-caliber rifles know very well how hard those guns can kick.
The Vortex Crossfire II has shock proofing to help the scope maintain its zeroing during a hard recoil. It also reduces the possibility of lens shift in the event you whack it against something.
Related reading: Vortex Diamondback 4-12X40 Review
---
Pricing: Reasonable and Practical
Vortex Optics manufactures a massive variety of Crossfire II scopes. This particular Crossfire II gives you good value for its price range, which is between $100 and $250 depending on where you buy it.
If you're on a strict budget but dead set on purchasing this scope, look around for offers and discounts. In addition, you get a VIP lifetime warranty which is unbeatable by other brands.
---
Vortex Crossfire II Final Verdict
Overall, we end our Vortex Optics Crossfire II Second Focal Plane review with a favorable opinion because you get a wide range of features at an excellent price.
Vortex Optics puts a lot of effort into manufacturing quality scopes that work well in the field and at the range.
Of course, there are some features you may not have with this scope that you would with a more expensive one, including problems using it for long-range shooting.
Overall, though, we like this scope because it's a reliable, well-made, and basic while still giving you visibility and clarity you need while hunting and shooting.
---
Related articles: