This is a 30-mm Single-piece Rifle Scope That Works for Even the Most Discerning Hog Hunters
What We Like
Great item for hunting in low light
Bright, illuminated center dot in the reticle works in all light conditions
Adjusts easily and tracks accurately
What We Don't Like
It's heavy and oversized for small rifles
Capped turrets hinder on-the-fly resets after zeroing
Prone to fogging in cold, humid weather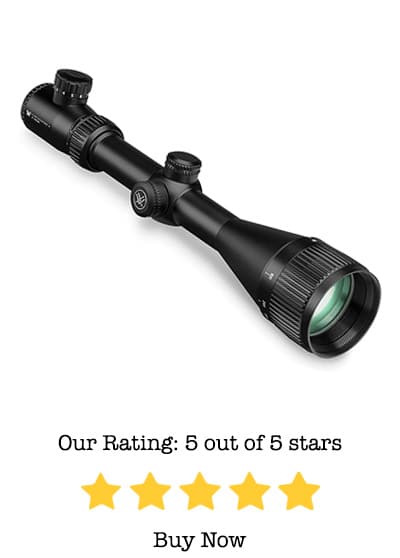 Bottom Line
The Vortex Crossfire II, 3-12×56 AO Hog Hunter scope, is decent for hunting hogs (and deer) with heavy cover in poor lighting conditions.
Vortex Crossfire II 3-12×56 AO Hog Hunter Introduction
If you've gone hunting, you know how much better your experience is when you have a good rifle scope. You can sight in on your quarry from a distance, giving you the advantage of remaining silent and hidden as you set up your shot.
A good hunting scope gives you the sighting ability you need in many different conditions so you can hunt when your prey is most active. We researched and wrote this Vortex 3-12×56 AO Hog Hunter review to see how well this one works and provide you with some information to use before you buy.
Related reading: Vortex Crossfire II Review
---
Design and Specifications
The Vortex 3-12×56 AO Hog Hunter scope uses aircraft-grade aluminum in its single-piece, nitrogen-purged, sealed tube.
That, in turn, helps prevent fogging and water infiltration inside each lens and makes it rugged and durable for even the most hardcore hog hunters. This item also has multi-coated, anti-reflective lenses to aid in sighting even in low light and poor weather conditions for better aim.
During our review we found the following specifications:
Length: 13.46 inches
Weight: 21.1 ounces
Tube Size: 30 mm
Magnification: 3 12x
Parallax Adjustment: 10 yards to infinity
Objective Lens Diameter: 56 mm
Eye Relief: 3 1/2 inches
Reticle: V-Brite and Second Focal Plane Reticle
Adjustment Graduation: 1/4 MOA
Travel per Rotation: 15 MOA
Maximum Elevation Adjustment: 60 MOA
Maximum Windage Adjustment: 60 MOA
---
Vortex Crossfire II Performance And Features
The Vortex 3-12×56 AO Hog Hunter has high reliability and performance levels, allowing hog hunters to set up the perfect shot even under heavy cover and low lighting conditions. We took care to review the most important features so you know what you're getting.
Proprietary Coatings
This scope uses special coatings on its lenses to give you a sharp, clear view every time you go out. It also has anti-reflective coatings on all lens surfaces that are exposed to the air to further ensure you have a clear view at all times.
Anodized, Single-Piece Aluminum Tube
What hunter doesn't need a heavy-duty scope that's resistant to moisture? The Vortex Crossfire II Hog Hunter has an anodized, single-piece tube made from aircraft-grade aluminum.
Although we did find that the lenses of this scope can fog up a little, the nitrogen-purged, o-ring sealed tube helps prevent that and keep water outside where it belongs.
V-Brite Illuminated Reticle
Early on in our review, we found that of the reasons the Vortex 3-12×56 AO Hog Hunter works so well in low light and at night is its illuminated reticle.
You get a daylight-bright dot in the center of the reticle that further enhances your point of aim, allowing you to hunt in even the worst lighting conditions. You may still need some additional light if you're hunting at night. The reticle may not be enough for you to see your targets without it.
Capped Reset Turrets
In doing this review, we found that the Vortex Crossfire II Hog Hunter's capped reset turrets make that somewhat harder. Unlike other scopes with capped turrets, you don't need a special tool to remove the caps, so you can still reset it even after zeroing the scope. 
If you hunt in a wide variety of conditions at different times of the season, you might find the capped turrets a little irritating.
Second Focal Plane Reticle, Adjustable Objective
We noticed a second focus plane reticle near the eyepiece behind the magnifying lens and image-erecting lens while doing our research for this review. The second focal plane helps the reticle of the Vortex Crossfire II scope maintain its size appearance as you adjust your magnification.
This scope also has an adjustable objective lens for better image focus and parallax removal. Finally, you get 3 1/2 inches of eye relief, helping reduce the chance of injury from your gun's recoil and the scope.
Shockproof
The harder the recoil on your hunting rifle, the more likely it is to affect your scope, and we took that into account while doing our review.
Also, even the most experienced hunters can accidentally bang their rifles against something or drop them. The Vortex 3-12×56 AO Hog Hunter has shock proofing to guard against those problems.
---
Pricing: Reasonable But Not Cheap
We think the pricing on this scope is reasonable because you get many features, including a complex reticle, a second focus plane reticle to prevent appearance change, and ruggedness, without the hefty price tag.
You can generally get the Vortex Crossfire II 3-12×56 AO Hog Hunter for anywhere between $150 and $400, depending on where you buy it and what discounts and offers you can find. If you're on a strict budget, you may need to find a good deal to buy this scope.
Related: Vortex Viper HS LR 4-16X50 Review
---
Vortex Crossfire II Final Verdict
After completing our Vortex Crossfire II 3-12×56 AO Hog Hunter review, we've concluded that this is a reliable, decent scope for hog hunting.
We like that you get a clear, crisp view due to the coatings on each lens and that you have a daylight-bright center dot in the reticle for your point of aim, helping you even in low light. The fact that it's got some shock proofing to guard against recoil and impact is excellent, too.
Overall, we like this scope especially compared to many others we looked at for this review. This scope is a good value for hog hunters looking for a high-tech scope, but would rather not shell out a ton of money for one.
---
Related reading: