A common question archery newbies have is whether they should get a vertical pin sight or a horizontal pin sight. Both horizontal and vertical pin bow sights have their pros and cons, and most people prefer one over the other. Which is the better option?
Whether to get a horizontal or vertical bow sight depends on your personal preference. You may find one type to cover your target, depending on what you are hunting. You may also be used to one type; if so, I don't recommend switching. Both are good for hunting.
Today, I will be explaining some of the differences between these two types of pin bow sights and how to choose between them.
I will also explain what bow sights are and how to use them properly if you don't know that yet. Let us get into it.
What Is a Pin Bow Sight?
Before I discuss whether a horizontal or vertical pin bow sight is best, I would like to take a minute to talk about bow sights in general to benefit the uninformed. Pin bow sights are important in archery, as they help you aim. 
There are various deviations in different pin bow sights. One of the most common differences between bow sights is whether the sight is a single pin or multiple pins. Single pin sights have only one pin, while multi pin sight has several pins.
Multi pin is designed for different distances. For example, one pin might be aiming for a distance of 30 feet, the other for 50 feet, and the other for 70 feet. Usually, these distances are measured in yards.
Watch this YouTube video to learn how to adjust your bow sight:
Multiple bow sights have pins that are not easily adjustable. The pins are set for their distances.
On the other hand, single-pin bow sights usually have an adjustable pin. Since you can adjust the pin for different distances, you don't need multiple pins.
You can often adjust single pin sights for the exact distance you are aiming for. That is why so many people love single pin. At the same time, a single pin gives you an uncluttered sight picture.
When there are multiple pins, the sight picture can seem a bit cluttered, and it can interfere with your aiming success.
That is another reason so many people prefer single pin sights to multiple pin sights, even though it can take some time to get used to.
However, there is another difference you might find between different sights: Vertical vs. horizontal.
While many sights are vertical, others are horizontal. Which one is better? That is the question I am aiming to answer in this article.
---
Vertical Pin Bow Sight VS Horizontal: Personal Preference
Most hunters say that it comes down to personal preference, and this is mostly true. However, as I will explain very soon, some other factors may take into account.
Nevertheless, I would recommend that you try out both types; adjustable or fixed pin if you can before deciding which one to buy.
You may have a friend who has both types of bow sights – trying each one out in real life while hunting can help you figure out which one you have a personal preference for.
---
Vertical VS Horizontal Pin Bow Sight: What You Are Hunting
You should also consider when deciding which type of pin type to buy is what you will be hunting.
For example, if you are hunting deer, you might want a horizontal pin sight to line the pins up with the deer's body, which runs horizontally.
If you are hunting other things, like geese, you might find the horizontal pins distracting.
Ultimately, it still comes down to personal preference. Even if you are hunting deer, you may find that vertical sights work better. It can be hard to say which one is better if you don't try them out first. 
For example, some people might find that the horizontal pin doesn't help to hunt deer. On the contrary, they may find that it blocks the deer's body, preventing them from seeing it and aiming for it successfully.
Everyone is different, and it is hard to say that there is one way that fits all.
---
Vertical Pin Bow Sight VS Horizontal: What You Are Used To
If you are used to one type of pin sight and are happy with how it will work for you, perhaps it is better not to change it. There will be a bit of a transition period if you decide to switch to a different type of pin bow size.
If you are a newbie, you may choose one or the other, but if you have been hunting for years, you may find your hunting skills diminished if you choose to start hunting with a different type of pin.
---
Vertical VS Horizontal Pin Bow Sight: Covering the Target
Some people find that vertical pins cover too much of the target compared to horizontal pins.
Horizontal pins only cover part of the target from the sight window, while the vertical option covers most of the target, depending on the target.
Others think that the horizontal pins will cover the target with great sight. Both can be true, as it depends on what you are hunting.
---
Vertical Pin VS Horizontal Bow Sight: Pros and Cons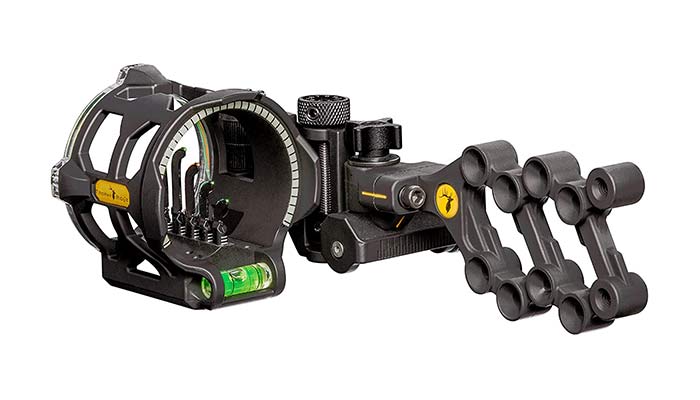 Vertical Bow Sight Pros and Cons
Pros:
It won't block your field of view if you are hunting deer or aiming at targets backed into a tree.
Cons:
It is hard to split the pins when shooting from a distance.
It is harder to see in between the pins when the pins are set a certain distance from each other and you need to aim for in between the pins.
Horizontal Bow Sight Pros and Cons
Pros:
It is easier to acquire the pins.
It is easier to split the pins and see in between the pins.
Blind hunting is easier.
Cons:
It may block your view of animals such as deer.
---
Final Thoughts on Vertical Pin Bow Sight VS Horizontal Pin Bow Sight
I can't say that one type of pin bow sight is necessarily better than the other. Both are good, and it depends on your personal preference.
However, if you are happy with one type, I don't see why you should change it. If you are a newbie, I would suggest trying out both types.
More Related Articles: