Are you looking for custom optics and riflescopes? Two very good companies are US Optics and Nightforce Optics. Both companies produce similar products, but which company is a better option?
U.S. Optics and Nightforce are similar in terms of product quality, product availability, long-range shooting, and warranty. However, US Optics products tend to be more rugged. Also, Nightforce is more geared towards civilians, while US Optics targets LE and the military more.
In this article, you will learn all you need to know about US Optics, Nightforce Optics and the differences between them. I will discuss each of these companies to help you decide which one to buy. Let us get into it.
---
US Optics vs. Nightforce: Products Available
In this section, I will give you a brief introduction to the products of US Optics and Nightforce. If you have never heard of these companies, this section is for you.
This section is also for you if you would like to compare the catalogs of each company. If you are already familiar with these two companies and their products, you can always skip to the next section to not waste your time.
US Optics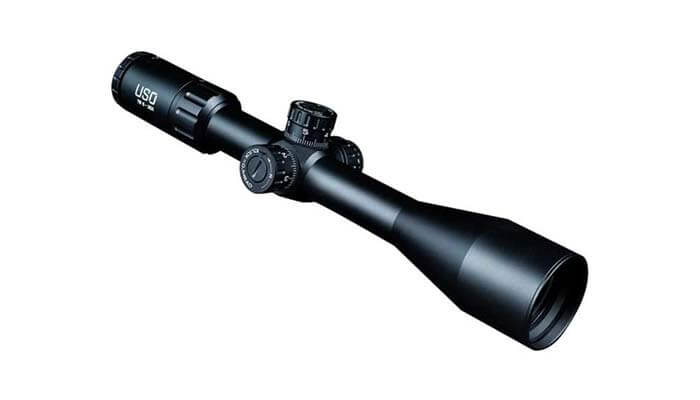 US Optics manufacturers a wide range of optics. They have been around since 1991, which means they have been around for three decades by now.
While they manufacture all sorts of products, you might be attracted to one of their "series." Let me go over some of their series to get an idea of what I am talking about.
The Foundation Series
The Foundation Series is a series of products that are produced domestically in the United States for long-range shooting.
The products in The Foundations Series are designed to be reliable, durable, and long-lasting. They are built using the principles that the company has used since 1991, and new things learned along the way.
The Foundation Series uses aircraft-grade 6061-T6 aluminum, so you know that these rifle scopes are not fragile and will last for a long time. This material also helps give the products a rugged feel, which many users love.
In fact, in forums, you might see other users mentioning how much they loved the rugged feel of US Optics instead of Nightforce. If that is something that matters a lot to you, take note of that.
Here are some of the products that are included in The Foundation Series:
FDN 10X (1.8-10X42MM)
FDN FX10 (10X42MM)
FDN 17X (3.2-17X50MM)
FDN 25X (5-25X52MM)
As you can see, The Foundation Series includes scopes of many different sizes. Prices start at $2,449. For now, suffice it to say that these products are very high-quality and well worth the price.
TS Series
If you can't afford the Foundation Series scopes, go ahead and check out the TS Series. These are considerably cheaper.
For example, the TS-6X is a great rifle scope that starts at just $695, a fraction of the cheapest Foundation Series scope. It is still of great quality, however. Here are some of the specs of the TS-6X, just in case you were wondering:
1-6x24mm objective lens scope
30mm tube
24mm objective lens
First Focal Plane Illuminated reticle
Other cool features
For reference, the larger TS-25X starts at $995.
There is also the TS-20X. Its adjustable objective lens helps you zoom in so closely on a target. You can watch a review about this particular scope on Youtube:
Electronic Sights
If you are looking for accurate red dot lasers for your handgun, whether that is a competition handgun or the one you carry every day, US Optics has you covered.
For example, the DRS 2.0 starts at just $249 and has a red dot with ten different intensity settings. These ten different intensity settings help you acquire your target in a wide range of lighting situations. There is also an enhanced version that is more expensive.
Accessories
In addition to the scopes and sights themselves, you can buy all sorts of accessories from them. For example, if you have a scope that is in The Foundation Series, you can get the Foundation Series Sunshades.
These are sunshades that are designed to block light from entering the objective and reduce the reflection signature. Sunshades can help reduce glare and help you improve your visibility.
Nightforce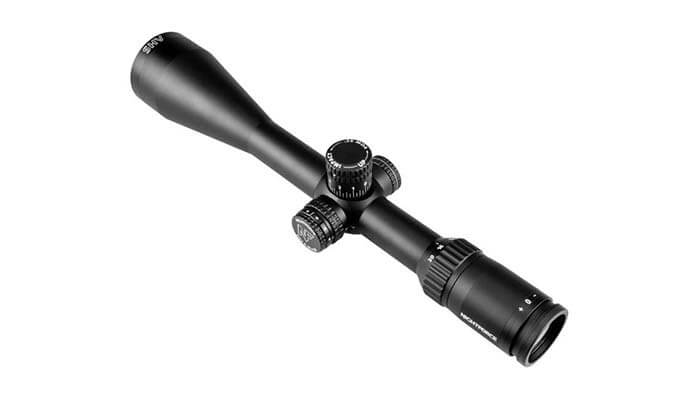 Nightforce is another company that produces high-end telescopic sights. It was founded in 1992, just one year after US Optics was founded. In other words, both have been around for around the same time, and one is not newer or less established than the other.
What types of products does Nightforce sell? They sell very similar products to US Optics. Following are some examples of the types of products available in the Nightforce catalog.
Riflescopes
These riflescopes are designed for the very best shooters. They are designed for police, military, and other professionals, so you know that they are good.
However, you don't have to be involved in law enforcement to buy them. If you want to improve your sight and your shooting skills, you can buy one of these Nightforce scopes.
There are many versions available. For example, the ATACR™ 1-8×24 is a low-power variable riflescope. One of its best features is its zero stop turrets that help you move the scope to its original position. Some features include: 
Bomb-proof reliability
ED glass
Great magnification range
First Focal Plane
Bright daylight illumination
It has a red dot in the center, but it allows you to zoom in up to eight times, unlike a standard red dot. It won't weigh you down as it only weighs 21 ounces.
In addition to the ATACR™ riflescope, other types of Rifle Scopes include:
Beast
NX8
SHV
Nightforce NXS
Competition
Spotting Scopes
Nightforce also has a couple of really great spotting scopes for hunting, like the TS-82™ Xtreme High Definition. It has features like an aluminum body, a large center ring, an internal prism design, and high contrast images. 
Accessories
Nightforce also sells accessories for their rifle scopes and their spotting scopes. Some of the accessories that they sell include:
Padded scope covers
Ring accessories
Bases
Sunshades
Throw levers
Objective lens covers
Cleaning kits
Tool kits
They even sell fun apparel for both men and women, including hats! You can buy t-shirts with the Nightforce logo or with cool gun-related images.
---
US Optics vs. Nightforce: Warranty
How do US Optics and Nightforce compare in terms of the warranty they offer and the customer support they provide to customers?
US Optics
The manufacturer has a great warranty program. Its warranty will last for life, even if you transfer the product to another owner! Yes, you read that right.
The warranty lasts regardless of ownership transfer. US Optics will repair or replace the product if it is deficient in "function, quality, workmanship or material." It has good customer service options.
Nightforce
Nightforce also has a limited lifetime warranty. If a product is deficient in materials or workmanship, Nightforce will repair or replace it with a similar one without any extra charges.
As you can see, both companies are for life in terms of the warranty, and both offer a good warranty. It has good customer service options too.
---
Quality and Military Grade Differences Between US Optics and Nightforce
Both companies have great quality products. The difference is that US Optics is better geared towards professionals than Nightforce. Both companies indeed target the military and law enforcement market as well as the civilian market.
Still, US Optics is more geared towards the LE and military market than the civilian market. Nightforce is more geared towards the civilian market than the military or LE market.
---
US Optics vs. Nightforce: Price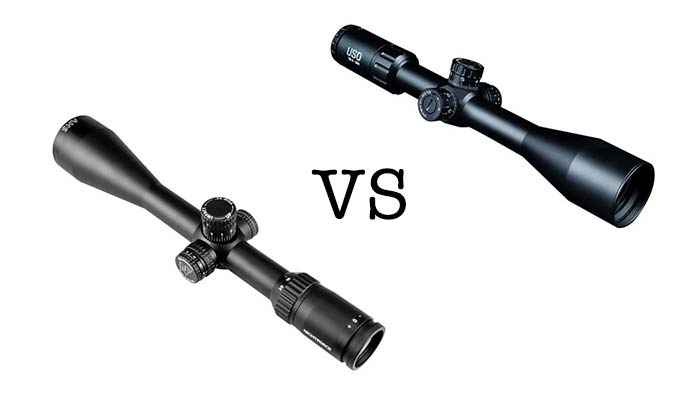 This comparison is tough because I would have to compare each product to a similar product made by the other company. However, as a general rule, I would say that US Optics is somewhat cheaper than Nightforce, for the most part.
If you are on a budget, you might want to go with US Optics instead of Nightforrce. If you have a lot of money to spend and money is not an issue, you can consider buying Nightforce products instead.
However, as I demonstrated before, a lot of US Optics products are rather expensive. In any case, some scopes are more expensive than Nightforce products. It is really up to you to compare two similar products to get the full picture.
---
Which Optics is More Rugged US Optics or Nightforce?
There is no question about it: US Optics scopes are more rugged than Nightforce products. As a general rule, if you are looking for ruggedness as a deciding factor in your decision-making process, I would say that you should use US Optics instead of Nightforce.
However, there is a lot more that goes into a purchasing decision than just ruggedness. You have to consider quality, price, and so on.
---
Final Thought: US Optics vs. Nightforce
Both US Optics and Nightforce produce great products. Prices can be similar sometimes, but at times, U.S. Optics will be a lot more expensive, while it can be cheaper at other times.
US Optics always wins when it comes to ruggedness, so if that is a factor, make sure to buy it instead of a Nightforce scope. Their products are also better if you are in the military or law enforcement instead of being a civilian.
More Related Articles: