Are you having trouble picking out the ideal sight for your shooting needs? If so, you've come to the right place!
The Trijicon MRO, Aimpoint PRO, and EOTECH XPS3 are all incredible sights for increased accuracy. The Trijicon MRO and Aimpoint PRO are red dot sights, whereas the EOTECH XPS3 is a holographic sight. Each sight varies in terms of price, features, size, and durability.
This article will go over the main features of these three sights. Then, we'll discuss users' experiences with these sights, including their likes and dislikes.
Lastly, we'll talk about how each sight performed on the torture test, pricing information, and why each sight is worth it.
---
Trijicon MRO vs Aimpoint PRO vs EOTECH XPS3: An Overview
All three of these sights are designed to provide you with an advanced optical experience. We'll go over each hunting optics and its main features in detail below.
Trijicon MRO Riflescope with 2.0 MOA Adjustable Red Dot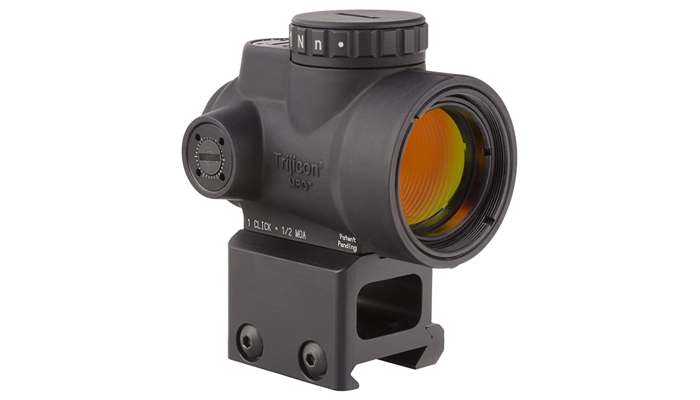 The Trijicon MRO is compatible with rifles, carbines, and shotguns. This sight allows for quick and moving target engagement, especially when you are in a non-standard shooting position.
This feature is essential if you are a hunter, law enforcement professional, or military since you'll regularly be shooting from inconvenient locations.
This miniature reflex sight is made with high-quality glass lenses, ensuring optimal clarity and no distortions.
The aperture is large and has a tapered light path, which maximizes your viewing area. You'll be able to hit your target every time with this sight's outstanding optics!
Additionally, the Trijicon MRO has eight adjustable brightness settings, including two-night vision modes, giving you the visibility you need to make your shot.
It also comes with easy-to-set MOA adjusters, allowing you to achieve accuracy at all distances.
Main Features of Trijicon MRO
Superior quality glass lenses are parallax free and anti-reflective
Fully submersible up to 100 feet (30.5 m)
Hard-anodized forged 7075-T6 housing provides protection
It has a tapered light path and a big aperture
Eight adjustable brightness settings
Aimpoint PRO Red Dot Reflex Sight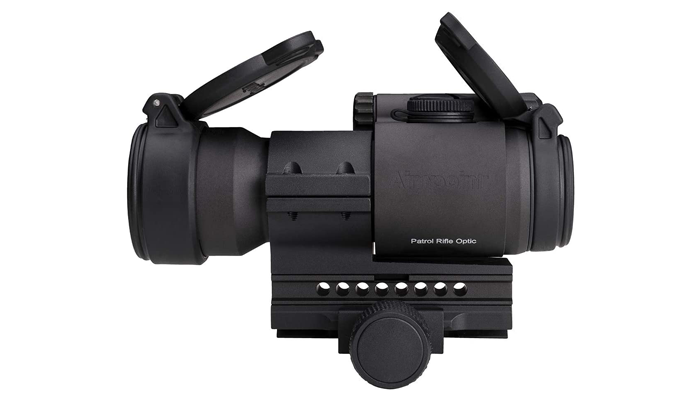 The Aimpoint PRO was designed to handle the elements. This rugged gun was made with a high-strength aluminum housing, permitting it to take even the harshest conditions without losing its function.
It is vibration and shock resistant and fully submersible (up to 150 feet or 45.72 meters), meaning it can handle almost anything you throw its way!
When it comes to brightness settings, this scope has four nighttime and six daylight modes, allowing for excellent visibility no matter the time of day.
It also has two MOA dots, permitting you to quickly lock on to your target, no matter the distance. The red dot comes with many brightness settings, the mount is solid, and mounting the red dot on your weapon is easy.
The Aimpoint's red dot sights are parallax-free, meaning the dot will remain parallel to your weapon no matter what angle your eye is at in relation to the sight.
This means you won't have to spend time trying to center the dot within the sight.
Additionally, the red dot feature increases your situational awareness since you'll be able to keep both eyes open while focusing on your target.
This is important for you if you're a police officer or you're in the military since you need to be aware of your surroundings at all times.
Main Features of Aimpoint PRO
It's battle-proven, meaning it can handle some severe abuse
It comes with the lens mounts and caps already installed
Provides three years of continuous battery life when on setting 7
Has two MOA red dots for total accuracy
Fully submersible up to 150 feet (45.7 m)
Related reading: EOTECH EXPS3 vs XPS3 vs EXPS2
EOTECH XPS3 Holographic Weapon Sight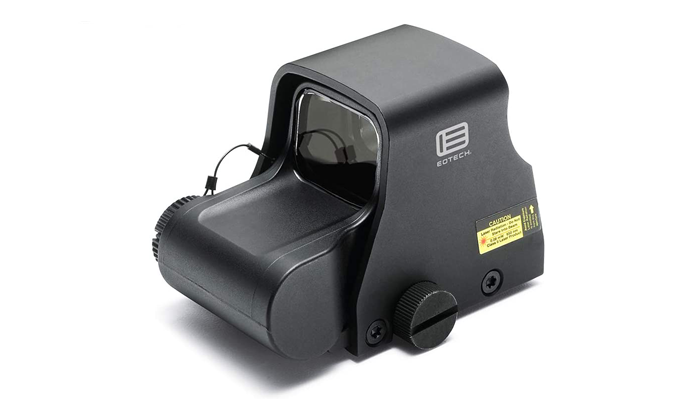 The XPS3 is one of EOTECH's shortest and lightest sights so far. It has high-speed target acquisition, allowing you to hit your mark every time.
It is holographic, making it more advanced (and somewhat more complex) than the other red dot sights on this list.
This sight runs on one transverse-mounted CR123 battery, which is an improvement upon previous EOTECH models. This means there will be more room for magnifiers, night vision mounts, or iron sights on your rail.
One remarkable feature of the EOTECH XPS3 is that it's night vision compatible with the generation I to III night vision devices, permitting you to enhance your visibility in the dark.
Additionally, its 20 brightness settings are undetectable by your enemy's night vision surveillance, allowing you to stealthily find your way in a total blackout.
Its rugged, bomb-proof design was constructed to withstand every situation. Even if you damage your lens, the EcoTech XPS3 will still be fully functional, allowing you to take the shot when it matters the most.
Main Features of EOTECH XPS3
Has 20 daylight settings
Compatible with the generation I to III night vision devices
Waterproof up to 33 feet (10 m)
The sight still functions even when the lens is damaged
The transverse-mounted battery allows for more room on the rail
---
User Experience
Next, we'll take a look at users' experiences with all three of these sights. Specifically, we'll go over what user's like and dislike about each sight and how this may impact your experience.
Trijicon MRO Riflescope with 2.0 MOA Adjustable Red Dot Reticle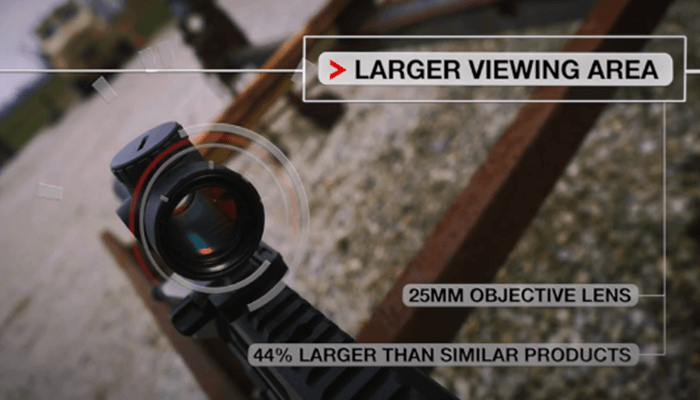 The Trijicon MRO has several features that enhance the user experience, including an ambidextrous brightness dial that left or right-handed users can efficiently operate.
So, if you are ambidextrous or if you want to quickly give your gun to a friend whose dominant hand is different from yours, this design is ideal.
User's also loved this scopes capless design, meaning you'll never have to go searching for missing caps again.
Additionally, the cap-free design means you are less likely to snag your weapon on potential hazards or inadvertently adjust your settings.
One of the users' favorite features of this scope is its weight and size. It's tiny and light, only weighing 4.1 oz (116.2 g). This will reduce your gun's weight load, making it easier to carry and use for extended periods.
Compared to previous generations of red dot sights, users appreciate the Trijicon MRO's long battery life. It can last for about thirty days on its maximum setting and three years when placed on setting seven.
When you eventually have to switch out the CR2032 lithium batteries, they only cost cents to replace, making this a very affordable option.
User Feedback of Trijicon MRO
Easy to use ambidextrous brightness dial
The capless design prevents snagging and accidental adjustments
The low weight is ideal for extended use
It comes with a wider field of view and a simple 2 MOA size red dot
Good battery life (lasting three years on setting seven)
CR2032 lithium batteries are inexpensive to replace
Aimpoint PRO Red Dot Reflex Sight
One of the main things users love about the Aimpoint PRO is its long battery life. This scope has 30,000 hours of battery life (around three years) when it is in constant operation on setting seven.
This is a great feature since you'll be able to leave your red dot on all the time, so you'll be ready to shoot at a moment's notice.
While the Duracell Lithium 1/3N batteries this sight uses are a little unusual, you won't have to switch them out that often so it doesn't matter that much.
However, some users found this slightly annoying and wished that Aimpoint could've selected some more common batteries.
Another desirable feature is the scopes flip-up lens covers. One of these covers' primary benefits is that the rear cap is translucent, meaning users can still use the red dot feature to line up on a target even when both caps are closed.
This is an essential feature for emergencies, especially if you work in law enforcement or a related field where you may need to shoot with little warning.
User's also like that this gun comes with a durable mount that holds zero even though it's mounted and unmounted multiple times. This ensures that you'll always be able to send shots accurately downrange!
One negative of this sight is its weight. This massive scope weighs 11.6 oz (329.0 g), making it a hefty optic. It is also very long, causing a tunnel vision effect which is undesirable to some users.
User Feedback of Aimpoint PRO
Long battery life (up to 30,000 hours of continuous use in setting seven)
Scopes flip cover allows you to shoot with lens cap closed during emergencies
It comes with a durable mount
Very heavy
Compact design with a wider field of view
The long sight creates a tunnel-vision effect
EOTECH XPS3 Holographic Weapon Sight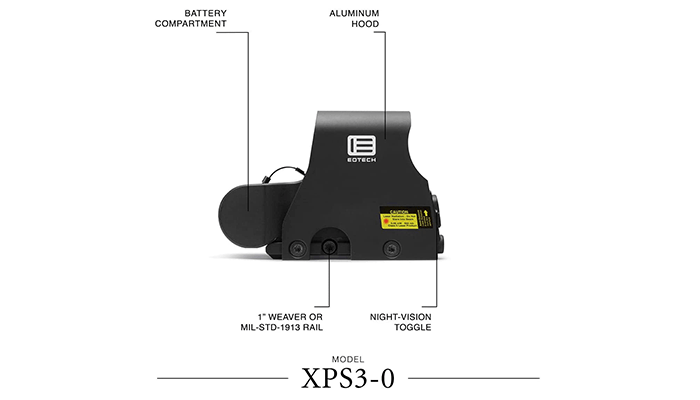 Many users were initially hesitant to try this sight because they weren't sure whether EOTECH fixed their problems with thermal drift that they got into legal trouble for back in 2004.
However, people who have used this product are astounded by its performance and highly recommend it. So, don't let the previous lawsuit dissuade you from giving this sight a try!
One thing users love about this sight is that it's holographic. This permits it to display a very useful ring reticle, allowing for greater accuracy while aiming at a target.
The reticle also comes with two MOA dots which set this sight apart from the rest. This reticle is truly something to write home about.
While this sight is excellent, it does have some flaws. One thing users didn't like about this product is the battery life.
It gets 600 hours battery life of continuous use when it is on the nominal setting of 12, and this is only when the site remains at room temperature.
The EOTECH is also heavy, weighing slightly less than the Aimpoint PRO at 11.2 oz (317.5 g).
Some users found this to be a little too hefty for what they were looking for. So, if you are in the market for a light sight, this isn't your best option.
User Feedback of EOTECH XPS3
This EOTECH model has remedied the issues mentioned in the lawsuit back in 2004
Sight is holographic
It has a ring reticle display and two MOA dots for increased accuracy
Short battery life
Wider field of view
Pretty heavy
Related reading: EOTECH EXPS2 vs XPS2
---
Performance on the Torture Test
The Torture Test is when people drop their sites onto different surfaces, then analyze their performance to determine if they are still functional.
We'll take a look at how well each scope did during different variations of this test to determine which one is truly the toughest of them all!
Trijicon MRO Test Results
Practically Tactical performed the torture test for the Trijicon MRO-C-2200004 1x25mm riflescope with 2.0 moa adjustable red dot reticle with low mount. During the trial, the users dropped it from approximately four feet (1.2 m) high, three times onto gravel.
They used it immediately after and found that the scope was still fully functional, and their shooting accuracy was still right on target.
Next, they dropped it onto concrete from approximately four feet (1.2 m) high two times. This created a gouge in the exterior of the scope, but the dot remained, and the scope continued to function just fine.
The lens was still fully intact, and the scope stayed fully adhered to the mount.
Lastly, they dropped the optic off of their 20-foot (6.1 m) range tower twice. They found that even after these two high drops, the site still retained zero perfectly. Its lens was still fully intact, and it remained firmly adhered to the mount.
To watch the video of this Torture Test being performed, check out the link below:
Aimpoint PRO Test Results
Gun expert "Nsz85" on Youtube performed a torture test on the Aimpoint PRO Red Dot Reflex Sight. For starters, he shot ten rounds, removed the sight from his gun, and threw it into the grass twice. He shot with it again and found that it maintained zero even after the fall.
To watch the video of this Torture Test being performed, check out the link below:
Eotech XPS3 Test Results
In this Torture Test video by ClassicFirearms, the tester began by throwing a rock on top of the EOTECH XPS3 Holographic Weapon Sight. When he did this, it shattered the lens.
However, as mentioned above, the reticle still works even though the lens is broken, so he was still able to shoot at his target with some accuracy.
However, the EOTECH lost its zero, so his shots were no longer centered. Instead, they were pulling down and to the left.
To watch the video of this Torture Test being performed, check out the link below:
---
Pricing Information
Below, we've created a chart of each of these sights' costs on Amazon:
Related reading: Aimpoint T2 vs H2 vs Comp m5s
---
Final Thoughts on Trijicon MRO vs Aimpoint PRO vs EOTECH XPS3
Why the Trijicon MRO Is Worth It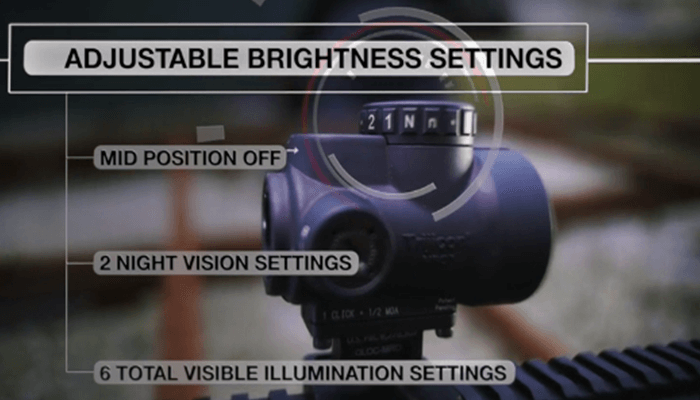 The Trijicon MRO is the smallest sight on the list, making it an excellent buy if you're in the market for a lightweight scope. It has a long battery life and did very well in the Torture Test, ensuring long-lasting durability.
Its high-quality lens provides optimal clarity without any annoying distortions. This is a quality choice for tactical shooters and hunters alike.
Why the Aimpoint PRO Is Worth It
The Aimpoint PRO is the least expensive option on the list, yet its quality is still on par with the more expensive sights.
It has a long battery life, allowing you to leave the red dot running continually, so you can use it at a moment's notice. It comes with a durable mount that can maintain zero even when it is unmounted and remounted multiple times.
Why the EOTECH XPS3 Is Worth It
The EOTECH is an excellent option for serious shooters. It's holographic, so even if you break its lens, it'll still work, unlike the other red dots on the list, which may be vital if you are in an emergency.
It has two MOA dots, improving your distance shooting. The EOTECH XPS3 is expensive, and it has a short battery life, but its fine reticle may make it worth the price.
Related Articles: