The avid hunter knows the equipment they use makes the difference between a miss and a hit. No wonder spotting scopes are gaining popularity among outdoor enthusiasts. Hunters used spotting scopes for magnification applications beyond the range of a regular binocular
Spotting scopes are compact telescopes designed for terrestrial observation. There are instances where a typical pair of 7x or 10x binoculars are inadequate. They can ensure you locate targets at extreme distances that even high-quality binoculars may miss. Also, it gives a more detailed clue about your target so that you are sure what animal you are tracking.
If you are hunting big game in wide-open areas, spotting scopes are excellent for setting up and getting a long-range shot in. Read on to know more about scopes and why you need them for hunting.
---
Why You Should Be Using a Spotting Scope for Hunting?
There are plenty of reasons why you should use a spotting scope even if you use a rifle scope. One of the main reasons is it allows you to observe and hunt sensitive species like bucks and mule deer from a short-range.
The magnification of a spotting scope lets you do that, making them ideal for any hunting activity. The following is a list of reasons why you really need this hunting optic when hunting.
Finding Your Target in a Large Herd
Imagine locating a Black Buck nestled among thousands of other wild animals such as deer in wide open. Finding it with binoculars is a daunting task. Additionally, you don't have a guarantee that you may see it at all.
With a spotting scope, this is a breeze, thanks to the higher magnification. Chasing rarities with a it is a thrill.
Locate Animals in Their Hiding Places
Some wild animals visit certain areas for a few days or hours in a year. Since they are often on the move, they make it hard for nature watchers and hunters to find them. With a spotting scope, you spot such animals from the ground or air easily.
These devices can spot "shy" animals from a distance of up to 300 yards. You can hunt or get a glimpse of such an animal before it disappears for days or hours.
Distinguish Between Similar Species
The color distinction is the easiest way to spot different species of wild animals. Unfortunately, you may be hunting on an overcast and dark day. This means the color distinction is non-existent, and proximity may be the only way to hunt.
The magnification and clarity of a spotting scope make such situations memorable and successful. You can hunt such animals without getting too close for them to notice you and disappear into the wild.
Identify Look-alike Animals
It is a challenge to distinguish between look-alike animals. Especially if you are new to hunting. There are animal species with similar patterns and coloration. It is crucial to zoom to the closest possible frame if you are to make the distinction. This is where binoculars have a disadvantage over spotting scopes.
A scope has unbelievable clarity that offers better results than binocular. In short, they help you identify look-alike animals, distinguish between similar species, spot distant animals, trace where an animal is hiding, and spot an animal in a large group.
Scopes cannot be just for plain viewing but also for recording images. Another use of spotting scopes is telephotography.
---
How to Use a Hunting Spotting Scope?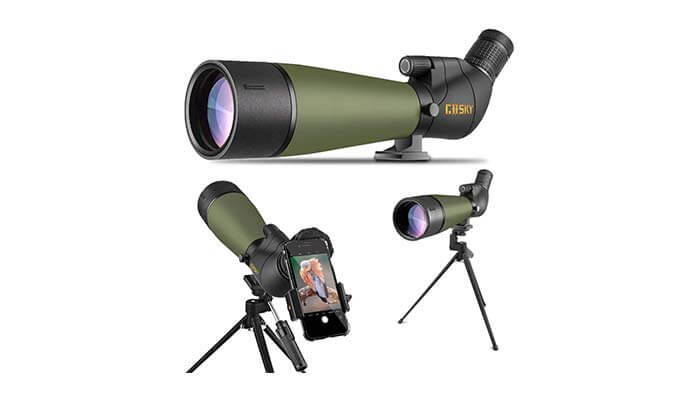 Everybody's eyesight is different. If you want to use a spotting scope effectively, use the guideline below.
Step 1: Preparation
Remove the covers and lens caps from your spotting scope. Make sure the lens is clean. If it is not, clean it using a lint-free piece of cloth. Make sure the fabric is dry as moisture may leave marks on the lens.
Step 2: Mounting
Mounting any spotting scope to a tripod is easy. Most have connections that match the tripod stand. If your tripod has a "quick release plate", you can use it to secure it to the mounting shoe.
Make sure you tighten it firmly. Now you can place the mounting shoe and plate into the tripod and secure it. Some models have a rotating tripod band to allow alternative scope orientation and body rotation.
Step 3: Adjust the Eye Cups
Adjust the eyecups upwards for optimum relief if you do not wear glasses. And if you wear glasses, twist or fold down the eyecups.
Step 4: Choose an Object
Decide on the animal you want to hunt.
Step 5: Focus
Get the lowest magnification by rotating the eyepiece zoom ring. Adjust the focus control to make the image appear clear.
---
Why Not Use a Binocular for Spotting?
There are several reasons why a spotting scope is better than binoculars. These reasons are explained below.
Target Shooting
Target shooting involves shooting at non-living, designated targets. They include clay pigeons and paper targets. It is a fun outdoor activity that can provide you with valuable practice time with weapons that may be used for a hunting or tactical setting.
The difference between traditional hunting and target shooting is the latter is done from a stationary position.
Binoculars do not have a large objective lens nor magnification range a spotting scope offers. If you want to see every detail when target shooting, you need it. It is easier to use than binoculars and has better magnification.
Hunting
This is an outdoor activity that takes many forms. The choice between a spotting scope and binoculars is determined by the nature of your hunting activities. Spotting scopes are the best for getting better visuals across long distances. They work best when you take on a stationary position.
While binoculars have their advantages, it is hard to really determine the distance between you and your target animal.
The use of a telemeter however can change this, giving you an advantage in that you can know the exact distance via the telemeter scale.
Telemeters have been used on chronograph watches with the technology relying largely on the rate of speed. As such, you start the chronograph when the animal howls or grows and stop it when this stops.
Once this is done, the chrono-hand position lets you know the accurate distance between you and the game through telemeter scale.
---
When to Use a Spotting Scope?
You can use a spotting scope for activities such as surveillance, beginning astronomy, long-distance microscopy, scenic observing, telephotography, long-distance bird watching, and hunting.
The magnification of it ranges from 10x to 250x depending on the design and type of the scope. They use either zoom or fixed eyepieces.
A scope will augment your pleasure outdoors whether you use it to spot bullet groups at the range or observe migrating cranes in winter. You also need to know the different types to determine when to use each type.
---
Types of Spotting Scopes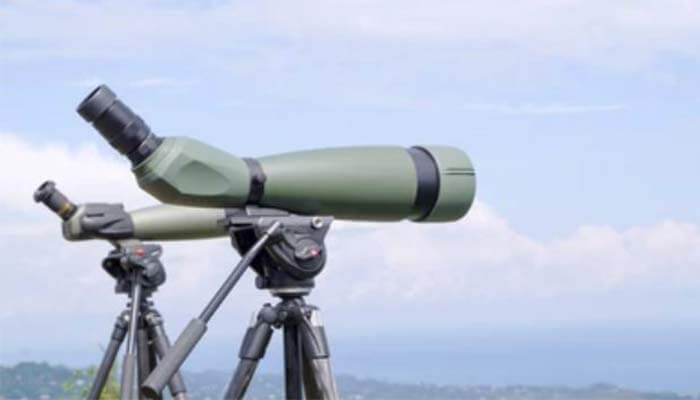 Apart from magnification, spotting scopes vary depending on the design. There are two major body designs i.e. angled and straight. Angled scopes have their eyepiece at 45 degrees from the barrel axis to ensure the light path is bent. With straight scopes the eyepiece and barrel are parallel.
Each design has its advantages and disadvantages. How you want to use the scope will determine the type you use. Check out the benefits of each scope below.
Straight Spotting Scope
Better for spotting hiding or treetop animals
You can use a shorter tripod due to the higher eyepoint
Easier to share with a group
Angled Spotting Scope
Level viewing offers less strain on your neck
Easier for viewing targets or animals on the ground
Easier to aim for beginners
---
Final Thought: Do I need a Spotting Scope for Hunting?
A spotting scope is a great way to open new hunting opportunities. You get a new dimension to your game whether you observe locally at a city park or in the wild. If you plan on using it in the wild, go for a waterproof scope. Invest in nitrogen-filled optics if you don't want your scope to fog up.
More Related Articles: