This Sightmark Photon RT 4.5-9X42S review breaks down every feature of this excellent scope, exploring its benefits, setbacks, and every little caveat in between.
Your goal as a hunter is to get the best, most crystal clear image of your prey so that you can track them, and eventually squeeze the trigger for a perfect shot.
Hunting requires patience. The Sightmark includes features for rapidly zooming in, video capture, audio capture, and more helpful tools that every hunter can benefit from.
You've been looking for a night vision scope with all the bells and whistles for a while now: Sightmark is the last one you'll ever need, whether it's for hunting, airsoft, paintball, or scouting.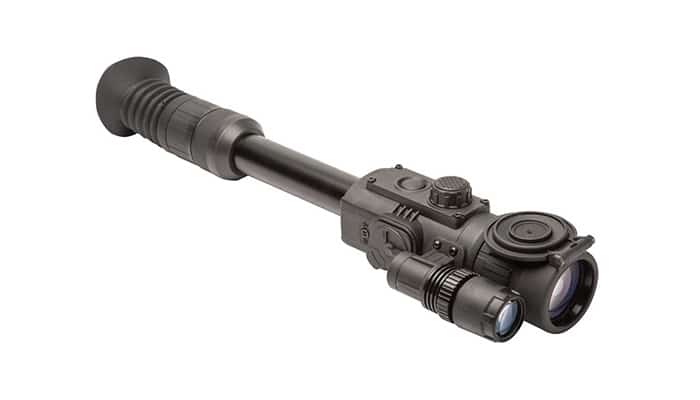 Sightmark Photon RT 4.5-9X42S Review: In a Nutshell
We'll cover these features more in-depth later on, but for now, these are the highlights of why the Sightmark is one of the best night vision riflescopes on the market.
Comfortable and adjustable eyecup
Useful for hunting, climbing, airsoft, and hunting
850nm LED IR illuminator for crystal clear nighttime imagery
2x digital zoom for mid-range engagements (excellent for whitetail and waterfowl hunting)
Wi-Fi remote view when your scope is mounted
Records video and sound for perfect surveillance
The Sightmark Photon RT includes everything that you need to upgrade your hunting game. At a glance, it's one of the highest-functioning scopes that we've seen in years and includes excellent upgrades such as the Wi-Fi remote and one shot zero functionality. Let's dive a little deeper into the benefits and setbacks here.
Somehow, the Sightmark manages to stay at a reasonable price with all these features packed in. While it isn't the most compact scope out there, it has an ideal weight of 2.5 lbs, which doesn't weigh down your rifle too much, and is designed for various uses.
Sightmark continuously builds on their lineup of scope models, but with the Photon RT, it will be difficult for them to provide more value than they already have. If you're heading to a new hunting area or on a multi-day trek with friends, the Photon RT can be used as a detached monocular to spot a path ahead.
Apart from having an excellent customer service team and attractively-priced, high-end scopes, Sightmark also pays exceptionally close attention to detail. Nothing is perfect, so while we have a few downsides to discuss in the rest of this guide, they still position the Photon RT to be one of the best night vision rifle scopes available today.
---
Sightmark Photon RT Digital Night Vision Riflescope Features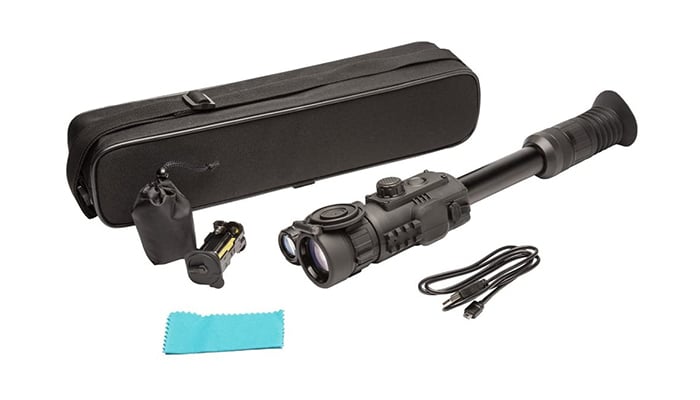 Designed to be durable and withstand the elements, the Photon RT is built very compactly. It's bulky, but every aspect is reliable and ready to handle abrasions. You run into a few hairy situations during the hunt, and this attention to craftsmanship will help repel damages from bumps and scrapes.
2X Digital Zoom
With 2x digital zoom, you get just enough range to be useful. Whether you use this as a monocular to scout out the area ahead of you or slap it on your rifle, you avoid that scope bite and fisheye lens effect with how Sightmark built this. Your resolution also doesn't drop by much when you enable that digital zoom like it does with many other scopes out there.
Six Reticle Options
One excellent feature is the option to change your reticle options between six different designs, each of which can be turned into one of four colors, customizing the entire experience for you. This seems minor, but in low-visibility environments or when you flip on the IR mode, this can help with lining up your shots exceptionally well.
Comfortable Eyecup
Last but not least, the eyecup is extremely comfortable, which is a feature that many sight makers usually drop the ball on. Depending on how you're going to use this, you could spend upwards of an hour of combined time looking through the scope. Thanks to the soft rubberized material, it's comfortable and responsive to how you use it.
It's always good to know that you won't end up with pain around your eye socket when you're done using this scope, as is common with plenty of other sights. The Photon RT has a heavy focus on user comfort.
Built-in Video and Sound Recording
Hunting is more than just a bagging game to bring home for the dinner table; it's about the process of the hunt; it's about having respect for the land and animal. You can use the onboard video recording and sound recording system to record decent-sized video clips and stream vision of your prey.
Record the kill, your technique, and review it later to become a better hunter, or to have wildlife footage to chronicle your conquests in the homeland. With an agreeable resolution and small file size, you'll be able to store hours upon hours of footage on a micro SD card.
One Shot Zero Function Capability
Precision is everything. It saves ammunition, it ensures your shots will be true, and overall it's something that a lot of hunters obsess over. Fine-tuning your aim is one thing, but your hardware also has to be on point.
The Photon RT utilizes a one shot zero functionality that allows you to zero in extremely quickly and align your shots when you're facing a longer range than you first expected. Out of every benefit of the Photon RT, this one comes in handy more often than everything else.
Impressive 850nm LED IR illuminator
Infrared vision is what makes this a night vision scope, and the 850nm LED IR illuminator provides ultra-clear quality without having that white glow that many IR illuminators have. Sightmark has the perfect balance between brightness and clarity, clearing up your vision so you can see your target without them getting lost in the white hues of the IR. The display seriously shines here.
---
Who Should Use the Photon RT Digital Night Vision Riflescope?
Anyone who enjoys modding their rifles. Thanks to flexibility with aftermarket rings, the Photon RT is able to accommodate different hunting styles and doesn't require you to buy overpriced rings from them. Since this is a sight that you'll likely have for a very long time, it's nice to know you can go for cheaper rings in the future without impacting scope performance.
If you care about quality, accuracy, and having a visible, clear scope above everything else, the 4 5 9x42s digital night vision scope is designed specifically for you. This is a high-end feeling scope: Sightmark has clearly put a tremendous amount of time into developing this sight.
---
Pros and Cons of Sightmark Photon RT Riflescope
Our Sightmark Photon RT Review wouldn't be complete without taking a closer look at the advantages and drawbacks.
Pros
Works with aftermarket rings: you don't need to stick to 4 5 9x42s digital scope -specific rings
You can use just about any 30mm rings with very few exceptions.
While the IR is LED, giving you plenty of visibility without having a halo of light
Additional weaver rail for extra accessories that you wish to add in the future.
Constant and reliable support and quality from Sightmark, the manufacturer.
Range of detection 220 yards.
Cons
Weatherproofing here is minimal; you're better off protecting this with a scope cover than letting rain hit it.
Low battery life. This scope burns through batteries at a fast rate of about three to four hours of battery life, so be sure to take an extra battery pack.
Replacing batteries is a pain, based on where the battery compartment is located.
---
Final Thoughts: Sightmark Photon RT 4.5-9X42S Review
From reticle options, colors, and the medium-range zoom option, you have versatility on your side. One of the best things about this scope is the lack of a hard fisheye lens angle, giving more precision to amateur and seasoned hunters alike.
For anyone looking to improve their aim and visibility in low-light situations, the Photon RT is a viable solution. With accuracy from a distance and an intuitive user-friendly design, this might be the last night vision rifle scope you ever purchase.
More Riflescopes Review: