Whether you've returned from a group hunting trip or have seen some big game hunting contests online or in person, you may have noticed that some of the guns have two scopes. If there is an advantage to this, you might want to know so you too can get an edge.
Why Do Some Rifles Have 2 Scopes?

Some rifles have two scopes because each scope provides a different function. Most often, the first scope is for medium-distance shooting, while the second provides amplification so the hunter can shoot targets in a broader range. In some instances, the additional scope provides illumination.
In this article, you will learn about multiple-optics solutions and how to use them in conjunction for superior results. You will learn about the advantages and disadvantages of two scopes, a rare three-scope setup, and how to use rifle scopes with red dots and other optics as well.
---
The Optics of Multiple Scopes
Recently, iPhone and other smartphone models have started sporting multiple cameras. If you've owned one, you'll notice that these various cameras do not capture multiple images simultaneously. They work in conjunction with each other to broaden the phone's photo capturing range.
The same optics, albeit with different physics and objective lens, is used by hunters who mount multiple scopes onto their rifles. It isn't that hunting rifles come with multiple scopes pre-installed. Hunting rifle owners deliberately select two or more scopes and install them on the gun to make the weapon versatile.
Scopes will have some initial magnification just by virtue of parallax. Therefore, using multiple scopes means that your starting point will be at least 2x that of a single scope. But you can turn up the magnification on the first and start shooting at 400 years.
But if you want to get precise with further magnification, you can increase the second's magnification. The optics of multiple scopes are all about manipulating the light that enters the scope. If you can manipulate light to your advantage in any way, you can add a scope to do help with said manipulation.
---
Advantages of Multiple Scopes
Now that you know how you can attach riflescopes in parallel to manipulate light in different ways and add to a hunter's accuracy and shooting range, let's explore the specific benefits of 2 scope mounting in the same rifle.
Illuminated Reticle
If your favorite scope doesn't have an illuminated reticle and you have a tough time telling the crosshairs apart from the animal you mean to shoot, you can add a scope with an illuminated reticle behind your previous scope; and get that advantage.
Red Dot
If you already have a good scope but want to get a red dot aim, then adding a scope that shows a red dot on your target would be a great solution.
If the new scope adds 100 yards to the default view, you'll have to bring down your previous scope by a hundred yards to offset the added magnification.
Night Vision
While using multiple scopes only to add an illuminated reticle is quite rare, having two scopes with one specifically for night vision is more common.
When you routinely hunt in the dark, you may want to use thermal imaging instead of reflected light to see your target more clearly. Night Vision scopes have sufficient magnification as standalone pieces, but some hunters want to hunt at an even more extended range.
Magnification
This is by far the most common goal of multiple scopes. Adding two layers of magnification can help hunters shoot prey at longer distances without sacrificing the accuracy.
This almost always comes with a non-scope optics solution as well. As mentioned earlier, adding two scopes magnifies the default low power view through your scope. That means your short-distance shooting is affected if you aim through the scope's reticle and may not work properly.
---
Iron Sights With Two Scopes
If you own a rifle scope, you already know that iron sights do not work with scopes. And as they don't work with one scope, they will not work with multiple.
This is unfortunate as iron sights are incredible at short-distance aiming, which one rifle with two scopes is flawed at. But if you wish to shoot prey at a distance under a hundred yards while retaining extreme magnification provided by the two scopes, you have to use other aiming devices.
---
Laser Sights With Two Scopes
The best way to offset the short-distance blindness of multiple scopes is to have a laser pointer for aiming at short distances. This aiming device is incredibly effective for resource-driven hunting, but you cannot expect to use a laser pointer or any light-projecting device to aim in big game hunting.
That's because it is considered an unfair advantage. However, you're likely going to shoot at medium to a high distance in a game hunt anyway, which nullifies the problem of short-distance blindness.
---
Why Not Use a Super-Magnifying Scope?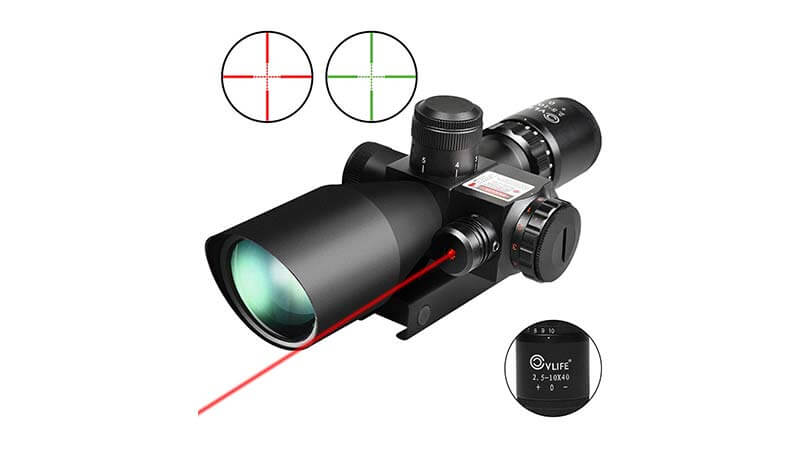 If the primary purpose of using multiple scopes is to shoot with accuracy across various distances, why not purchase a scope that covers short to super long distances?
One can even suggest using a night-vision scope with long-distance amplification ability; wouldn't that be more convenient than multiple scopes? Those are valid questions, but there are certain disadvantages to having a single scope or swapping scopes again and again.
Super-Expensive
After a certain point of magnification, any scopes with added magnification come at a disproportionate cost.
That's because they're not as high in demand as an average 4x magnification scope. Since manufacturers are making these for a niche audience, they command a high price (due to the lack of economy of scale). It is often cheaper to get the same magnification with two scopes.
All Eggs in One Basket
Not only are long-distance and high-quality scopes more expensive, but they can also leave you high and dry if you don't have a backup.
With two scopes, you can be sure that even if one malfunction, you're not at the mercy of your naked eye for the rest of the trip. In fact, having two scopes is worth it for diversification alone.
---
Final Thoughts: Why Do Some Rifles Have 2 Scopes
Some rifles sport two scopes because their owners want higher magnification and other aiming additions like red dots and night vision. To get a single scope with all these features is relatively expensive.
Therefore using two scopes can lower the cost while diversifying the risk of damage. If you choose to use two scopes, make sure you've made your peace with short-distance blindness or add a laser pointer to shoot at a shorter range.
More Related Articles: