When choosing weapon optics, the first option that comes to mind is a red dot sight. Holographic sights are becoming more popular, but they are still a bit far from becoming the mainstream choice.
What are the differences, what is a reflex sight, and which one should you choose? Red dot sights often refer to all types of weapon optics that use a red dot as the aiming point. However, the technology behind the gadgets often split them down to holographic sight and reflex sights, with others that don't quite fall inside the distinction (like prism sights) classed as red dot sights.
The rest of this article will closely examine each of them to help you distinguish between them and make the best decisions when it is time to choose one.
---
Red Dot vs Holographic vs Reflex Sights: Technology and Design
Red Dot
Red dot sight is an encompassing term. However, in this article, we'll use it for any other optic that is not holographic sight or reflex sights.
Most red dot sights project a reticle onto glass using an LED emitter, and the projection is then bounced back to your eye. The simplistic design of these units makes them lightweight and compact.
Variants like the prism sight optic have a tube-style design that uses a prism (instead of a series of lenses) to focus the image beamed to you through the scope. Red dot sights allow for etched or illuminated reticles.
They are useful for both the average distance and target shooters. However, they have a small eye relief, which makes reacquiring a target a bit harder. Your eyes have to be very close to the optic to pick up a quality sight picture.
Holographic Sights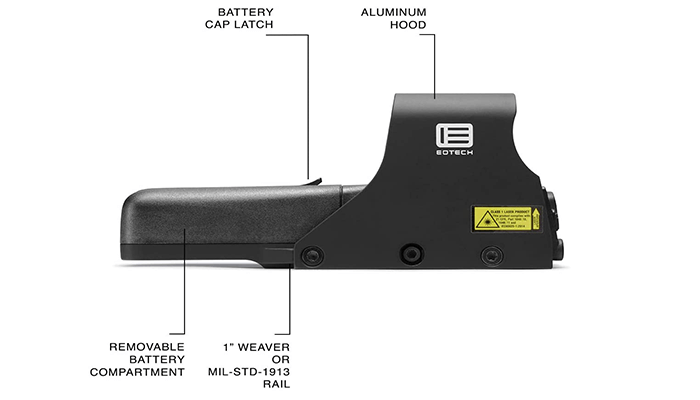 In holographic sights, mirrors and laser diodes combine to project a holographic reticle on your target and send an image back to you. In red dot sights, your eyes have to move back and forth between the target plane and the optical plane.
But with a holographic sight, you can focus on the reticle and the target at the same time. This is why parallax distortion isn't much of a problem with these sights and why they are popular with many specialists.
Most holographic sights in the market today are the "head up" variants, so you can't mount them as low on your weapon as a standard red dot sight.
The hologram window is made of a flat glass panel that deals with glint being noticeable to the target, as is the case with conventional optic designs with a convex objective lens.
Hence, holographic sights are stealthier and best for competitive shooters that need extreme accuracy at all times.
Reflex Sights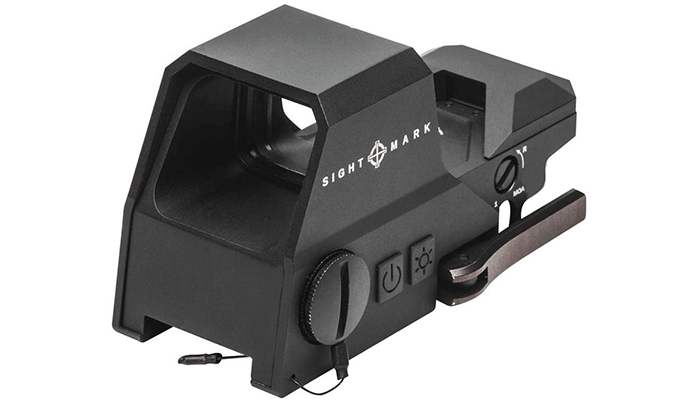 The lens on reflex sights functions like a mirror. The aiming point projects forward onto the lens, and the lens reflects it to show you the visible red dot. The design of a reflex sight means it doesn't have eye relief.
Therefore you get a bit more freedom with the position of your head when using the weapon. You can also keep both eyes open if you want!
However, reflex sights are not magnified – which is why they are often sold with a paired scope that doesn't have an aiming point.
These units work well for various use cases ranging from general shooting to tactical use, meaning any average rifle user will find them useful.
---
Price Differences
Most red dots and reflex sights are lightweight and compact designs that are often very moderately priced. You can get some good options for between $100 and $200. The low price stems from a large supply (many companies make them).
On the other hand, holographic sights are usually more expensive. In fact, the entry-level options here are often far costlier than the highest-priced red dot sights. There are no surprises here, as the technology is far more complicated.
Additionally, EOTECH is the leading manufacturer of the optic. Vortex is a new entrant to the market, but it's still a monopoly for now. The fact that the law enforcement especially the US military approves of EOTECH's units also adds a bit more to the overall cost.
Related reading: Why Are Rifle Scopes So Expensive?
---
Overall Size Differences of Red Dot, Holographic Sight & Reflex Sights
The design structure of red dots and reflex sights means that they come in a smaller housing. The technology can easily go on most kinds of handguns and rifles.
Holographic sights aren't too bulky, but the overall design means they are often not an option for handgun owners. This is why they work best with rifles.
---
Which Weapon Sight is More Durable?
On average, red dot and reflex sights are durable enough to only work in normal conditions. However, the manufacturers often make some more expensive variants that can withstand a lot more abuse, allowing use in a wide range of temperatures, water depths, and more.
On the other hand, holographic sights are designed from scratch to be extremely durable. While other sights may stop functioning in the face of flying mud or fragments, holographic sights will always work as long as there's some partial window left.
So, when you're looking for a weapon optic that can serve you well in all kinds of weather and in the face of flying dirt, the holographic sights are the option to go with.
---
Red Dot vs Holographic Sight vs Reflex Sights: Battery Life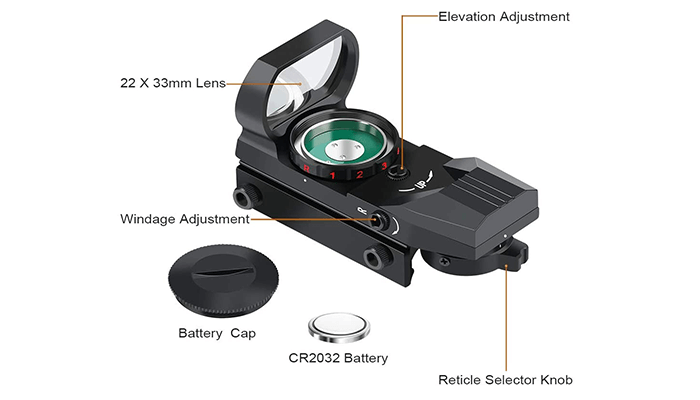 Red dots and reflex sights rely on power-saving LEDs to deliver images, which is why they have a battery power of up to 50,000 hours. You can leave one of these on for more than five years without worrying that it might fail you when you need it the most.
Holographic sights use lasers to power the hologram, so they use up far more energy. You can expect a battery life of between 500-1000 hours with most holographic sights. Even special bespoke options won't deliver half the battery life on red dots.
---
Target Mark Colors, Astigmatism, and Night Vision
All three optics types often show red target marks because most people have no problems with seeing red. However, they also now come with green marks-which are even easier to catch than red marks.
Green may be catching on, but red works better when you're navigating a poorly lit area. When the lighting is more consistent, green works just as well as red. Regardless of your choices, you can find your preferences, whether you're going with the red dot, reflex, or holographic sights.
If you're dealing with astigmatism, the configuration of holographic sights makes them a better option to go with, as red dot and reflex sights will look fuzzy and confusing. A smaller dot, like a 1 MOA dot, will also perform much better when magnified compared to a larger one.
If you use your weapon in a low light a great deal, night vision compatibility should be a top consideration when choosing any optic. Fortunately, all three types we're looking at have night-vision compatible variants.
---
Magnification and Field of View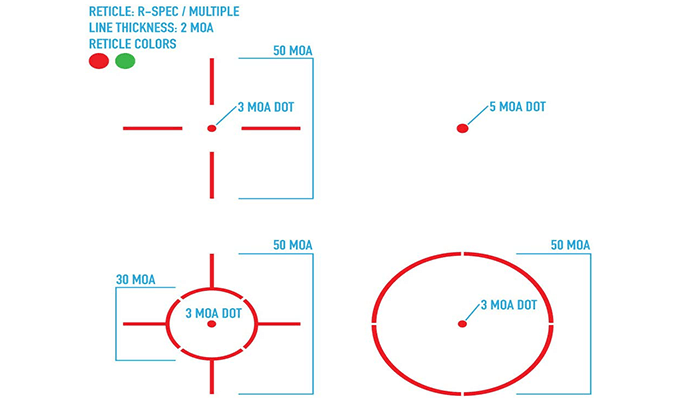 Red dot, holographic and reflex sights can all work with magnifiers in front of them. However, the holographic sight delivers better results because it still displays the 1-MOA (minute of angle) dot even with magnification.
The 2-MOA dot on the red dot and reflex sights look less appealing with magnification.
With all three sights, you can have both eyes open while using them. However, if the sight has a small window – as is the case with the red dot sights made for pistols – the field of view reduces slightly.
You'll have to get behind the sight a bit more for better targeting. Holographic sights are rarely made for pistols, so you are sure of a wide field of view on any weapon that can use one of these.
---
Acquisition Speed Comparison of Red Dot, Holographic Sight & Reflex Sights
Acquisition speed is an important factor when choosing a weapon optic. All three competing variants here are very much faster than traditional alternatives.
However, the technology deployed in each of them means that holographic sights often deliver better results.
Holographic sights project the reticle hologram out in front of the sight, but the red dot and reflex sight focus the dot to your eyeball.
Holographic sights will superimpose on the target, while red dot or reflex sights will slow you down a bit as your eyes try to balance the target mark and the actual target.
---
When to Use Red Dot or Holographic Sight or Reflex Sights?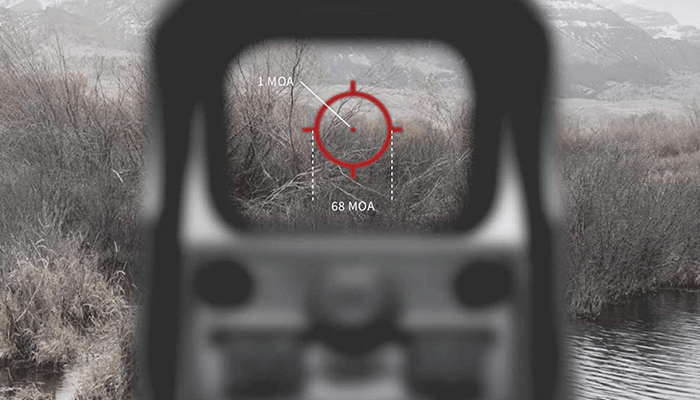 It's difficult to single out a clear winner among these three. Each of them comes out tops in different areas, but they all have their downsides as well.
The Case for Red Dot
Red dot sights are everywhere and are usually very affordable. They deliver excellent results in most use cases, and their massive battery life makes them a good long-term investment.
Whether you are in combat, competition, or hunting dangerous game, red dots sights techniques can allow you to use your skill to the greatest potential.
Any average shooter will be satisfied with the results from these without breaking the bank. However, you need to avoid use cases that require magnification and protect the lens from damage.
The Case for Holographic Sights
Holographic sights are the real giants in this niche. They are built to withstand a lot more pressure and can still work even with the front lens damaged.
They also offer faster target acquisition, and the 1-MOA reticle means that they are a lot better when you need to use a magnifier.
However, they are a lot more expensive and have poor battery life. They also weigh significantly more and can't be used on handguns.
The Case for Reflex Sight
Reflex sights share all the advantages of standard red dot sights, with the main difference being that they are usually slightly more affordable.
However, they also share all the downsides, especially as it concerns overall durability. Your reflex sight is only as good as the front glass.
---
FAQs
Which Is Better: Holographic or Reflex Sights?
Looking at the specifications of both optic types, holographic sights are better than reflex sights in most applications. The former is more high-powered than the latter, with faster acquisition speeds and a very low chance of parallax distortion.
However, there are many applications where reflex sights make more sense. Casual marksmen with little or no need for some of the whistles and bells that make holographic sights more expensive may find more value with reflex sights. They offer similar results and can last longer.
What Weapons Are Holographic Sights Made For?
Holographic sights can work well when paired with most shotguns and rifles, including SCAR 17, AK-47, AR-10, AR-15, and more. Holographic sights are still not very common for pistols.
What Types of Sights Does the US Military Use?
The US military uses a wide range of sights, including red dot and holographic sights. However, in most combat situations, the holographic sights from EOTECH are their preferred choice for various reasons, including those we've covered.
Why Do Marksmen Prefer Holographic Sight?
For many marksmen, holographic sights are best to use because they allow faster scope reticle identification than other optic types. The reticle appears in front of the optic instead of reflecting in the eye, making focusing on the reticle easier.
What Are the Main Disadvantages of Using a Holographic Sight?
The main disadvantage of using a holographic sight is that they are typically more expensive than other options. They also use up battery power a lot faster due to the huge load presented by the laser.
How Far Can You Shoot Accurately With a Reflex Sight?
You can expect to hit objects 100 yards away with a reflex sight accurately.
Some marksmen can do a lot better than that range, but after 100 yards, the scope design, size of the target, and your shooting skills are factors that will determine accuracy more.
---
Final Thoughts on Red Dot vs Holographic vs Reflex Sights
Your unique needs should influence your choice of optic to use. Red dot and reflex sights are best for general use case scenarios.
They may also deliver excellent results for hunting and tactical missions, depending on the specifics you have to navigate. Holographic sights only represent value for money if you participate in many competitive shooting activities where utmost precision is vital.
Related Articles: