Rifle optics come in a wide variety of shapes and sizes. Two of the market options – Primary Arms 5X Prism Scope and ACOG – have grown in popularity in recent times. But which of them should you choose?
Primary Arms 5X prism is one of the best budget optics you can buy. Its internal prism can deliver a crisp field of view for shots around 100 yds (91.44 m) away. ACOG is on the higher end of the spectrum. It's a highly durable optic made for high-precision use in the toughest conditions.
The rest of this article will look at both rifle scopes in a bit more detail under various talking points.
---
Primary Arms 5x Prism Scope vs ACOG 3.5×35 Scope: Technology
Primary Arms 5x Prism Scope
A conventional scope uses a combination of lenses to channel light to a shooter's view, but a Primary Arms prism scope like this one works with an internal prism in place of the extra lenses for the job.
This ensures the optic is more compact, better fitting on the guns paired with it.
ACOG 3.5 x 35 Scope
The ACOG 3.5×35 scope comes with a combination of lenses designed to deliver excellent targeting in most conditions. The lens is contained in a super-powerful housing that lives up to the combat expectations most people have of these products.
---
Magnification and Illumination
Primary Arms 5X Prism Scope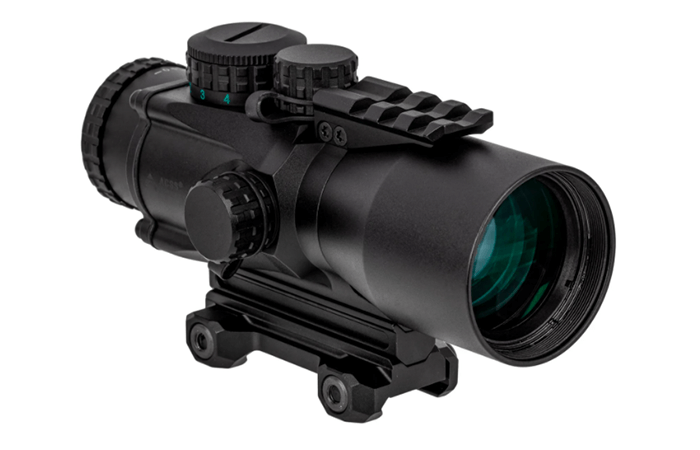 As the name implies, this is a 5x magnification scope that can give you a 5x clearer picture. Illumination is also great in most conditions.
However, the glass might look foggy for a while if you take it out of an air-conditioned vehicle at first. This scope's magnification and illumination abilities mean you can trust it to an excellent job for most short to medium-range shots.
The scope provides illumination with the aid of a battery that can last for 3,000 hours. However, you have to keep tabs on the battery life to ensure it doesn't let you down when you need it most.
Related reading: How Does an Illuminated Reticle Work?
Trijicon ACOG 3.5×35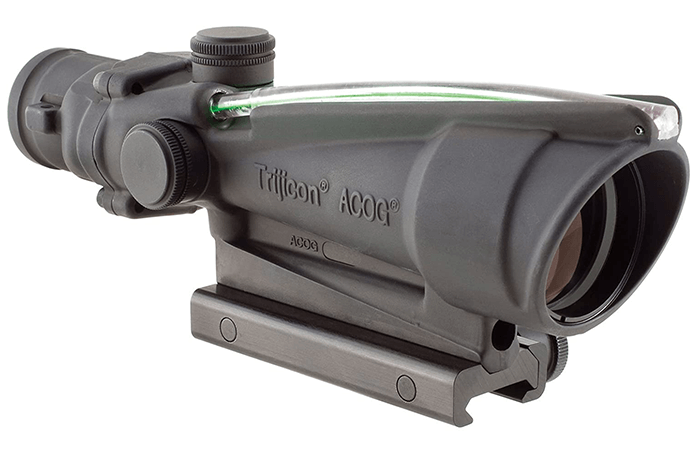 The ACOG is a 3.5x magnification scope, so objects will look 3.5 times bigger to you compared to when you're looking at the same object with the naked eye.
The scope's design is such that you can count on it for quick shots when the target is close and also get that magnification bump when the target is a bit far away.
You can count on it for shots 50 to 100 yards (45.72 to 91.44 meters) away without any problems.
Unlike the Primary Arms Prism Scope, this ACOG can deliver illumination without a battery. There's no risk of the battery running out and leaving you stranded because the product features a combination of tritium and fiber optics.
The fiber optics tech will accumulate light to illuminate the reticle in daylight, while the Tritium will glow to give you a sight that is useful in low-light conditions.
The ACOG is also designed to adjust illumination levels (in line with the brightness conditions) automatically, saving you the time spent on finding the right settings.
---
Primary Arms 5x Prism Scope vs ACOG 3.5×35 Scope: Lens Clarity and Reticle
Primary Arms 5x Prism Scope
The ACSS reticle on the Primary Arms scope is exceptional, and the lens clarity is up there with some of the very best you can find. For many shooters, the reticle alone is worth the price of admission.
It combines impeccable versatility with visual simplicity. On the surface, it looks like a typical BDC (bullet drop compensator) crosshair, but it does a lot more.
For example, the top horseshoe is illuminated and works as a red dot two-eye crosshair for fast shooting in close-quarters while also delivering quick and effective holdovers.
The horseshoe's outer edges are designed to provide estimated windage holdovers for moving targets, allowing fast target acquisition and engagement.
ACOG 3.5×35 Scope
Scopes from Trijicon ACOG are known for the very clear glass, and so the lens clarity on this scope is no surprise. You get a very crisp sight picture, and you can aim quickly without worrying about fatigue or eye strain.
This unit also comes with ten reticle options in three color variants. Red is the most popular, but green and amber are also possible choices.
The reticles on this ACOG come with a BDC that makes it easy for you to range out to a thousand yards (914.4 meters) as fast as possible.
The windage holds are also very useful. Your eye will quickly pick up the reticle since it's a dot with a large horseshoe around it.
Related reading: Best Scopes For SKS Rifles to Improve Your Accuracy and Performance
---
Primary Arms 5x Prism Scope vs ACOG 3.5×35 Scope: Pricing
Primary Arms 5x Prism
As we briefly mentioned above, this is a budget scope designed to deliver value for money. Pricier options inspire the products, so they offer the best of the basics at a more affordable price. You can expect to get one of these for under $500.
Of course, they aren't the cheapest sights around, but for the quality of the offer and the lifetime warranty that comes with each purchase, this is surely one of today's best value scopes.
If you're looking for a quality and compact prismatic scope that can serve you well enough, this is an excellent choice to go with.
ACOG 3.5×35 Rifle Scope
Like all other products from ACOG, this product is pricey. If you're willing to go close to (or even above) $1000 for a scope, few manufacturers can offer the quality delivered by ACOG.
That's because this is a robust and powerful optic that has all the whistles and bells to improve your shooting. Although the price is a bit too steep, it is combat-proven and delivers battery-free illumination.
---
Which Rifle Scope Should You Choose?
The Case for Primary Arms 5x Prism Scope
If you engage in more recreational shooting, you should find a high level of satisfaction with the Primary Arms 5x prism scope.
With up to 5x magnification, it is powerful enough to get the job done, especially when shooting objects in range within 100 yards (91.44 meters). It comes you with a generous eye relief of 2.50 in – 3.00 inches.
The battery-powered illumination and the slightly less-robust encasing around the prismatic lens are the only major sticking points.
The Case for ACOG 3.5×35 Scope
This is the ultimate optic for short to medium-range shooting. It has everything you'll expect from a premium optic and tops everything off with an excellent build that can withstand use in all kinds of conditions.
The price may make it less attractive to average users, but anyone in the market for a premium optic in this range will have this at the top of their list.
It has an eye relief of 2.4 inch which is slightly less than Primary Arms. The 3.5x magnification may be a little short for some people, and the brand doesn't offer a full lifetime warranty on its products. However, they promise that the products can stay free from any structural defects.
---
Final Thoughts on Primary Arms 5x Prism Scope vs ACOG 3.5×35 Scope
Choosing between a Primary Arms 5x Prism scope and Trijicon ACOG 3.5×35 scope ultimately comes down to your unique needs and how high you're willing to go with your budget.
Both of these can deliver some of the best optic experience in their respective price ranges.
If you don't have any need for 5x magnification and you operate in harsh environments, the ACOG should be high on your list. For most casual shooters (and everyone else on a tight budget), the Primary Arms 5x Prism scope can work just fine.
Related Articles: