This Night Owl NightShot Review breaks down every unique feature of this fantastic night shot rifle scope, from its versatility to the actual IR night vision, display size, and everything else in between.
Hunting whitetail deer is the most common hunting sport in the United States, and if you're a hunter, you know that the early morning hours are your best opportunities to bag your game.
Your prey has limited visibility, but on an even playing field, so do you. NightShot gives you the advantage you crave.
Applicable to airsoft, paintball, scouting, and hunting, the Nightshot Night Vision Riflescope with IR illuminator is the final solution for IR and night vision that you've been looking for. There's a lot to get into.
---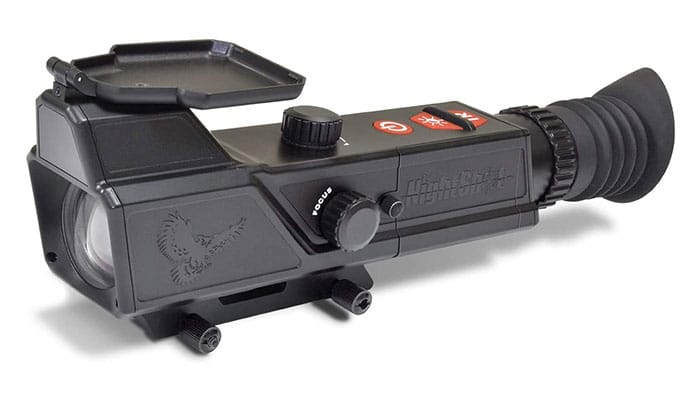 NightShot Digital Night Vision Riflescope Review: In a Nutshell
We plan on diving deeper on each feature, pro, and con, but if you're strapped for time, this is a quick rundown of the focal points of the Nightshot Night Vision Riflescope.
Excellent 600 ft range without losing clarity
Daytime operation will not damage hardware
Useful for rifles up to 30 calibers
Built-in IR illuminator
Eye Relief: 2.7 inches
Weatherproof design
Takes 4 AA batteries. Battery life of 4 hours with IR on High and 7 hours with IR on Low
Extremely easy operation
Right out of the box, this scope is straightforward to mount on just about any rifle you have in your arsenal. While it's a bit trickier with some models, it's compatible with a wide variety of firearms (including paintball ones).
Spotting your next move can be difficult, and with most rifle scopes on the market providing a fisheye lens effect, it makes the task take longer than it's supposed to. Night Owl designed the NightShot to give a balanced experience from top to bottom, and that's precisely what they've done.
Applicable to rifles up to 30 calibers, this scope is constructed out of thermoplastic and created with a weatherproof seal.
There are a few issues with this that we'll talk about shortly. It's important to know that no scope or manufacturer is perfect, but even with a few downsides here and there, Nightshot Night Vision still provides one of the best values and scoped experiences that you can find.
The NightShot uses 4 x AA or lithium batteries. It has a battery life of 4 hours with IR on High and 7 hours with IR on Low. It has a field of view – 5.6 deg and a 3x magnification lens.
Manufacturers usually hand off their customer service to a third-party provider, but Night Owl wants to make sure that you're completely satisfied with your scope, which is why they handle everything from warranty fulfillment to customer questions. It's always a bonus when you can buy from a company that still provides value even after the product is in your hands.
---
Night Owl Optics NightShot Digital Night Vision Riflescope Features
Objectively, the NightShot Digital Night Vision Riflescope features plenty of top-tier elements that would make any hunter's kit exceptionally better. Here's more on its features.
IR Illuminator
With a built-in Infrared illuminator, you're in control of what you see and what your prey sees. Other forms of night vision would sometimes shine and give your position away to whitetail deer and waterfowl, but with an IR illuminator, everything is internal in your scope, so you maintain your stealthy position.
Daytime Use
The number one thing that we all know about night vision is that you're not supposed to use it during the day. This isn't just common sense; it can damage the equipment and cause irreparable issues. That is, for most scopes—the Nightshot night vision scope can be used during the day without hurting your eyes or damaging the IR illuminator.
These work differently from old-school NV scopes, giving you more versatility and eliminating daytime operation risks. You can use this scope during the day as a monocular to scout out locations without worrying about anything.
Easy Mounting on a Range of Rifles
Mounting your scope is simple, but it's not just for hunting rifles. You can easily mount one of these on paintball guns, airsoft guns, pellet guns, and even crossbows if you wanted to. If you have a young one who's getting into archery, you can get them comfortable with a solid scope right now.
Related: Best SKS Scope Mount
Up to 600 ft of Range
Visibility is everything, and with a 300 ft to 600 ft range, you're given enough versatility to survey an area properly.
Whether you're tracking prey or merely scouting out the land ahead, the minimum range gives you more than enough utility to use this exactly how you want in every situation. On a full moon night, the Nightshot night vision scope can help you see more than 100 yards easily.
Works Up to 30 Calibers
Nobody is carrying a .50 caliber rifle to hunt whitetail. It's actually illegal to use a .50 cal for any reason outside of competitive shooting in most areas. However, .30s are excellent for bringing down big game and reducing shrapnel and ammunition usage. Having the range to use just about any type of rifle you want is fantastic.
Compact Size and Operation
Scopes are bulky by nature. They weren't designed to be compact, but it matters when you're trying to find a rifle bag or keep your carry weight to a minimum.
Night Owl's NightShot night vision scope is designed to be ultralight, reducing the weight of your gear, and maintaining excellent clarity at all points. Compact operation means the eyecup and lens covers are reasonably small and easy to use.
640×480 Display and Playback
You can take videos of your hunt. Review it later, build a montage of footage over the years, or inspect your footage so you know where you make mistakes and where you can improve. What's revolutionary about this resolution is the clarity you get.
Playback on a 1080p monitor might not be that impressive, but previously, we only received a max of a 240p resolution on NV scopes like this, which didn't serve many purposes. NightShot night vision rifle scope stepped up their game on this one. The Sightmark Photon RT 4.5-9X425 has a similar video recording option but Nightowl is clearly ahead in the quality.
---
Who Should Use the Night Owl Optics NightShot Riflescope?
Anyone who hunts whitetail deer or waterfowl during the early hours of the day. Because deer tend to see better in the dark, you're at a disadvantage- NightShot Night Vision Riflescope helps cover that gap with the Infrared illuminator. 
If you're someone who has an issue with prey escaping you, the NightShot gives you the ability to stay further away (thanks to the enhanced zoom) without spooking whatever it is that you're hunting. It makes up for a slight skill gap in sneakiness.
It is also budget-friendly for hunters, giving you room to work with to get other gear. If you're someone who has a budget, and can't spend all too much on your hunting gear, that's okay. You won't be penalized for it here.
---
Pros and Cons of Night Owl NightShot Night Vision Rifle Scope
A comprehensive Night Owl Optics Nightshot Night Vision Riflescope review wouldn't be complete without discussing the things we like and what we think needs improving.
Pros
Designed by a company with a track record for excellence.
They put extensive detail and intricate work into everything they produce, so you're always getting their best no matter what.
Ease of use, once installed on your rifle, goes unmatched.
Long-lasting optics that are designed to withstand years of use when treated properly and maintained
Cons
Weatherproofing lasts for about one year. The thermoplastic shell is durable, it requires you to treat it for waterproofing for the long haul.
Not designed to be as physically durable as other scopes.
You have to remove the entire scope and access the housing on the underside of it, so changing batteries in the field is more difficult than it needs to be.
---
Our Final Thoughts on the Night Owl Optics NightShot Digital Night Vision Riflescope
With a daytime setting, excellently durable lens and lens cover, and weatherproof construction, the Night Owl Optics Nightshot Night Vision includes just about everything a hunter needs to carry out their shots with accuracy and clarity.
If you want to improve your hunting skills through enhanced visibility in low-light situations, or if you're someone who needs high-quality gear without that top-dollar barrier to break through, the NightShot is an ideal scope choice.
More Riflescopes Review: