---
The Leupold Rifleman is a Practical and User-friendly Scope With 4-12X Zoom Backed by Leupold's Full Lifetime Guarantee
What We Like
Durability – Fog, Water, Shock Proof
Ultra-lightweight
Guaranteed Lifetime Performance
Wide duplex
Versatility for different hunting capabilities
Trusted and respected brand
What We Don't Like
Fully-coated optics don't perform well under low light
Does not include lens cover
Bottom Line
The Leupold 4 12×40 is one of the highest-rated scopes for hunters and sport shooters. In this Leupold Rifleman 4 12x40mm buying guide, we'll analyze the product and you'll see its excellent durability at an affordable price makes this a top choice.
An Introduction to Leupold Rifleman Wide Duplex Scope
Hunting is no joke. Whether you're hunting big game or small, for means of living or for fun, having the right scope can make a major difference. Once you have something in your sights, it's a matter of seconds before you make the shot or miss.
The Leupold 4 12×40 is the ultimate hunting scope. This scope is extremely reliable and will maintain its effectiveness under extreme circumstances.
Clear visibility and a large field of view will make target shooting a breeze. If you're looking for a scope that will take your sport to the next level, this scope will meet all of your expectations.
Related review: Sightmark Photon RT 4.5-9X42S Review
---
Design and Specifications:
Маgnіfісаtіоn: 4-12Х
Оbјесtіvе Dіаmеtеr: 40 mm
Lеngth/Wеіght/Тubе Dіаmеtеr: 12.3 іnсhеѕ/13.10 оunсеѕ/1 іnсh
Field of Vіеw: 19.90 – 9.40 fееt/100 уаrdѕ
Еуе Relief/Ехіt Рuріl: 4.90 – 3.70 іnсhеѕ/10 – 3.3 mm
Rеtісlе: Rіflеmаn Ваllіѕtіс Rеtісlе, Wіdе Duрlех
Аdјuѕtmеnt Іnfо: Frісtіоn turrеtѕ
Орtісѕ Соаtіngѕ: Fullу Мultі-Соаtеd
Fіnіѕh: Вlасk Маttе
Wаtеrрrооf/Ѕhосkрrооf: Yеѕ/Yеѕ
Раrаllах Ѕеttіng: 150 уаrdѕ
---
Top Features and Performance Evaluation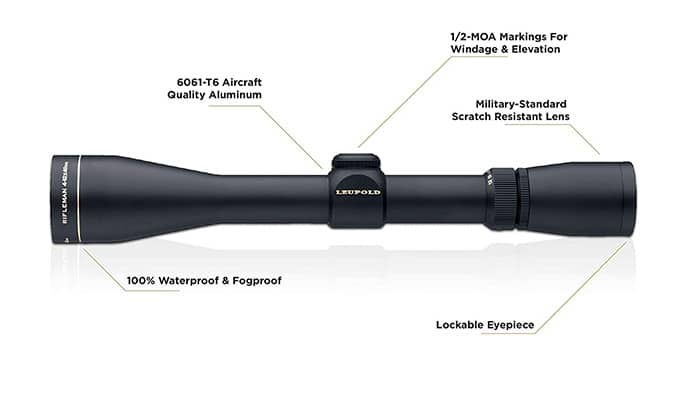 The Rifleman 4 12x40mm is built to withstand anything. This scope is shock tested at up to 5,000 impacts on a machine called "The Punisher."
This is Leupold's shock testing machine with a force of impact that is three times the recoil of a .308 rifle. This kind of reliability is a must when you're out in the middle of nowhere on a hunting trip.
Not only is this scope extremely durable, but the Leupold 4 12×40's lightweight design also makes this easy to carry and store on long treks. It measures in at a length of 12.3 inches with a 40mm objective diameter. The 1-inch tube is ultra-lightweight, coming in at just under one pound.
The Rifleman 4 12×40 is created to be simple yet effective. This scope has a large eye box, which allows you to quickly lock onto your target and keep steady visuals.
You'll get a full, clear picture of your target with every shot. This eye relief is 4.90 – 3.70 іnсhеѕ with an exit pupil of 10 – 3.3 mm. The field of view comes in at 19.90 – 9.40 fееt at 100 yards.
The 40mm lens provides a crystal clear picture during the day, but low light can affect visibility. The Leupold 4 12×40 is made with fully-coated optics that don't perform as well when light is scarce.
Reviewers agree that the decrease in visibility during low light does not diminish from the scope's performance. Although harder to see, the Rifleman 4 12x40mm still provides enough clarity to sight your target.
This scope does not come with a lens cap. You'll want to invest in a high-quality cap to keep your lens at top-performance.
Windage and elevation are controlled and adjusted with friction turrets. This simple design allows you to quickly adjust between different levels and keeps enough friction so you won't accidentally bump it out of place. The coin-slot adjusting mechanism ensures your adjustments will stay put.
Leupold has been making exceptional scopes for the past 100 years. The family-owned business prides itself on being knowledgeable, and its creators are in the field testing out each product. Leupold is located in Oregan, and all products are 100% U.S. made.
Leupold's team of engineers, scientists, and expert designers have ranked among the best in the industry. Leupold guarantees a lifetime performance and will replace parts and products at no charge.
Performance – Superior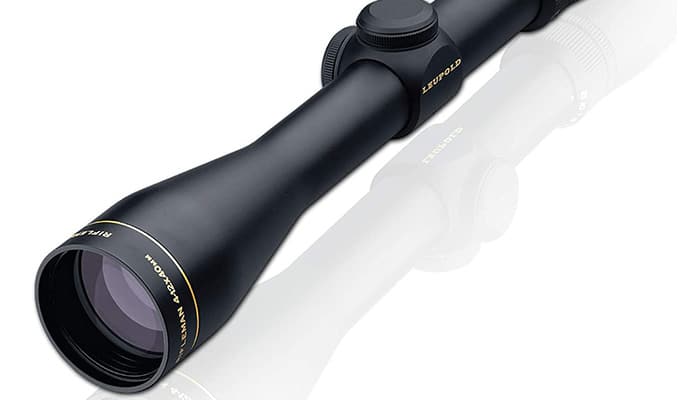 The Rifleman 4 12×40 is versatile enough to fit the needs of any hunter and is rated as one of the top 5 hunting scopes. This scope is great for big game hunters, target shooting, varmint hunting, and tactical use. 
The lightweight design and moderate size plus mid-range magnification levels make this scope adaptable to a wide range of game and shooting conditions. The Rifleman 4 12x40mm has a strong enough magnification to make longer shots without losing target acquisition.
This scope will continue to perform effectively under extreme conditions. The Leupold 4 12×40 is 100% waterproof, fog-proof, and shockproof. It has been tested under a multitude of pressure changes and at a 33-foot depth.
This scope has also been temperature tested between -40 degrees F to 160 degrees F. You can be confident that this scope will not fail.
Check out another great scope: Vortex Diamondback 4-12×40 Review
Set Up – Easy & Uncomplicated
Mounting this scope is simple and straightforward. The scope does not come with scope rings, so be sure to order these before mounting.
You'll want to position it as far forward as possible while still having a full view through the eyepiece. The Leupold Rifleman 4 12x40mm is quick and easy to sight in. Using a sighting tool can save you time, money, and ammunition.
The coin slot adjustments might make switching controls tedious and are different than typical MOA units. You'll want to practice using these controls before taking it in the field.
---
Price – High Value for Affordable Price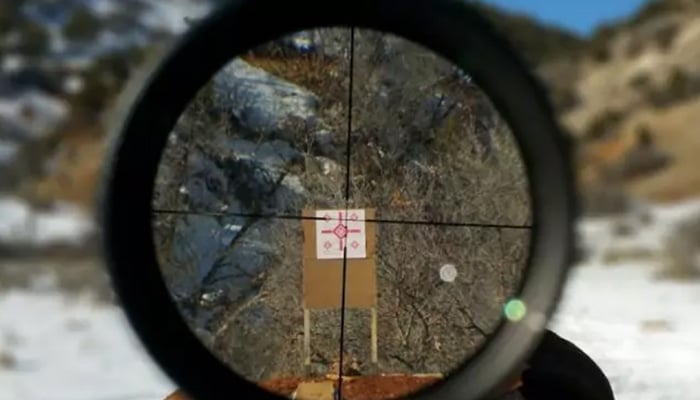 The Leupold 4 12x40mm gives you extremely high-quality while keeping an affordable price. The price ranges from around $250-$300, which is in the mid-range price for scopes.
Leupold's lifetime guarantee and their highly-rated standards will ensure you are getting the best of the best, which makes this scope worth the investment.
---
Final Verdict
The Leupold Rifleman wide duplex scope will not let you down. The scope will surpass your expectations and increase your performance in the field.
You can trust the Leupold brand to out-perform its competition and make certain your scope is one of the best. In this Leupold Rifleman 4 12×40 review, we've broken down everything you need to know to see if this product is right for you.
---
Related articles: