Have you always wanted to become a sharpshooter? You will need the Leupold Mark 5HD 5-25x56mm rifle scope, also known simply as the Mark 5, in your arsenal. It is designed to nail every long-distance target you want to hit–from deer to wild turkey. 
Now that you've bought the precision rifle of your dreams, you need a scope that will match its quality to increase your marksmanship. Leupold is an over a century-old company, which is well-known for its high-quality and accurate scopes. The Mark 5 is an ideal scope for long-range hunters who want a lightweight, rugged, easy to use, and accurate scope.
Our Mark 5HD 5-25x56mm Riflescope review will provide a comprehensive look at all the great features in the scope to support your long-range hunting.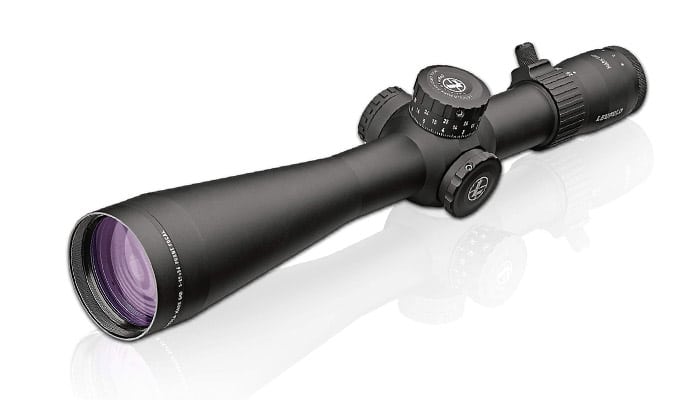 Leupold Mark 5HD 5-25x56mm Riflescope in a Nutshell
There are many scopes on the market, but none of them compare to the high-end features of the Mark 5HD Riflescope.
The second you put the Mark 5 scope on your rifle, you'll know and understand why it is the best. The Twilight Max HD Light Management system will add an additional half-hour to shooting light so you can maximize each hunt. The turrets are easy to adjust quickly to any shooting condition. The scope is strong and durable. The features on the Mark 5HD will elevate your shooting.
Ultra-Lightweight Design
Fast-Focus Eyepiece
Scratch-Resistant Lenses
Front Focal Plane
Twilight Max HD Light Management System
Waterproof & Fogproof
Zero Lock Dial
Side Focus
Throw lever
Guaranteed For Life
The Leupold Mark 5 scope is unparalleled. If you've spent more than $6,000 on your rifle, why wouldn't you want to invest in a scope that will allow you to maximize your range and ability? After all, the 2 to 1 rule declares that any gun owner should be willing to spend at least half of the gun's value on its accompanying scope.
Related: Leupold Rifleman 4 12×40 Review
---
Leupold Mark 5 Riflescope Features
Our Leupold Mark 5HD 5-25x56mm Riflescope review wouldn't be complete without taking a closer look at some of Mark 5's best features that make it stand apart from the competition.
Ultra-Lightweight Design
The Leupold Mark 5 scope's ultra-lightweight design is one of the first distinguishing features most buyers notice immediately when they take it out of the box. It is up to 20 ounces lighter than other similar scopes. The scope can disperse the recoil energy for more durability than its competitors.
The Mark 5HD design specifications:
Magnification Range: 5x-25x
Weight: 30 oz.
Length: 15.67 in.
Maintube Diameter: 35mm
Eye Relief (in) – Low: 3.58
Eye Relief (in) – High: 3.82
Linear FOV (ft/100 yd) – Low: 20.5
Linear FOV (ft/100 yd) – High: 4.2
Fast-Focus Eyepiece
The fast-focus eyepiece will ensure the reticle will magnify quickly along with the image you view through the scope. As every hunter knows, it is essential to be able to adjust rapidly to the movement of your target.
This turret is lubricated, and you can turn it as much as you need to adjust to your shooting conditions. It will not detach because there is an internal lockring.
The clarity achievable with the fast-focus eyepiece is undeniable, and you can pick off your prey from miles away with this long range scope as you've never been able to before.
Scratch-Resistant Lenses
The worst thing that can happen to a scope is if it gets scratched. This scope is not just scratch-resistant. It is military-grade scratch resistant. This extra protection will help ensure the glass will not get damaged by branches or clumsiness should you fall or stumble while stalking your prey.
The glass will stay protected, which will ensure you will hit your mark every time.
Front Focal Plane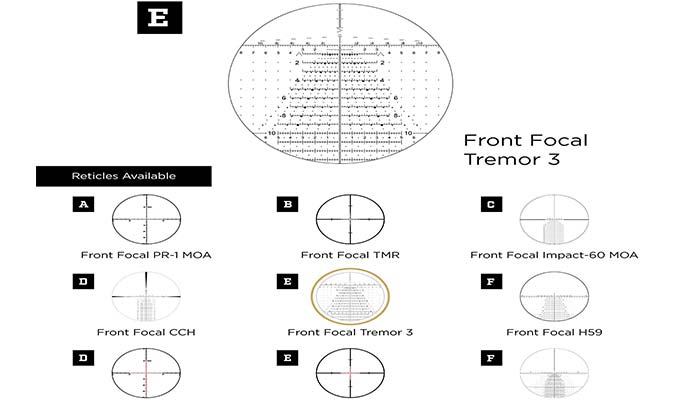 The Mark 5 Riflescope is a Front Focal Plane (FFP) scope, also known as the first focal plane. The main difference between FFP and the second focal plane (SFP) is the reticle size will adjust with the scope's magnification in the FFP.
This will allow you to estimate the range at any magnification level better. In addition, FFP is growing in popularity with long-range shooters, in particular.
The Mark 5 expands on the Mil-Dot reticle design by using hash marks that are more visible than dots. The hash marks are about 0.5 mils apart and shift 0.2 mils apart on the outer edges. This design will improve your shooting range and hold-over precision.
The scope gives you aiming points for wind and bullet drop compensation to enhance your accuracy. On the Mark, 1 Mil is about 3.6 inches at 100 yards.
The Mil system of the scope elevates it to the current military standard. The precision offers hunters is unparalleled.
Twilight Max HD Light Management System
What hunter does not want more time when on the trail of prey? The Twilight Max HD Light.
Management System can give up to an additional 30 minutes of shooting light. The Mark 5HD scope will allow you to hunt from dawn to dusk.
Illuminating the reticle is very simple. There is an easy to use dial on the left side of the maintube. When you turn clockwise, the brightness will increase. To help preserve the battery life, there is an off position located between each intensity setting.
The Leupold third-generation illumination system uses a proprietary Motion Sensor Technology (MST™) to save the battery life automatically.
If you have the illumination turned on but the scope and rifle are motionless for five minutes, the light will automatically switch off until you move the scope and rifle.
The scope also eliminates about 90% more glare-producing stray light compared to scopes in the same class. The anti-glare reduction will help provide edge-to-edge clarity that is unrivaled.
Waterproof & Fog Proof
The scope is 100% waterproof and fog proof and will perform in any field condition. After all, a little bit of rain will not prevent a good hunt.
The Mark 5HD 5-25x56mm Riflescope is also designed to be shockproof if you drop the scope, especially helpful in slippery and wet conditions. The engineers understood that optimal conditions do not always happen.
Zero Lock Dial
Leupold's Custom Dial System® (CDS®) compensates for bullet drop while being easily adjustable to help you hit dead on every time. The new single turn CDS-ZL dial locks at zero only. This means you only need to twist the dial to adjust for the conditions you are hunting in such as elevation adjustments.
The CDS System sets the Leupold scope apart from its competitors. The smart design will match your load, velocity, and other environmental factors. This helps ensure your scope will be perfectly attuned to your rifle's ballistics.
Each CDS dial takes into account factors:
Cartridge & Caliber
Bullet Weight
Bullet Make/Brand
Bullet Type
Ballistic Coefficient
Muzzle Velocity
Average Elevation
Average Temperature
Sight Height
Zero Distance
Your windage turret and elevation turret is all part of this uniquely designed system.
Side Focus
If you are a long-range shooter, you are likely to have experienced parallax. Stabilizing where you see the reticle on your target is essential to ensuring your accuracy the further away your target is in relation to you. The simple side focus parallax adjustment allows you to change the setting for the range you are shooting quickly.
This turret is also permanently lubricated so you will never need to take it apart to adjust.
Throw Lever
The throw lever on the Leupold Mark 5 is upgraded to speed up the magnification capabilities. This means no matter what range you are shooting, you can quickly and easily recalibrate your magnification.
The design is modern and hugs the main tube so as not to impede your view of the turrets.
Guaranteed For Life
Leupold rigorously tests the scope to ensure it can stand up to anything. The company subjects the scope through Leupold's recoil simulation machine that checks that its scope can survive 5,000 impacts. These punishing tests ensure the scope can withstand the triple-fold impact of a .308 rifle. This stringent testing gives the company confidence to provide customers a lifetime warranty.
The Leupold Mark 5HD is guaranteed to perform for life. This lifetime warranty means you will never need to buy another scope. You can feel confident that you will get your money's worth from your purchase over your lifespan.
Watch this video to learn from the Leupold team about Mark 5HD scope:
---
Who Should Use the Leupold Mark 5HD Riflescope?
Do you want to significantly improve your accuracy? Do you want to move from amateur to professional, military-grade shooting equipment? Does this describe you? Then you need this scope.
If this Leupold Mark 5HD Riflescope review has not convinced you yet, here are some pros and cons to consider:
Pros
The Front Focal Plane gives the scope military-grade precision.
The windage turret and elevation turret are easy to adjust quickly, allowing you to adapt to any shooting condition.
It has an illumination system to add extra shooting time at dawn and dusk.
Cons
The price is expensive but that is because this is not a scope for beginners.
The scope could be considered heavy in comparison to other hunting rifle scopes, but it is aligned with other A-class tactical scopes.
---
What You Can Expect When You Buy the Leupold Mark 5HD Riflescope
If you are looking to upgrade or get serious about your target practice, this scope will elevate your game. The scope is made from high-quality glass, ensuring crystal clear optics. The turrets are user-friendly and compensate for the different types of terrain and shooting situations you may find yourself in.
The Leupold Mark 5HD is for skilled shooters because it offers the latest, cutting-edge technology and innovative engineering to enhance your long-range shooting.
Related articles: