If you have recently taken an interest in rifle scopes, you may have come across various reticles. These can differ from simple crosshairs to complicated marked ones. But almost all levels of detail come in a regular variety and illuminated one.
How Does an Illuminated Reticle Work?

An illuminated reticle works by lighting up due to battery-powered light being projected onto the reticle by the scope. Some reticles are drawn in glow-in-the-dark ink, which illuminates the crosshairs when the sun begins to set.
In this article, you'll learn what illuminated reticles are and how they operate. More importantly, you'll uncover the key benefits of having an illuminated reticle scope over a non illuminated one.
Whether you should get an ambient one or a battery-operated one with reticle illumination. Finally, we will discuss the legality of these in terms of big game hunting.
---
What Is an Illuminated Reticle?
A reticle refers to the crosshairs that showcase the target through your scope. In a rifle scope, you'll glean the target by noticing these lines through your ocular lens. An illuminated reticle is different from a regular non illuminated reticle as it lights up.
This has less to do with the reticle and more with the scope as that generates the light. Some reticles self-sufficiently light up when exposed to enough ambient light. However, they aren't intense enough in their luminosity to be popular.
For now, illuminated reticles are synonymous with illuminated reticle scope that project illuminated crosshairs on the reticle.
---
How Do Rifle Scope Reticles Light Up?
If you've borrowed a friend's gun while low light hunting situations and noticed its reticle light up, chances are, their riflescope was an illuminated one. There are two ways reticles light up. The first is where reticles are drawn with ink that glows in the dark or low light.
Such a reticle needs to be exposed to the sunlight to absorb enough in the first place. Once the material has absorbed light, it glows in the dark.
This kind of illuminated reticle isn't prevalent because they lack versatility. The intensity of light depends on the chemical reaction that governs glow-in-the-dark materials. One cannot control it.
Generally speaking, such luminosity is entirely invisible in harsh daylight. Further, lack of exposure to ambient light can mean your reticle will not light up.
As a result, the most popular type of illuminated reticles is electricity-powered. The rifle scope you use with such a reticle requires batteries. These batteries power the light beams that light up the crosshairs.
You can adjust the light's intensity according to the external or low light conditions and the kind of animal you're looking to hunt.
---
When To Use an Illuminated Reticle
If you've been introduced to such reticles by a friend, you may have found the light-up crosshairs to be quite remarkable, but do these reticles present any significant advantages over non illuminated reticles?
Illuminated reticles actually counter some environmental and personal drawbacks that hunters may suffer from.
So, whether a reticle is good for you or not depends on whether the following factors currently handicap you.
Hunting Animals That Blend Into Their Environment
If you hunt black bears in a thick forest or deer that escapes into timber-shade woods, you will benefit from a reticle that can differentiate the prize from its environment.
If you shoot birds in flight and animals at heights where the sky's blue background sufficiently exposes them, then the reticle will not present a significant advantage.
Hunting in the Evening Past the Golden Hour
If you hunt in broad daylight, the sun sufficiently illuminates most of your targets. However, as the sun begins to set, it gets harder to differentiate animals from their surroundings. In such instances, an illuminated reticle comes in handy.
With that said, please note that an illuminated reticle doesn't necessarily come with night vision scopes. That means, if things get dark enough where you can't see through the scope, it doesn't matter that the crosshairs are lit up; you'll only see them light up against pitch black of the night.
However, for the early dawn and late dusk, the illuminated reticles are quite helpful.
Hunting Dark Animals
Finally, one of the most important advantages of having a light-up reticle is that you can actually see the reticle when shooting dark animals. The problem with a regular reticle is that it is most likely projected or drawn in black.
While these black lines are quite visible against a white background, such clarity fails to translate to the actual hunt (unless you're shooting polar bears).
If you're shooting a black animal, it becomes quite challenging to see the black crosshairs through the scope. This adds a little bit of guesswork and a significant amount of distraction. You focus partly on noticing the reticle and then some on the animal.
However, when you use an illuminated reticle, you can see the crosshairs regardless of the animal's color and focus entirely on your prize.
---
What Happens When Batteries Run Out?
If you wish to buy an illuminated reticle, you may wonder whether you should get the ambient variety if the scope runs out of battery. The ambient type will run out of battery but will not be as valuable as the battery-operated scope. 
We recommend getting an illuminated scope with a light-up reticle because when the batteries run out, the scope and reticle will still work, albeit without lights.
The lights illuminate a reticle that's already present in the absence of battery-powered light. These crosshairs remain visible (except without light) when you run out of battery.
---
Are Illuminated Reticles Legal for Prize Hunting?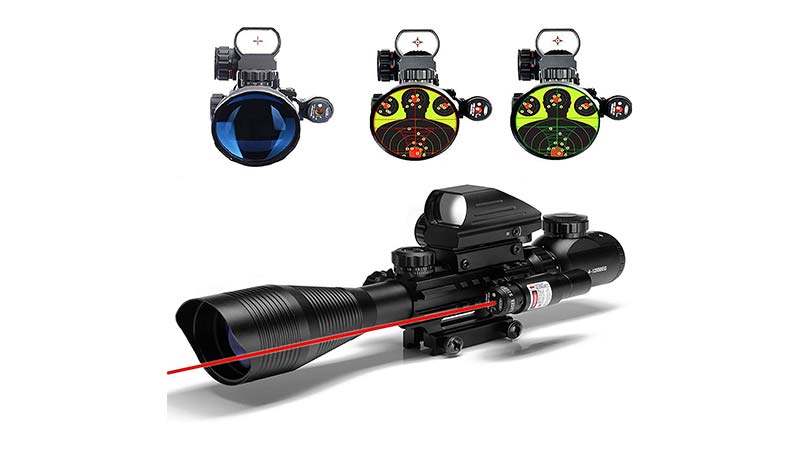 There has been significant confusion among hunting enthusiasts regarding the legality of illuminated scopes. While, personally, hunters don't consider their use as cheating, they are under the impression that certain states ban its use in prize hunting. This is a myth.
When even Ohio allows the use of illumination within the reticle, then there's little substance to states with looser regulations frowning upon illuminated reticles. This myth got propagated in the first place because people took the illegality of aiming devices that project light and applied it to illuminated reticles.
If your target gets lit up with a spotlight or a beam of light, then you're playing unfair according to most big game hunting rules.
However, if the light doesn't project out of your aiming device, and you only see your reticle more clearly, you're only fighting against the natural drawbacks of traditional reticles. And most states are fine with this type of scope with an illuminated reticle.
---
Final Thoughts: How Does an Illuminated Reticle Work
An illuminated reticle is simply a reticle you can see more clearly, thanks to the light projected onto it by the scope or the light it gives off due to its glow-in-the-dark ink. Whether you should use it depends on if the animals you hunt or the conditions you hunt in are dark enough for the light-up reticle to make a difference.
More Related Articles: