When it comes to target shooting, you need to have the best quality equipment to be a top-notch marksman, especially if used in combat. Holographic weapon sights can make a difference in getting out alive in a life and death situation.
The EOTECH EXPS2 offers a circle-dot reticle for quick target acquisition, simple mounting on Picatinny rail and Weaver options, and adjusts well for both windage and elevation. The EOTECH XPS2 comes with a red reticle, offers a 100-yard precision, and does not require constant zeroing.
Let us take a closer look at these two holographic sights by Eotech so you can decide for yourself.
In this comparison, you will discover all the great features and how others experienced the EXPS2 and Eotech XPS2.
---
How to Choose the Right Holographic Weapon Sight
Eotech XPS2 and EXPS2 holographic weapon sights are both very popular among professional combat personnel, firearm owners, and collectors.
Both these weapon sights come with great features that will make your rifle experience far more convenient and less hectic.
Many features are the same, meaning the differences between the two are only slight. However, taste differs, and some people prefer one over the other.
In the comparison table that we provide, later on, you will see which HWS is perfect for your needs. To do this, we will look at the main features and how they compare to each other.
Related reading: EOTECH EXPS3 vs XPS3 vs EXPS2
---
EOTECH XPS2 vs EXPS2 Holographic Weapon Sight: What Other Users Say About Them
Let us take a look at what other users say about these weapon sights, including how other marksmen experienced these tools.
XPS2 Holographic Weapon Sight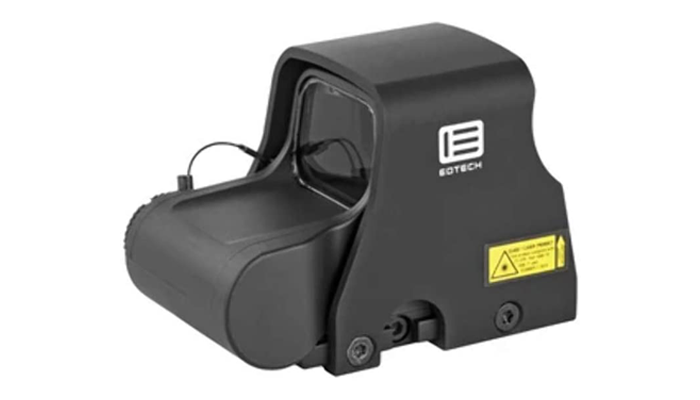 When it comes to performance, the Eotech XPS2 sight performs top-notch, and that makes it worth the exorbitant price tag.
The XPS2 features a circle-dot reticle, which means you can find your target with less effort and time. You no longer need to hunt for the reticle so you can quickly discover your target and shoot.
Many users found that the included reticle does not obscure the target to interfere with shooting precision.
In fact, many discovered that this weapon sight actually assists with target finding to make this trivial task easier than ever! With the included holographic, the reticle will be much faster and easier on target.
In other words, you do not need to aim with one eye closed as it is in the case of a classic red dot sight and you can shoot with both eyes open if that is more comfortable for you.
One of the greatest features of the Eotech XPS2 is that you can customize it slightly. For example, you can choose other reticle patterns instead if the circle-dot version is not your forte.
Or you can mount the sight on a standard Picatinny rail mounting or the 1-inch (2.54-cm) Weaver mounting option to help you zero the sight to your gun.
To make mounting installation much more seamless, you can also choose between a sizable hand-adjustable bolt or a smaller Allen-type bolt to secure it (Allen key included).
Overall, this sight has a durable and military-grade construction, offers a 600-hour battery life (with a low-battery warning to keep you in the know), and accounts for elevation and windage when you are zeroing in on a target.
The XPS2 is lightweight and compact enough for any standard rifle mounting rail without requiring constant zeroing.
EXPS2 Holographic Weapon Sight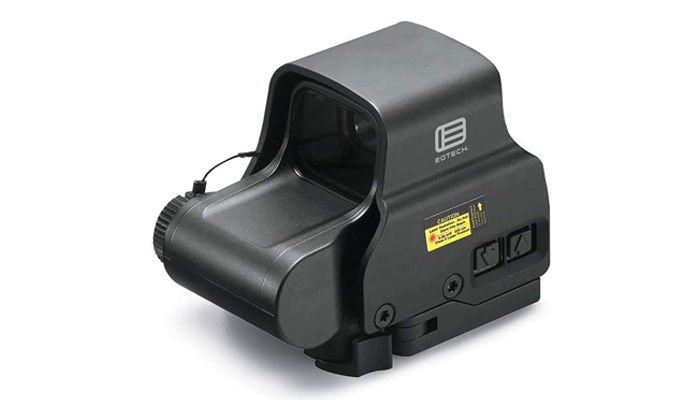 The EXPS2 reticle is bright, even when you use it in direct sunlight, meaning you can use it at literally any time of day.
The included red reticle makes it easy to acquire a target, and, thanks to its precise MOA, you will notice accuracy up to 100 yards!
With a long battery life of up to 600 hours, you do not have to constantly worry about changing your battery or checking its status.
Just appreciate the clear EXPS2, lessened eye strain, and a low point of impact shift (stay on target for longer).
Like the other model, the EXPS2 is known for being solid and durable, with very sturdy construction that can handle any hunt or adventure with little trouble.
It is also quite versatile and compatible with the Picatinny rail or the 1-inch (2.54-cm) Weaver mounting option, so you do not have to buy a new set-up to configure this piece.
Overall, this sight is lightweight and narrow, performs well in all light conditions and during target practice, and the holographic sighting option makes it easier to find targets!
---
Overall Performance of EOTCH XPS2 vs ESPS2 Holographic Weapon Sight
For a sight to be useful, it needs to perform well under different conditions and help you improve your skill.
EOTECH XPS2
When using the Eotech XPS2 holographic weapon sight, you no longer have to worry about parallax errors on the line, taking one extra load off your plate.
The convenience also includes its brightness, which gets rid of the standard distortions and fuzziness in other rifle scopes.
The craftsmanship and materials are both covered by a limited two-year warranty, though the XPS2's rugged and sturdy construction likely makes that a useless bonus.
Generally, the XPS2's ring-dot reticle is solid for close-quarter combat and short to medium-range shooting, offers great front sight, and stays zero for a long time. The unmatched MOA makes this sight a good choice for target shooting with accuracy!
EOTECH EXPS2
With the EXPS2 sight, you have easy access to its controls, so you do not need to waste time when you need to make adjustments. All adjustment settings are conveniently on the side, making it much easier to adjust on the fly.
The sight is very bright and free of distortions, offers a two-year warranty to protect your investment, and is rugged or durable enough to handle even the harshest environments.
However, the benefits do not end there. The EXPS2 also boasts front sight for those who wear glasses, a reliable zero setting for long-term focus, and a close MOA for unmatched accuracy.
---
EOTECH XPS2 vs EXPS2 Holographic Weapon Sight: Comparison Summary
| | | |
| --- | --- | --- |
| | EOTECH XPS2 | EOTECH EXPS2 |
| Size – L x W x H | 3.8 x 2.1 x 2.5 in (9.65 x 5.33 x 6.35 cm) | 3.8 x 2.3 x 2.9 (9.65 x 5.84 x 7.37 cm) |
| Weight | 9 oz (255.15 g) | 11.2 (317.51 g) |
| Magnification | 1x | 1x |
| Eye relief | Unlimited | Unlimited |
| Brightness setting | 20 | 20 |
| Mounting Method | Mounting screws with Allen key or by hand | Quick detach lever |
| Ideal target range | Close to Mid-range | Close to Mid-range |
| Reticle Patterns | Five different to choose from | Two patterns to choose from |
| Lense Coating | Anti-fog and Anti-reflection | Anti-fog and Anti-reflection |
| Waterproof | Yes, up to 10 feet (30.48 m) | Yes, up to 33 feet (10.06 m) |
| Power Type | 1 x 123 lithium Battery | 1 x 123 lithium Battery |
| Battery Life | Up to 600 hours | Up to 600 hours |
| Night Vision | Not compatible | Not compatible |
It is clear that the EXPS2 is much easier to use than the XPS2 with the side adjustments. So, instead of the control buttons located at the back, this new position allows for better manipulation of other mounted accessories.
With the EXPS2 lifted about 7mm higher than the other models, it allows for a lower co-witness which is better for close-quarter combat – making the EXPS2 a better option.
When it comes to the mounting options, the XPS2 is mounted with a mounting screw, while the EXPS2 uses a quick detach lever. The quick lever option is better than fumbling for an Allen key.
The Eotech XPS2 also has up to five reticle patterns to choose from, while the EXPS2 gives you only two options. This might be a good thing in favor of the XPS2, but since you can only select one reticle pattern at a time, this may not be such a big issue.
---
Holographic Technology
Even though this holographic technology is used in Eotech sights since the 1990s, it still is the newest when it comes to weapon sights. Even though these weapon sights are more difficult to make, it provides you with more accurate and fast target obtaining options.
How it works is that a red laser diode illuminates a holographic film, which is then reflected onto the viewing window of the weapon sight. This reflected image you see when viewing through the sight creates the reticle of the sight and displays it for you to see.
Because a laser diode is used, it also needs a lot of power compared to the iron sights and reflex weapon sights. That is why they are so power hungry and provides you with only around 600 hours of illumination of the reticle.
The great thing about holographic weapon sights is that even if the viewing glass is shattered, it can still work to provide a reticle. A holographic sight is ideal for use for people with crossed eyes, which allows them to shoot with both eyes open.
You also have a much wider viewing point where there is no obstruction blocking your view through these weapon sights.
---
Benefits of Holographic Sights
To begin with, the holographic weapon sight is a much faster optics than the traditional iron sights optics or reflex weapon sights.
They allow for faster target acquisition and are far more accurate in close-quarter combat with the 3x magnifier optics it provides. This means the front sight will be very low in the optic and avoid mucking up your optic's sight picture.
The speed and accuracy you gain with these types of weapon sights are because of the reticle that is provided. You also have a far wider range of different reticle options to choose from, making the sight quite versatile to use.
The reticle of these weapon sights provides you with a 65 mm (0.24 inches) ring to get you much faster on target.
The reticle also includes a very small dot in the center for a more precise placing for much more accurate target acquisition. A great benefit of the holographic weapon sight is that the reticle is focused on the same plane as the target.
This simply means that if the target is in focus, so is the reticle and you can pull the trigger much quicker.
The fact that you can keep both your eyes open when using this weapon sight which allows you to maintain full peripheral even in night vision.
The advantage of this is anywhere you see the reticle you are ready to shoot which makes a huge difference in a tight situation.
Related reading: Can You Aim Using Night Vision Goggles?
---
Price
The more expensive your firearm's optics, the higher quality it should be. Even though it is not always the case, you can bargain that the more expensive ones are more durable than the cheaper models out there.
The Eotech XPS2 is available for around $539, a reasonable price tag considering the excellent quality of the sight. This price is recommended by the manufacturer, but you may pay less at some online stores.
On the other hand, the EXPS2 is available for just about 40 dollars more at $579, which is also a recommended retail price.
But as is the case with the Eotech XPS2, you can also get it for a bit less at different online stores, which is worth the discount.
---
Final Thoughts on Eotech XPS2 vs EXPS2 HWS
XPS2 Holographic Weapon Sight
This weapon sight comes with great reticle options included to choose from, making target acquisition so much easier and faster.
It is also shorter and narrower in size, which makes a difference when it comes to mounting extra accessories on the rifle.
Then there is also the price factor where this model is $40 cheaper than the Eotech XPS2, which may make a massive difference for some. It could be especially important for anyone buying on a budget.
EXPS2 Holographic Weapon Sight
Even though it is more expensive, the EXPS2 weapon sight comes with great features included to make it easier to use.
One of those features is the fact that the controls are located to the side of the sight, making it easy to access and adjust on the fly.
The quick and easy mounting option with a quick detach lever further improves the ease of use of the EXPS2.
Related Articles: