A good weapon sight is essential if you want to improve your target acquisition and overall shooting skill. But choosing the right sight for any weapon is more complicated than you might imagine, so you need to do your research.
The EOTECH 512 holographic sight offers low light settings, durable Aluminum armored body, and an 11-ounce construction, making it a good option for up to 200 yards. The Aimpoint Pro is a red dot sight that's waterproof up to 150 feet, offers 2-MOA for quick zeroing, and has 10 brightness settings.
We will take a closer look at EOTECH and Aimpoint's unique features and how they can benefit you as a marksman in this Aimpoint vs EOTECH comparison guide. So which is better: the EOTECH 512 or the Aimpoint Pro?
---
Aimpoint Pro vs EOTECH 512: Choose a Sight
With these popular, entry-level, and affordable weapon sights, you can step up your shooting game with little issue. But how do EOTECH and Aimpoint really compare?
To start with, these sights use different approaches when it comes to quick target acquisition for improved overall accuracy. The EOTECH model comes with a holographic principle, while the Aimpoint comes with an aiming option.
The complicated holographic EOTECH laser weapon sight is quite complex to manufacture and therefore is a more expensive but accurate option.
But let's look at the bigger picture to help you decide whether EOTECH or Aimpoint is best for you.
Both sights are used by law enforcement around the country, and they regularly earn high regards!
The EOTECH 512 and Aimpoint Pro also make a great addition to any firearm specialist's weapons arsenal, whether you're in the military or a more casual shooter.
---
Comparison of EoTECH 512 Holographic Weapon Sight and Aimpoint Pro Red Dot Reflex Sight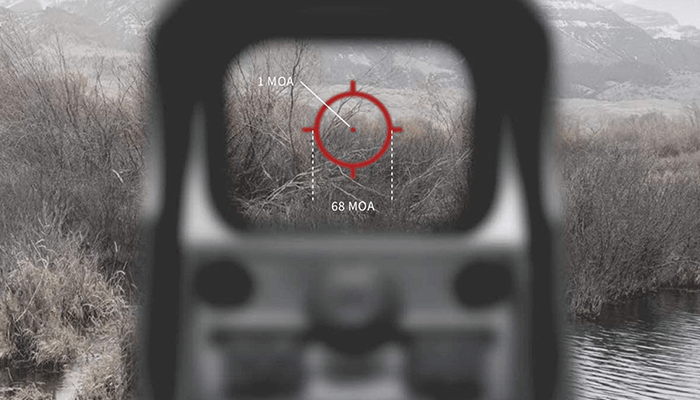 While we are comparing the different features and performances of Aimpoint Pro vs EOTECH, there are notable differences in the methods used.
These methods make use of different designs and technologies to improve your overall aim on the target.
These EOTECH and Aimpoint sights look the same from the outside, with maybe very small differences in the dimensions and overall look.
EOTECH and Aimpoint are also mounted on the weapon in the same manner, where both are compatible with Weaver or Picatinny rail mounting options.
The Aimpoint makes use of the red dot targeting, a reliable and traditional method to improve the aim.
Simultaneously, the EOTECH uses a new technology called holographic laser image, which is used in the same manner as the iron sights.
But on the inside, EOTECH and Aimpoint work in different ways and apply different technologies to give you the aiming dot.
So, let's take a look at the different technologies of Aimpoint Pro and EOTECH and how they are applied to improve your aim with a firearm.
EOTECH 512: Holographic Weapon Sights
To begin with, these EOTECH weapon sights are already a bit more complicated to manufacture, making them, in essence, a more expensive technology.
EOTECH uses collimated laser light from a diode that illuminates a holographic film that is then displayed on the viewing window.
When displayed on the viewing window, this image creates the reticle which is projected on the target. The very small red dot used in the center of the image at only 1-MOA size makes it easier to aim at the target.
Holographic reticle technology makes the EOTECH holographic weapon sight a very reliable way to acquire the target much faster and easier. So, in essence, the holographic sight is great for close-quarter combat and fast and accurate target acquisition.
Aimpoint Pro: Red Dot Sights
This traditional method to display the sight's reticle is straightforward and easy to manufacture, making it cost less than a holographic sight. The red dot has a standard reticle size of 2-MOA and has a single red dot on the sights.
By creating a red dot only the shooter can see, Aimpoint makes use of a tilted spherically shaped mirror. This is used in combination with a red LED that is reflected on the sight creating the red dot reticle, simple and easy.
This method is also very light on the battery power, causing the battery to last longer. That is why Aimpoint can last up to 50,000 hours of battery life. It is also why a high-end red dot sight can cost the same as an entry-level holographic weapon sight.
This simple targeting system is easy to manufacture and reliable, so Aimpont will not leave you at a disadvantage when you need it the most.
---
User Experience
The best place to start when comparing two similar products is in their user experiences. Here's what we discovered when comparing the EOTECH and Aimpoint:
EOTECH 512 Holographic Sight
This sight has loyal customers all across the country, from tactical professionals to your everyday gun owner, so you won't be disappointed!
The full brightness setting thrives on sunny days, meaning you never have to worry about quick target acquisition during the peak of summer. Alternatively, EOTECH's low light setting doesn't require much practice.
Made of a strong, aluminum armored body to protect primary optics, the EOTECH 512 isn't just durable; it also boasts features that many sights lack.
That includes a sense of reliability (no need to zero it regularly), a holographic sight that towers over its red dot competitors, and a 1-MOA point reticle for high-speed targeting at short to mid-range distances.
The EOTECH 512's square design does lend itself to a naturally wider field of view. The square lens aligns more naturally with the way humans see, and their lenses are clearer for an even crisper picture in your peripheral vision.
You can also use the reticle to estimate wind rift and range for a cleaner, more accurate shot. And 3v lithium battery-wise, the AA battery set-up makes it easy to replace when you're at the grocery store.
Aimpoint Pro Red Dot Sight
The Aimpoint Pro is an advanced red dot sight that teeters on the high end of similar products. With its standard mounting options, it's quite versatile and can mount onto nearly every weapon in your arsenal.
The brightness settings are easy to adjust while on a mission, and the durable aluminum body can protect the whole sight from accidental damage (water, tumbles, sand).
However, the round and bulky design of Aimpoint PRO can be quite limited in terms of its range when it comes to the wider field of view. Whereas, EOTECH 512 has an advantage because it does not limit your vision but rather expands it exponentially.
The 50,000 hours of battery life and reliable close-range accuracy makes the Aimpoint model a great option for long-term use and combat situations.
---
Overall Performance of EOTECH & Aimpoint Pro:
If you want to determine whether a weapon sight is a good investment, you need to look at its overall performance as well as your personal preference.
EOTECH 512 Holographic Weapon Sight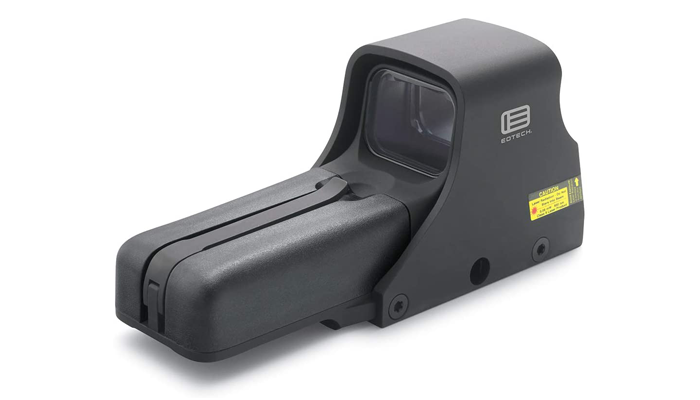 The aluminum-bodied EOTECH 512 won't only protect the primary optics from rough and tumble environments, but its plastic case battery compartment also makes this sight waterproof up to 10 feet.
Most suitable for small and medium-sized weapons with standard mounting options, the EOTECH is easy to mount on a standard rail without much issue.
The small, 11-ounce EOTECH sight is lightweight, compact, and doesn't take up too much space on either your weapon or in your bag.
It's so small, in fact, that you can combine it with some of your other weapon accessories without cluttering the gun.
With the holographic laser illumination, the sight is a masterpiece for fast target acquisition, offering cleaner optics than some of the other models on the market.
You'll also enjoy the ten brightness settings to better adapt to brighter and sunnier days, though the lack of night vision is arguably a bummer.
But the features don't end there; this sight also has a:
1 MOA point reticle set-up for high performance
1x magnification and unlimited eye relief
An impressive field of view with extra reticles to choose from
Little obstruction, thanks to the square design
600-1,000 hours of battery life on 2 x AA batteries
No parallax errors on the line (easy to zero)
A screw mounting feature
Aimpoint Pro Red Dot Reflex Sight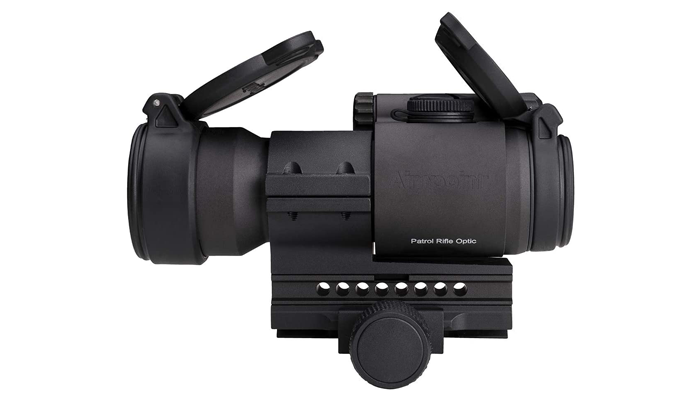 The Aimpoint Pro offers a strong, military-grade aluminum body that will protect the sight's inner workings from shock or damage (from falls, tumbles, and rough conditions).
In fact, it's so durable that it also has a waterproof feature up to 150 feet, meaning it can survive accidental drops into water and heavy downpours.
This Aimpoint sight is compatible with a large array of firearms, from large to small, making it one of the more versatile tools out there.
And why wouldn't you buy it? It's ultra-lightweight at just 11 ounces, is incredibly easy to mount, and its red dot lighting option allows for quick targeting. To top it all off, the lenses are multi-layer coated for little reflection or glare while shooting.
With its 2-MOA point, this Aimpoint model is impressively easy to zero, even when accounting for elevation and windage.
The 1x magnification and unlimited eye relief are standard and thrive best in medium-range settings, though the narrower field of view can complicate matters. Rest assured, the crystal clear optics and minimal tinting make up for that.
Features-wise, you'll appreciate the following:
Six daylight brightness settings and four night vision settings (ten total)
A 2L76 3v battery that supports up to three years of use (30,000 to 50,000 hours of battery life)
No parallax errors
Compatibility with the Picatinny rail without using a tool
Flip-up lens covers to protect the sight
Comparison of EoTECH 512 Holographic Weapon Sight and Aimpoint Pro Red Dot Reflex Sight
| | | |
| --- | --- | --- |
| Specs | EOTECH 512 | Aimpoint Pro |
| Size(LxWxH) in inches | 5.6 x 2 x 2.5 | 5.1 x 2.1 x 2.1 |
| Wight (oz) | 11.46 | 11.64 |
| Magnification | 1x | 1x |
| Eye relief | Unlimited | Unlimited |
| Brightness setting | Up to 10 brightness settings | 6 brightness settings and 4 night vision settings |
| Mounting method | Mounting screws with Allen key or screwdriver fastening | Quick-release knob for hand turning |
| Ideal target range | Short to mid-range | Short to mid-range |
| Reticle size | 1 MOA | 2 MOA |
| Lense coating | Anti-reflecting, anti-fog | Anti-reflecting, multi-layer |
| Waterproof | Yes, up to 10 feet | Yes, up to 150 feet |
| Power type | 2 x AA, lithium, or alkaline rechargeable | 3v type 2L76 or DL1/3N |
| Battery life | 600 to 1000 hours of battery life | 30,000 hours of battery life |
| Night vision | No | Yes |
Related reading: Aimpoint Comp M4 vs. M5
Performance Conclusion
Comparing these is not easy because not every firearm user out there has the same expectations from their weapons. When it comes to short and mid-range reliability, the Aimpoint Pro is a better call.
But for longer-range target shooting, the EOTECH 512 may be the better option, with its capability spanning up to 200 yards. The Aimpoint Pro is a highly developed red dot sight, but the holographic lighting option is superior to red dot sights technology.
If you need a weapon with reliable accuracy in any lighting conditions, you need the Aimpoint with its night vision compatibility. With a rugged built and excellent clear optics, this sight also offers fast target acquisition.
Related reading: Can You Aim Using Night Vision Goggles?
---
Price Difference Between EOTECH 512 & Aimpoint Pro:
The Aimpoint Pro is a high-end weapon sight with great features, bringing the price to around $580. On the other hand, the EOTECH 512 is an entry-level holographic weapon sight with far more superior technology, priced closer to $540.
So when it comes to the price, do you want an entry-level but superior technology illumination sight? Or do you want to fork out $40 more to get an excellent quality high-end red dot weapon sight with spectacular features included?
We all know that better quality when it comes to weapon optics will cost you more, but that extra $40 might be worth it!
---
Final Thoughts on EOTECH 512 vs Aimpoint Pro
EOTECH 512 Holographic Weapon Sight
We know that the EOTECH 512 has innovative new technology to improve target acquisition when you need it most. It is also made from high-quality materials to protect the sight's primary optics, through night vision isn't included.
It also costs a bit less than the Aimpoint, but you have only a short lifespan on the power option for the holographic.
Aimpoint Pro Red Dot Reflex Sight
This very reliable weapon sight comes with night vision included and is most reliable in close-quarter combat situations. You will rarely run out of power for your red dot, thanks to its three years of continuous battery life.
Aimpoint Pro costs $40 more than the EOTECH 512, but it also comes with a rugged design and a body made from military-grade materials.
Of course, the sight you end up selecting will depend on what you want to achieve and your personal preference. This article should point you in the right direction so you can make an informed choice.
Related Articles: