Aside from being "youth bows," there are several similarities that you'll notice with the Diamond Edge SB-1 and Infinite Edge Pro compound bow. The question is: which one should you get and which of these two will give you a better value?
Diamond Edge SB-1 is a better bow if you want a rugged bow that is best suited for beginners (up to 6'3") in either bowhunting or archery. Infinite Edge Pro is a better option for younger beginner archers, with its slightly lower draw length and draws weight (2 in. and 2 lb. less, respectively) for a smooth draw.
However, finding the better bow for you isn't as simple as choosing between a better-performing or more popular one. You still need to consider several things, and we'll cover all of them in great detail.
Stick around because we'll also provide you with reasons why you should choose one over the other.
If you don't want to go through the nitty-gritty details for each, here's a snapshot:
| | | |
| --- | --- | --- |
| | Diamond Edge SB-1 | Infinite Edge Pro |
| Draw Weight | 7 to 70 lbs (3.17 to 31.75 kg) | 5 to 70 lbs (2.27 to 31.75 kg) |
| Arrow Velocity | 318 ft/s (96.93 m/s) | 310 ft/s (94.49 m/s) |
| Draw Length | 15 to 30 in (38.1 to 76.2 cm) | 13 to 31 in (33.02 to 78.74 cm) |
| Axle to Axle | 31 in (78.74 cm) | 31 inches (78.74 cm) |
| Weight | 3.6 lbs (1.63 kg) | 3.2 lbs (1.45 kg) |
| Effective Let-Off | 80% | 80% |
Related reading: Garmin Bow Sight Xero A1 Vs A1i
---
Diamond Edge SB-1 vs. Infinite Edge Pro: Introduction
Choosing between these two bows can be daunting for many archers because of two reasons: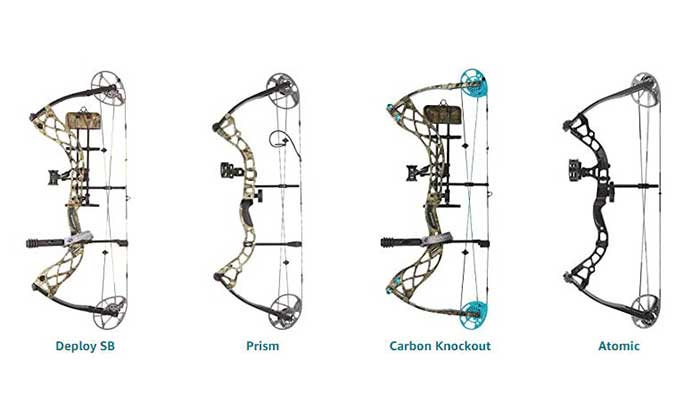 People are more familiar, and they have heard great things about Infinite Edge.
There are a few things that Edge SB-1 does better, making it look like an improved version.
But what can you really expect from these bows, and which of these two is a better option for you? It'll be a very interesting comparison and something that needs an in-depth discussion.
Both are very popular bows for beginner to intermediate archers, mainly because of their adjustability. Those who are starting to learn the basics of archery need very specific bows that allow them to build strength.
However, as the user gains experience, he needs to choose between the two: (i) get a new, better bow, or (ii) have an adjustable bow that he can re-tune as his skills improve.
These two bows are also excellent options for their versatility both are suitable for target archers and bowhunters.
However, as mentioned, Infinite Edge is more familiar for many people, and believe it or not that single factor on its own can make most people more comfortable using it.
Diamond Edge SB-1Compound Bow
This compound bow is a pretty solid and durable bow from Diamond. It's a combination of the features of "mass-market" bows with excellent adjustability and higher-end bows with its arrow velocity and let-off.
Personally, I consider this compound bow to be a better option for most people than Infinite Edge Pro compound bow, though the difference in their performance is minimal.
The draw length of up to 30 inches (76.2 cm) is good for archers up to 6'3″ (190.5 cm), making it a good choice for beginners who want to invest in a bow that they can use for several years.
7 lbs (3.18 kg) of draw weight is also an excellent starting point for many beginners who are still building their power. And 70 lbs (31.75 kg) leaves enough room for growth while still being perfect for intermediate users.
The biggest advantage of using Diamond SB-1 is its versatility. Aside from being a perfect bow for beginners and intermediate users, it's also suitable for target archers and bowhunters.
If you're looking for a well-rounded bow that serves various purposes, it's one of the options I can recommend.
Infinite Edge Pro
It is a more popular bow, and honestly, it's one reason why many people are comfortable using it. This compound bow is known to have a solid back wall synchronized binary cam system EZ adjust system built into the limb which allows it simple and easy to adjust.
Like Edge SB-1, it has the combination of features that you'll get from "mass-market" bows and higher-end bows, albeit with a slightly lower arrow velocity at 310 ft/s (94.49 m/s).
Again, the difference in the performance of both isn't that much, but if you're trying to teach younger kids, Infinite Edge is, perhaps, a better option.
The draw length starts at 13 inches (33.02 cm), and you can adjust it up to 31 inches (78.74 cm), which is good enough for at least 6'5″ (195.58 cm).
Aside from this, the draw weight for this bow starts at 5 lbs (2.27 kg) – almost nothing – but is perfect for kids who are still trying to build up their strength. You can also adjust it up to 70 lbs (31.75 kg), which is perfect for intermediate bowhunters.
The last advantage of using Infinite Edge Pro compound bow and maybe a deal-breaker for some — is its design. Edge SB-1 is only for right-handed archers, which may be okay, especially if you're only starting to learn.
But for a left-handed archer, like me, it is a better option with its right-hand and left-hand design.
---
Pricing Comparison Between Diamond Edge SB-1 And Infinite Edge Pro:
The price difference isn't really that much for both bows: Diamond Edge SB-1 compound bow costs $380 but could go up to $430, depending on the retailer, while Infinite Edge Pro costs $350 to $400.
If you're going to ask me whether you should spend a bit more for Edge SB-1, I'd say that its slightly higher price tag gives you a bit more benefit.
It's a pretty solid bow and a good option that will serve you well for years, even as you improve your skills.
Infinite Edge Pro compound bow isn't a bad option either, considering the features you can get. The adjustability, durability, reliability, and versatility at a slightly lower price make it more appealing for archers.
At $350, there's no wonder why many people are more familiar with this bow than any other "youth bow" you can find.
---
Ease of Use and Adjustability
If you look at these two bows, both look very capable on paper. But what about ease of use and adjustability?
These are two things that we don't see on paper but are actually very important when using bows. So, how do these two compare?
The ease of use is almost the same for both compound bow. Besides the actual hand design (left & right), you'll find both of them very easy to use, even for varying purposes.
What separates these bows is the adjustability. Sure, they are perfect for younger archers because you can adjust the draw weight and draw length, making it possible to use the same bow for years.
However, the diamond infinite edge isn't as adjustable as you might think. In fact, you may even have to take it to a shop to adjust it properly – and it's what I recommend for this bow.
Adjusting the SB-1 is so much easier, and you can do it on your own using a 3/32 Allen wrench. Here's a video to show you how easy it is to adjust this bow:
---
Why Should You Get Diamond Edge SB-1 Compound Bow?
The SB-1 is a solid choice, and it's a highly recommended bow for most people (except for left-handed archers).
Although this compound bow is slightly more adjustable, Edge SB-1 is still suitable for many users. Aside from that, here are other reasons why you should settle for Edge SB-1.
You Want a Better Bow in Terms of Ruggedness, Durability, and Performance
Compared to the Edge Pro, this compound bow is slightly better in a lot of ways. It's suitable for beginners to intermediate users and is more reliable than most bows we've tested for target archery and bowhunting.
You Want a Bow That Can Adapt to Your Skills and Will Be Suitable for Years
Adjustability alone doesn't make a compound bow excellent. It's a combination of several features and its ability to adapt to the user's skills while leaving enough room for growth.
---
Why Should You Get Infinite Edge Pro Compound Bow?
Many people will have the instinct to pick the Edge Pro, and there's a lot of reason for it. Aside from its popularity and a top choice for "mass-market" bows, here are other reasons why you should go with this compound bow:
You Are Teaching Younger Kids Who May Not Be Strong and Tall Enough
A difference of 2 lbs (0.91 kg) in draw weight and 2 inches (5.08 cm) in draw length may not be significant for adults, but it makes a lot of difference for younger kids.
You are looking for a solid, reliable bow that will work well for years
With a draw length of 13 to 31 inches (33.02 to 78.74 cm), it's a better option for shorter kids and taller adults, making it less likely that you'll need a new compound bow.
You're Looking for a More Affordable Option Without Compromising Quality
Sure, the price difference may not be that much, but if you want a competitive compound bow for less, it is one of the best options that you have.
---
Final Thoughts: Diamond Edge SB-1 vs. Infinite Edge Pro
If you're wondering which between the Edge SB-1 compound bow and Infinite Edge Pro compound bow is worth it, both of them will work really well. With all the advantages that you can get from these bows, I'd say that you can never go wrong with either of them.
The only deciding factors could be the slightly better performance you'll get from the SB-1 and the slightly better flexibility that the Edge Pro can provide.
Aside from these two factors, the last and possibly the most significant difference is the design left-handed archers can only go with the Infinite Edge.
More Related Articles: