The Bushnell Trophy Bone Collector XLT 3-9×40 review finds that it has more to offer hunters than just a cool name. It is a popular riflescope from a leading American manufacturer that knows a thing or two about shooting rifles. Bushnell has been helping hunters perfect their shooting with high-quality accessories for more than 65 years.
This Bushnell Trophy Bone Collector XLT multi x reticle rifle scope has proudly earned a fan-favorite designation from many satisfied customers thanks to its incredible value for the money.
Bushnell spared nothing when it developed the fully multi coated optics on this scope, which promises to give shooters a crystal clear field of view in any conditions. This riflescope bone collector edition boasts ease of use and versatility and wide-ranging compatibility along with great optics to improve shooting.
---
The Bushnell Trophy Bone Collector XLT 3-9×40 Rifle Scope in a Nutshell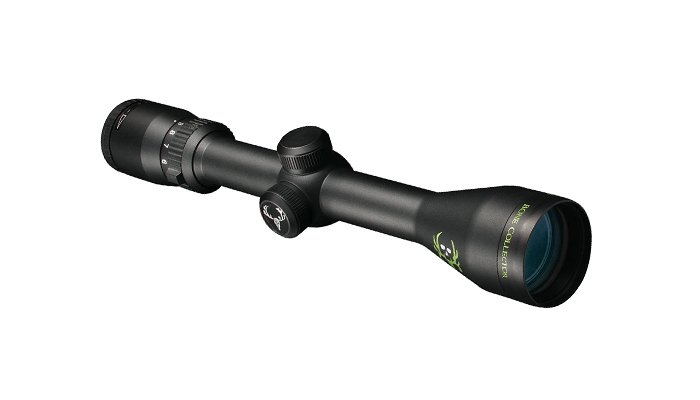 The Bushnell Trophy Bone Collector XLT 3-9×40 riflescope might be the best compromise between quality and affordability around.
Popular riflescope with unmatched optics clarity for the price point
High-quality anti-glare and waterproofing coatings and 91% light transmission
Equipped with fast-focus for easy target acquisition
Improved eye relief distance of five inches to protect from recoil
3-9×40 optical power and magnification
Zero return turret and ¼ m/a adjustments
Bushnell put a lot of forethought into the design with o-ring sealed, waterproofed optics and HD lens coatings that repel water and reduce glare. Simply put, it delivers an impressively clear visual for long-range shooting.
The value is in the optical technology with this multi x reticle riflescope. The manufacturer uses multiple layers of high tech coatings to improve clarity. Products that reduce light reflections and repel water pair with high-quality glass pieces for the best performance.
Getting a good shot from a distance takes clarity. This Bushnell Trophy Bone Collector XLT multi x reticle rifle scope has multiple layers of special coatings that reduce light reflections and repel water to provide outstanding clarity in real weather conditions.
Eye relief is the distance required for the pupil to view a clear image. Most standard rifle scopes use an eye relief of three to four inches. New shooters, in particular, will enjoy the generous allowance with this rifle scope.
Optical power and magnification are the two most important specs to look at when choosing a scope. Reading the numbers on this rifle scope, you can tell that it is capable of 3x-9x magnification with a 40mm lens.
Matching the scope's ability with the range of your rifle will give you an idea of how useful this scope will be for your application.
Adjusting the turrets is easy and precise with ¼ m/a increments and a zero-return turret feature. The zero-return means that you don't have to count back clicks to get back to zero; the rifle scope will automatically reset.
This Bushnell Trophy Bone Collector multi x reticle riflescope uses click adjustments, making it very user-friendly, but users should be careful of rough handling. Riflescopes with click adjustments are sometimes more prone to damage.
---
Bushnell Trophy Bone Collector XLT 3-9X40 Riflescope Features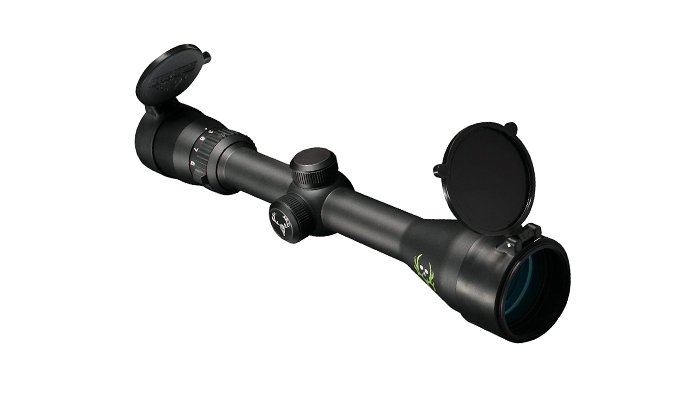 Although we cannot say enough good things about this scope's optical performance, it seems to have a few more tricks up its sleeve. Our Bushnell Trophy Bone Collector XLT 3-9X40 Review takes a closer look.
Optional Multi-X or DOA 600 Reticle
The Bushnell Trophy Bone Collector XLT 3-9×40 riflescope comes standard with a user-friendly Multi-X reticle. The simple reticle style is the easiest to use and widely favored among hunters of all skill levels. But for hunters looking for a little more edge, an optional upgrade to a precision reticle that is dead-on accurate (DOA) up to 600 yards is available with the 3-9×40.
Butler Creek Flip-Up Lens Upgrade
Many stock caps are pretty basic. Like a low-quality accessory that is included out of necessity more than an enhancement, they tend to be flimsy and ill-fitted.
But Butler Creek has a line of quality rifle scope covers that feel and perform better than most stock options. Many hunters choose to upgrade to Butler Creek covers on their own at an out-of-pocket cost of $15 – $20.
On this multi x reticle riflescope, Bushnell has partnered with the best to provide you with a high-quality and convenient flip-up lens cover made by Butler Creek, which will save you the trouble of upgrading trouble.
Extended Field of View with Range up to 100 Yards
Rifle hunters shooting from a distance will appreciate this Bushnell Trophy Bone Collector rifle scope for its performance at great distances. With a range of 40 ft at 100 yds on 3x magnification and 13 ft at 100 yds on 9x, you will get a good view of your shot every time.
Add in its performance on light filtering, allowing 91% light to maximize your view at dusk and dawn, plus quality glass and high-tech coatings, and it's hard to find a better rifle scope at this price point.
Dry Nitrogen Filled Tube
It feels like Bushnell thought of everything with this piece. The Trophy Bone Collector XLT 3-9×40 rifle scope has dry nitrogen filled tubes which help to prevent fog. Oxygen molecules, which naturally occur in our environment, are one contributing factor to foggy optical instruments.
Filling tubes with dry nitrogen removes the oxygen from the equation and eliminates that variable for fog-free viewing.
---
Who Should Use the Bushnell Trophy Bone Collector XLT 3-9X40 Riflescope
We found Bushnell Trophy XLT Multi-X Reticle Riflescope Bone Collector Edition to be a really good universal fit. The 3x zoom makes it useful for closer distances while the 9x can hit targets much further away.
The generous eye relief makes it a good choice for beginners and safety-minded shooters who have had past run-ins getting hit by their rifle scope. It also fits on a wide variety of guns.
With the popularity of the Bushnell Trophy Bone Collector rifle scope, it is hard finding an application that it won't perform well in. Of course, if money is no object, there are better options on the market. But when it comes to the value for the price, this one is hard to beat!
This rifle scope is good for shooting large game from a distance. It is also good for varmint hunting and target shooting. With the range of optical features, it does well in low-light situations like dusk and dawn. And, with an affordable price tag, it is a good entry-level scope for beginner shooters.
Related: Bushnell Banner 3-9×40 Review
---
Pros
Easy to use from start to finish. This rifle scope boasts an easy mounting with no complications to most gun models. It has a Multi-X reticle, which is one of the simplest formats and has simple adjustments. There is no learning curve with the technology on this scope.
Produced by a reputable company committed to quality and backs their claims up with an excellent warranty.
Reasonably slim and lightweight for rifle use. It is 13 inches long and weighs in just under 1 pound. Although the size might feel bulky on a smaller gun.
Cons
The reticles lack illumination. While all of the fully multi coated optics seem to be optimized for low-light levels, those features aren't that helpful if you cannot see the crosshairs.
After talking up the generous eye relief on this rifle scope, there seems to be some debate about the actual distance. The variation probably has to do with mounting it on different models, but consider that you may not get the full five inches depending on your setup.
The flip-up lens caps from Bear Creek are only an upgrade if you like that style. Chances are they are probably better than most stock covers, but they are not for everyone.
---
Our Final Thoughts on Bushnell Trophy Bone Collector XLT 3-9X40 Riflescope
The Bushnell Trophy Bone Collector XLT 39×40 review details this scope is an easy choice for anyone looking to save money on a good quality rifle scope that doesn't break the bank.
For its shortcomings like the basic reticle that lacks illumination, most shooters do a good job. The fully multi coated optics are particularly enhanced to promote clarity with features that shockproof and waterproof the rifle scope, which makes it great for foggy, wet, or humid conditions.
While no amount of money spent can prevent a defective unit's misfortune, the Bushnell Trophy Bone Collector scope demonstrates an outstanding commitment to its customers and will stand behind the product warranty if you do end up with a defective rifle scope.
If you are looking to improve your rifle performance or improve your hunting skills, a good scope can help both. Optical power, lens, and reticle are the most important features to look for. When it comes to optical power on this rifle scope, we couldn't stop gushing about all of its great features.
The lens is made from high-quality glass and has layers of coatings that improve performance. And there are two choices for reticles depending on skill level and preference. Most users will prefer the simple-to-use multi-X reticle. Skilled shooters might want something more powerful like the DOA 600, which offers greater accuracy at distances up to 600 feet.

More Riflescopes Review: