If you are looking for an affordable rifle scope that will provide peak performance for its value, then the Bushnell Banner Multi-X Reticle Riflescope with 3-Inch eye relief is what you need. 
You may wonder what the catch is with such a low price tag. But there is none. This scope is a rare find offering good quality for its value and at an affordable cost.
This Bushnell Banner 3-9X40 rifle scope review will give you an overview of its features and why this scope is best in its class for long-range shooters that do not want to spend too much.
---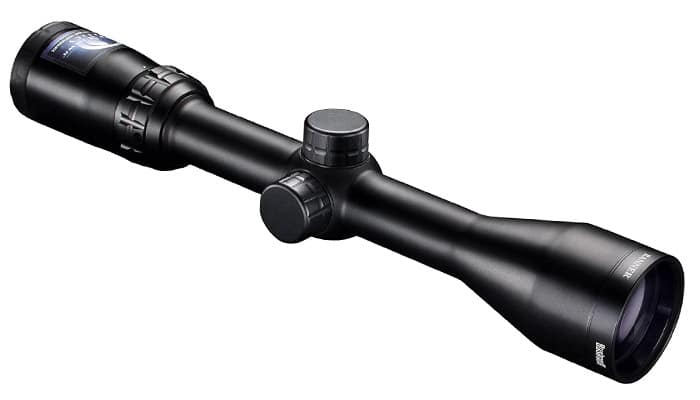 Bushnell Banner Features
The Bushnell Banner 3-9X 40mm riflescope is one of Bushnell's most popular models because users get the most bang for their buck.
Its asking price does not compromise the scope's features. The Bushnell Banner 3-9X riflescope offers great value and versatility at an affordable price.
Here are the key features of the Bushnell Banner 3-9X40mm:
Lightweight Design
3-9x Magnification
Dusk and Dawn Brightness Multi-coated Lens works even in low light
Second Focal Plane, Multi circle x reticle
Great Eye Relief/Eyepiece
Capped Turrets
High Definition Optical System
Bushnell's Exclusive Barrier Technology, Waterproof, Fog Proof, and Dustproof
Lifetime Warranty
This is a long list of features for a rifle scope that will not cost you an arm and a leg. Overall, it is a budget-friendly scope for hunters that shoot 800 to 1000 yards at the farthest distance.
The Bushnell Banner 3-9X scope has a low magnification setting making it an ideal scope to use on many different types of rifles. The mounting is simple, and its lightweight design means it is easy to change between rifles when out on a hunting trip.
Lightweight Design
The Bushnell Banner 3-9X40mm is incredibly lightweight, making it ideal for most hunters. After all, you do not want to haul any extra weight when you are trekking out to your favorite hunting spots at dawn.
The Bushnell Banner Dusk and Dawn Multi-X Reticle Riflescope with 3-Inch eye relief, 3-9X 40mm design specifications:
Eye Relief (in.) 3.5 in. / 88.9mm
FOV (ft @ 100 yds) 38ft @ 3X to 13ft @ 9X
Length (in.) 14.3 in. / 363.2mm
Magnification x Objective Lens 3-9x40mm
Parallax Adjustment Fixed, 100 Yards
Circle x reticle, Multi-X Crosshair Second Focal Plane
Tube Diameter 1″
Water Resistant Yes, IPX7
Waterproof/Fog-proof Yes, IPX7
Weight (g) 14.7 oz / 416g
Focal Plane Second
Elevation Adjustment 60 MOA / 16.5 MIL
Windage Adjustment 60 MOA / 16.5 MIL
Travel Per Rotation 15 MOA
Elevation Turret MOA-Based, Capped, Non-Locking
Windage Turret MOA-Based, Capped, Non-Locking
Coatings Fully Multi-Coated
UltraWide Band Coatings Yes
EXO Barrier Yes
The simple and lightweight design makes the Bushnell Banner scope easy to carry all day and in any shooting condition.
3-9x Magnification
What is the magnification strength of this scope? The Bushnell Banner scope has a limited range of magnification settings, making it ideal for general, all-purpose hunting situations.
If you often target rapidly moving animals and want a wide field of view, this scope will help you line up the perfect shot. The magnification is ideal for targets that are about 400 to 600 yards away, but Bushnell Banner 3-9X can be used to hit targets up to 1000 yards.
The scope quickly and easily changes between 3x to 9x power using a 40mm objective lens. This is superior in comparison to other rifle scopes in its class.
Dusk & Dawn Brightness Multi-Coated Lens
While this riflescope does not illuminate like the high-end ones, it has a special, multi-coated lens that will give hunters extra precious time at dusk and dawn for shooting even in low light conditions.
Bushnell's Dusk & Dawn Brightness (DDB) technology adds clarity and brightness to enhance your accuracy at the start and end of your day. However, it is not as advanced as Night Owl NightShot for hunting in the complete dark.
Avid hunters will appreciate this feature because animals are more active in the dusk and dawn hours. Other people who have purchased the Bushnell Banner rifle scope always praise the unique multi-coated lens as the defining feature that sets it apart from different scopes of its caliber.
This feature alone allows hunters more versatility and range when they are out stalking prey.
Second Focal Plane, Multi-X reticle
Bushnell Banner 3-9X is a second focal plane scope. This means the Multi-X reticle is placed behind the magnification lens. In short, when you change the magnification settings, the reticle's size will not change.
The Multi-X reticle is exactly as it sounds. It is a standard, duplex style crosshair. It's not fancy, but sometimes less is more. Especially for beginner hunters, the Bushnell Banner offers good quality without the bells and whistles to distract you from finetuning your skills.
The second focal plane, Multi-X reticle is easy to use at all magnifications and is the recommended type for most hunters. Bushnell Banner 3-9X will cover more than 90% of hunting situations you are likely to encounter.
Great Eye Relief/Eyepiece
The Bushnell Banner 3-9X 40mm scope gives the viewer a total of six inches of eye relief at its lowest magnification setting. This berth ensures any recoil from the gun discharging won't impact your eye. 
While the parallax turret is fixed at 100 yards so the shooter cannot adjust to compensate for this effect, it is still a great value for the price. This should not be a surprise as rifle scopes usually do not offer this extra feature in this price range.
In general, the field of view offered by the eyepiece will work for most hunting conditions.
Capped Turrets
The Bushnell Banner 3-9X 40mm scope features a set of windage and elevation turrets with ¼ inch minute of angle (MOA) values. Unfortunately, the turrets do not provide a zero-stop functionality, but this is not unusual at the scope's price point.
The Bushnell Banner 3-9X scope does have caps over its turret to protect it from getting bumped and moved while hunting. This also helps with the scope's durability and versatility in almost all hunting conditions.
High Definition Optical System
Arguably the most important component of a scope is the lens itself. Bushnell has a proprietary High Definition Optical System that is used in the Bushnell Banner 3-9X 40mm scope. This offers the shooter the best optical clarity on the market for scopes in this price range.
The Bushnell Banner 3-9X lens is optimized, adjusting for the parallax effect at 100 yards.
Bushnell's Exclusive Barrier Technology is Waterproof, Fog-Proof, and Dustproof
You might think that the riflescope's low price tag means that it will not hold up as well to extreme hunting conditions. You would be wrong. This scope is designed and built with a special barrier technology making it 100% waterproof, fog-proof, and dustproof.
The special ultra-slick coating will repel water, oil, fog, dust, and debris. This special coating will not fade over time and usage. This means the Bushnell Banner 3-9X scope will need very little maintenance. 
This just shows how Bushnell has not compromised quality on this affordable rifle scope. No matter what inclement weather you may face while hunting, the Bushnell banner 3-9X 40mm scope will continue to perform well, giving you the best clarity at an affordable cost.
Lifetime Warranty
Bushnell rifle scopes are created with more than 65 years of engineering innovation, which ensures its models will provide peak performance. This is why Bushnell provides owners with a lifetime warranty over the product's lifetime. For this riflescope, the lifetime is defined as 30 years.
This means the Bushnell scope will help you get started and last until you want to upgrade to a higher-end scope.
---
Who Needs the Bushnell Banner 3-9x 40 Multi-X Riflescope?
As any trophy hunter knows well, you will get more tags filled during low light hours when animals are more active. That is why the Dusk and Dawn Brightness multi-coated lens on the Bushnell Banner 3-9x 40 Multi-X riflescope is the best option for most hunters. 
You'll often need to spend double or more to purchase a scope that will only give you marginally better quality than the Bushnell Banner. The rifle scope's affordability and quality are unbeatable.
If you are just starting out, this rifle scope is a great starting optic. The scope has a simple design that is easy to handle while offering versatility in most hunting conditions. The glass is clear at all magnification settings. When compared to similar scopes in the same price range, the Bushnell Banner offers superior performance.
---
Pros & Cons of Bushnell Banner 3-9X40mm
There are plenty of pros to the Bushnell Banner 3-9X40, but a few drawbacks, too.
Pros
Affordable price point
Lightweight
Multi-coated lens
Comfortable eyepiece
High-def optics
High-end barrier tech
Lifetime warranty
Cons
Can't adjust for parallax
The glass isn't the highest quality
---
Final Thoughts on the Bushnell Banner 3-9X40 Review
Overall, this rifle scope review shows how it will provide excellent performance and versatility beyond other optics at the same price range. It may not have every feature in your dream scope, but it is the best choice for most hunters. This scope is especially good for beginners.
Bushnell designed this scope with you in mind. You can easily switch the scope between rifles while you are hunting. Its simple and easy-to-use design is intuitive for most hunters. This scope will improve your accuracy and game while not bankrupting you.

More Rifle Scope Review: