What is the Best SKS Scope Mount?
We have picked the UTG Pro SKS Receiver Cover Mount as the best SKS scope mount as it protects the shooter and optics from spent casings, is full length, lightweight, durable, and is great at holding zero. Its great alignment provides better accuracy and made with durable materials.
---
Your favorite SKS rifle and scope need the best SKS scope mount. Finding one may seem intimidating, but you just need to understand your options.
Scope mounts are generally added to rifles for the stability, safety, and accuracy they provide. As such, choosing one with those qualities is important along with other qualities.
Some scope mounts are easy to install while others may require certain tools or even a professional.
They are also available in varying weights and length, and some give you the option of adding additional shooting accessories such as a flashlight.
Your shooting and hunting habits and needs will influence the type of SKS scope mount you need.
---
Comparison Of 10 Best SKS Scope Mount
| | | |
| --- | --- | --- |
| | This UTG Pro SKS Receiver Cover Mount is designed and completely made in the USA to meet the most rigorous requirements. It boasts precision casting and machined high-strength steel base and top rail with integral shell deflector. | Read Our Review |
| | This SKS See-Thru Scope Mount requires no drilling or tapping or any gunsmith work, just remove the present receiver cover and replace it with mount, comes with a set of one inch rings. | Read Our Review |
| | This Sun Optics USA Tactical Military SKS Scope Mount features a scope mount and adjustable lockdown system. It uses a rear retaining pin and is made from lightweight aircraft grade aluminum steel. | Read Our Review |
| | This Magwedge SKS Rail Scope Mount has a rear bracket mount extended forward. With the removal of the rear pin the KwikRail pivots up and out of the way for easy cleaning and maintenance. | Read Our Review |
| | This Crazy Ivan SKS Scope Mount provides a very stable and accurate assembly not possible with many models including receiver cover designs. The long-rail mount extends over ejection port to protect long scopes from spent casings. | Read Our Review |
| | This UTG Super Slim Picatinny Riser Mount massively reduces weight resulting in a fully capable, lightweight, and aesthetically pleasing Picatinny riser mount - includes a T20 torx wrench for a simple and friendly installation. | Read Our Review |
| | This UTG Leapers Super Slim MOA Elevated Picatinny Mount reduces weight in accessory mounting, and it also creates a sleek profile which makes it much more attractive. | Read Our Review |
| | This BARSKA SKS Mount is made from aircraft grade aluminum steel especially for SKS rifles with weaver type rail mount. Rail length: 3.4 inches. Durable and rugged. | Read Our Review |
| | This Ultimate Arms Gear SKS Rifle See Through High Profile Tactical Scope Rail Mount may need to be slightly filed in order to achieve a perfect secure fit on your SKS rifle. | Read Our Review |
| | This GOTICAL SKS Rifle See Through Receiver Cover Replacement High Profile Tactical Scope Weaver Picatinny Rail Mount is virtually indestructible, this stock is ideal for hunting and sport shooting. | Read Our Review |
---
5 Best SKS Scope Mount Reviews
We have completed our analysis of the best SKS scope mount models. Though there were many good choices, we were able to choose the following five SKS scope mounts based on accuracy, performance, safety, and ease of use.
---
Best Overall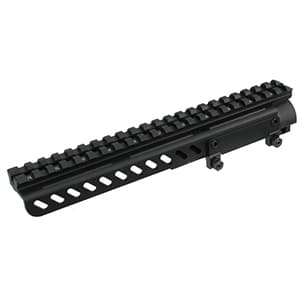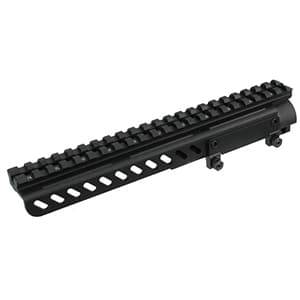 What You Will Love: It has a shell deflector design that protects the shooter and optics from spent casings.
The UTG Pro SKS Receiver Cover Mount is a full length 22 slot Picatinny so it is ideal for long scopes and other accessories.
Its cast and machined with precision from aircraft aluminum, so it is durable and wear resistant.
It is lightweight and has a see-through tunnel in the top rail. You get more accurate shots thanks to its great alignment and zero holdings.
Though the deflector does a good job of protecting both shooter and scope, it interferes with the ability to top load. Also, it does not fit a Chinese SKS, and it is pricier than some options.
Pros
Full length
Deflects spent casings
Durable and wear resistant
Lightweight
Has a see-through tunnel
Great alignment
Great zero holding
Cons
More expensive than many options
Does not fit Chinese SKS
Deflector affects top load capabilities
---
Best Budget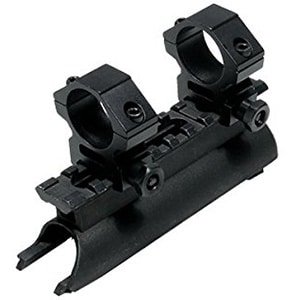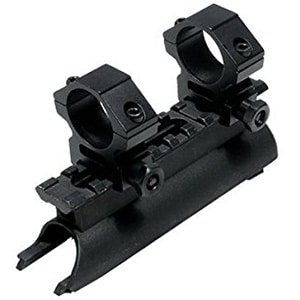 What You Will Love: This product can be custom fitted to all SKS makes with some filing.
The SKS See-Thru Scope Mount is a good value for the price. It is a universal scope mount, meaning that it can be fitted to all makes of SKS with filing.
This SKS side scope mount comes with a set of one-inch rings, and it is designed for instant use with iron sights.
Because it is made to be fitted to multiple models, it will likely not fit your shooting gear straight out of the package. With some guns, it will merely need some extra force to push it on.
However, if you need to do any filing, do a little at a time and then test it so that you do not over-file it. Also, it may not hold zero well, but for the price, it is worth a shot.
Pros
Side mounting
Instant use with iron sights
Comes with one-inch rings
Budget-friendly
Cons
Requires force to attach or filed to get a good fit
---
Best Tactical Military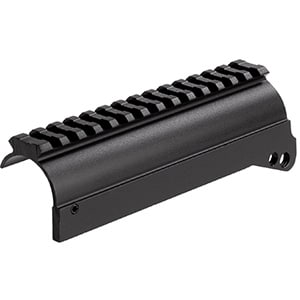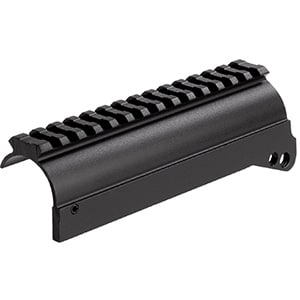 What You Will Love: This mount fits over the dust cover instead of having to replace it.
The Sun Optics USA Tactical Military SKS Scope is easy to use, easy to install, and easy on the wallet.
Unlike mount models that have to replace your dust cover, this model can fit right on top of it. It is lightweight yet durable due to the aircraft aluminum construction.
The scope may need to be filed some to fit your gun, but it does not fit a Chinese model SKS. It comes with a sturdy cover pin that is stronger than the original one.
Pros
Budget-friendly
Lightweight aircraft aluminum
Adjustable lockdown system and sturdy rear retaining the pin
Durable against rough use
Fits over the dust cover
Cons
May need to file for it to fit
Does not fit Chinese model SKS
---
Best Rail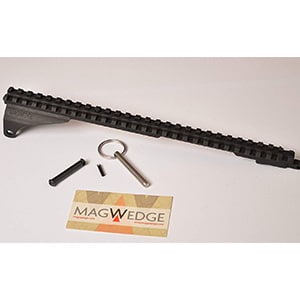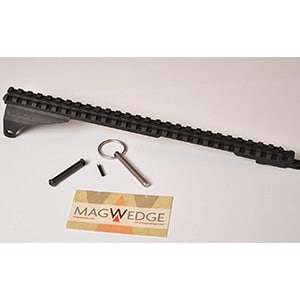 What You Will Love: It is budget friendly and comes highly recommended.
The Magwedge SKS Kwik Rail Gen 2.5 is a durable shooting accessory due to its die-cast aluminum construction.
It has standard 1911 Picatinny rail dimensions, about 12 inches long, and it fits multiple SKS models, though some require some filing and fitting.
Pros
Standard 1911 Picatinny rail dimensions
Die-cast aluminum
Comes with KwikPin
Easy to install
Easy to clean and maintain
Budget-friendly
Highly recommended
Durable
Performs well for the price
Cons
Front sight requires adjustments
Has a groove to use as a back up iron sight
May require some fitting
---
Best High Strength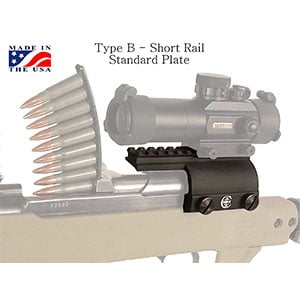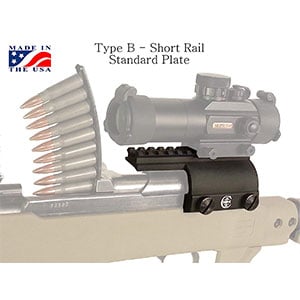 What You Will Love: It comes with a mounting plate to help you properly install the scope mount.
There are two models to choose from: the long-rail version and the short-rail version. The long-rail version acts as a deflector over the ejection port to keep you safe from spent casings.
The aluminum alloy construction means that it is both durable and lightweight. It comes with both instructions and a mounting template so that you install the mount properly.
You can quickly remove the optics while it retains zero since it does not have to touch the dust cover.
Users recommend using a drill press during installation. Otherwise, you may find yourself needing a gunsmith. It costs more than most options on this list but is still reasonable.
Pros
Long-rail and short-rail available
Long-rail acts as a deflector
Durable and lightweight
Instructions and mounting template included
Retains zero
Does not need to touch dust cover
Reasonable price
Cons
May need gunsmith if you have no drill press
---
With the SKS being a popular gun, especially with hunters, finding a good SKS scope mount is equally as popular, leading to lots of options.
Good SKS scope mounts improve accuracy without weighing down the gun. Be sure to complete research prior to purchasing so that you get the best SKS scope mount for your gun and your needs.
---
Related Articles
---