What Is the Best Shooting Stick?
After an extensive search, we selected the Primos 65807 Gen 2 Jim Shockey Edition Deluxe Tripod Trigger Stick as the top shooting stick because it's so easy to adjust, can fit cameras or scopes, and allows for fluid handle movement.
---
With so many options out there, it can be difficult to know which are the right shooting sticks. You want something that's going to take the pressure off your body and help you shoot as accurately as possible.
As you prepare for the hunting season, you may not have time to do all the research to find the right item. We've done all the work for you. To locate the top shooting sticks, we looked at scores of products and read customer reviews.
We considered the different features, pros, and cons of each item. Here's an overview of the 8 shooting sticks on the market. We considered the different features, pros, and cons of each item.
---
Quick Navigation
Top 8 Best Shooting Sticks: Our Picks & Recommendations
---
How to Choose the Right Shooting Sticks
Not all shooting sticks are one-and-the-same. So, as you weigh your options, consider the following:
Build of Shooting Sticks
Most shooting sticks are made of carbon fiber or aluminum. The carbon fiber variety are lighter in weight, but the aluminum types are sturdier.
Maneuverability
Shooting sticks are meant for shooting ranges or hunting. We recommend a heavier stick if you're mostly shooting from one spot. If you expect to move around a lot, a lighter stick will be easier to carry.
Legs and Tips
Since the legs are the most important part of a shooting stick, you'll want to make sure they can hold up reliably. How long the legs are determines how much weight they can tolerate. Adjustable legs allow you to extend the shooting stick to different heights. Similarly, look for tips that provide sufficient traction on slippery surfaces.
Carriage
Carriages come in different shapes and designs. Most rotate at 360° so you can easily aim up or down.
Durability
Aluminum tends to be more durable than carbon fiber. Especially if you hunt or visit shooting ranges frequently, you need a shooting stick that's built to last.
Functionality
Some shooting sticks can also accommodate cameras or scopes.
Flexibility
The best shooting stick should be flexible enough to allow you to shoot without having to move the device to another location.
---
8 Best Shooting Sticks Review
Here's a list of the best shooting sticks we found on the market:
Best overall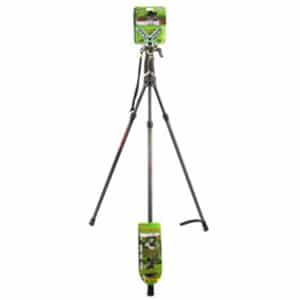 What You Will Love:
Removable V-yoke
Easy to adjust
Whisper quiet telescoping leg
When it comes to the best shooting stick overall, the Primos 65807 Gen 2 Jim Shockey Edition Deluxe Tri Pod Shooting Stick is our top pick across the board. With just a pull of the trigger, you can adjust the height from 24″ to 62″.
When you achieve the desired height, just flip a switch to lock the gun rest in place. The removable V-yoke adjusts 360°, making it easy to aim up and down.
Removing the yoke gives you room for cameras, scopes, binoculars, laser range finders, and just about any other mountable devices you can think of. (These tripod sticks accommodate 1/4″-20 and 3/8″-16 threaded fixtures for your optical gear.
The device's design allows for more fluid handle movement, too. If you're a hunter, you know how important it is to be quiet as you're setting up and keeping watch for game.
One thing we especially like about this gun rest is the Trigger stick Gen 2 coating, which allows for whisper quiet as you telescope the legs. Strong yet lightweight, the legs make this gun stick easy to carry around.
As if maneuvering couldn't get more convenient, we're happy to tell you that the stick comes with a wrist strap too. Primos shooting sticks have a reputation for being especially well-built.
Pros:
Adjusts from 24″–62″, you can lock the legs in place
Whisper quiet telescoping
Accommodates mountable optical devices
Cons:
Stick is heavy
Legs can move around (and therefore make noise) during transport
Yoke can loosen and fall off on its own
---
Best budget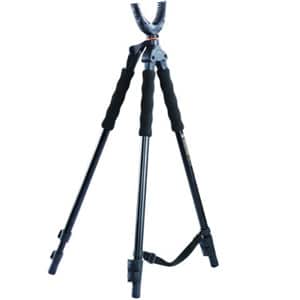 What You Will Love:
Quick-flip leg locks extend the stick from 27″ to 62″
3-in-1 device (tripod, bipod, monpod)
Removable U-yoke and 360 rotating rubber fins
Compact and lightweight
If you're looking for a versatile shooting stick, but don't want to spend a lot of cash, look no further than the Vanguard Quest T62U Shooting Stick. This 3-in-1 (bipod, tripod, and monopod) all-weather shooting stick is made of durable aluminum alloy.
Quest T62U Shooting Stick. This 3-in-1 (bipod, tripod, and monopod) all-weather shooting stick is made of durable aluminum alloy.
By unscrewing the removable third leg, you can easily convert it from tripod to bipod. If you attach the removable yoke to the third leg, the shooting stick converts to a monopod.
Foam grips make the shooting stick easy to handle in all kinds of weather. Similarly, rubber feet provide plenty of traction on wet, slippery surfaces. The U-shaped yoke comes with rubber fins that spin 360°, so you can shoot from any angle without moving the whole shooting stick.
Another thing about the yoke: it has a universal 1/4″ thread bolt accommodates cameras, camcorders, or spotting scopes. If you're planning on carrying your shooting stick around a lot, you'll be happy to know that it weighs just over 2 pounds.
When you fold it, it's less than two-and-a-half feet long. Since it's so easy to handle, you'll probably look forward to taking it with you whenever you go out in the field, especially considering how well it can stand up to weather elements.
Plus, you can use this shooting stick in a standing, sitting, or kneeling position, since the legs extend the device from 27″ to 62″.
Pros:
Portable
Durable
3-in-1
Removable
Adjustable U-yoke, stands from 2″7–62."
Customers recommend setting up as bipods to convert them to rifle sticks
Cons:
No consistent problems found
---
Best Bipod Shooting Stick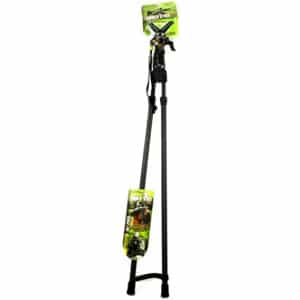 What You Will Love:
Leg telescopes quietly
Adjusts to a wide range of heights
Lightweight
Adjustable yoke
Accommodates mountables
Another of the Primos shooting sticks we really like is the Gen 2 Bipod Trigger Stick (24–61-inch). In fact, this one ranked as the best bipod shooting stick overall. To set it to the desired height, all you have to do is pull a trigger, allowing for one-handed operation.
To lock it in place, just flip a switch. This device makes it possible to shoot from a kneeling or standing position. It features an improved fluid handle movement, too.
You can remove the rotating V-yoke to mount cameras and scopes. The yoke swivels for a complete 360°, allowing you to shoot from any angle without repositioning the shooting stick itself.
Another thing you'll likely appreciate about it is its Gen 2 coating that allows the leg to extend as quietly as a whisper. If you're going to be using this for hunting, you know how important it is not to make any noise, and this trigger stick allows you to do just that.
Not only are they quiet, the aluminum legs are incredibly lightweight, too. The Primos Gen 2 weighs less than 2.5 pounds, so you shouldn't have any problems taking it out in the field or carrying it to a blind.
To make it even easier to maneuver, the device comes with a wrist strap, a bonus if your hands are full with other gear.
Pros:
Adjusts for a range of heights
Removable V-yoke accommodates mounted gear and swivels 360 Lightweight
Quiet leg telescoping
Cons:
Some customers reported that legs were prone to issues with retraction and height adjustment
The next five reviews cover our top selections for best tripod shooting sticks
---
Best Tripod Shooting Stick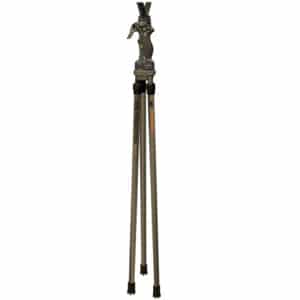 What You Will Love:
Adjusts from 24″–62″
Deploys quickly
Intended for all types of terrain
As its "Gen 3" name suggests, the Primos Trigger Stick Gen 3 Series– Jim Shockey Tall Tripod allows you to take your shooting to the next level. With one hand, you can adjust the height from 24″ to 62″ simply by pulling a trigger.
A rubber bungee holds the legs in place when you're carrying the stick, which can cut down on noise when getting to the field. With a contoured grip and non-slip backbone, the shooting stick is incredibly easy to maneuver.
The Quick Detach Yoke System comes with an integrated lock so you can seamlessly switch between gun and optics. Designed for smoother panning action, the gun stick allows you to scan viewing areas to shoot accurately, yet with minimal effort.
This device is intended for all types of terrain and allows you to shoot from a kneeling, sitting, or standing position. With leg-locking angles, you can shoot from any vantage point.
While this device isn't as lightweight as some of the other best shooting sticks we reviewed, it is sturdy and deploys quickly. What customers found especially helpful about the device is that it's equipped with an adapter for a spotting scope.
Pros:
Easy to use
Allows you to shoot from multiple angles on all terrain
Cons:
Some users noted that it's on the heavier side (at least for the top shooting sticks) and measures 42″ when compressed, which is a bit long.
Some customers said it was flimsier than Gen 2 version. May not do as well in sand and humidity.

---
1st Runnerup (Tripod)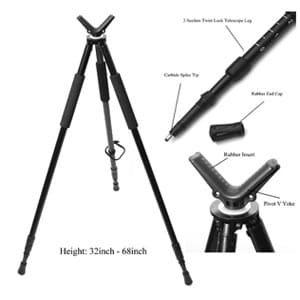 Lightweight
Fully-rotating V-yoke
Extends from 25″–68″
Another runner-up on our best tripod shooting sticks list is the Hammers Telescopic Shooting Tripod with Pivot V Yoke. Made with aluminum alloy, it's durable, yet–at 2.2 pounds– also lightweight.
It features 3 telescopic sections with twist locks. Its top-mounted V-yoke rotates freely and creates a sturdy platform so you can shoot from a standing, offhand position.
You can adjust the height from 25″ all the way to 68″, so this shooting stick can reach a taller max height than some of the others we found. You can extend each leg individually, which is especially helpful if you're hunting on a hill.
The height is a plus if you happen to be really tall. Otherwise, you might find most rank-and-file shooting sticks too short for you to use comfortably. The legs feature EVA foam grips, and the carbide tips on the ends of the legs are water-resistant and give you optimal traction on rock-solid terrain.
For extra protection, each tip is covered with a rubber end cap. The shooting stick comes with a velcro strap, should you need to tie it down.
When you fold it up, it measures just 32″, considerably shorter than its maximum height. With so much to offer, it's no wonder customers gave this shooting stick an overall rating of 4 stars.
Pros:
Lightweight
Each leg folds individually
Extends to a maximum height of 68″
Carbide tips provide extra grip on hard surfaces
Cons:
Some people had issues getting legs to extend or retract.
---
2nd Runnerup (Tripod)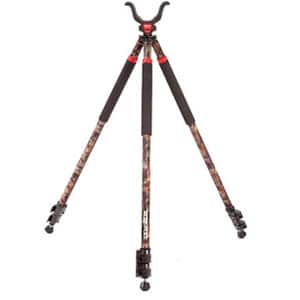 What You Will Love:
Highly easy to use
Lightweight
Versatile
Durable
If you're looking for something that's especially easy to use, one of the best tripod shooting sticks we could find was the BOG-Pod CLD Camo Shooting Rest with Lightweight Design.
To help you blend into your surroundings when hunting, this shooting stick has a camouflage design and black cushioned grips. Durable and reliable in all types of environments, this gun stick comes with screw-out spike feet to make it extra sturdy.
You can rapidly adjust the legs and lock them in place, too. One thing we especially like about this device is that it is compatible with the Switcheroo Shooting system. That means it's remarkably easy to swap out hunting gear and photography equipment– cameras, spotting scopes, and binoculars.
As one of the best rifle shooting sticks, the gun mount is compatible with most firearms. In preparation for transporting it, you can collapse it to a length of 3 feet. It weighs just two pounds and you can extend it from 22″–68″.
To reach your desired height quickly and without much effort, use the inch markers on the inside telescoping leg sections. In terms of versatility, this just may be your go-to gun stick, as you can use it while sitting, standing, or kneeling.
Users can adjust legs individually to a 60-degree angle for maximum accuracy and stability (for hunting or photography). Last but not least, the device features a shooting rest that rotates 360°.
Included in the box are a waterproof carrying case and an Allen wrench in case anything needs to be adjusted.
Pros:
Durable
Lightweight
Legs adjust individually
Compatible with Switcheroo shooting system
Cons:
May take a while to adjust legs
---
3rd Runnerup (Tripod)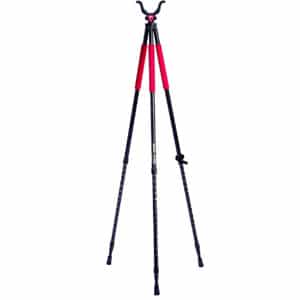 What You Will Love:
Extends from 22″ to 68″
Durable
Legs adjust independently to a 40° angle
Swivels 360 so you can shoot from all angles
What we really like about the BOG Pod RLD gun rest is its light weight (just over 2 pounds) and versatility. It starts out at 22″. With the legs fully extended, it tops out at 68″.
To set it to the desired height, you can use the inch markers on the middle telescoping leg sections, and integrated leg stops prevent them from being overextended. You can adjust the legs independently of each other, which is especially helpful if you are on uneven terrain.
The legs extend to a 40-degree angle, and the adjustable tension on them allows for optimal stability and accuracy, whether you're shooting photography or game. What makes the legs so durable is their sturdy construction.
They're lightweight and made of aluminum. Each leg has 3 sections and removable rubber feet. Carbide tips protect the legs from damage and contribute to the device's stability.
To help you shoot as accurately as possible from all vantage points, the device swivels 360°. Even with the highest-quality products, parts can become loosened over time.
This device comes with an Allen wrench so you can be prepared if that happens. Plus, there's a waterproof carrying case for transporting your gun rest in rain or snow.
Another thing you might like to know: the BOG Pod RLD is compatible with the Switcheroo Shooting System, allowing you to seamlessly switch from photography equipment to shooting gear, and back again.
Pros:
Lightweight
Durable
Legs extend individually
Compatible with Switcheroo Shooting System
Cons:
A few customers reported issues with legs not fully extending or locking
---
4th Runnerup (Tripod)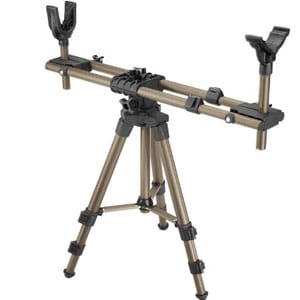 What You Will Love:
Versatile
Adjustable dual frame
Durable
Extends from 20″ to 42″
Last but not least, we're going to round out our list of best gun sticks with the Caldwell DeadShot Field Pod Adjustable Ambidextrous Riffle Shooting Rest for Outdoor Range and Hunting. What sets it apart as one of the best Caldwell shooting sticks is its innovative design.
It's made of aluminum, and you can adjust this shooting stick between 20″ and 42″. With its dual frame, you can count on it holding steady– before, after, and during a shoot.
You can rotate it a full 360°, and its tension knob lets you tilt the frame up and down to get just the right angle. With independent height-adjustable front and rear supports, the gun rest gives you maximum versatility. It can stand up to just about any environment, too.
With mar-resistant over-molded rear stock and front end support, the device holds your gun securely, yet doesn't interfere with point-of-contact.
You can use the gun rest for any size rifle, or even crossbows, so you can take it with you for predator hunting, ground blinds, turkey hunts, and long-range rifle shooting.
Weighing less than 6 pounds, it conveniently folds up for transport. A carrying strap makes it easier to balance when you're carrying it. Whether you're standing or sitting, whether you're in a tree-stand or a blind on the ground, this device allows you to have every advantage to position your rifle for the perfect shot.
Pros:
Versatile
Easy to use
Accommodates any size rifle and fits crossbows, too
Cons:
With so many satisfied customers
We couldn't find any significant
Consistently-reported shortcomings with this gun rest
---
Frequently Asked Questions (FAQs)
Where can you buy shooting sticks?
You can buy shooting sticks– either online or in-person– from any store that sells hunting gear.
Why should I buy shooting sticks?
Shooting sticks take pressure off your body when using a firearm. They also help you secure your gun to get a more accurate shot.
How tall are shooting sticks?
The shooting sticks we reviewed ranged from minimum heights of 20″–24″ inches, with maximum heights of anywhere from 42″ to 68″.
Does a shooter need shooting sticks?
Having a gun rest can be incredibly helpful. Sometimes, these are available in the natural environment– think boulders or branches. In open country though, you likely won't find anything you can use in place of a shooting stick.
How much does it cost to buy a shooting stick?
How much you're going to shell out depends on the kind of shooting stick you want. Something that doesn't come with a lot of extra features or is made of less-durable materials will come with a smaller price tag. A more high-end shooting stick will cost more.
---
Conclusion
There are lots of shooting sticks on the market. The best one for you depends on what you're using it for. It's important to consider what fits your budget, too. The best shooting sticks are versatile and easy to use, taking your shooting to the next level.
---
Related Articles:
---