Quick Summary: We have picked the Hatch NS430 Specialist All-Weather Shooting and Duty Gloves as the top shooting gloves as they are made with extreme grip patches and provide a great amount of warmth. The material makes the gloves very flexible and they provide an amazing amount of dexterity at a great price.
Shooting gloves seem like a nuisance, but there are so many ways in which shooting gloves improve your overall experience, and all true gun specialists know that. But you can't wear any gloves, that is why we prepared a neat little guide for you, so you can easily discover the best shooting gloves for you.
Shooting gloves are specifically designed to enhance your grip, which in return will significantly improve your accuracy. If you always wondered what you are missing for that perfect score on a shooting range or how to hit the dead center of your target every time, well, now you know. The answer is the best shooting gloves.
The shooting gloves are also designed to be tough and durable in order to protect your hands from various injuries. For example, when you are reloading your gun, the moving parts can make nasty cuts on your hands, or when shooting, a hot bullet cases can cause painful burns.
In order to prevent any of these injuries from happening, you need to equip a pair of shooting gloves. We prepared a list of the best shooting gloves currently available on the market. Keep reading to find out which pair will satisfy you the most and take your shooting experience to the next level.
Quick Navigation:
---
Comparison of 10 Best Shooting Gloves
| | | |
| --- | --- | --- |
| | Presenting top-notch features, the weather-resistant HATCH NS430 is one of the most sort-after duty gloves on the market today. Made with neoprene, it provides maximum flexibility and comfort. | Read Our Review |
| | Featuring touchscreen sensitivity and added micro-fleece, the Mechanix Coyote gloves for sweaty hands are made of lightweight mesh for breathability and thermoplastic rubber (TPR) for better fit and mobility. | Read Our Review |
| | Made of silicone for a firmer grip, stretchable silky synthetic material, these waterproof anti-scent gloves are perfect for humid weathers where stealth and control are highly required. | Read Our Review |
| | FREETOO fingerless tactical shooting gloves are perfectly designed to endure intense action on the field with the reinforced palm, duple stitching, and scent-free breathable materials. | Read Our Review |
| | Bob Allen tactical gloves featuring a leather palm, ventilated port, articulated knuckles for comfort, and a synthetic leather back part for exceptional durability are arguably the best in the market today. | Read Our Review |
| | In the search for durability and protection? Look no further. This breathable glove is designed with an anti-slip synthetic leather palm resistant from shrinking and conductive touchscreen fingertips for convenient phone use. | Read Our Review |
| | This archery glove made of doeskin provides you with unmatched sensitivity that aids in achieving a clean, accurate shot. Its Velcro strap ensures that it fits snugly on your hand. | Read Our Review |
| | You'll always remain fully protected with the thermoplastic rubber feature on the Mechanix wear gloves in addition to flexibility and comfort. It looks soft when put on, but it's tough to wear. | Read Our Review |
| | A favorite for soldiers, this glove is made of a lightweight super-thin material for supreme comfort without sacrificing protection. They're flexible, breathable, touchscreen sensitive, and a great addition for intense action. | Read Our Review |
| | This lightweight Magpul tactical glove is made of padded neoprene featuring a leather palm for durability and excellent mobility. Perfectly optimized features for extended periods of use. | Read Our Review |
---
Reviews of 10 Top Shooting Gloves
Here's a list of the best shooting gloves we found on the market:
Best Overall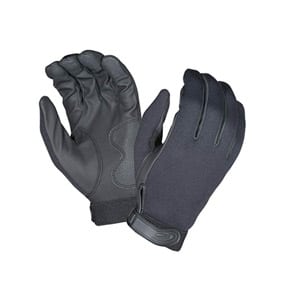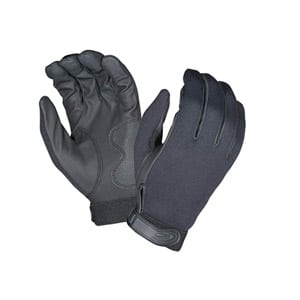 What You Will Love: They are excellent gloves that provide a great grip and plenty of warmth for your hand.
We consider the Hatch NS430 Specialist All Weather Shooting and Duty Glove to be the best shooting glove tested overall for quite a few reasons. The first is that they fit really well yet they provide a great deal of flexibility.
You can easily move your fingers to shoot and complete any other shooting related tasks. The patches sewn onto the fingers provide what is known as Extreme-Grip, giving you an excellent amount of control over your shooting.
The hook and loop closure allows you to have a secure fit, but you can adjust that fit to your comfort level. The neoprene material is great for comfort and keeps your hands warm, but it is not so good for keeping your hands cool.
You can expect to sweat while wearing these specialist all weather shooting gloves. The pricing starts pretty reasonably at around $18, but it can go up to more than $40, making them a little expensive.
Pros:
The shooting gloves are made from neoprene materials for warmth.
The synthetic leather palm is made for optimal dexterity.
They are made with Extreme Grip patches.
There are a hook and loop closure for a secure yet adjustable fit.
Cons:
They are not made to keep your hands cool.
---
Best Budget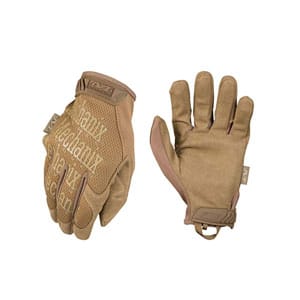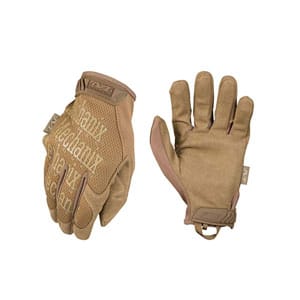 What You Will Love: The Coyote tan material they are made with is designed for military personnel and special forces who operate in hot climates with little shade.
These Mechanix Wear Original Coyote Tactical Gloves are very well designed. The Trek-Dry material is breathable, so your hands stay cool. It is also pretty form fitting, so you should not have to worry about the glove interfering with your dexterity.
The hook and loop closure provides a secure fit while still giving you the control to adjust them. The palm has a single layer of padding that also allows for great dexterity.
The first knuckle has an impact guard that protects you from any unintentional impact with hot or painful contact with your weapon. As a whole, these shooting gloves are great for the money.
Pros:
They are made with form-fitting TrekDry that can keep your hands cool.
There are a hook and loop closure to provide a secure fit.
They have a single layer on the palm so you have plenty of good fit and dexterity.
They are machine washable.
They run around $25, so they are pretty affordable.
The first knuckle has an impact guard.
Cons:
The biggest issue is that they come a little darker than the picture shows.
---
Best Water Resistant Shooting Gloves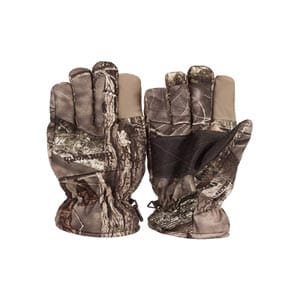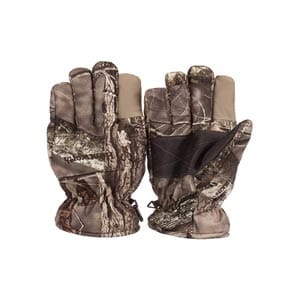 What You Will Love: These shooting gloves are made very well for keeping your hands very warm in the cold weather.
The Huntworth Men's Insulated Hunting Gloves are made for keeping your hands warm and comfortable. In that sense, they do a great job. They are also pretty well water resistant on the outside.
However, the inside will soak up any water that gets close, so if your glove does not close well around your wrist, you will probably find yourself wet and uncomfortable.
Also, they say that they are for hunting, but they tend to be pretty noisy when you move your hand which is not good for hunting. They are probably best for target practice. They are not very durable, either, but they are mostly affordable, so this may not be too big of a deal.
Pros:
Prices start as low as $8, so they are pretty affordable.
The outside is waterproof or water resistant.
Keep your hands warm and comfortable.
Cons:
The price can go over $70, so they can get pretty expensive.
The inside is not water resistant at all.
They are not very durable.
These shooting gloves tend to make a lot of noise when you move your hand, so they probably are not great for hunting.
---
Best Tactical Shooting Gloves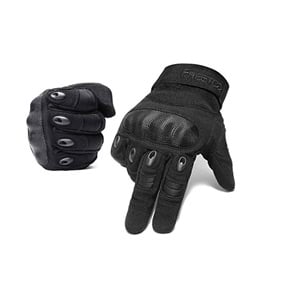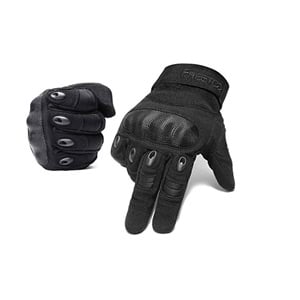 What You Will Love: The technical gloves are both made with breathable materials and have vent holes on the back to keep you cool.
These FREE TOO Work Gloves are great heavy duty gloves. They are made from durable, breathable material that does a great job of protecting your hands from scratches and abrasions.
They provide a snug fit with an adjustable wrist closure. The double stitching and reinforced palm make the technical gloves last even longer.
Priced between $15 and $25, they are a very affordable pair of gloves.
Pros:
They only run $15 to $25, so they are very affordable.
These heavy duty gloves protect yours from scratches and abrasions, no matter the activity.
They provide a snug fit on the palm, and the wrist closure is adjustable with Velcro, but they still allow a good range of motion.
They are made with breathable materials.
The materials make them good for hot and mild weather.
There is a great amount of grip on the gloves.
The palm is reinforced and the stitching is doubled for extra heavy duty use.
They are made with ventilating holes on the back of the hand.
Cons:
Velcro closures can sometimes "eat" into the skin, causing a lot of discomfort.
---
Best Leather Shooting Gloves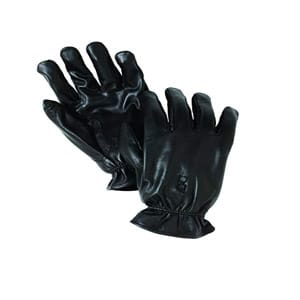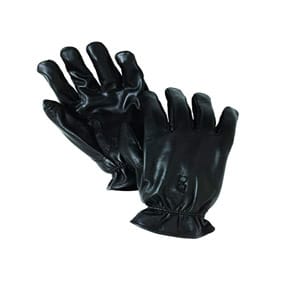 What You Will Love: Though these were not intended to be water resistant, they are actually very water resistant and pretty affordable.
These Bob Allen Leather Unlined Gloves are made pretty thick, which provides acceptable hand protection. However, they are not very heat resistant, so keep that in mind.
They are, on the other hand, very water resistant and provide a great amount of dexterity. They are lightweight and very flexible, but they are not the best for heavy duty tasks.
They do make pretty good shooting gloves, but you may want to add a little protection underneath for additional heat resistance if you will be shooting for long periods of time. The wristband is elastic, so depending on the size of your wrist, you may find it to be a little tight.
Pros:
They are made from water resistant synthetic leather and have a comfortable elastic wrist band.
They are lightweight and very flexible.
The dexterity in these gloves is quite impressive.
They start as low as $11, so they are pretty affordable.
The material provides acceptable hand protection.
Cons:
They are not very heat resistant.
---
Best Shotgun Shooting Gloves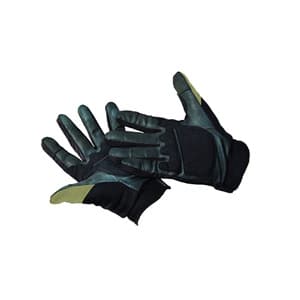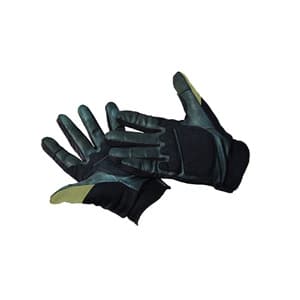 What You Will Love: There is a synthetic leather reinforcement patch on the finger to prevent it from getting caught in the slide.
These Caldwell Ultimate Shooting Gloves are a pretty good option. They are constructed with breathable, flexible material and a comfortable level of padding. The rubberized palm provides great grip, and you have full dexterity.
They seem to fit a little loose though which is not really a good thing when shooting. You do not want the material getting caught in the gun. The prices start low at $21, so altogether they are a good choice, though not our favorite.
Pros:
They are made with breathable material and padding.
You get a good amount of touch control with these gloves.
There is a rubberized palm for full dexterity and grip.
They are lightweight and have a leather reinforcement patch to prevent your finger from getting caught in the slide.
The material is also very flexible.
Prices start as low as $21
Cons:
They do not fit very snugly.
---
Best Archery Shooting Gloves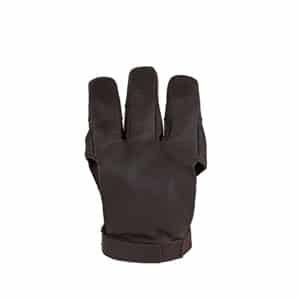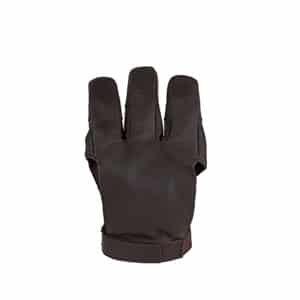 What You Will Love: The 100% leather gloves are designed to provide a great amount of touch control and dexterity.
These Damascus DWC Archery Shooting Gloves are made with 100% leather and three-finger gloves that are designed to give you a great amount of dexterity and control of your weapon. The wrist enclosure is adjustable thanks to the Velcro strap.
However, Velcro has a tendency to become slightly off base and might begin to eat into your skin, causing a great amount of discomfort. The fingertips are reinforced for extra durability and greater comfort. At only $16, they are very affordable.
Pros:
They are very affordable.
The material is 100% leather.
The three finger gloves are designed which can be placed on either hand.
The fingertips are reinforced for added comfort and durability.
The wrist enclosure is an adjustable Velcro strap.
Cons:
Velcro straps can eat into the skin, causing the need for readjustments.
---
Best for Flexibility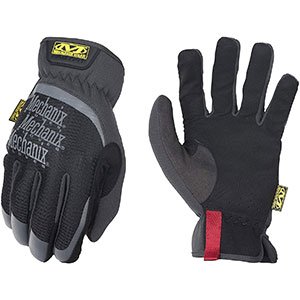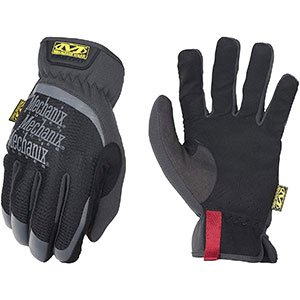 What You Will Love: Mechanix Wear tactical gloves that provide years of excellent service protecting your hands from the world, thus making it the best in durability. The strengthened thumb and forefinger provide convenience and stealth when in action.
From the breathable TrekDry feature to the synthetic leather construction, these Mechanix Wear tactical gloves are proof of superior protection, comfort, and versatility.
They do a clean job of creating a barrier between your hands and the immediate harsh environment and make sure that your hands always remain dry.
Key Features:
D30 palm padding: Offers high-impact resistance and a comfortable snug fit experience.
Flexible thermal plastic rubber elastic cuffs: Makes wearing it on and off more comfortable, and the Trek Dry materials make sure your hands remain dry.
Armortec palm reinforcement: Provides an exceptionally snug fit and extra durability for an already durable tactical glove.
Pros:
Comfortable and durable to protect your hands from any harm.
Touchscreen sensitive fingertips for use with phones.
Thin and lightweight material for versatility and ease of use.
Cons:
Absence of half finger and full finger knuckle protection.
---
Best for Touch Screen Conductive Thumb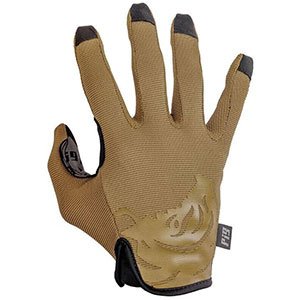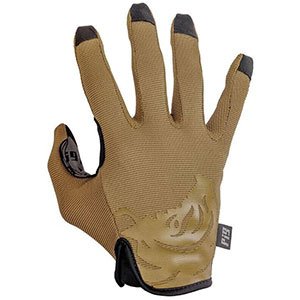 What You Will Love: Great pick for a pro or amateur certified gun fanatics. The Pig Full Dexterity Tactical (FDT) delta utility glove comes with a single layer highly optimized palm for a perfect grip on the gun. The material is so thin that you feel like you aren't wearing any gloves.
This Pig Full Dexterity glove offers high dexterity and stealth with a proven track record from American Special Operations soldiers.
This Pig Full Dexterity glove is made from top-notch breathable material with the thumb and index finger highly sensitive for use with touchscreens featuring six colors and numerous sizes.
Key Features:
Thin, lightweight material and padded half finger knuckles: For great sensitivity, maximum comfort, and convenience when reaching into your pockets.
Touch screen sensitivity on the fingertips: You don't have to take off your technical gloves to answer a call or send a text message.
Roll-over fingertip design: Prevents stitches from jamming under your fingernails in addition to guaranteeing dry and warm hands.
Pros:
Offers touch screen sensitivity.
Roll-over fingertip shooting gloves and single-layered piece palm are designed for securer grip.
Provides optimal comfort and flexibility.
Cons:
---
Best for Rifle Shooting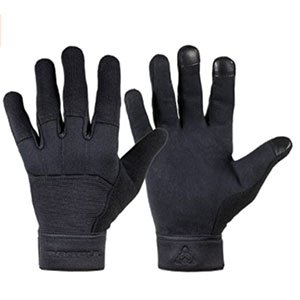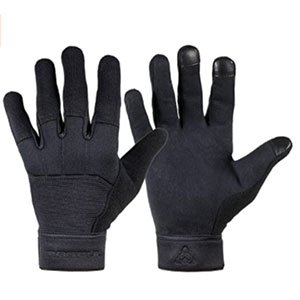 What You Will Love: The Magpul Technical glove is a product that's derived from vigorous study and advancement of previous company's models, thus, expect polished features. From the imported goatskin leather to the palm's improved design, this glove offers durability, longevity, comfort, and flexibility to the full finger knuckles' flexible panel.
The lightweight material and enhanced palm and knuckle area allow the Magpul Core Patrol tactical glove to fit in your hand snugly.
The backside is made of corded stretchable nylon, strengthened with padded contours at the full finger knuckles for flexibility and protection when engaging in intense activities. The glove also features touchscreen capabilities for convenient phone use.
Key Features:
Material and Design: The soft and slightly stretchable material used during construction provides an excellent fit that's snug yet not restrictive. When wearing these technical gloves, you don't feel like you have it on, and even with the absence of reinforcements, the glove offers maximum durability than it would appear at first glance.
Excellent Grip: They are suitable for handy tasks such as magazine loading since these technical gloves don't jam around your fingernails or even interfere with mobility.
Optimal Performance: The absence of noticeable strengthening layers makes it easy to operate. Also, the lack of wrist closure allows you to bend your wrist at any angle without fear of the glove digging into your wrist.
Pros:
Imported synthetic leather construction for durability.
Improved design on the palms and strengthened knuckle area for versatility.
Lightweight material for stealth and comfort.
Touchscreen sensitivity for convenient phone use.
Wind resistant and a snug fit.
Cons:
Takes long to wear the glove – on/off.
---
How to Choose the Right Shooting Gloves
The shooting gloves you choose can make a big difference in your shooting abilities. The following are some of the characteristics you want to pay attention to shopping:
Fit
You have to have a glove that fits well. If it is too big or too small you will not be able to handle your weapon well.
Heat Resistance
Guns get hot, so your shooting gloves need to be able to resist the heat so that your hand does not get burned. Some gloves have half fingers, so you have to consider this. You want your hand to be protected from the heat, of course, but your fingers as well.
For short shooting periods, you could simply try to keep your fingers away from the gun's guard, but you probably will not be able to do that for long periods.
Mag Loading
Having to take your gloves off every time you want to load a mag is frustrating, but some gloves will require just that due to the loss of dexterity in your fingers.
The fingerless gloves are great for mag loading, though. Also, if you find a pair whose fingers fit your fingers well, you should be able to load your mags without issue.
Quality of Construction
You want to choose gloves made with good quality construction. Otherwise, you will need to be replacing them too often. The following are some of the factors of the construction to consider:
Covering
You can choose gloves to fit a portion of your hand, your whole hand, past your wrist, and pretty much anywhere in between. Again, you can choose those that do not cover your fingers as well.
Padding
Having some padding in the palm and a little around the fingers will provide some comfort while shooting. However, beware of too much padding as that can interfere with your dexterity and the ability to feel the trigger pull. You will also want some padding around your half finger knuckles for protection.
Stitching
The stitching of the gloves needs to be strong enough to keep your gloves together while you are shooting, but you also do not want the stitching to end up between your finger and your nail. That will lead to a lot of discomforts and, possibly preoccupation while shooting, so pay attention to the placement of the stitching.
Tight Fit
You need your shooting gloves to fit tight enough that they fit almost like a second skin so that you can feel what you are doing. At the same time, if you get them too tight, it will lead to pain and discomfort.
Closure
Some pair of shooting gloves have a closure that you can tighten around the wrist. These tend to affect the level of mobility and comfort you have. Try the gloves on and see how well you can move your wrist around. If it feels like it will interfere with your comfort or shooting abilities, look for a different pair.
Protection
Again, your shooting gloves should be able to protect your hands from heat and any knuckle damage from pulling the trigger. Any cuts and scrapes you receive can hurt and become infected, so it is just better to protect yourself as much as possible.
Water Resistance
Wet hands while shooting? No, thank you- I would rather do without that discomfort. Look for gloves that are water resistant to prevent this from happening.
Comfort
As with anything else you wear, you want it to be comfortable. The pair of shooting gloves you wear while shooting needs to be comfortable or you might not be able to shoot well or for long periods of time.
Traction
You want your gloves to have enough grip that nothing is sliding around while you are loading or racking the slide, and you do not want your finger slipping from the trigger while you are shooting. Be sure to find some pair of shooting gloves with enough grip to get the job done.

---
Frequently Asked Questions (FAQs)
Why do people use shooting gloves?
People choose to use shooting gloves for a few different reasons, all of which can improve your shooting and let you stay out longer. Gloves protect you from hot gun barrels, and they help prevent blisters.
They can also keep your fingers or the space between your thumb and forefinger from being caught in the sharp magazines or trigger sections. Additionally, they can improve your grip, prevent damage to your gun caused by sweat, and keep your hands cleaner.
Is it better to wear gloves when shooting or not?
It is a personal decision, but it tends to be better to wear a pair of shooting gloves most of the time. This is especially true when you will be shooting for long periods of time.
What are shooting gloves for archery?
You have quite a few options for archery gloves. The two top choices I have found so far are the Damascus Shooting Glove and the Allen Three Finger Glove, both of which are great archery glove options.
What are the best cold weather hunting gloves?
This really depends on how cold we are talking, but most people who hunt in pretty cold temps go for heated gloves that keep your hands warm, such as Outdoor Research Lucent Heated Gloves.
---
Final Verdict: Best Shooting Gloves
Shooting gloves can completely change how well you shoot. They can protect your fingers from painful accidents caused by your weapon, heat, cold, water, or other elements. Choosing the best shooting gloves for you is as easy as using the information in this buying guide to determine how to choose between the available options.
More Shooting Related Articles:
---