What Is The Best Scope for SKS?
We have picked the Monstrum Tactical Ultra Compact Rifle Scope as the best scope for SKS as it provides great magnification, is lightweight and compact, provides clear sight, and does not rely on a battery. It provides great value for a good price.
---
Hunters and outdoors-men who love shooting often find themselves wanting a scope to improve their site and accuracy.
As there are many options of guns available, there is also a wide range of scopes to choose from. And they all offer different features and benefits.
Some are good for night time, some for daytime, as still, some are effective at both times. The level of magnification differs which affects how far they will be useful.
The lenses themselves along with the illumination features and crosshairs will affect your vision in different ways.
With so many scope options available, it is necessary to understand the different capabilities that scopes provide.
---
Quick Navigation
Top 5 Best Scope For SKS: Our Picks & Recommendations
---
Best Scope for SKS Reviews
To find the best scopes for SKS rifles, we searched through many ratings and reviews from buyers and experts.
From all of the scopes, we considered, we decided on the following five scopes based on their cost, performance, and the view they provide.
---
Best Overall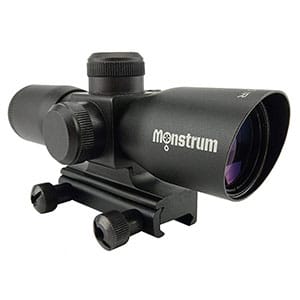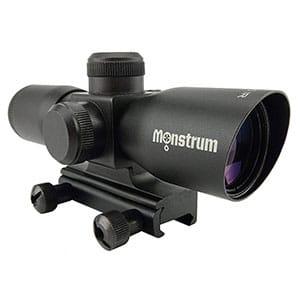 What You Will Love: This scope gives you more value than you pay for.
The Monstrum Tactical Ultra Compact Rifle Scope is a handy shooting accessory for close or mid-range shooting. First of all, it is lightweight at only 12 ounces and compact at only 6". It is made with from aircraft grade aluminum.
While it provides a red or green illuminated reticle for aim assistance, it also includes a black crosshair for use in case the battery dies while you are hunting.
The reticle provides a clear picture, but some users think that it is too thick. The Monstrum Tactical scope offers up to 4x magnification.
Pros
Magnification is excellent
Affordable
Clean sight
Not reliant on battery
Black crosshair to continue hunting without battery
Lightweight and compact
Clear picture for close to mid-range shooting
Cons
Reticle may be too thick for some
---
Best Budget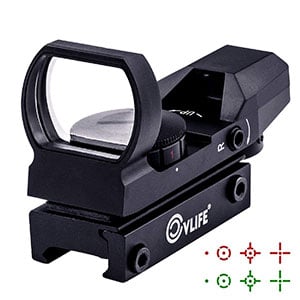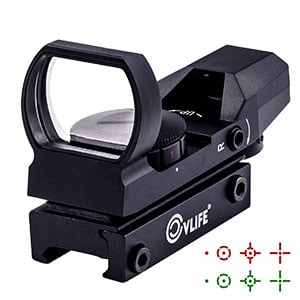 What You Will Love: It includes an anti-glare reflective coated lens that results in clearer sight.
The CVLIFE Reflex Sight Scope is a very affordable piece of hunting gear for under $20. There are multiple choices of color and display options that result in a customized view.
It has an anti-glare reflective coating on the lens providing an even clearer sight. Some users state that the single dot illumination can be difficult to see during the day, and there is no auto on or off button.
The batteries are available at local stores meaning that a dead battery does not have to limit your hunting.
Pros
Very affordable
Anti-glare reflective coated lens
Easily replaceable batteries
Easy to use
Five intensity settings per color
Four reticles
Easily secure to the rifle
Cons
No auto on or off button
Single dot illumination may be difficult to see during the day
---
Best Compact Rifle Scope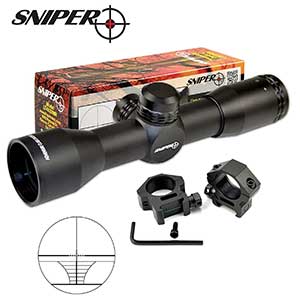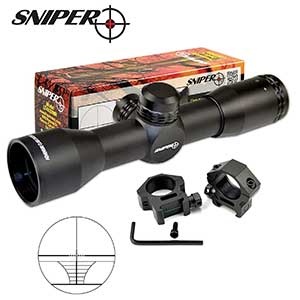 What You Will Love: This rifle scope is fog proof, rain proof, and shock proof.
The Sniper Compact Rifle Scope with Ring is small and lightweight. You get a very bright and clear sight as a result of the multi-coated sapphire lens. Its fog proof and rainproof qualities keep your sight clear in unfavorable weather. It is a single-piece design crafted from aircraft grade aluminum alloy resulting in a durable product for under $30. While the lens provides a mostly clear view, the large crosshairs can affect long distance views.
Pros
Very affordable
Fog proof
Rain proof
Shock proof
Lightweight and compact
A bright and clear sight
One-piece design
Made from durable materials
Cons
Large crosshairs obstruct the view
Not always good for shooting long distances
---
Best Contour Rifle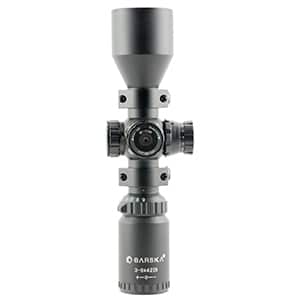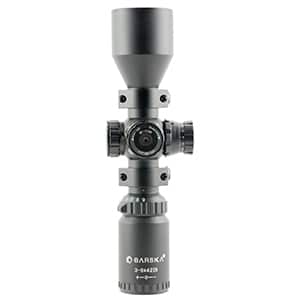 What You Will Love: This contour riflescope can be used with multiple weapons and it has a limited lifetime warranty.
It is an all-purpose scope for use with crossbows, rifles, pistols, and even non-shooting activities such as fishing, stargazing, sporting events, and more.
Barska Contour Rifle scope for SKS has low magnification and long eye relief resulting in a great close range shooting.
The scope comes with multiple accessories including lens covers that will keep your lenses protected.
It is also equipped with lockable external windage and elevation. The price is often around $100 or more making this scope a bit pricey for many budgets.
Pros
Waterproof
Fog proof
Comes with lens covers
limited lifetime warranty
Good for use on multiple weapons
All-purpose scope for a wide array of outdoor activities
Long eye relief
Cons
Not for long range shooting
Expensive compared to other options
Low magnification
---
Best Combo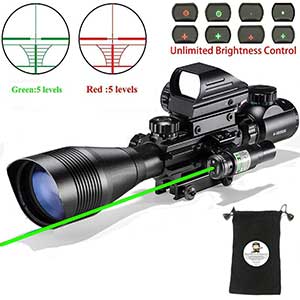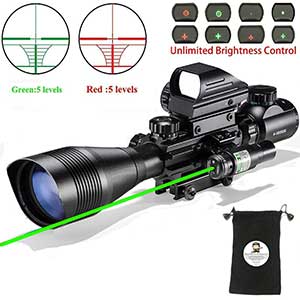 What You Will Love: The red/green dot sight that comes attached to the scope is very accurate.
The XOPin Hunting Rifle Scope Combo provides both unlimited eye relief and unlimited brightness control. It is 100% waterproof and fog proof due to the fully coated lens.
Easily reset windage and elevation thanks to fingertip enabled adjustments. It has a fast focus eyepiece so that you do not have to wait on your lens to catch up to you.
This scope gives you 4x–16x magnification that results in a wide view. Furthermore, the red and green illumination makes this a great scope during the day or night.
This product also comes with a 12-month guarantee. The cost ranges around $100 so it is a bit expensive for most budgets but not as expensive as some options.
While users say that the middle of the view is clear, some say it gets fuzzy on the outer parts.
A few buyers also found condensation inside of the lens when their purchase arrived.
However, most users state that the company has excellent customer service so if there is a problem, you can reach out to them.
Pros
Windage and elevation reset with a fingertip
The fast focus eyepiece
4x–16x magnification
Wide view
Great for day and night
Cons
Expensive for some budgets
Outer lens view may be fuzzy
---
If you are preparing to buy a scope for SKS, you should complete research on them first to ensure you are getting the best one for your needs.
We got you started with what we named the best scope for SKS rifles and its runners up in the list above.
---
Related Articles