What Is The Best Ground Blind Chair?
There are many ground blind chairs out there, so to choose the right one, there are a few things you should consider: price, convenience, weight, durability, comfort, and more. Considering these factors, we chose the Guide Gear Swivel Hunting Chair as the best ground blind chair. The Guide Gear Swivel Hunting chair is a comfortable hunting chair with swivel capabilities. It is also budget friendly.
---
Avid hunters know the importance of a ground blind in hunting. It is the best way to stay undetected by your prey. Hunting chairs for ground blinds are an equally important part of your hunting gear.
After all, you will likely be sitting in the ground blind for long periods, so you need a chair that can support you during that time.
There are lots of options and types to choose from: swivel chairs, lightweight chairs, padded and not padded, foldable, and more. You want to choose one that will be helpful to you while hunting- not a hindrance.
---
Quick Navigation
---
Top 10 Ground Blind Chair Comparisons
| | | |
| --- | --- | --- |
| | It is a blind chair that guarantees two main comfort benefits—a 2.25" cushion and padded backrest. That creates a cozy environment where you can sit and lean on, awaiting prey. | Read Our Review |
| | Primos is a unique type of ground blinds that does not allow movement to whatever sides, with a height just enough to reach your window's openings for efficient hunting. | Read Our Review |
| | An easily foldable, three-legged hunting stool with a wide feet straps to improve the stability and prevent sinking into the ground. Relatively easy to carry along when folded. | Read Our Review |
| | The ground blind chair has a wide seat and a cooler bag fitted under the seat to hold hunting tools and other items like shells and decoys. | Read Our Review |
| | Another foldable ground blind chair with four feet to provide absolute stability when on uneven terrain, plus padded shoulders to improve comfort. The cover material is camouflaged to match that of the surrounding. | Read Our Review |
| | With a Stealth Hunter Deluxe blind chair, you can adjust the height, rotate in whatever direction you wish, and flex your arms to maintain comfort. | Read Our Review |
| | The ideal choice for firearm hunters or crossbow hunters is that the tent offers complete protection that allows you to shoot unnoticed from the windows. Fit for two people and flappable pretty easily. | Read Our Review |
| | A light chair consists of heavy-duty metallic stands (legs) with a powdery coating to boost its longevity. It can easily fold to fit in a small carrier for ease of carrying. | Read Our Review |
| | This Ameristep blind chair has given hunters opportunity to cleverly conceal positions from up above and down below. It is Heavy-duty, weather-resistant fabric in Mossy Oak Break-Up Country Camo pattern & perfect for ground blind and campfire. | Read Our Review |
| | Balderton swivels 360 degrees in all directions, folds easily for traveling purposes, and allows you to adjust armrests however you want. Also, it guaranteed reliable stability from its wide feet. | Read Our Review |
---
10 Best Chairs for Ground Blind
To find the top hunting blind chair, we searched through the ratings and reviews of dozens of models.
Out of all the ones we looked at, we decided on the following ten hunting blind chairs according to their prices, comfort, weight, and durability.
Best Overall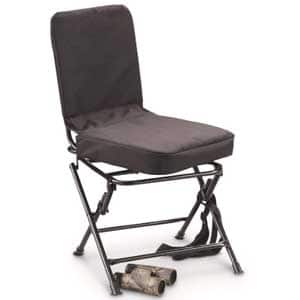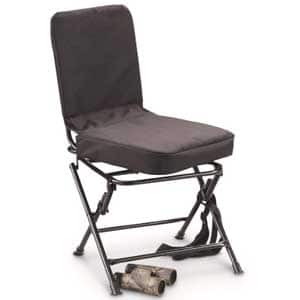 What You Will Love: This ground blind hunting chair swivels 360 degrees quietly.
The Guide Gear Swivel Hunting Chair is a budget friendly chair that works well in ground blinds. It is lightweight as it only weighs about 11 lbs, and it comes with a strap so you can carry it easily.
With a 360 degree swivel, you can watch each side of your ground blind. The seat is padded keeping you comfortable for long periods of time. The back, however, is not padded well.
If you plan to sit in it for a while, you should bring a pillow or extra cushion for your back. Additionally, after some time, the seat cushion will compress making it much less comfortable.
Pros:
Great price
Cushioned seat
Lightweight
Strap for carrying
360 degree quiet swivel seat
Cons:
Back is not padded well
Seat cushion compresses over time
---
Best Budget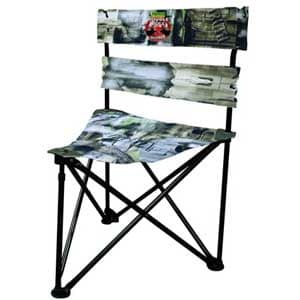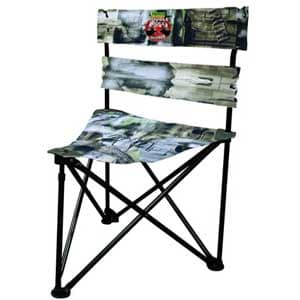 What You Will Love: It is a sturdy, folding, lightweight hunting chair.
The Primos Hunting Double Bull Tri Stool is a very sturdy hunting chair for ground blinds. It is made with a powder coated steel frame and can hold up to 300 lbs.
The feet are wide for extra support, and the flared back provides a lot of comfort while hunting. It only weighs 6.5 lbs, folds, and has a shoulder strap to make it transport simple.
Some users have stated that it was not really tall enough for their blinds, but that is relative to how high the blind's windows are placed. It states that it sits 16" off of the ground. This Primos stool also comes at an excellent price.
Pros:
Steel frame
Holds up to 300 lbs
Wide feet and flared back
Lightweight
Great price
Cons:
May be too short for some ground blinds
---
Best Adjustable Lightweight Hunting Chair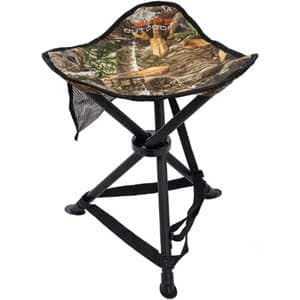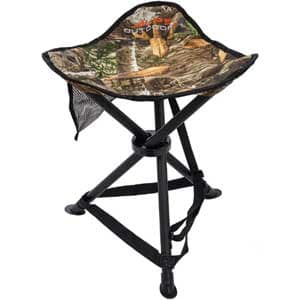 What You Will Love: It is a lightweight yet sturdy stool.
The ALPS OutdoorZ Stool is great for outdoor recreations. It is made with a steel frame and durable 600D polyester. This folding hunting chair weighs only 2.5 lbs but can hold up to 250 lbs.
There is a mesh storage pocket underneath, and the alps outdoorz come with both a shoulder strap and a shoulder bag so you can carry it with ease. Even better, it is regularly priced at around $20.
Unfortunately, the screws have a tendency to wiggle loose over time, so to be safe, check them before and after each hunting trip.
Then, you can tighten as you go instead of being surprised when you cannot find them. There is no back to it as Alps Outdoorz stealth hunter blind is only a stool, so if you require back support, this is not the hunting chair for you.
Pros:
Great price
Lightweight
Durable
Folds
Easy to carry
Cons:
Screws loosen over time
No back support for those who need it
---
Best Dove Hunting Chair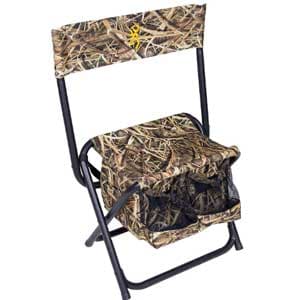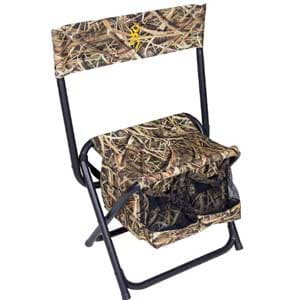 What You Will Love: This portable hunting chair has space for drinks, ammo, and more.
The Browning Camping Dove Hunting Chair has a powder coated steel frame and is covered with Mossy Oak Blades fabric. It has a 22" wide backrest, a built in insulated cooler for drinks and snacks, and side pockets for extra storage.
Though many say it is comfortable for a while, the 15" seat is not padded so you may find yourself being uncomfortable after a few hours. It is sturdy enough to hold up to 275 lbs.
Sadly, the additional features on this dove hunting chair make it weigh 8.5 lbs, so it is a little heavier than many others.
Usually ranging between $30 and $40, this foldable hunting chair is fairly priced, and it comes with a limited lifetime warranty.
Pros:
Durable and sturdy frame holds up to 275 lbs
Wide backrest
Built-in insulated cooler
Storage pockets
Foldable
Good price
Warranty
Cons:
Seat is not padded
May be too heavy for some who walk long distances
---
Best Turkey Hunting Ground Blind Chair: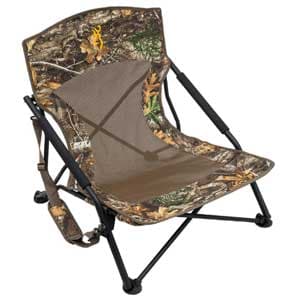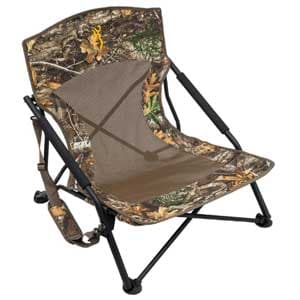 What You Will Love: It has rotating feet for uneven terrain.
The Browning Camping Strutter Chair comes with arms for extra comfort. Though it comes with a carrying case, there is a padded shoulder strap that hooks to the chair in case you do not want to take the bag.
The steel frame makes it durable, and the four rotating feet means it can be used on uneven ground. It is sturdy enough to hold up to 300 lbs and there is a wider version available.
The chair is easy to use and is compact when folded. At 7 lbs, it is heavier than many options as well as a bit more expensive.
Additionally, over time it may develop a squeaky noise that scares off your turkey before you can shoot.
Pros:
Rotating feet
Compact folding,
Padded shoulder strap
Durable
Arms
Cons:
Heavier and more expensive than many options
May develop squeaky noise
---
Best for Durability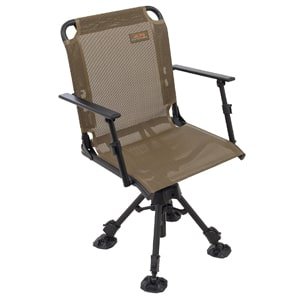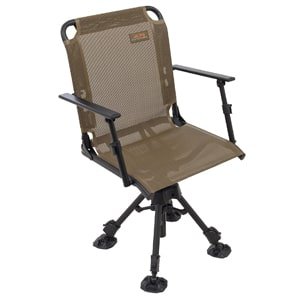 What You Will Love: The materials of this stealth hunter blind chair are uniquely versatile, with powerful legs and arms. The cover is also tough and camouflaging with the hunting or fishing ecosystems.
Description
If you are looking for a hunting or fishing chair that supports you both on the sandy beaches and soft soils in the forest, consider this your best option. The chair has flat feet, sturdy legs, and a very flexible body to ensure comfort—which are ideal for these applications.
Features
The versatile materials-The stealth hunter blind chair is very breathable, dries quickly, and is easy to clean. Leg materials are exceptionally sturdy and can adjust even on an uneven surface.
Adjustable height and removable arm-helps you set up the right position to provide comfort.
Has a steel frame coated with powder-improves aesthetic design and strength? Rotates 360 degrees-you won't experience any rolling or squeaks when moving.
The flat-bottomed feet-this blind chair allows you to on both soft and sandy grounds.
Pros
Exceptionally comfortable, especially sitting for a long duration
Strong fabrics to support rough uses
Strong and adjustable legs and back
A tough seat cover that lasts long
Easy to set up and use
Cons
Some people may find it heavy
Cleaning dirt is never fun
---
Best Tent Blind Chair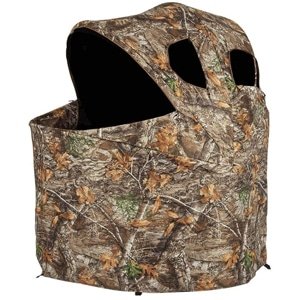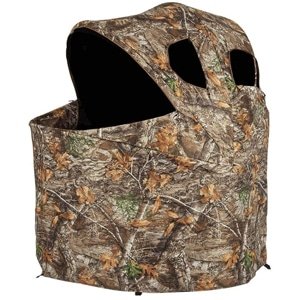 What You Will Love: This blind just means everything to hunters—especially those who use firearms. You will be impressed not only by its camouflaging color but also by the zipped windows that allow you to focus and shoot safely.
Description
Right from its ease of operation, assembling, absolute concealment, and a Durashell Plus fabric shell, this blind are just incredible. Whether you are hunting alone or with a fellow, this model will make a perfect fit. You know why? There are two sizes—one for a single hunter, and the other that supports two.
Features
Three windows-Has a huge window in the front and two small ones on the sides—zipped to allow safe viewing and efficient shooting.
Foldable chair-the blind chair is fixed on the tent to facilitate quick set up. Has a shadow guard coating-to do away with shadows or silhouettes.
It comes with a carrying case-to ease movement from one point to another.
Pros
An ideal for a firearm hunter
Doesn't require any assembling
The bag makes it easy to carry
Different versions—for one hunter and two hunters
Zipped windows for safe and efficient hunting
Cons
Does not have insider pockets
---
Best 360° Spinning Hunting Chair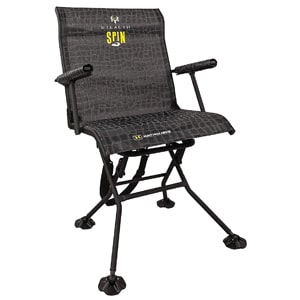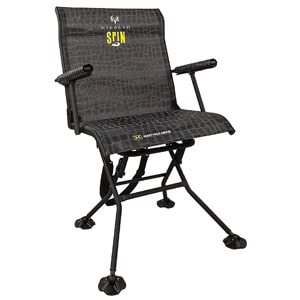 What You Will Love: The blind chair has a contoured mesh comfort to create the luxury you so deserve while swinging full circle to your desired direction. Plus, the feet are relatively stable, to get you the comfort you so deserve.
Description
Get yourself one of the best chairs for hunting blind chairs we have for outdoor activities today. It swivels silently and comfortably for 360 degrees, allowing you to turn to your desired direction seamlessly.
This chair is a "breeze" when it comes to assembling, and weighs almost nothing. Besides, its feet are pretty broad enough to ensure they do not sink into the ground.
Features
It supports 360 degrees spinning—this allows you to swivel to any angle easily, and it is 100 percent silent.
Heavy-duty steel material—the hunter blind chair also has a powder coating to ensure long life.
Provides contoured MeshComfort—the hunter's chair is breathable and designed to give luxury to your back.
Pros
The hunting chair rotates effortlessly full circle
Light to support portable hunting
Sturdy and quiet
These hunter chairs fold fast to allow easy transportation
Adjustable legs
Cons
The seatback of the ground blind chair doesn't adjust
No pockets for hunting gear
---
Best for Space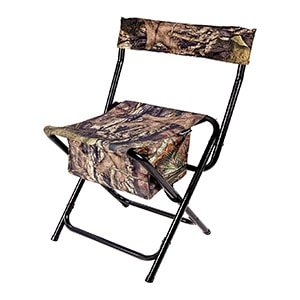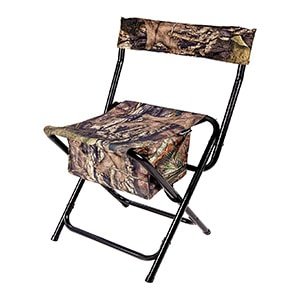 What You Will Love: For hunters who need enough space for themselves and their tools, Ameristep provides plenty of room to hunt efficiently. The ground blind chair has four zipped windows and a great outward camo pattern that camouflages pretty well with a hunting environment.
Description
If you are looking for a blind chair that you can set up just within a couple of minutes, one made of durable fabric, plenty of space inside, Ameristep is perfect for you. The cover of this hunting chair of Durashell Plus fabric—an extremely durable material.
Features
Uses a rugged spider hub frame—this allows you to set up easily in less than 5 minutes and takedown in less than 2 minutes, which is ideal for portable hunting.
Easy to replace Camo Shoot-A shadow guard in the hunting Ameristep that replaces shadows or silhouettes.
It has one of the best ground blind features of an ideal blind for gun hunting, crossbow hunting, and bowhunting.
Pros
Comfortable hunting chairs
Fixed hunter blind chair for easy transportation
Enough space to accommodate two hunters
An amazing camo pattern
Cons
Sometimes the door zipper develops complications
Doesn't have a rear window
---
Best for Comfort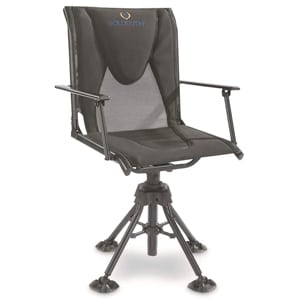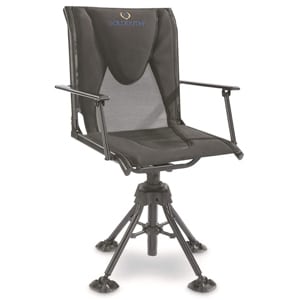 What You Will Love: Sitting on stationery has never been fun, especially when you have to do so for some considerable time. Fortunately, the Balderton blind chair allows you to swivel in whatever direction and adjust your arms to the best position that gives you comfort.
Description
Get a hunting blind chair with an extra comfort padding on the lumbar section to cushion your back while awaiting the prey.
The Balderton seat swivels 360 degrees in absolute silence-credits to its nylon bushings-you can shoot from whatever direction.
Say goodbye to the aching of arms because this blind chair has armrests to improve comfort and minimize fatigue. That's why it will always be among the list of top ground blind chairs.
Features
Nylon Bushings-they aid in the seamless swiveling of your chair 360 degrees, and without making any noise.
Padding on seat and back—to offer you comfort and ensure you don't get exhausted fast when sitting.
The weather-resistant powder covers the steel material—The purpose is to improve your blind chair's longevity.
Pros
Tough coating material that lasts long
Zero noise when spinning
Enjoy comfortable hunting
Swivels 360 degrees
Flexible arms
Cons
Relatively heavy for those walking for long distances
Screws may loosen over time resulting in a squeaky sound
Adjustable back
---
Final Verdict: Best Ground Blind Chair
If you want to get the best ground blind chair for your budget and your purpose, it is imperative to research your options. All of those listed in this article are great choices with great reviews. Check them out for yourself to see if one fits your needs.
---
Related Articles: