Quick Summary: We have picked the Last Chance Fletching Jig as the best fletching jig due to its a high level of accuracy, its ability to fletch 4 vanes at a time, and its ability to fletch both left and right helical. It can also work with feathers.
To some participants, archery is just an occasional hobby that they enjoy when the whim arises. Others are avid archers who enjoy this outdoor recreation every chance they get. Regardless of which group you fit into, you will likely find yourself needing your arrows fletched at times.
In this case, there are two options: continue purchasing pre-fletched arrows or save money by fletching your own arrows. There are multiple fletching options available on the market with different capabilities.
The one that you choose will depend on how frequently you will use it, what type of best hunting arrows you will be fletching, whether you want straight, offset, or helical fletching, and your budget.
---
Comparison of 10 Best Fletching Jigs
---
Reviews of 10 Top Fletching Jigs
To find the best arrow jigs, we searched through numerous reviews and ratings.
From the many options we looked at, we carefully considered each to bring you the following ten fletching jigs based on durability, performance, and versatility.
Best Overall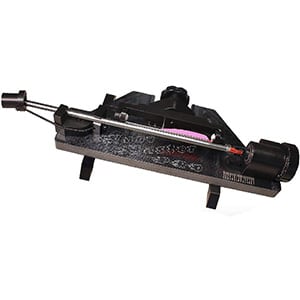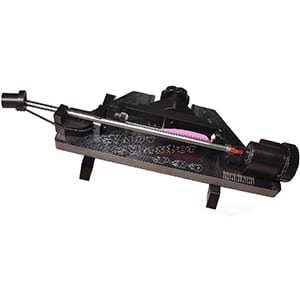 What You Will Love: This fletching jig can do left or right helical up to 5 degrees.
The Last Chance Arrow Jig has a high level of accuracy and is configurable. It has the ability to do helical fletching up to 0- 5 degrees as well as straight and offset fletching.
This fletching jig is highly recommended among users who are serious about their shooting gear because the fletching jig is easy to use and performs well.
Unfortunately, the Last Chance jig applies uneven pressure along the length of the vane. As a result, the vane may have difficulty sticking to the shaft.In fact, the vane may even fall off of the shaft during or prior to flight. Also, priced at over $300, this fletching jig is probably out of reach for many.
Pros:
Can do left or right helical 0-5 degrees
High level of accuracy
Works with feathers
Can handle up to 4 vanes
Cons:
Expensive
Max length 4-inch vane
Uneven pressure affects the vane's ability to stick to the shaft
---
Best Budget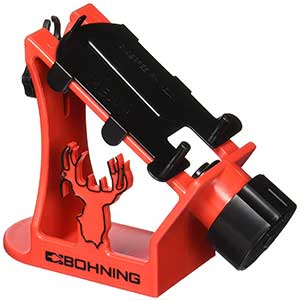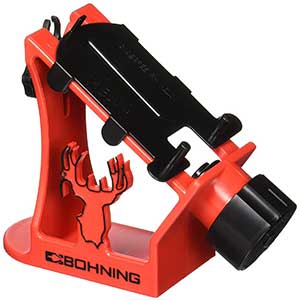 What You Will Love: It can fletch 2.25" vanes at a much more budget-friendly price.
The Bohning Blazer Fletching Jig is an affordable option for fletching your blazers and it can put a 3 degree right helical on even a small vane.
The user can fletch three vanes at a time at 120 degrees apart on standard carbon shafts. It is not very durable due to the plastic construction.It can only fletch blazers so it is not as versatile as other options. However, if you will only be fletching blazers, this is a very affordable option for you. It is also a good starter jig or good for limited use.
Pros:
Can put a right helical on a small vane
Easy to set up
User-friendly
Fletches 3 vanes at a time
Cons:
Plastic construction decreases durability
Only for fletching blazers
Lack of versatility
---
Best Helical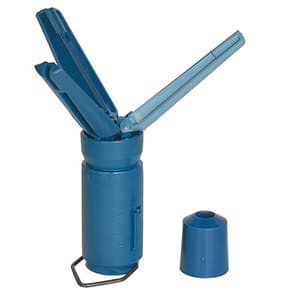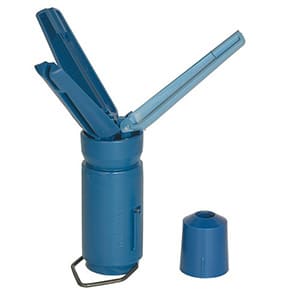 What You Will Love: It is a quick, convenient, and good value for the price. The Arizona Rim E-Z Fletch Mini can fletch right helical on up to three 2 ¼" vanes at one time.
While it does take some practice to decide on the right amount of glue, once you have, you can fetch up to a dozen shafts in around 20 minutes.
It is convenient and easy to use. Users report tight groupings due to this jig. This jig is constructed from plastic so durability is not the greatest.Also, the plastic needs to be coated with wax or glue sticks to it. It is a very good value for the money.
Pros:
Quick
Convenient
Good value
Right helical on three vanes at once
Helps tighten groupings
Cons:
Made from plastic so may not be durable
Glue sticks to plastic if not waxed
---
Best Target Shooter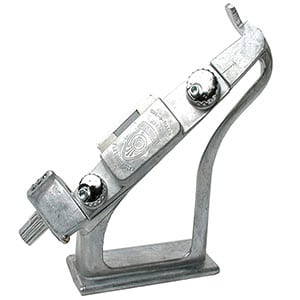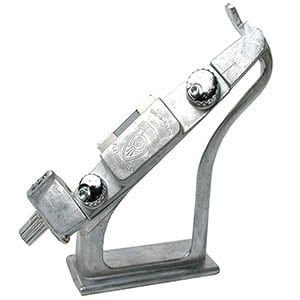 What You Will Love: It is constructed from die-cast alloy and is very precise.
The Bitzenburger Fletching can fletch any size shaft so it is very versatile. It can also fletch straight, right, left, or offset options.
However, it can only fletch one vane at a time which results in longer fletching times. The jig is very sturdy and durable due to the die-cast alloy, but the clamp is sold separately.
A strong magnet makes the jig self-supporting. As a result, the fletching process is easier for you.This jig is pricier than some other options, but users state that it is worth the extra cost.
Pros:
Durable die-cast alloy
Excellent precision
Good for any size shift
Self-supporting magnet
Versatile
Cons:
More expensive than some options
Fletches one vane at a time
A clamp is sold separately
---
Best Helix Tower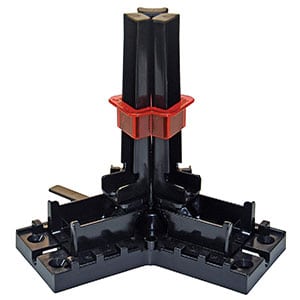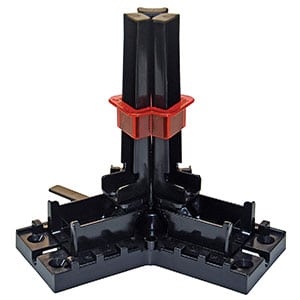 What You Will Love: It has five center post options for use with different arrow diameters.
The Bohning Helix Tower Jig provides a three degree right helical on up to three vanes at a time. Those vanes are spaced 120 degrees apart and set very quickly.
The center post can fit five different diameters but only works with shafts that have push fit nocks- no feathers.You may experience misalignment at times due to inconsistency in performance. This jig is bulky and more expensive than some options. However, users still love this jig and recommend it to others.
Pros:
Three degrees right helical
Fletch three vanes at a time
Vanes spaced 120 degrees apart
Quick set vanes
Fits five different diameters
Cons:
Bulky
More expensive than some options
Only for shafts with push fit nocks
Possible misalignment
Inconsistent performance
---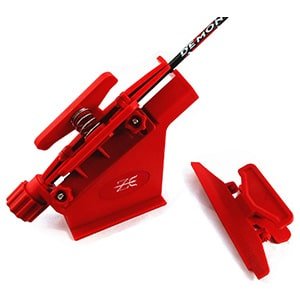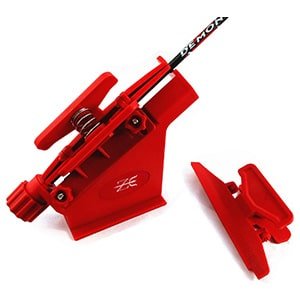 What You Will Love: The MS Jumpper is an adjustable fletching jig that is made from the most durable material and can work with arrows of all different materials. This item can hold wood, carbon rod, fiberglass, and aluminum for the most versatility.
Large Grip
The MS Jumpper fletching jigs that come with a large grip so it is easier to hold and control. This makes it easy to keep the arrow in place without it moving around and making your job harder than it is.
Pre-Set Dial Stops
This jig has pre-set dial stops that you can pick for consistent fletching. There is a pre-set for a 3 fletch at a 120-degree angle, and a 4 fletch at a 90-degree angle.
Magnet Adjustment
This fletching jig has an updated magnet adjustment that comes with a large grip to make it easier to use. This allows you to keep the arrow in place without needing to hold onto it yourself, it also keeps your hands free.
Pros:
Has durable materials
Holds different arrow materials
Large grip
Has pre-set dial stops
Has a magnet adjustment
Cons:
Made of plastic that is not as durable
Glue can easily get on the jig requiring clean-up
---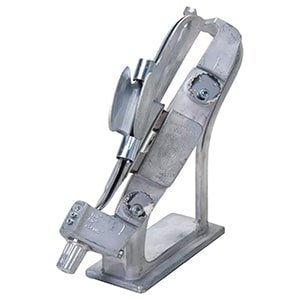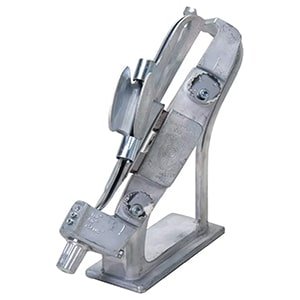 What You Will Love: The Bitzenburger Machine and Tool Jig is a metal option that is durable and made from die-cast iron. This fletching tool is designed for straight, right, and left offset fletching and has a versatility that not all other models have.
Self-Supporting
This Bitzenburger machine and tool jig is a self-supporting option that you don't have to hold in place while you use it. The jig stays up by itself and allows you to focus on the task at hand instead of worrying about the jig.
Uniform Feather Placement
The fletching jig has vanes that allow for a uniform placement of the feathers. You can place the feathers in an exact formation that you like with ease.
Target and Compound Shooters
This fletching jig has a straight jig with a standard nock receiver that can be used for left, right, and offset fletching. There is also a left helical jig and clamp with a left nock receiver and left helical clamp.
Pros:
Die cast iron build
Self-supporting machine
Uniform feather placement vanes
Versatile option
Target and compound shooters
Cons:
Is a bit complicated to work with at first
Clamps are optional but not included with purchase
---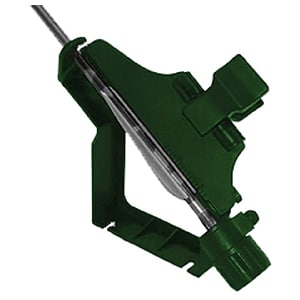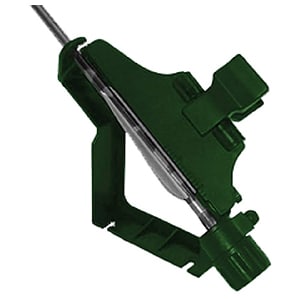 What You Will Love: The Grayling Fletching Jig is an option that is made of glass-filled nylon and is very easy to clean because all cleaners will work on it. It also has a forest green color that makes it stand out from the other jigs.
15-Degree Rotation
This jig comes with a 15-degree shaft rotation so you are able to move the unit however you want it. It also has a 3-degree right or left off-set on the nock and up to 6 degrees of off-set on the magnet.
New or Repairs
You can use this fletching jig for fletching new arrows, or for help to repair old ones as needed. The 15-degree rotation allows you to position the jig how you need it for whatever arrow you need to fletch.
Includes Clamps
This jig, unlike other fletching jigs, includes everything that you need to fletch your arrow. This jig has a nock receiver, index shaft holder, clamp, and crossbow bolt receiver with purchase.
Pros:
Glass filled nylon
Easy to clean
Has 15-degree rotation
Usable for new arrows or repairing old ones
Includes clamps with purchase
Cons:
Instructions for use are a bit confusing
The clamps are not metal like the jog, made of plastic
---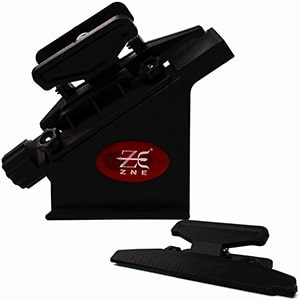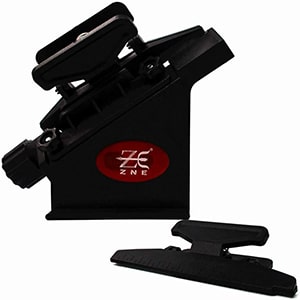 What You Will Love: The Zhan Yi fletching jig kit is a DIY option that can be used for archery arrows with ease. The solid black color gives it a classic look that doesn't draw attention if you have to leave it out, and the additional clamp comes with your purchase.
High-Quality
This jig is made from stainless steel and hard plastic that will allow this product to last through many uses without sustaining any damage. Both stainless steel and plastic are also easy to clean so routine maintenance is a breeze.
Adjustable
This jig is made with a new version of magnet attachment and comes with an adjustable gap fit that accommodates any size shaft. This makes it more versatile for use with different arrows of various sizes.
Smooth Operation
This fletching jig has a smooth operation that provides the ability to rotate the knob to set the angle of operation at 3 fletch at 120 degrees and 4 fletch at 90 degrees.
Pros:
Solid black color
Stainless steel parts
Hard plastic pieces
Adjustable gap fit
Has a smooth operation
Cons:
Difficult to do the first time
Instructions are not very good for set up
---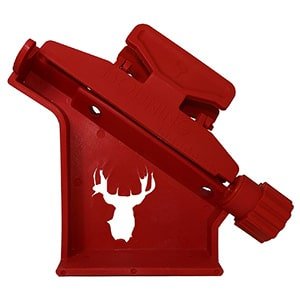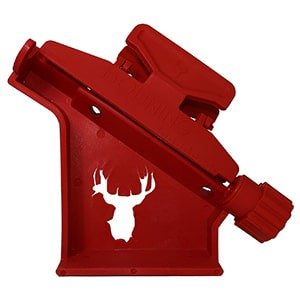 What You Will Love: The Bohning Pro Class fletching jig is a dark red color option that comes with a white branding symbol on the side of the jig that is unique in style and sets it apart from other options. This easy to operate option is not difficult to use the first time and doesn't require a lot of work
Pre-Set Dial Stops
This fletching jig has pre-set dial stops that allow you to choose which setting you would like to use for your specific job at hand. This makes using the jig much easier and keeps you from needing to adjust the jig manually.
Magnetic Clamp
This jig comes with a magnetic clamp that offers a quick set up that doesn't require much work. The magnetic helps keep the clamp in place so you don't have to adjust it or the arrow while you are working.
Easy Operation
This fletching jig makes things simple to do on the first try after you set it up so you don't have to fumble around trying to fletch. The instructions are clear and the operation is simple enough to get right the first time.
Pros:
Dark red color
Pre-set dial stops
Magnetic clamp
Easy to operate
Clear instructions
Cons:
The nock position isn't adjustable
The magnets on the clamp could be stronger
---
Final Verdict: The Best Fletching Jigs
Fletching jigs are an excellent resource for those who enjoy archery either as a hobbyist or an enthusiast.
With all the options available, researching prior to shopping is an important step. Our recommendation for the best jig is a great place to start your research.
More Related Articles:
---