What Is The Best Broadhead for Hogs?
We have picked the G5 Outdoors Montec Stainless Steel Fixed Broadheads as the best broadhead for hogs as the single piece construction make them strong and durable. They are easy to use, and have three blades that merge into a strong tapered blade that cuts game on contact. They perform very well at a fair price.
---
For those whose favorite outdoor recreation is hunting hogs with arrows, you probably have or are working to add broadheads to your hunting gear. There are many options available in the mechanical, fixed, and hybrid categories.
The best broadheads for hogs are those that are strong enough to pass through your target, provide a high level of accuracy, can be re-sharpened and reused, and are durable.
Choosing the top broadhead for hogs can mean the difference in a wall trophy and a simple injury and lost game.
---
Quick Navigation
5 Top Broadhead For Hogs: Our Picks & Recommendations
---
5 Best Broadhead For Hogs Reviews
We searched through the ratings and reviews of multiple broadheads to find the best ones for you.
Out of all of the options, the following five are what we consider the best based on strength, accuracy, durability and performance.
---
Best Broadhead for Hogs Overall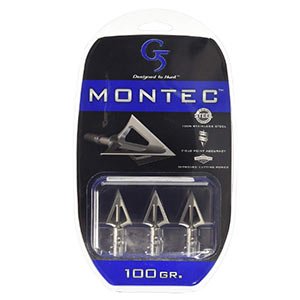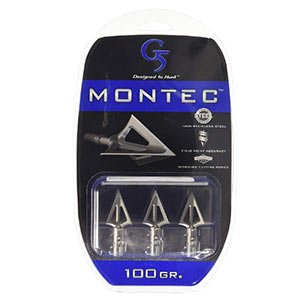 What You Will Love: It is a single component so there is less of a chance that it breaks in use.
The G5 Outdoors Montec Stainless Steel Fixed Broadheads is a 3 blade, single stainless steel construction that does not easily breakable and no individual parts will need to be replaced.
It has a strong tapered blade, which is designed to cut on contact. The blade is also easy to sharpen and use- you simply screw it on.
Many of these qualities make it a top rated broadhead among those that enjoy hunting hogs.
The only downside I could find is that it is heavy so it begins to sink around 50 yards away.
Before that, it performs very well. At around $40, these broadheads are on the higher side of average cost but not too unreasonable for the value.
Pros:
Single stainless steel construction
Easy to sharpen
Easy to use
Cuts on contact
Fairly priced
Cons:
May start sinking sooner than others due to heavy stainless steel design
---
Best Broadhead for Hogs on a Budget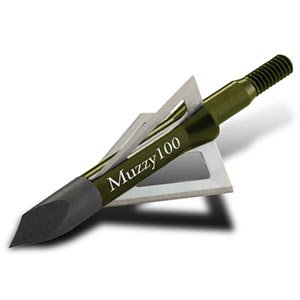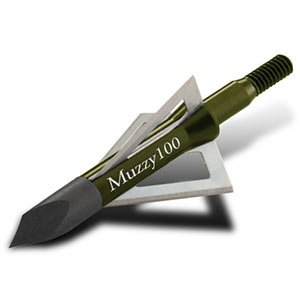 What You Will Love: They are easy to use and perform well for a low price.
This Muzzy Bow hunting Broadhead is made with 3 razor sharp stainless steel blades that interlock inside the body of the broadheads.
The hardened steel Trocar Tip improves flight stability while providing lethal penetration of your target.
Starting under $20 for a pack of 6 makes these broadheads a very affordable choice. Between the price and performance, these are one of the best broadheads for hunting hogs.
The only downside is that because they are fixed, they may not travel as far as mechanical ones. They usually stop performing well around 50 yards.
Pros:
3 stainless steel interlocking blades
Hardened steel trocar tip
Great price
Comes with practice tip
Great for short distances
Cons:
May not perform well past 50 yards
---
Best Hybrid Broadhead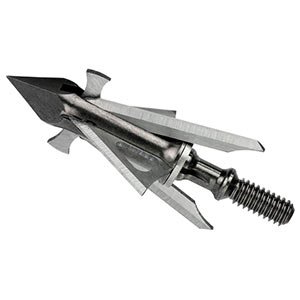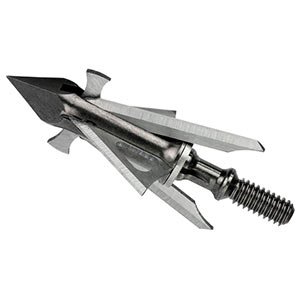 What You Will Love: This broadhead has two rear deploying expandable blades.
The Muzzy Trocar HB Hybrid 4 Blade Broadhead is a high performance broadhead.
It comes from a trusted U.S. company that has been around for over 30 years.
It brings you benefits of both fixed and mechanical broadheads. This broadhead has a total of four aerodynamic blades, two of which are rear deploying.
The blades are tough, hardened steel and the offset feature delivers better performance at long ranges. The pinpoint accuracy is a major talking point upon users.
It is hard to find any downsides to this product accept that the price may be beyond some people's budgets though they are cheaper than other options
Pros:
Benefits of mechanical and fixed
Four aerodynamic blades
Hardened steel blades
Blades offset for better long range performance
Pinpoint accuracy
Cons:
Price may be expensive for some budgets
---
Best High Performance Broadhead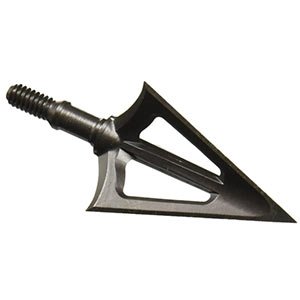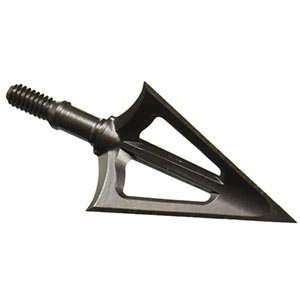 What You Will Love: This broadhead is 25% sharper than the original Montec.
The G5 Outdoors Montec CS is an incredibly sharp broadhead. They are carbon steel blades formed in G5's patented Metal Injection Molding.
The carbon steel blades make this broadhead sharp and easy to re-sharpen when needed with a simple whetstone.
The strong blades provide maximum penetration into your target. Hunters count on them time and again for their accuracy and strength.
It is a favorite among hunters and though the price is higher than some option, the performance is worth it. They are not very sharp coming out of the pack but a little work will get them in use quickly.
Pros:
25% sharper than original,
Sharp enough to pass through targets,
Easy to re-sharpen and reuse,
Made from tough carbon steel,
Accurate
Cons:
Need to be sharpened out of the box before use,
Might be pricey for some
---
Best Mechanical Broadhead for Hogs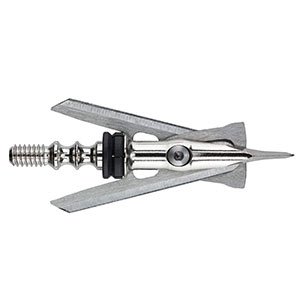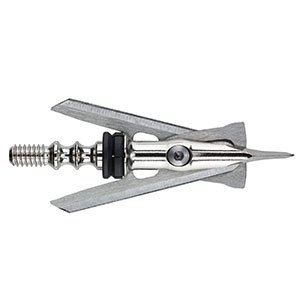 What You Will Love: These provide aerodynamic flight and maximum penetration.
The Rage Bowhunting Hypodermic Mechanical Broadhead matches the accuracy of other Rage broadheads.
The swept back blade angle reduces friction so it has better penetration. The pack includes three razor sharp stainless steel blades as well as a practice head.
Rage's hypodermic tip provides a high level of accuracy on larger game. As it is a one piece design, there is less of a chance that it breaks than some other models.
On the other hand, the tips are not always durable as some users have reported them breaking upon hitting bone. The price is in the average range of broadheads but there are cheaper ones available.
Pros:
Blade angle reduces friction,
Excellent accuracy and penetration,
Pack includes three blades and a practice blade,
One single piece
Cons:
Tips may break when hitting bone,
There are cheaper options available
---
When you are ready to purchase or replace your broadheads, research is key. In a sea of options, it is important to know what to look for and what performs the best. Our choice for best broadhead for hogs is a good place to start your research.
---
Related Articles: