Finding the correct sight for your weapon that suits your personal preferences is not always an easy task to accomplish. You'll want to look at several factors, and they all are very close to each other when it comes to specifications.
The Aimpoint Micro T-2 is a red dot reflex sight that's easy to mount and offers 12 brightness settings. The CompM5s are more rugged and fit well with Aimpoint's 3x and 6x magnifiers. The Micro H-2 is waterproof, fog-proof, and offers little to no glare.
We will focus on the differences that make experts and entry-level marksmen prefer one over the other.
As we go along, you will learn the differences and the best features of the Micro T-2, the CompM5s, and the Micro H-2 from Aimpoint.
---
Aimpoint T2 vs H2 vs Comp m5s Red Dot Reflex Sight: Which One To Choose
Aimpoint products are trusted worldwide by military soldiers and other civilian sharpshooters because of their durable and rugged construction.
We took a look at three of the most popular red dot reflex weapon sights launched by Aimpoint.
We examined the Aimpoint Micro H-2 and the Micro T-2, and the CompM5s to see what they had to offer.
By the end, you'll realize that the overall quality is about the same, but the subtle discrepancies between them make a world of difference.
Here are the criteria we'll use the compare the sights:
User experiences
Durability and construction
Brightness settings
How these sights perform when attached to a weapon
Costs
Suggestions and recommendations to make the right choice
Related reading: Aimpoint Comp M4 vs. M5
---
Aimpoint T-2 vs. CompM5s vs. H-2: How Others Perceive Them
Let's find out how other users experienced these weapon sights and what they have to say about their best qualities.
Aimpoint Micro T-2 Red Dot Reflex Sight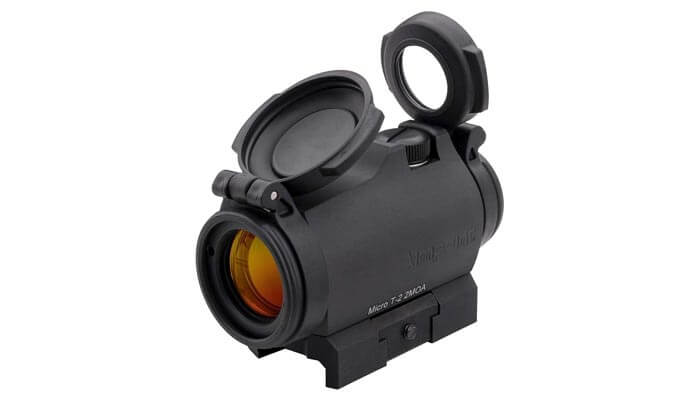 The Micro T-2 red dot reflex sight comes with up to 12 different brightness settings and an off switch for added convenience.
It also comes with solid and durable lens covers to protect the lenses from damage in rugged conditions.
When you install the T-2 sight on your weapon, you can rest assured knowing it's a reliable and durable choice.
This sight comes with a very long battery life (over 50,000 hours) that can last for years without needing a replacement, meaning you can worry about firing off your shot.
You can use the Aimpoint Micro T-2 in all weather conditions without worrying that it will get damaged in action. The daylight brightness settings are very powerful on the high end, and it's extremely easy to see your reticle even when there is an intense amount of sunlight.
In fact, you can even drop it without the weapon sight's internal workings getting damaged at all.
Aimpoint Micro H-2 Red Dot Reflex Sight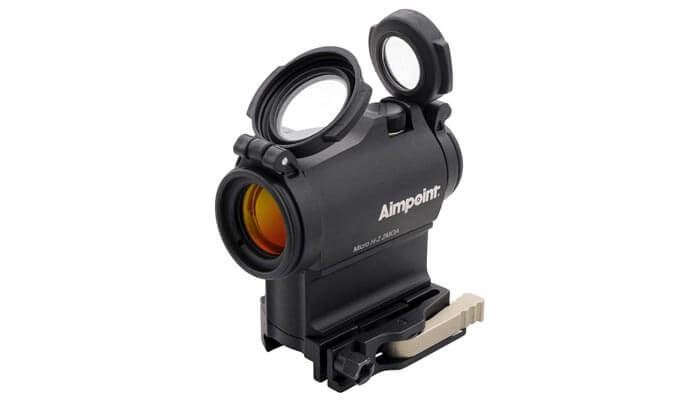 This rifle accessory is solid and durable enough to outlast your next mission. When it comes to installation, this sight is easy to strap onto your weapon, with standard mounting options available.
It helps to build accuracy at short to medium range distances with any weapon you use it on without any problems.
The sighting system is also clear and allows you to zero in on your target (and remain focused) while you're on the move, thanks to its crisp, clear red dot.
With the quick fastening and release lever attachment action, you will be able to mount the Aimpoint Micro H-2 in seconds, so you'll appreciate this if you want fast lever action.
It will also be quick and straightforward to zero this weapon sight with the easy to adjust settings of the elevation and windage caps.
Related reading: How To Mount a Rifle Scope With Perfectly Vertical Crosshairs?
Aimpoint CompM5s Red Dot Reflex Sight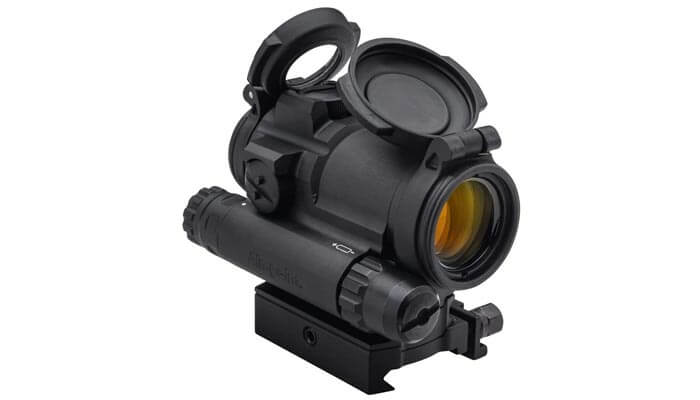 The CompM5s is solid and rugged to make this sight durable and a long-lasting option, no matter where you intend to use it.
In fact, this is the best red dot sight on the market with a clear view and no confusing distortion when zeroing in on a target.
It is easy to mount the CompM5s sight on your weapon, and it fits perfectly with Aimpoint's 3x and 6x magnifiers from Aimpoint.
The sight also comes with a lightweight and compact design to make it easy to use on your weapon without blocking your view or becoming tiresome to carry.
Users report that this model is easy to zero in with 2-MOA and appreciate the waterproof build, night vision feature, and up to 50,000 hours of battery life on AAA charge.
It's a solid option, whether your missions are at midnight or in a torrential downpour.
---
Aimpoint T-2 vs. CompM5s vs. H-2: How Do They Perform
Looking at performance and specs alone, it's hard not to be impressed by all three models.
Aimpoint Micro T-2 Red Dot Reflex Sight
This red dot reflex weapon sight comes with very little to no parallax error in the line and can be easily mounted on a wide range of platforms common in different weapons.
That means you can mount it in a Picatinny style or even on Weaver rails, depending on your collection.
The T-2 comes with up to eight brightness settings and four-night vision settings that can adapt to nearly any environment, whether you're in the woods at 7 a.m. or 2 a.m.
The T-2 also comes with two reticle settings included – 2-MOA and 4-MOA dots.
With a waterproof feature up to 80 feet, your adventures can even lead you across creeks and rivers without worrying about water damage.
Plus, the fog-proof lens will ensure a clear sight, offering a clear view, even when the humidity rises and it gets steamy outside.
It comes standard with only 1x magnification, which is just enough for short to medium-range accurate shooting.
You also have a very wide field of view with this red dot reflex sight, unlimited eye relief (for strain-free sessions), and an option to mount your T-2 on top of other magnifying scopes for tactical purposes.
Because this sight comes with night vision, it is a bit more expensive than some other Aimpoint models.
However, the 50,000 hours of battery life, anti-glare feature, and cutting-edge optical lens make the T-2 worth the investment.
Aimpoint Micro H-2 Red Dot Reflex Sight
As with all Aimpoint red dot sights, this one is also rugged and versatile, offering 12 brightness settings (compatible with even low light conditions), mounting available on Weaver rail or Picatinny style, and compatibility with multiple firearms.
The H-2 comes with up to three reticle sizes, 2-MOA, 4-MOIA, and 6-MOA dot. The sight is also waterproof up to 15 feet and comes with standard 1x magnification, making this sight a better option for tamer conditions and short to medium-range shooting.
While it doesn't come with night vision, the H-2 does shine elsewhere. On top of its clear optic lenses boasting fog-proof and glare-free visibility, an unusually wider field of view to keep a closer eye on your surroundings, and unlimited eye relief.
If you want to piggyback the H-2 on another long-range scope, that's also an option. Altogether, the H-2 is a long-term option (50,000 battery life) with excellent visual acuity and the perfect ruggedness for the outdoors.
Aimpoint CompM5s Red Dot Reflex Sight
The CompM5s red dot reflex weapon sight is rugged, durable, and long-lasting. This sight comes with very little parallax error in the line, meaning you don't have to worry about angles when you're on a mission or hunt.
You can easily mount the CompM5s on the Picatinny rail, and it comes with an LRP mount and 39mm spacers to make such an installation possible in the first place.
With up to 10 brightness settings included (four-night vision and six brightness settings), you can switch through them quickly to best match your environment, tree cover, and time of day. There are fewer brightness settings on this unit than there were on the Aimpoint Comp M5.
The Comp M5s is very accurate at close to medium range and comes with a 2-MOA dot size. It is also magnifying-ready to boost your overall precision on day one using this helpful tool.
With a completely sealed housing to protect it from the environment, this sight is waterproof and submersible up to 150 feet to handle the harshest conditions!
This model offers crystal-clear and glare-free lenses, multi-reflecting coating, a wide field of view boasting unlimited eye relief (adding versatility), and compatibility with other attachments – like kill flashes, magnifiers, and NVDs.
With 50,000 hours of power, battery life and all of these features considered, this expensive military-grade aluminum Aimpoint model is worth the investment.
---
Aimpoint T-2 vs. CompM5s vs. H-2: Comparison Summary
| | | | |
| --- | --- | --- | --- |
| Specs | Aimpoint Micro H-2 Red Dot Reflex Sight | Aimpoint Micro T-2 Red Dot Reflex Sight | Aimpoint CompM5s Red Dot Reflex Sight |
| Size (in) | 5 x 5 x 3 (12.7 x 12.7 x 7.52 cm) | 5 x 5 x 3 (12.7 x 12.7 x 7.52 cm) | 3.3 x 3.3 x 1.6 (8.38 x 8.38 x 4.06 cm) |
| Weight (oz) | 3.3 (93 g) | 3.0 (85.05 g) | 5.2 (147.42 g) |
| Brightness Settings | 12 | 12 | 10 |
| Reticle Size Dots | 2,4, and 6 MOA | 2-and 4 MOA | 2-MOA |
| Night Vision | No | Yes | Yes |
| Lens Coating | Anti-fog, Anti-glare | Anti-fog, Anti-glare | Anti-fog, Anti-glare and multi-reflective |
| Waterproof | Yes, up to 15 feet (4.57 meters) | Yes, up to 80 feet (24.38 meters) | Yes, up to 150 feet (45.72 meters) |
| Lens Covers | Yes | Yes | Yes |
The H-2 is ideal for use in a civilian setup, while the T-2 is better for military and other law enforcement environments.
These sights are strong and durable, while the CompM5s is made from military-grade materials to make it even more rugged.
If your budget allows, the CompM5s will be an ideal red dot reflex sight for use in basically any light conditions.
But you can also get away with the T-2 as long as you don't plan to go 150 feet underwater with it.
---
Price
Of the three sights, the cheapest one is the H-2, although it does not include night vision. The CompM5s will cost you around $1000, but you get a lot of great features included as well as high durability.
When it comes to the price tag of a weapon sight, the general rule is that your optics must be reliable and of top quality.
In addition to this, the optics should also cost roughly the same as your rifle to make sure you have the best optics.
But with the H-2 at around $750 and the T-2 at just over $800, you may have to think hard whether you need the more expensive sight.
---
Aimpoint T-2 vs. CompM5s vs. H-2: Overall Durability
These sights may differ from each other, but the main point is to compare these sights with each other on all levels possible.
But, because they come from the same manufacturer, you have to take note and consider the overall built and ruggedness of all Aimpoint weapon sights.
The high-quality craftsmanship that is used in the manufacturing of Aimpoint weapon sights makes them very reliable to use in the field.
That is why you get a lifetime limited warranty on the optics of the well-designed weapon optics from Aimpoint.
This is also the reason why law enforcement and so many professional shooters out there rely on the weapon sights to get them out of a tight spot.
These weapons are all made from strong and durable materials to make them last for a long time while staying in focus.
The Aimpoint Comp5s is especially made from military grade aluminum to give it that ruggedness you need out in the field.
But the H-2 and T-2 models of weapon sights from Aimpoint are not far behind them with strong and durable construction.
As you can see in the comparison summary, all these weapon sights are made with a waterproof feature for improved durability.
That is because the whole body of all three of these weapon sights is made from aluminum to protect the optics from damage.
Related reading: How Fragile Are Rifle Scopes?
---
Final Thoughts on Aimpoint T2 vs H2 vs Comp m5s Red Dot Reflex Sights
Where and when you need to use these sights will determine which one will be great for your needs. For those who need the sight for better tactical performance, the Aimpoint Micro T-2 Red Dot Reflex Sight and Aimpoint Micro H-2 Red Dot Reflex Sight are more suitable.
If you need a sight that will provide you with durability and a clear image, you will have to fork out more cash and get the Aimpoint CompM5s Red Dot Reflex Sight.
It may not be easy to choose, but your budget and circumstances will have to make the decision for you.
Related Articles: