Aimpoint makes all sorts of sights for guns, but the Aimpoint Comp M4 and M5 are near the top of their list. These popular sights are lightweight, portable, and incredibly accurate.
You can access multiple night vision and daylight modes and keep them running for tens of thousands of hours of battery life with inexpensive batteries. But how do you choose the best one?
To choose the best sight between the Aimpoint Comp M4 vs. M5, you should decide if you prefer a lightweight, long-lasting sight (M5) or sight with more modes (M4). The M5 comes with four NV and six daylight modes, whereas the M4 has seven NV and nine daylight settings. Each uses a 2 MOA red dot.
Throughout this article, you'll also learn the following information about the comparisons between an Comp M4 and the M5:
Pros and cons of each sight to help you choose the best one
What you should expect when using either of these attachments
Pricing details and other essential factors
---
Aimpoint Comp M4 vs. M5 Introduction: What Are the Dimensions?
Choosing a new sight is exciting, but it can also be quite overwhelming. You might believe the similar model names would indicate that there wouldn't be too many differences.
Surprisingly, the Aimpoint Comp M5 and Comp M4 are entirely different. One is lightweight and compact, while the other is heavier. If you prefer heavyweight sights for better control, you might like the Aimpoint Comp M4.
The physical measurements are equally important. You shouldn't get a bulky sight if you're not comfortable with the size of these Aimpoint red dots.
The Aimpoint Comp M4 is significantly larger than the M5, but it boasts numerous settings and modes you won't find in the M5. It's up to you to decide which is better for your aiming style.
Without further ado, let's break down the physical dimensions and weight of each Aimpoint Comp sight below.
M4 Red Dot Reflex Sight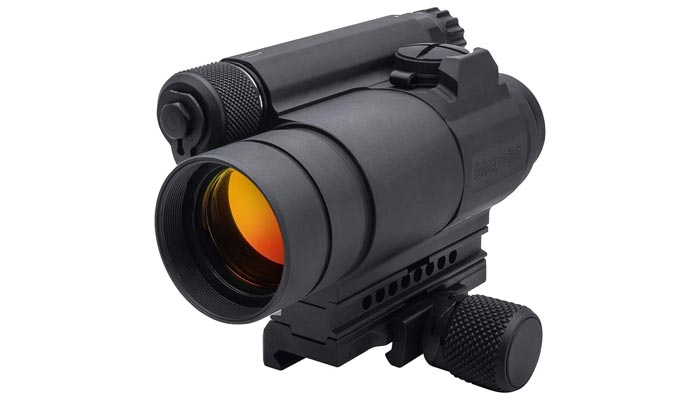 One of the biggest complaints people have about the Comp M4 is its size. While the multiple NV and daylight modes, versatility, and long-lasting construction often overshadow its faults, it's hard to overlook the 9.5-ounce size.
It's significantly heavier than most red dot sights on the market, though that might not be an issue for you.
The Comp M4 sight is 4.7 x 2.8 x 2.4 inches, making it slightly bulkier than the Comp M5 sight. If you prefer bigger sights, you'll enjoy the wide picture. Both of them use MOA 2 red dots, but the Comp M4 has a broader surface area.
This sight has a 0.9-inch aperture for optimal viewing, aiming, and shooting. You'll find there's no optimal signature at 10 meters, which keeps you out of sight and mind.
M5 Red Dot Reflex Sight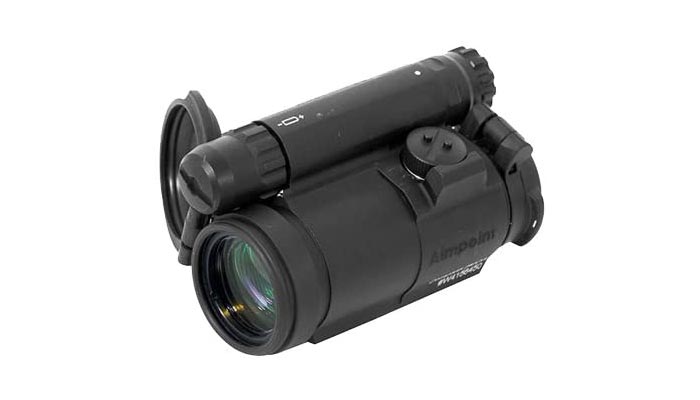 If you prefer lightweight designs, the Aimpoint M5 might be the sight for you. It only weighs 5.2 pounds, undercutting its competition by a whopping four ounces.
There's no denying the benefit of compact sights since they decrease the time it takes to aim, find your target, and take a shot. The M5 continues to be a top choice for military members.
This sight also undercuts the physical dimensions of the Comp M4. It's 3.3 x 1.6 x 1.6 inches, which is significantly smaller.
You can remove it quicker, adjust the sights faster, and maintain a lower profile than the Comp M4 sight. It has a 0.71-inch aperture.
However, there are pros and cons of both models we'll discuss later in the article.
---
Covering the Specs of Comp M4 & M5 Red Dot Reflex Sight
We've covered the dimensions, but what can these sights do? There's a reason the features overshadow the price for many enthusiasts.
Whether you're a law enforcement member or someone who appreciates the value of high-quality sights, the Comp M4 and M5 have a lot to offer.
The specifications we'll cover today include the night vision and daylight settings, battery requirements, battery life, water resistance, brightness settings, and more.
If you want to know the specific details about each sight to determine the best one for your setup, you're in the right place.
Let's explore everything you need to know specs-wise below.
M4 Red Dot Reflex Sight
The Comp M4 uses AA batteries, which is likely the preferred option for most people. According to Aiming Expert, they can last up to an impressive 80,000 hours of battery life.
If you're searching for longevity, it's hard to find anything better. Despite the high battery life, there's a lot of power output from this sight.
It has nine daylight settings and seven night vision modes. Cycle through all of them until you find your favorite settings, then lock them in place.
It's submersible up to 150 feet, so you don't have to worry about severe water damage from splashes and drops. It's also shockproof to protect your hard-earned investment.
M5 Red Dot Reflex Sight
The M5 has six daylight modes and four night vision settings, which is slightly lower than the Comp M4. It uses AAA batteries that last up to 50,000 hours of battery life.
Although it's 30,000 hours shorter than the Comp M4, there's nothing to complain about in terms of longevity. You can expect up to five years of continuous usage from one set of high-quality AAA batteries.
Much like its predecessor, it is water-resistant up to 150 feet and shockproof. It's made out of highly-durable aluminum to reduce the weight without sacrificing durability.
The non-glare finish keeps you out of sight of anything you're hunting day or night, and it's quite stylish, too.
Related reading: Can You Aim Using Night Vision Goggles?
---
Pros and Cons
Although both sights have downsides, they're far superior to most of the competition. This comparison might make it seem as if the cons are hard to deal with, but it's better than the vast majority of comparable sights.
That said, we should also cover both sides of the equation.
The Aimpoint Comp M4 and M5 are both at the top of their class. Let's analyze a list of each sight's pros and cons to look at the full picture (good and bad).
Pros of the Aimpoint Comp M4 Red Dot Reflex Sight
It can last up to 80,000 hours with high-quality AAA batteries. Red dot signs last for a long time, it is incredibly long compared to the 50,000-hour battery life on the Comp M4. If you want to set it and forget it, the M4 is a fantastic solution. Not to mention the 6 daylight settings for brightness settings.
You can enjoy nine daylight modes and seven nighttime settings. You can't ask for much more than this versatile, multi-functional sight. It lets you use it throughout the day and night, making it an optimal selection for almost anyone. You can find the perfect setting for the occasion and lock it.
This sight is made out of high-end, durable materials. The aluminum and rubber on the Comp M4 are as good as it gets. They won't get scuffed or scraped from regular use, unlike low-end sights. Furthermore, they can withstand long-term wear and tear to keep it looking and functioning as good as new.
Cons of the Aimpoint Comp M4 Red Dot Reflex Sight
It's over nine ounces, making it one of the heaviest red dot sights in its class. If you're concerned about keeping your kit as light as possible, you might want to choose the M5 because the Comp M4 is notoriously heavy. Nine ounces might not seem like a lot, but it adds a noticeable difference if you have plenty of attachments.
The bulky dimensions could get in the way if you're not used to large sights. As mentioned earlier in the post, it's bulky compared to many red dot sights, but it's fairly close to the same size as the M5. It's worth measuring your rail to figure out how much space you'll need.
Pros of the Aimpoint Comp M5 Red Dot Reflex Sight
It's an ultra-compact, lightweight sight. If you crave subtlety and free range of motion, the M5 should be at the top of your list. The four-ounce reduction from the M4 model is quite significant if you're moving and aiming simultaneously. It also lets you aim down the sight much quicker.
It has a lifetime warranty, which is a priceless value. Are you worried about spending over $800 on a sight? It'll likely calm your nerves to know you're covered with a limited lifetime warranty from the manufacturer. Imagine never having to replace the sight if you care for it properly!
The compact design is incredibly durable. Much like the Comp M4, the M5 variant is crafted with heavy-duty aluminum and rubber, making it one of the best sights available. On the Comp M4, the AAA battery compartment is higher up whereas on the Comp M4s it is lower making it easier to handle. Even if something happens to it, you can refer to the previously mentioned warranty for coverage.
Related reading: How Fragile Are Rifle Scopes?
Cons of the Aimpoint Comp M5 Red Dot Reflex Sight
There aren't as many modes as the M4, though it has more than the vast majority of the competition. If you're comparing the M5 to most sights, it'll win nearly every time. However, when compared to the Comp M4, the M4 has many more daylight and nighttime modes. Anyone looking to max their settings would notice this difference.
The M5 lasts 30,000 hours less than the M5 and uses AAA batteries. The 50,000-hour battery life is very impressive (it's more than many red dot sights), but the M4 provides 30,000 hours (up to three more years) of battery life than the M5.
Performance Conclusions
Both models are a great choice. It comes down to your preferences: weight, battery life, compact design, settings, and size. You'll likely enjoy either selection, but why not get the one you know you'll love?
The Comp M4 is more versatile, classic, and long-lasting (in terms of battery life). The M5 weighs less, has a better warranty, and comes with a tougher lens cap.
For more details regarding their prices, proceed to the next section.
---
Pricing
Due to their high-quality construction and company name, these sights aren't cheap. They're known as some of the most expensive industry models, but anyone who owns one knows their worth.
Whether you're a collector or avid rifleman, you'd do right by yourself to get an Aimpoint Comp sight.
The Comp M4 is typically the cheaper variant, though it sometimes goes above the M5. You should expect a price ranging from $895 to $920, depending on where you get it.
Amazon is usually the best place for both sights since they don't have a ridiculous markup, as you'll find on other websites.
The M5 ranges between $850 to $950. The wide price range makes it unpredictable, though you'd be lucky to find it cheaper than the Comp M4.
Both of these sights are priced similarly, so their cost isn't much of a determining factor. However, you might be able to find special deals that tip the scales one way or the other on both Aimpoint CompM5 Red Dot Reflex Sight and Aimpoint CompM4s Red Dot Reflex Sight.
The Case for Aimpoint Comp M4
The Aimpoint Comp M4 is a classic choice for many military members. It might be bulkier and heavier than most red dot sights, but its nostalgic appearance and feel make it an easy choice.
With almost twice the daylight and night vision brightness settings and long-lasting battery life as the M5, it's a no-brainer for some people.
The Case for Aimpoint Comp M5
The Aimpoint Comp M5 reduces its weight by using lightweight aluminum. The non-glare finish makes the lenses an excellent choice.
You'll also enjoy the easy brightness settings and compact design that keeps it out of the way when you're not using it. Those searching for a portable option with a slightly smaller aperture should select the M5.
---
Final Thoughts on Aimpoint Comp M4 vs. M5
Both options are worth trying on your setup. If you can only choose one of them, I hope our guide can make it easier for you to make the right choice.
Overall, both variants are excellent choices. They're compatible with traditional Picatinny rail systems, easy to install, and long-lasting.
You can't go wrong with the Aimpoint Comp M4 or M5, so decide which is best for your setup and enjoy the experience.
Related Articles: