Quick Summary: There are many excellent Kingston faucets, but our editor's pick is the Kingston Brass KB1973AX. This design has separate handles and a curved spout with a clearance of 5-3/16″ and a reach of 6-1/2″. It needs a deck mount with widespread three whole installation and possesses a classy antique finish which works well in traditional and contemporary designs. A drain piece is included to complete the image and create a sink that is an excellent mix of the new and old.
The selection of faucets in your home whether in kitchen, bathroom or sink is a reflection of your personality.
Your face is bound to light up when you get applause from your family members or friends on your wise decision of going in for of Kingston brass faucets in the selection of kitchen appliances.
What more you would relish the quality, durability, and functionality of these Faucets which is on the top of best Kingston brass faucet Recommendations most of the time.
The color does not fade, the flow never gets interrupted, and there will be no leak in these Kingston faucets reviewed. The Kingston brass kitchen faucet is the most dependable 'fit and forgets' you can ever get.
Quick Navigation
---
Comparison of 10 Best Kingston Brass Faucets
| | | |
| --- | --- | --- |
| | The Kingston KB1973AX is a widespread traditional lavatory option with a curved faucet, separate handles, and compact three whole installation. | Read Our Review |
| | The Kingston KS4465BX is a metropolitan lavatory faucet with a three whole installation design, separate handles, and clearly labeled hot and cold taps. | Read Our Review |
| | The Kingston KS213ORD is a beautiful Victorian-style two handle wall-mounted faucet suitable for any bathroom, kitchen, or room with a traditional design. | Read Our Review |
| | The Kingston KS1272ALBS works for those who love the classics. It is a solid brass faucet and sprayer with a ¼ ceramic disk cartridge and a classic spout design. | Read Our Review |
| | The Kingston KS2792PLBS is a simple deck mounted kitchen faucet with polished handles that are comfortable to use and responsive to the touch. | Read Our Review |
| | The Kingston KS266ORB sports a true vintage design with a wall mount and drip free ceramic disc cartridge capable of completing any bathroom. | Read Our Review |
| | The Kingston KB605PX is a simple and straightforward faucet with easy-grip handles and full brass construction for two hole installation. | Read Our Review |
| | The Kingston KS1167PL is a simple, solid brass faucet that requires a three whole installation system and a standard 1/2" IPS connection. | Read Our Review |
| | The Kingston FB2201NDL is a basic brass faucet which uses a durable washer-less cartridge and meets low water level requirements for eco-friendly or older homes. | Read Our Review |
| | The Kingston Gourmetier KS3195AL is a solid brass single filtration faucet with one handle, a tall spout, and superior reach for kitchens or bathrooms. | Read Our Review |
---
Reviews of 10 Top Kingston Brass Faucets
Best Overall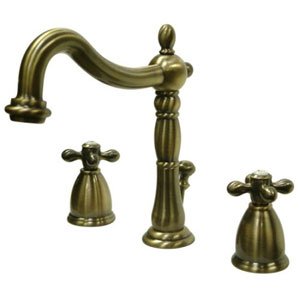 Kingston Brass Heritage Widespread Lavatory Faucet is made out of Vintage Brass bringing in the glory of the Bygone Victorian era majestically.
These adorable pieces reigning on top of the Kingston bathroom faucets comes in Vintage Brass, Polished Brass, Polished Chrome and Polished Nickel varieties.
While the brass construction keeps the rust away, the dura seal drip-free washerless cartridge keeps the flow uninterrupted.
The water flow rate is 1.2 GPM (4.5 LPM) at 60 PSI (4 Bar) pressure (as per ASME and California Energy Commission standards). There are two sizes available 8-Inch to 16-Inch.
Kingston Brass Double Cross Handle Lavatory Faucet are stain, scratch and chip resistant. Kingston Brass product is also available in electroplated with Nickel and Chrome versions.
This Kingston bathroom faucets stand on top because of the style, usage, sturdiness, and durability. These bathroom faucets 1/2 inch IPS inlet connection comes in 8-inch spout height, and 6-1/2 inch spout reach.
Pros:
Enabled to provide you with 1.2GPM water flow
Easy to install in 3 steps
Strong and sturdy because of solid brass construction
Available in multiple shades
Cons:
Its temperature discs keep falling off
Not budget-friendly
---
Best Budget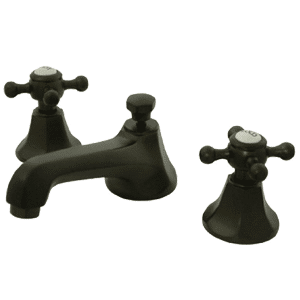 Always on top of the Kingston faucet reviews Kingston Brass KS4465BX Metropolitan Widespread Lavatory Faucet Kingston Brass KS4465BX Metropolitan Widespread Bathroom Faucet with
3″ spout height,
5 1/2″ spout reach,
1 1/2″ spout clearance,
1/2″ IPS Inlet,
1/4 turn ceramic disc cartridge,
8″-16″ widespread installation with Metal Cross Handle,
This Oil Rubbed Bronze and other Colours available are Polished Brass, Polished Chrome, Satin Nickel, etc. Made out of Brass these bathroom faucets are with 1/4 Turn ceramic disk cartridge, 8-Inch to 16-Inch size.
The adjustable spread allows Max 1.2 GPM/4.5 LPM water flow rate at 60 PSI (ASME standard and Compliant with California Energy Commission). Having a dimension of 1.9 x 16 x 2.9 inches and 8-Inch Adjustable Centre, KS4465BX weighs 7.7 pounds.
Kingston Brass Widespread Lavatory Faucet Oil Rubbed Bronze. Matching Finish Drain is included 1/4 Turn Ceramic Disk Cartridge Buckingham Cross Handle comes with three holes and double handles.
Invariably this beautiful Lavatory Faucet would make your bathroom more elegant.
Pros:
The brass faucet bathroom construction gives it an elegant look
Covered with paint coating that makes it resistant to corrosion
Comes with a ten-year warranty deal
Cheaper as compared to other similar products
Allows a maximum of 1.2 GPM water flow
Cons:
Poor packaging
Gets rusted quickly
Temperature controlling discs keep falling off
---
Best for Wall Mount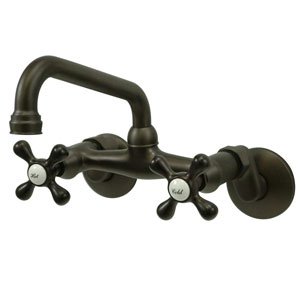 Kingston twin handled wall mounted Kitchen Faucet of 7-Inch size and Oil Rubbed Bronze comes in Brass/Antique Brass, these Kingston brass kitchen faucet also available in Satin Nickel and Vintage Brass color.
Kingston Wall-Mount kitchen faucets come with 7″ Swivel Spout 1/4 Turn Ceramic Disc Cartridge. Also, they are available in 11″ Spout Reach from the Wall; 3-5/8″-8-1/2″.
The speed is adjustable allowing Max 1.8 GPM/6.8 LPM Water Flow Rate at 60 PSI (ASME standard).
This twin handled Kingston faucet is wall mountable are having a dimension of 8.5 x 7 x 4.8 inches and brass/antique color and Oil Rubbed Bronze finish.
These kitchen faucets packed with many features like the look, drip-free operation, durability, and the adjustable flow rate is highly desirable for discerning users.
Pros:
Available in multiple colors like chrome, nickel, bronze, and brass
Comes with solid cross or lever handles
Its ¼ turn off/on feature makes the brass bathroom faucet easy to use
Creates 1.8 GPM water flow quickly
Cons:
Starts leaking just after 3 months of use
Comes without a wall mounting kit
Comes with faulty accessories
Related reading: Best Stainless Steel Kitchen Sinks
---
Best for Kitchen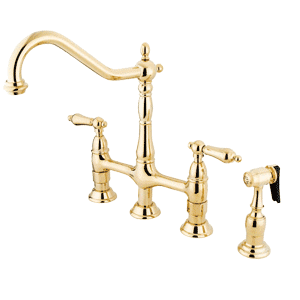 You will invariably find Kingston Brass KS1272ALBS Heritage Kitchen Faucet in all Kingston brass kitchen faucet reviews. This kitchen faucet is provided with Brass Sprayer.
The Kingston brass kitchen faucet is of 8-3/4-Inch size in polished Brass construction.
Having dimensions of 33 x 22.2 x 20.3 cm and weighing 3.8 Kg, the highly recommended faucet under Kingston faucet reviews is easy to install with the four aligned holes.
The metal lever handles with 8.5 inches sprout with sufficient spout clearance. Bringing back the bygones Victorian elegance to your kitchen, this solid brass Kingston brass polished kitchen faucet has a 360-degree swivel hook sprout.
The adjustable volume is at 2.2 GPM (8.3 LPM) 60 PSI (4 Bar) max rate. Warranty: 10 years. Made from brass in Taiwan has unique 1/4 Turn Ceramic Disc Cartridge.
The faucet having top ranking Kingston faucet review is highly recommended for discerning customers like you. Now the aesthetic look is in your kitchen at an affordable price.
Pros:
Ideal to use in the kitchen because of its side sprayer
Its brass construction makes Kingston brass bathroom durable and strong
Comes with a manual for easy installation
Cons:
The side sprayer leaks
Its hose breaks down quickly
Not supported with a warranty deal
---
Best Kitchen Faucet with Brass Sprayer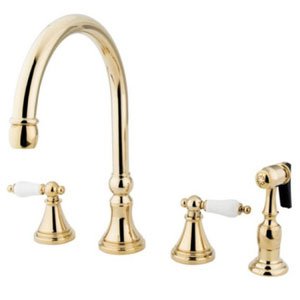 The elegance of your kitchen is enhanced manifolds with this classic Kingston Brass KS2792PLBS Kitchen Polished brass Faucet which is reigning on top of the Kingston brass kitchen faucet review.
Kingston faucets KS2792PLBS is an 8-Inch Deck Mounted with Brass Sprayer looking great in its polished Brass attire.
Besides it is also available in Oil Rubbed Bronze variety. Porcelain Lever Handle is an added attraction for Kingston Brass Deck Mount kitchen faucets. It will make your kitchen sink more sophisticated and elegant.
It has an 8-1/4-Inch Spout Projection and a 6-7/8-Inch spout clearance. Varying flow is possible with the faucet under Kingston faucets review.
Maximum flow of 1.8 GPM/6.8 LPM at 80 PSI. These are as per ASME standards and are compliant with California Energy Commission Title 20.
Kingston brass kitchen faucet is weighing Item 7.7 pounds, and the dimensions are 11.9 x 8.2 x 2.5 inches2 no's handles, widespread handle lever placement, 8.25-inch spout reach, 11.88 inches Spout Height.
Four holes are the other specification of Kingston brass Deck Mount kitchen faucet which is going to enhance the efficiency of your kitchen.
Pros:
Equipped with a porcelain lever handle
Produces high water flow of 1.8 GPM
Easy to use with one-touch operation
Styled with multiple colors and quality finish
Protected with a 10-year warranty
Cons:
It has one filter which reduces the water pressure
The faucet stops working after a few months
---
Best Faucet for Tub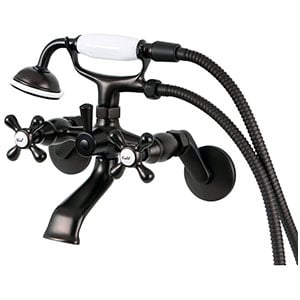 A vintage design in a modern package that meats North American specifications. There is much to love in vintage wall spouts, especially when they are made from solid brass and have been modified to work in your modern home.
The Kingston Brass KS266ORB combines the best of the traditional and contemporary by having a powerful faucet, excellent sprayer, and handles which fit comfortably in the hand but are responsive to your touch.
As a Kingston product, the Kingston Brass KS266ORB is available in numerous materials and resembles a classic telephone. Some of the numerous finishes include oil-rubbed bronze, brushed brass, and brushed nickel. The interior will remain solid brass no matter what finish is used.
Some basic features of note include a wall mount 6″ Centerset 2-Hole installation system, a drip-free ceramic disc cartridge, and a hand shower with a 59 in. hose. The spout reach is 7-3/16″, and the handles are dual cross for easy operation.
This is a great faucet to use in a shower and will add a touch of class and sophistication to any bathroom regardless of the current style and design.
Pros:
Long hose
Multiple finishes
Comfortable handles
Sophisticated design
Simple installation
Cons:
---
Best for Lavatory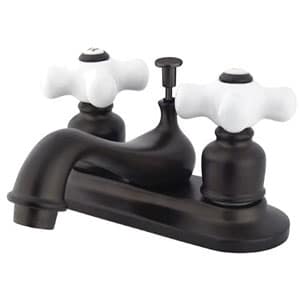 The Kingston Brass KB605PX is a simple and straightforward faucet that works well in bathrooms, kitchens, and anywhere else where you would like a faucet.
The construction is solid brass but comes with a broad range of finishes like oil-rubbed bronze and polished chrome. The finish does not affect the function, but does make the brass easy to clean.
You will be able to eliminate water spots and soap scum with ease and can even use a basic polish on the exterior to ensure your faucet continues to shine long after installation.
The Kingston Brass KB605PX is durable and reliable and has a drip-free washer-less cartridge system. Some basic specs include the following: Max 1.2 GPM/4.5 LPM Water Flow Rate At 60 PSI (ASME standard). This means the faucet is designed to work in the average home and is not suited to homes with a particularly high or low flow.
This model is compliant with California Energy Commission Title 20 and requires 2-hole installation. Overall, this is a basic faucet that adds a note of opulence and sophistication to any room.
It is simple enough for even an amateur to install and comes with all of the necessary instructions and hardware.
Pros:
Easy to clean
Suitable for most homes
Multiple finishes
Easy to install
Cons:
Simple design
Claims to be low flow but is not
---
Best Widespread Bathroom Faucet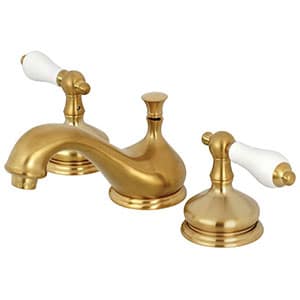 If you are a fan of traditional designs and three hole installation systems, then the Kingston Brass KS1167PL might be right for you.
This faucet is once again made from solid brass and comes with a broad range of finishes that can add sophistication to any room. Some of the available options include brushed brass, matte black, and polished chrome.
The finish does not affect the quality of the interior brass and actually makes the faucet easier to clean. You will be able to remove water stains and soap scum with ease and can also use regular polishes without difficulty.
The Kingston Brass KS1167PL has the following specifications: 1. 2 GPM/4. 5 LPM Spout Flow Rate at 60 PSI. This means it functions well in the average home buy might have difficulty in low or high flow homes.
It includes a matching pop-up drain so you don't have to worry about the interior of the sink not matching the faucet.
Overall, this is another straightforward option that will appeal to individuals with classical design sensibilities. The handles are comfortable to hold and easy to move, and the full faucet kits comes with complete instructions and hardware. It is a solid choice for someone who wants something sleek but not too different from the norm.
Pros:
Sleep design
Easy to install
Includes matching drain
Simple to clean
Multiple finishes
Comfortable handles
Cons:
Handles missing advertised labels
Sits crooked
---
Best for Modern Design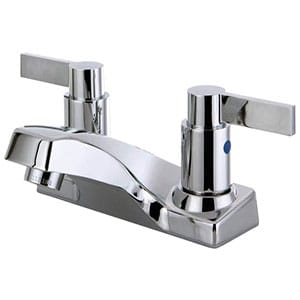 A modern design with simple installation and convenient labels. The Kingston Brass FB2201NDL is one of the most contemporary designs featured by Kingston in the Brass collection.
It has a square and rectangular aesthetic that harkens to modernist sensibilities and comes with convenient hot and cold labels so you always know what temperature of water you will get. The handles are firmly attached to the faucet so the entire set looks like a single sleek piece of brass.
As with other members of the Brass collection, the Kingston Brass FB2201NDL is made of solid brass but comes in a variety of finishes to match your current home design. At present, the primary finish is polished chrome.
The entire system is compliant with California Energy Commission Title 20 and has the following specs: Max 1.2 GPM/4.5 LPM Water Flow Rate At 60 PSI (ASME standard). It is suitable for most homes or apartments with an average water flow.
A drain is included and it is a must-have for the high-quality sinks. The design has thick barrel shaped escutcheons and long rectangular hand levers that are easy to manipulate. The spout has a reach of 3.63 in.
Pros:
Includes labels
Suitable for most homes
Easy to use
Installs straight
Modernist design
Cons:
Unclear installation instructions
---
Best Single Hole Kitchen Faucet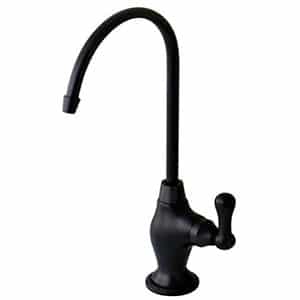 The Kingston Brass Gourmetier KS3195AL possess a beautiful, elegant design with a long spout and single handle that draws the eye's attention directly to the sink.
Some classic features include a high-arc spout. The faucet comes in two separate designs: a spring action and a ceramic cartridge. You can choose your personal preference and be guaranteed of a functional faucet either way.
The faucet has full dimensions of 11 x 4.8 x 1.8 inches and comes with a one year limited warranty from the manufacturer.
The Kingston Brass Gourmetier KS3195AL once again has a full brass interior but comes with multiple styles of finish to match your current décor. These include antique brass, brushed brass, and even brushed nickel.
This faucet is one of several water filtration faucets specifically designed for the reverse osmosis market and has a very minimalistic cylindrical contemporary body. The spout clearance is 8-3/8″ and the spout reach is 4-5/8″.
Installation is simple and straightforward and only requires one hole. Full instructions and hardware are included with the set so you don't have to worry about finding the right screws and bolts. The faucet is cold water use only, so do not install it on a hot water system as this could cause corrosion or decrease performance.
Pros:
Multiple finishes available
Includes a limited warranty
Corrosion resistant
Designed for reverse osmosis
Cons:
Read next: Best Touch Kitchen Faucets
---
Our Recommendation for The Best Kingston Brass Faucet
There are many beautiful Kingston faucets which focus on offering designs from the traditional to the contemporary. Almost all of them are constructed from pure brass on the interior to improve function and resist corrosion, while the exteriors come in a broad range of finishes.
When you are trying to find the best faucet for your kitchen or bathroom, it is important to look at features like installation style and reach. One of the best bathroom faucets on this list is the Kingston Brass KB1973AX because it is versatile, suitable for a variety of water systems, and includes a long hose that simplifies the cleaning process.
For individuals who would like something more modern, the Kingston Brass FB2201NDL is another excellent choice.
Related articles
---