Quick Summary: Based on our research of the water filters, our choice for the best countertop water filter is the CleanWater4Less® Countertop Water Filter. This water filter system is sealed and can filter up to 10,000 gallons of water before you'll need to replace the unit. No need to keep replacing expensive filters, and no tools necessary to install. Read on for our extensive reviews of the very best countertop filters for your kitchen which include each system's unique features, as well as disadvantages you might want to be aware of in order to make the best choice to meet your needs.
A countertop water filter filters out contaminated water and makes it fit for drinking. This cost-effective alternative to buying water bottles features a spout through which water comes out. The water filter can be conveniently installed beside a sink.
Countertop water filters are incredibly compact and handy. They can fit anywhere near your sink without taking up too much space. Furthermore, these countertop water filters are relatively easy to carry, so basically, you can take them if you go on a vacation, or take a trip in your RV, and even if you are boating. This is because the countertop water filters do not require to be installed permanently.
When purchasing countertop water filters, certain factors are considered: Firstly, work out the amount of water you consume. If you have a large family, then you'd want one with a larger filter capacity. Secondly, consider the material of the countertop water filter.
Plastic water filters are inevitable, but make sure that they don't contain BPA as it contaminates the water. Thirdly, go for a filter that is convenient to install and use. Let's get on with our list of the best countertop water filters to buy online without further ado.
Quick Navigation
---
10 Best Countertop Water Filters Comparison
| | | |
| --- | --- | --- |
| | The CleanWater4Less Countertop Water Filtration System eliminates the need for replacement water filters. No replacement water filter means you save money! It includes a faucet adapter that comes with easy to follow instructions. | Read Our Review |
| | This countertop water filter boasts a total filter span of 6,000 gallons. It features two Black Berkey Filters and two Flouride Elements that ensure your water is crisp and clean. | Read Our Review |
| | The APEX Clear Countertop Alkaline Drinking Water Filter System ensures you have delicious, sparkling, fresh and clean drinking water straight out of your tap. Easy-installation and fits on standard faucets guaranteed for less fuss. | Read Our Review |
| | This countertop water purification system is NSF certified to provide you lead, pharmaceuticals and contaminant-free water. The supreme filtration system removes 97% of chlorine and reduces 76 other contaminants. | Read Our Review |
| | Filter, purify, mineralize, alkalize and magnetize your tap water with the Zen Water Systems Countertop 5 in 1 System. It features a ceramic filter that lasts 1,000 gallons or a year of approximate use. | Read Our Review |
| | This handy ionizer machine is the perfect countertop water filter purifier. If you're looking for a water filtration system that ionizes, alkalinizes and keeps your source water's PH in its optimum levels. | Read Our Review |
| | If you're searching for powerful filtration in the convenience of your countertop, then this three-stage H20 + Cypress Water Filter System is perfect for you. It features a patented three-stage Nanotrap technology that delivers complex under-counter system quality purified water. | Read Our Review |
| | The unsurpassed performance of LAke Industries makes this a prime candidate for turning your tap water into refreshing and healthy drinking water. VOCs, radon, Chlorine and Class I Particulates are a thing of the past with this filter's unparalleled performance. | Read Our Review |
| | The Aquasphere Exclusive 7-stage Alkaline Water Filter provides you with premium quality results. The 7-stage purification system guarantees that you enjoy a virtually unlimited source of pristine and healthy alkaline drinking water. | Read Our Review |
| | The BluPure Ultimate 13-Stage Countertop Water Filtration System guarantees that you always have the purest drinking water. Enjoy mountain spring water directly from your tap with the 13-stage purification process. | Read Our Review |
---
Reviews of Top 10 Countertop Water Filters
Read to discover which one delivers the perfect water filter system for you and your family.
Best Overall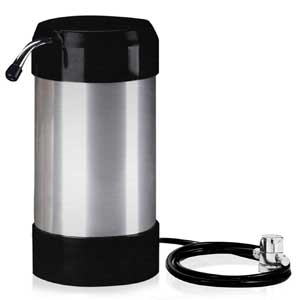 Sometimes the simple solution is the way to go. When hunting for a CleanWater4Less countertop water filter review, you will quickly find that it has a loyal and satisfied following of users.
Most filtration processes require that you invest in a permanent piece to install and then replace expensive filters on a regular basis, that can leak or crack.
The Cleanwater4less countertop drinking water filter system solved the whole problem with their sealed system that filters up to 10,000 gallons of water, and then you just replace the whole unit.
Delivers on All Promises
Designed to reduce chemicals, smell, and improve taste, the CleanWater4Less delivers on the promise of its name. How do they make money? They do offer professional installation that runs 5 times the cost of the unit.
Pros:
No need for replacement filters (filters 10,000 gallons of fresh water)
Easy to install
97% chlorine reduction
No tools necessary for installation (faucet adaptor fits standard sizes)
Cons:
Does not filter out fluoride
No visual aids to see when filter has run out (taste the water, or purchase a separate OTO test)
---
Best Budget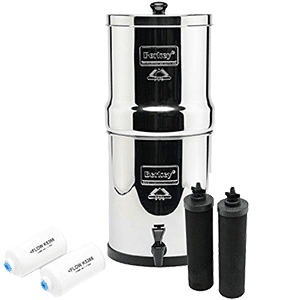 For those living in communities that over fluoridate your drinking water, you may want to look into a water filtration system that eliminates fluoride from your source water.
The Big Berkey offers this more expensive type of filtration system in an easy-to-use countertop unit. In this Berkey countertop water filter review, we'll see what works and what needs improvement.
Effectively Removes Contaminants
The Berkey stainless steel water purifier operates without electricity and works to remove harmful chemicals, bacteria, and parasites. Users have sent their treated water to an independent lab and received confirmation that this filter system does do everything it claims.
You will need to prime the fluoride filters before using to prevent an odd smell and flavor, but once your unit is up and running it provides clean and crisp water that is safe for your entire family.
While this may be the most budget-friendly option, some users have reported rust forming in the bottom storage tank.
While rust is not harmful to your water quality, it does affect the taste and you must imagine that the tank will eventually fail due to this issue. Inspect your tanks thoroughly before putting it into use.
Pros:
Comes with two filters, each which filters 3,000 gallons of water
Includes two fluoride filters for post filtering (each filters 1,000 gallons of water)
Made of high-grade 304 stainless steel
Acts as a purifier since it removes 100% of pathogens
Cons:
This Berkey filter system advertises removal of up to 95% of fluoride, yet users report not being able to remove much more than 60%
---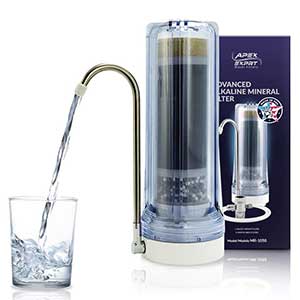 In this APEX countertop water filter review we discover that there are alkaline filter systems that deliver on their promises.
This simple filter unit attaches to your kitchen faucet and provides on-demand alkaline water whenever you need a cup.
Portable and Simple to Use
The APEX Drinking Water Filter is compact such that it is easy to take with you on long vacations in your RV or summer lakeside camp.
The manufacturers have designed it to accept every standard 10-inch filter, so you have your options when buying replacements. This filter is a little pricier than jug-style units but fits into your kitchen without taking up extra counter space.
The one drawback of the APEX portable water filter reported by users is that its dispensing nozzle competes with your regular kitchen sink for space. The extra hose seems to get in the way for many people.
Pros:
Connects to standard faucets easily
BPA-free
Made in USA and comes with limited 1-year warranty
Removes heavy metals and harmful pesticides to provide clean water
Cons:
You have to be able to use one of the two adapters included with this counter top water filter, otherwise it won't work
---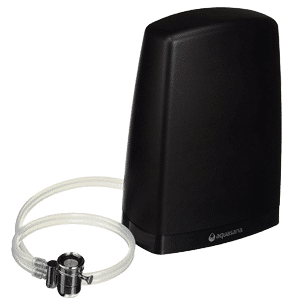 When scrolling through a variety of Aquasana countertop filter system reviews, you will find a common thread.
This small unit looks very nice sitting on the counter next to your kitchen sink. Water is diverted from your regular water supply and forced through the filter medium to deliver instant filtered water at the tap.
Great! However, numerous users of this filter have reported that the adapters for the diverter don't fit all faucets and the connections can often leak.
Replacement Filters are Pricey
Furthermore, Aquasana countertop water filters are rather expensive to replace, costing over half the price of the original unit, and only last about six months. You might be better off shopping for a different portable filter system.
Pros:
NSF certified to remove lead, pharmaceuticals and other tap water contaminants
Only 11 cents per gallon, so cheaper than buying water bottles
Easily attaches to your tap for faucet water that's filtered
Removes heavy metals
Cons:
Does not remove fluoride
No visual display to tell you when to replace the water filters
---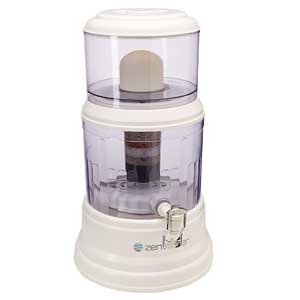 If you are looking for an alkaline water filtration system, this may be the right one for you.
According to Zen Water Systems countertop water filter reviews, this 5-stage filter system offers an economical way to raise the pH in your tap water and enjoy the countless health benefits of alkaline water.
If you simply wish to remove chemicals and sediment from your tap water, the Zen Water System may not be the best choice for your purposes.
No Electricity Required
The Zen Water Systems 5 Stage filter system is a simple gravity fed system with a two-gallon storage tank on the top and a choice of 4, 6, or 8-gallon reservoir in the bottom with the filter set between.
Charcoal eliminates many of the usual contaminants, while silica sand and mineralized stones add in micronutrients to your water. This system has a simple setup, requires no electricity to operate and you can order replacement filters without a problem.
Some users have tested the pH of their water after running it through the 5-stage filter and have found their water not to actually have an alkaline ph.
This may depend on the acidity of the water that you start with, but realize you are not guaranteed an alkaline level. Some users have found that parts arrive broken, that the filters leak around the edges and the water to have a bad taste.
Pros:
BPA-free
No electricity or plumbing required for alkaline water
5 functions in 1: filters, purifies, alkalizes, mineralizes and magnetizes
8-stage filtration so filtered water is free from bacteria and chemicals
Cons:
Takes a long time to go through full filtration: 10-12 hours the first few times, and eventually 4 hours
---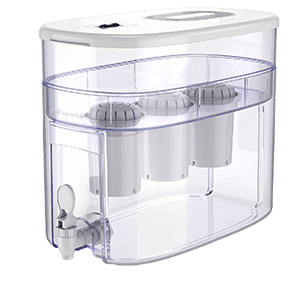 For those hunting for an alkaline water filtration system, you might want to check out this Invigorated Water countertop water filtration system.
Three filters remove contaminants while adding pH and ionizing the water for a healthy, cool drink.
The unit holds about 2.5 gallons of purified water and can sit on your counter or in your fridge. It also offers a fluoride removal filter, but that is a whole other ball of wax.
Limited Capacity
This alkaline water ionizer machine comes with filters that function for up to 288 gallons, which is only a few weeks in a busy family household. You will be changing them out every two or three months.
There are three filters. Now, if you want to also remove fluoride as the manufacturer advertises, you have to purchase another set of more expensive filters to accomplish that. This alkaline water ionizer filter will do the job, but you will be paying for the privilege over and over again.

Pros:
One of the best water filter pitchers for super fast filtration: alkalized, ionized, purified water in seconds
Long-life 288 gallon filter capacity
Removes fluoride and other heavy metals
Cons:
Standard filters reduce fluoride by up to 20%, you need to buy the additional PH002 filters if you want further fluoride reduction
---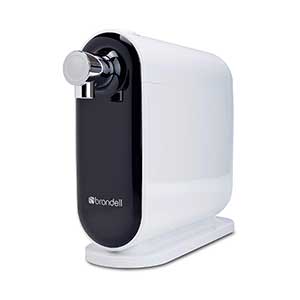 Looking for something that complements your modern decor?
The Brondell-RC Countertop Drinking Water Filter System is the one you need unless you are searching for an alkaline filtration system.
The Brondell-RC Cypress Countertop Water filter system looks a bit like a piece of computer technology, but functions much the same are other basic filters.
Requires Professional Installation
The plumbing system for this filtration system needs extra expertise. You will want to have a plumber install in for you, as it requires a connection under the sink to maintain the sleek clean appearance of your counters. Users say it produces clean tasting water and suits their needs.
While the filter meets all the usual NSF standards, the company doesn't make any claims about how much contaminants it removes from your water supply.
So if you are concerned about a particular element, you may wish to do some testing before completing the final installation.
Pros:
Ultra modern water filter countertop design
One of the only water filters independent lab tested and certified by Water Quality Association for NSF/ANSI standards 42, 53, 372
Fits most faucets
3 stage water filter system
Cons:
No filter change indicator
Some users say top button can stick after long use
Related: Best Under Sink Water Filters
---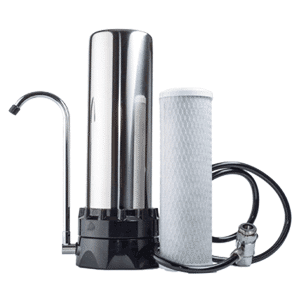 This Lake Industries Countertop Water Purifier looks like a great option up front.
Its black and stainless steel exterior is compact and attractive. The connection to your plumbing is comparable to other units that cost considerably more.
The replacement filters are affordable and the manufacturer shows that all the usual contaminants are removed on a regular basis.
The single unit fits multiple filters, so you can select which filtration level you wish without changing out the main system.
Inconsistent Manufacturing
That's the end of the good news for the Lake Industries Stainless Steel Water Filter. Many users report that once the unit is installed when the tap is turned on it makes a huge amount of noise while dispensing the water.
Once you shut off the tap, the filter continues to dispense water for another 10 to 30 seconds. The flow out of the unit is slow. In all, it provides a frustrating experience.
It appears that any Lake Industries countertop water filters review ends with a cautionary tale to avoid purchasing this unit.
Pros:
This countertop filter comes with a 30-day money back guarantee
10 micron filter removes 97% of chlorine, Class I particulates, bad taste and odor, VOCs (Volatile Organic Compounds), and radon
Water filtration accuracy of 0.01~0.1um
Cons:
No indicator for when to change the filter
Does not filter out fluoride
---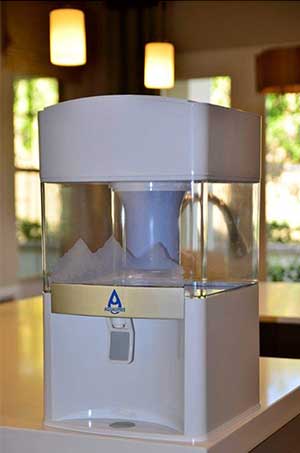 If you are looking to take your alkaline water to the next level, you may be interested in the AQUASPREE 7 Stage Water Purifier.
Using two extra filters beyond the usual 5-stage alkaline water system, this AQUASPREE Alkaline Water Filter produces water that meets the standards of the NSF and World Health Organization.
Gravity fed, pour in 2.5 gallons of water in the top and it slowly works its way into the 3.2-gallon storage jug where it has removed harmful chemicals and ionized your water.
No Installation Required
There is no electricity or plumbing required, so other AQUASPREE countertop water filter reviews show that users enjoy taking this unit camping or to other areas where the water source is not always reliable.
The easy to change single filter offers the convenience that other 5-stage units lack where you switch out different layers of the filter at different times. Overall, it's a simple system that surpasses most expectations in water taste, appearance, and smell.
Pros:
7 stage water filter: Ceramic Filter provides main filter, Maifanite filter, and magnetized system
BPA-free
No electricity or plumbing required
Long-lasting ceramic filter that filters 1,000 gallons of water
Cons:
There are 3 different filters to keep track of: a 6-month filter, a 12-month filter and a 3-5 year filter
---
The name is certainly impressive on the BluPure Countertop Water Purification System. 13 stages! Wow!
Most water filtration & softeners that discuss the number of stages are alkaline filters where contaminants are removed by charcoal, and then nutrients are reintroduced through ceramic and mineral mediums.
The manufacturer site makes no such claims, only that this filter removes the usual collection of chemicals and sediment from your water.
The price for BluPure countertop water filters for your home is comparable with other filters. So, when reading the few BluPure 13 Stage Water Filter reviews that are available, it might be time to take a grain of salt along with them.
There is nothing that shows that this unit performs any better than any other, and the filter can be changed out with any other standard 10-inch filter on the market. It is best to test this one at your own risk and have low expectations.
Pros:
Filter lasts for up to 1 year
BPA-free, with NSF-certified components and cartridges
13 purification stages
30-day money back guarantee plus 1 year manufacture warranty
Can be used with standard third-party 10-inch filters
Fast water filter flow
Easy to set up and to use
Cons:
Related: Best Faucet water Filters
---
Our Recommendation: Best Countertop Water Filters
Based on our thorough reviews, The CleanWater4Less® Countertop Water Filtration System is the best countertop water filter of all. It delivers clean and clear water while eliminating the fuss and frustration of replacing filters. For a good alkaline filter, you may find success with the AQUASPREE Exclusive 7 as well.
Related Articles:
---