What is the Best Undermount Kitchen Sink?
We have picked the Kraus KHU100-30 Kitchen Sinks as the best undermount kitchen sinks as they are stain and dent-resistant. The satin finish is attractive, the sink is extra deep and it is equipped with soundproofing technology. The limited lifetime warranty and the extra accessories make it a very appealing option, and the price is budget friendly.
---
When you are ready to choose your new undermount kitchen sink, you might find yourself overwhelmed with options. They are made with one bowl or two, is many different material with different finishes, different depths, and much more. This article can help you cut through the noise to find the best undermount kitchen sinks available.
---
Comparison Of 10 Best Undermount Kitchen Sinks
1. Kraus KHU100-30 Kitchen Sink (Best Overall)

If you're looking for virtually indestructible kitchen sinks, then this one is for you. The dent-resistant T304 stainless steel body promises superior strength and durability. The satin finish guarantees resilience and a quick cleaning process.

Read Our Review

2. Ruvati 30 Inch Undermount Kitchen Sink (Best Budget)

This sink features heavy-duty sound guard padding and undercoating that effectively minimizes unwanted noise. The luxurious satin finish means you never have to worry about extensively cleaning your sink for a long time.

Read Our Review

3. Kraus Standart Pro Undermount Kitchen Sink

Virtually indestructible, this dent-resistant kitchen sink features a T304 stainless steel body that guarantees superior strength and durability. Its lifetime limited warranty puts your needs first and ensures an easy replacement if the product is not up to par.

Read Our Review

4. Ruvati Double Bowl Kitchen Sink- RVM4600

Double the bowls, double the fun. Organize your dishwashing regimen with this double-bowl premium stainless steel undermount kitchen sink that features a luxurious satin finish for easy cleaning and guaranteed durability.

Read Our Review

5. Kraus KEU-14 White Pintura Undermount Kitchen Sink

Add a touch of timeless vintage appeal to your kitchen with this stainless steel undermount sink. The white enamel finish is extremely durable and creates a virtually indestructible surface that is supremely resistant to impact, scratches, chips and stains.

Read Our Review

6. Elkay Gourmet Quartz Undermount Sink

Opt for an uninterruptedly spacious kitchen sink that is perfect for washing and stacking your dishes amongst a variety of other household tasks. This sink features a stylish design that incorporates seamlessly into your home's decor for maximum functionality.

Read Our Review

7. The Franke Ellipse Kitchen Sink

Functionality and sleek design meet in this Ellipse granite sink. The naturally beautiful design features high-quality and easy to clean material that sports a subtle shine and a finely textured surface.

Read Our Review

8. MENSEAJOR Single Bowl Undermount Stainless Steel Kitchen Sink

The SUS 304 Stainless Steel body of this sink boasts an unbreakable construction. This undermount sink features heavy-duty dent and scratch resistance while maintaining an easy to clean and long-lasting surface thanks to its commercial-grade brushed finish.

9. TORVA 30-Inch Undermount Kitchen Sink

Invest in Torva's ultra-durable design. Torva sinks boast premium and thick-grade stainless steel bodies that seamlessly combine durability, performance and aesthetics. The handcrafted brushed satin finish ensures that your sink is fully protected from dents and scratches.

10. APPASO 30-Inch Single Bowl Undermount Kitchen Sink

Strong as a tank and reliable as a sink. This supreme stainless steel sink features a body that is built like a tank. It is extremely durable and highly functional which means you never have to worry about your sink again.
---
Reviews of 7 Top Undermount Kitchen Sinks
To find the best, we analyzed the ratings and reviews of dozens of options. In the end, we decided on the following seven undermount sinks based on their durability, look, and depth.
---
Best Overall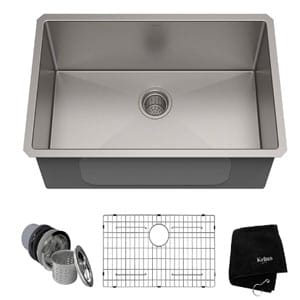 What You Will Love: This sink fits pretty much any large dish you need to wash.
The Kraus KHU100-30 Kitchen Sink is a great choice for a single bowl sink. It is made from 16 gauge stainless steel and is scratch-, stain-, and dent resistant. The standard drain opening means you do not need to buy anything extra.
It measures at 30 inches long and is considered an extra deep sink that helps prevent splashing. The extra depth also allows you to fit your largest kitchen dishes in it.
No more struggling to find a way to wash that giant cookie sheet, stockpot, or roast pan. This sink is also incredible if you want a quiet sink- and really, who wants a noisy one? It comes with non-toxic Noise Defend soundproofing technology.
The satin finish is nice and matches most kitchen decor. It also comes with some extra goodies such as a basket strainer set, premium Kraus kitchen towels, and dish grid to protect the bottom of the sink.
The only downside I can see is that it has only one bowl so it does not have an extra opening for garbage disposal. That is not so bad though since a customer shared that she simply replaced the drain with the disposal.
You also get a limited lifetime warranty. When I looked at these features, I expected this sink to fit in the $400 price range or up, so I was surprised that it can be found for less than $250.
Pros:
Stainless steel, 30 in, dent resistant.
16 gauge.
Extra deep.
Soundproofing technology.
Comes with dish grid and other accessories.
Lifetime limited warranty.
Good for very large dishes.
Stain and scratch resistant.
Cons:
---
Best Budget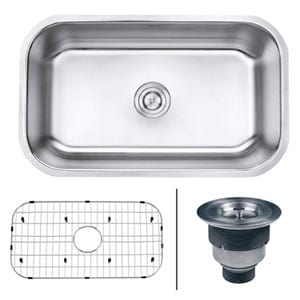 What You Will Love: It is beautiful and functional, quiet, and can fit almost any budget.
The Ruvati 30 Inch Undermount Kitchen Sink is another 30 inch long stainless steel sink with a beautiful satin finish. The steel is 16 gauges and the rim with rounded corners has a brushed satin finish to complete the already attractive look.
These sinks also come with standard size drain opening, a basket strainer, and sink guard. Again, the drain can simply be swapped out for the garbage disposal if you choose. The curved corners of the sink mean that no food or gunk will be building up in hard to clean places.
The 9 inch deep bowl can fit large dishes with ease, and the bottom is fitted with sound guard padding to prevent loud noise and reverberation.
The only apparent downside is that you may notice water spots that are difficult to wipe off. At less than $200, it is very budget friendly, and it comes with a lifetime warranty.
Pros:
Brushed and finished satin rim to complete look.
Curved corners for easy cleaning and no gunk build up.
Standard drain opening.
16 gauge stainless steel.
Sound guard padding on the bottom.
Great price.
9 inch bowl depth.
Cons:
You may experience water spots that are hard to wipe away.
---
Best Single Bowl Undermount Kitchen Sinks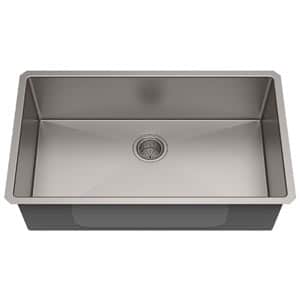 What You Will Love: Its extra depth makes it perfect for a variety of tasks, such as bathing pets and your kiddos- and washing your large dishes, of course.
The Kraus Standart Pro Undermount Kitchen Sink is a little larger than the previous options on our list as it measures at 32 inches wide and 10 inches deep.
Fitting extra-large dishes, a kid or dog for a bath would be no issue- unless your dog is a giant St. Bernard. That might pose a problem. This sink is so deep, in fact, that some users complain that it is a little too deep as they have to bend forward more than is comfortable to reach the bottom level of dishes.
The included sink guard would decrease that amount some, but I suggest you measure how far down a 10 inch sink would go in your kitchen to see if it is too deep.
While you are measuring, get the exact measurements of the slot you have for the sink. There have been a couple of issues with the width being off by a quarter inch or so.
This should not be a problem if you measure your spot and the sink in person (if possible) before use. This is possibly my favorite on the list and it is less than $300.
Pros:
32 inch, 16 gauge, satin finish.
Sound guard covers more than 80% of the sink.
Extra deep, corrosion and rust resistant.
Grooved bottom for optimal water drainage.
Comes with sink guard and other accessories.
Budget friendly.
Cons:
Sink may be too deep.
Should measure in person to prevent fitting mistakes.
---
Best Double Bowl Undermount Kitchen Sinks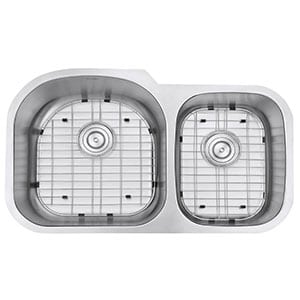 What You Will Love: The double bowls means that you can wash in one bowl and rinse in another, making it more versatile.
The Ruvati Double Bowl Kitchen Sink- RVM4600 is yet another attractive and affordable option. The 16 gauge stainless steel has a brushed finish that is the same across the entire sink and rims.
It has two bowls, one larger than the other, and comes with two rinse guards that fit their respective sink sides. It also comes with a two basket strainer set and curved corners for easy cleaning.
Heavy duty padding keeps the noise down, and the 9 inch deep bowls allow for larger dishes. However, it should be noted that as there are two bowls, neither side will be as large as the single bowl sinks.
This may not be an issue for you, but it will limit the size of dishes you can place in the sink. As with all stainless steel products, you will likely experience water spots. At barely over $200, and with the limited lifetime warranty, this sink is an amazing purchase.
Pros:
Easy to clean satin finish.
Curved corners.
Double bowl.
16 gauge stainless steel.
2 rinse grids.
2 basket strainer sets.
9 inch deep bowls, brushed rim matches the rest of the sink.
Great price.
Limited lifetime warranty.
Cons:
Water spots.
Double sink limits size of each bowl.
---
Best Cast Iron Undermount Kitchen Sinks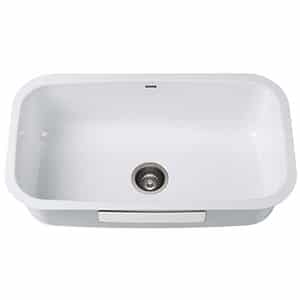 What You Will Love: This beauty is a lightweight version of a cast iron sink.
The Kraus KEU-14 White Pintura Undermount Kitchen Sink is the first white sink on our list. Though some feel white sinks look a little old fashioned, it actually matches some lighter décor better than stainless steel.
This sink is made from very durable cast iron though it has a stainless steel core to make installation easier. Having said that, it may still be too heavy for only one person to install alone. And anyway, it is always best to have a buddy or partner around for safety's sake.
The cast iron sink has a white enamel finish, and it is resistant to scratches, chips, stains, and other damage. The curved corners make cleaning easier, and there will be no water spots to deal with.
In fact, the sloped bottom provides optimal draining. This sink also has soundproofing technology and a limited lifetime warranty.
It is, however, 10 inches deep, so you will want to measure how low it will be in your kitchen. Additionally, at over $300, it is one of the more expensive options on our list.
Pros:
Made from durable cast iron.
Durable enamel white finish.
Stainless steel core to make installation easier.
Resistant to scratches and other damage.
10 inches deep.
Limited lifetime warranty.
Sloped for easy draining.
Soundproofing technology.
Curved corners for easy cleaning.
Cons:
---
Best Quartz Undermount Kitchen Sinks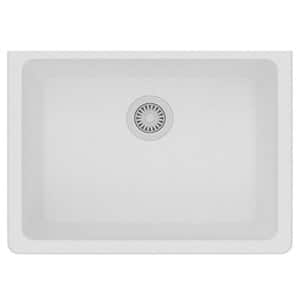 What You Will Love: You have multiple color options including white, black, mocha, sand, greystone, and more.
The Elkay Gourmet Quartz Undermount Sink is a well-loved sink. First, it's multiple color options means that you can match any décor, but that is not the best part concerning colors.
Have you ever had a sink that is one color and a drain that is a different one and it just destroys the look? I have, and I hated it.
With this sink, though, you get to pick your own drain color, too, so you can match your sink or just pick a complementary color.
The single bowl is 9 ½ inches deep, which is deep but not as deep as the 10 inch options. It might work better for people who think the 10 inch is too deep.
The quartz material is durable, heat resistant, scratch resistant, and easy to clean. The thick soundproofing material makes it very quiet. The only thing I did not really like about it is that the recommended bottom grid is not included like it is with other lower price options.
At over $250, I would expect to get that accessory included, but I guess nothing is perfect.
Pros:
Multiple color options.
Fair price.
9.5 inches deep.
Single bowl.
Stain resistant.
Heat and scratch resistant.
Pick your own drain color.
Cons:
You have to buy the protective grid separately.
---
Best Composite Undermount Kitchen Sinks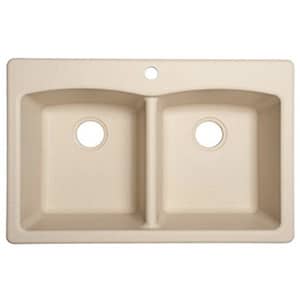 What You Will Love: You have multiple color options, and the choice to install as a drop in or undermount sink.
The Franke Ellipse Kitchen Sink is an interesting choice. The composite materials provide a tough and durable sink yet it needs to be oiled on a constant basis.
This, of course, can be a pain, but buyers have fallen in love with their sink. It is 9 inches deep, which is deep enough for large dishes. It also comes with two bowls so you have two separate work areas.
Again, that does take away the large dish convenience to some extent.
This sink also comes in multiple color choices that include both lighter and darker shades.
What I love the most, however, is that it is designed to be installed as a drop in or an undermount sink according to your desires. It is also chip resistant and quiet.
The price of this sink varies according to the color you choose, but the Linen color is a little under $150 while the most expensive choice is still under $300.
Pros:
Drop in or undermount.
Very low price that depends on color you choose,
Made from quartz and high quality resin, quiet.
9 inch deep, scratch and heat resistant.
Also chip resistant.
Cons:
Requires pretty constant maintenance.
---
What are the Advantages of Having an Undermount Kitchen Sink?
The kitchen is usually the heart of every home. It is where we eat, hang out, do homework, pay bills, bake Christmas cookies, and many more activities. With a room this important, it is important that it looks good, feels good, and functions well.
Undermount sinks help you take care of all of these kitchen improvement tasks. The major appeal of these sinks is right in the name- they are mounted under the sink.
As such, you have no bulky, misplaced rim sitting on top of the counter that somehow keeps a gunk build up not matter how often you clean.
Another advantage is that because the sink and counters are either flush or the sink is a little lower, you can simply wipe the mess on your counters straight into the sink.
As if that is not enough, they are generally deeper than standard kitchen sinks, making it so much easier to wash large dishes.
You can choose between double and single basins depending on if you want more space for dishes or a separate sink for additional tasks. They are attractive, functional, and beneficial.
---
How to Choose A Good Undermount Kitchen Sinks?
Construction Material
What the sink is made of is a huge factor in choosing a sink. Some materials will wear down quicker than others. Some are stain and scratch resistant while others may be easier to clean. The material also determines the weight of the product.
Ease of Installation
There are some undermount sinks you can install yourself with limited tools or you might have to purchase a couple of tools. Other sinks may be complicated enough to need a professional to install it.
DIYers will most likely choose DIY sinks while others may let a pro handle it- it's a strictly personal choice.
Ease of Cleaning
You should definitely pay attention to how easy it is to clean. No one wants to have to scrub a sink after cooking and then scrubbing dishes. Look for a sink that has easy to clean materials.
The Size
Yes, size does matter. The size of your sink will determine if you will need any extra construction in your kitchen, and how many dishes you can fit in.
Large sinks are great for pots and pans, but a small one might fit your space better. Obviously, the size you choose is up to you. You might also be choosing between single and double bowls.
The Design
Does the look match your kitchen decor? Does it flow with everything else easily or does it clash? If the sink does not match your decor, you will either have to redecorate or stare at an awful look day in and day out. Believe me, the design does matter.
Gauge
If the sink is stainless steel, the gauge will tell you how thick or thin it is. The higher the gauge, the thinner the stainless steel will be, and vice versa. The thickness matters because it contributes to durability.
Heat Resistance
Unless you only wash cool dishes in cool water, it is a good idea to have a heat resistant sink. As I like my dishwater very hot, I would definitely need the heat resistant feature.
Expenses
The initial investment into the sink is an important factor, but expenses do not stop there. Is it going to require a certain type of cleaner or special care?
How much maintenance will need to go into it? Many sinks can be cleaned with just soap and water, and can often sit in the same spot without the need of maintenance for years or decades. Still, it is important to know these things before purchase.
---
Conclusion
Choosing your undermount kitchen sink is an important decision as it will handle so many tasks and be around for a while. This buying guide is intended to lead you to the best undermount kitchen sinks available to you, and help you choose the right one for you.
---