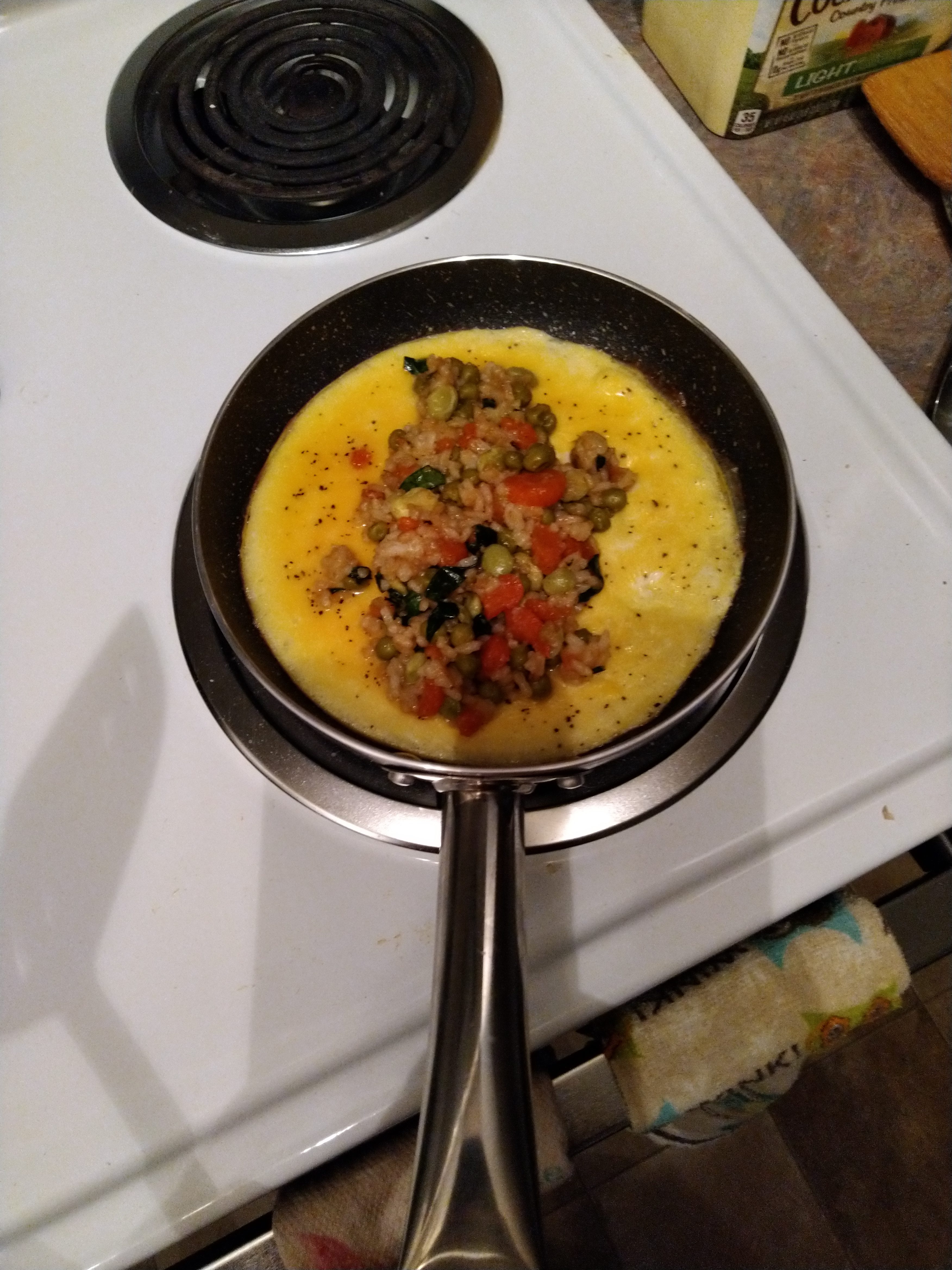 Prep time: 20 min
Cook time: 10 min
Total time: 30 min
1 cup of regular rice or cauliflower rice
2 tablespoons of olive oil
1/2 cup of carrots, sliced or shredded
1/2 cup of peas
1/2 cup of any type of beans  ( i.e: lima beans) or veggie(ie: broccoli or butter beans)
1/2 cup of spinach
1/4 cup of soy sauce or  teriyaki sauce, divided
3 tablespoons of water
Salt and pepper, to taste
6 eggs
For filling
Put rice in small pot and cook, while rice is cooking, take peas, carrots, and lima beans and cook, if raw. If already cooked, place all three in a skillet with 1 tablespoon of oil and heat on medium for 1-2 min.
Take 3-4 tablespoons of soy sauce and set aside, slowly add soy sauce to skillet, to taste, and let cook for 2 min.
For topping
In a small bowl, mix together 2 eggs and 1 tablespoon of water and salt and pepper, to taste.
Take a separate skillet and coat with remaining tablespoon of oil.
Pour egg mixture into skillet and let cook for 2-3 on medium heat until middle of egg starts to bubble.
Spoon 1/3 of filling into center of egg and gently fold the sides of the egg over the filling
Remove skillet from heat and place ceramic plate face down on the skillet
Place your hand, in an oven mitt, on top of the plate and flip the plate and skillet over so that the skillet is face down on the plate.
Remove skillet from plate and drizzle 1 tablespoon of soy sauce on top and serve
Repeat steps 3-9 until filling and eggs are gone.