Quick Summary: We have found that the Moen Arbor Motionsense is the best when it comes to touchless kitchen faucet buying. This pull-down kitchen faucet has a spot-resistant stainless finish to avoid fingerprints and water spots, double sensors, can be installed through either 1 or 3 holes with the escutcheon included and comes backed by Moen's limited lifetime warranty. We have looked at the best touchless kitchen faucets available and have researched them to bring you a selection of the top models available on the market, so have a look at our favorites so that you can easily decide which touchless faucet suits you best.
One of the most commonly used things in the household is probably the kitchen faucet. From preparing food to washing the dishes, you constantly have a need to touch the faucet handle to turn water on or off, and you are probably not even aware how many times you touch it.
And if you start thinking about it, you can't escape the thought that the faucet handle is filled with germs from all that touching with dirty hands. That is why you should equip your kitchen sink with one of the best touchless kitchen faucets.
If you equip your kitchen sink with a touchless kitchen faucet, you'll forget about the germ-infested faucet handle because the handle doesn't exist. With a simple wave of a hand (or using a foot/voice sensor), the water will start flowing- forget about trying to turn the water on with your elbow and making a huge mess.
If you want to upgrade your sink to a hassle-free version, we've prepared for you a comprehensive list of the best touchless kitchen faucets that are available on the market. Not every touchless faucet will satisfy your needs, so keep reading and discover which touchless faucet is best for you.
Quick Navigation
---
10 Best Touchless Kitchen Faucets Comparison
| | | |
| --- | --- | --- |
| | This beautiful motionsense wave sensor touchless faucet can be mounted with either a one or three hole easy installation, resists fingerprints and water spots, has a strong flow of water, and comes with Moen's lifetime warranty. | Read Our Review |
| | This touchless kitchen faucet features a precision activation window, a magnetic docking system for the spray head, a light and quiet nylon hose, and a state-of-the-art sensor that responds in 20 milliseconds. | Read Our Review |
| | This kitchen sink faucet has a stainless steel finish, a hibernate function for cleaning, a Pforever warranty covering the finish and function, and a SmartStop that shuts the faucet off automatically. | Read Our Review |
| | This smart faucet adapter fits most faucets to make any sink faucet touchless. Choice of chrome or white finish, and gives you great water flow with a wave of your hand. | Read Our Review |
| | This brushed nickel touchless kitchen faucet has a pull-down sprayer, is easy to install, fits 1, 2, 3 hole or 4 hole sink applications, and comes with a limited lifetime warranty. | Read Our Review |
| | Touch this faucet anywhere on its spout - even with your wrist or forearm to start and stop water flow. Or use the single lever manually. Fits a one-hole or three-hole installation | Read Our Review |
| | This single handle faucet allows you to check the water temperature from across the room. The kitchen sprayer has a powerful spray, and this faucet comes with a lifetime limited warranty. | Read Our Review |
| | A motion sensor kitchen faucet that has a spot resist stainless finish, powerful spray technology for faster water flow, is easy to install, and is ADA compliant with a long warranty. | Read Our Review |
| | One of the touchless faucets with the most features, this faucet lets you choose between touchless and manual by turning a knob, and has a brushed nickel finish for durability. | Read Our Review |
| | With a spot-resistant stainless finish and its quick connect system, this is one of the touchless faucets with the longest reach, thanks to the 22.5-inch tall neck spout. | Read Our Review |
---
Reviews of 10 Top Touchless Kitchen Faucets
Best Overall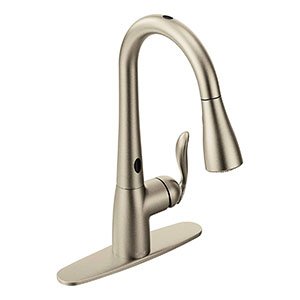 Uses motion sensor technology to control the flow rate with the hands free kitchen faucet; making cooking more enjoyable.
These spots resist stainless touchless water and best motion sensor kitchen faucets are also available in Chrome and Oil-Rubbed Bronze varieties.
The reflex system ensures smooth operation, easy maneuverability, and safe spray head docking.
The installation of Moen Arbor Motionsense One-Handle High Arc Pulldown Kitchen Faucet touchless is simple with one or three holes. The triggering operation to allow the flow of water in this touchless sink faucet is instantaneous.
Now along with convenience, you bring beauty and cleanliness to your kitchen countertops with this faucet which reigns on top touchless kitchen faucet reviews.
Weighing 12.3 pounds the deck mounted no touch kitchen faucet is 26.5 x 14.8 x 4.1 inches operates on 6 batteries can deliver 1.5 GPM.
Pros:
Retractable 3-function spray head
Can be mounted on the sink or countertop
Has lifetime manufacturer warranty
Has two motion sensors to trigger water flow
Power clean spray technology
Choice of a variety of finishes
Cons:
Battery operated – 6 batteries are required, or optional AC power supply sold separately
---
Best Budget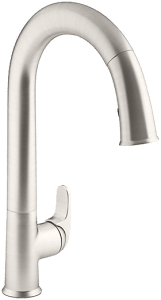 KOHLER K-72218-VS Sensate Faucet comes in Vibrant Stainless color or polished chrome with black accents.
These touchless models has a special docking system allowing fool proof alignment and easy 3 hole installation.
The nylon hose with the ball and socket arrangement makes the perfect movement of the spray head.
The response time is just 20 milliseconds. Response time is in 20 milliseconds for it which is provided with a false activation system.
KOHLER K-72218-VS Sensate works on AC power can be cleaned easily. The window begins at the underside of the spout and extends six inches toward the base. Simply wave your hand through the beam to activate the water.
Weighing 8.3 pounds the kitchen faucet touchless is having dimensions of 10.4 x 3.8 x 15.5 inches and offering 1.8 GPM flow.
Pros:
Ball joint with hose makes the pull-down sprayer easy and comfortable to use
Spray face has a surface that resists mineral buildup and is therefore easy to clean
Reliable on/off operation
Voice control with hands-free activation
Cons:
KOHLER connect app is required to use the hands-free technology
---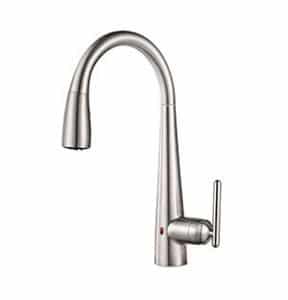 Pfister Single Handle Pull Down Technology Faucet with React Touch Free Technology, Stainless Steel offers the convenience, elegance, and cleanliness to your kitchen countertop.
It made out of brass with stainless steel color assuring durability.
They are also available in Polished Chrome. The proximity is within 4″ in front of the sensor range to turn the water on or off.
In the absence of AC power, the Pfister touchless sink faucet can be operated on a battery. This faucet also has a SmartStop to allow the flow to stop within the kitchen within 2 minutes of inactivity.
The sensor can be deactivated during the cleaning operation. With Pfister single handle kitchen faucets with React Technology, you are bringing in a new simplicity to your kitchen.
The docking is foolproof, and the installation of kitchen faucet is with either 1, 2, 3, or 4 holes. The weight touchless kitchen sink faucets are 5 pounds and having a dimension of 27 x 12 x 3.9 inches.
Pros:
Extra long hose with dual spray head
Flexible installation for one, two, three or four holes
Long warranty for finish and function
React motion Sensor turns water on or off with a wave of your hand
Cons:
Some users report that the head can be pulled off of the hose easily
---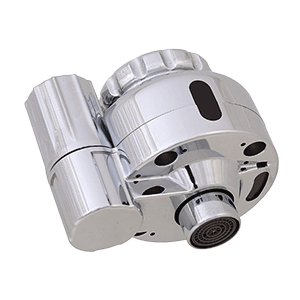 The GIBO Dual Motionsense Adapter Touchless Kitchen Sink Faucets Fast Assembly, Fits Most Taps in Silver finish shall make your kitchen more action-packed prompting you to experiment with new dishes.
This best motion sensor kitchen faucet is cut out for hands-free operation.
Colors available for adapters are Silver and White. GIBO faucets adaptor fits on most faucets making it ideal for bathroom or kitchen sink to make it modern. Whether you have undermount kitchen sink or farmhouse style kitchen sink it fits perfectly.
You can opt for Porcelain material finish for best motion sensor kitchen faucet are offering excellent corrosion resistance, rust resistance, durability.
These kitchen faucets work on 3 AAA batteries. On top of that these faucets are incorporated with dual touch-free sensors for quicker response.
Installation is simple enough. By using GIBO motion sensor faucets, you save precious water as well. The Chrome finished or Silver best motion sensor kitchen faucet have a range from 1~6 Cm for Left Side and 3~10 Cm for the water tap.
Pros:
Two sensors, one on the side and one on the bottom
Fits most faucets
Hygienic as it's hands-free
No need to buy another faucet, so good value for money
Durable finish in either chrome or white to match most kitchen designs
Cons:
Requires 3 AAA alkaline batteries to operate
---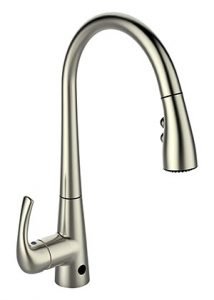 The MiKitchen FTHF-02BN Kitchen Faucet with Sensor Activated Sprayer is a boom to your kitchen as it adds the elegance, convenience, cleanliness, and utility of your kitchen many times.
By just waving your hand will trigger the on of function of the faucet making your hands free form other culinary activities.
This motion sensor kitchen faucet is fitted with sprayer head sensors also. By pulling down the sprayer turns on when the sprayer is extended and turns off when retracted conveniently.
The installation is simple. MiKitchen brushed nickel kitchen faucet is of solid brass construction and fitted with drip-free ceramic disk valves.
The weight of this faucet is 7.2 pounds and having dimensions of 10 x 4.8 x 17 inches suitable for 3/8 inches fittings and delivering 2.2 GPM flow. The unit is powered by 4 AA batteries.
Pros:
The sprayer turns on automatically when extended and turns off when retracted
Dual-pattern sprayer
Handle can be adjusted to vary water flow and temperature
The brushed nickel finish resists fingerprints and is easy to clean
Cons:
Some users say the manual on/off function doesn't work as well as they expected
---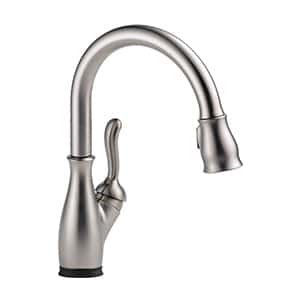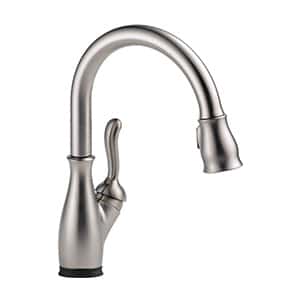 You will love the powerful spray of this faucet that stays contained within the protective sphere to prevent splatter, so you can clean with no worry about added mess. Choose from a spray or stream function.
This faucet features touchless activation and looks beautiful – it comes in a choice of three finishes: Chrome, Arctic Stainless or Venetian Bronze.
Hands-free activation
You can touch the kitchen spout with your wrist or forearm to activate the flow of water, so messy hands aren't a concern.
Easy temperature check
Check the temperature from across the room thanks to the TempSense LED indicator light which changes color to reflect the water temp.
Easy to install
Will fit one-hole or three-hole 8-inch configurations, and the kit includes an optional deck plate and Inflexible PEX supply lines that integrate into the faucet.
Pros:
Diamond Seal Technology which reduces leak points and lasts twice as long as the industry standard
Magnetic docking to keep sprayer in place for longer
Comes with 5-year warranty from the manufacturer
SpotShield Technology to resist spots
Cons:
6 AA batteries are required for operation (included) and an AC adaptor is available for separate purchase
---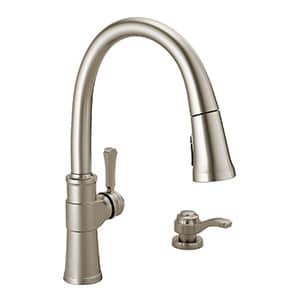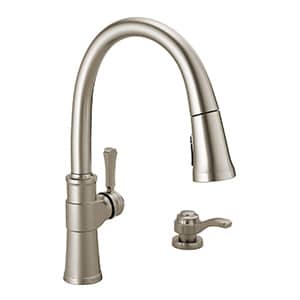 You will love the functionality of this faucet, which offers two types of water flow and doesn't splatter.
This brilliant faucet is made in the US and offers a variety of features for maximum practicality with easy cleanup. It looks beautiful and is easy to operate.
Magnetic docking
The spray head will stay in place for longer with Magnetite Docking that snaps the sprayer into place, preventing it from drooping over time.
Powerful spray
The Shield Spray technology offers a powerful water stream inside a sphere that prevents splatter, so you can clean tough stains on pots and pans with more effective flow rate.
Less leaking
The patented Diamond Seal technology means a leak-free operation for the life of the faucet, lasting twice as long as the industry standard.
Pros:
Easy to install, as it's designed to fit single-hole, 2, 3 or 4-hole setups and comes with a deck plate if required, soap dispenser, and integrated supply lines
Comes with lifetime limited warranty backed by Delta Faucet
Touch clean spray holes to wipe away calcium deposits easily, preventing buildup
Cons:
Some users say the installation instructions are difficult to understand
Some say the spout for the soap dispenser is a bit short
---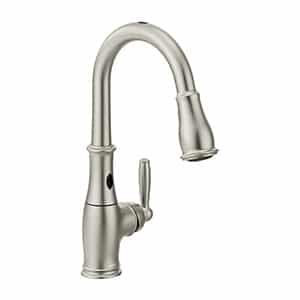 You will love how easy it is to trigger the flow of water of this faucet, thanks to the MotionSense double sensors, which lets you initiate the flow of water with a wave of your hand.
This attractive faucet looks like stainless steel, but with none of the spotting problems. The sprayer is easy to operate smoothly and docks securely. You can choose from a Chrome, Spot Resist Stainless, or Oil Rubbed Bronze finish.
Flexible design
This faucet can be installed with 1 or 3 holes, and the escutcheon is included.
ADA compliant
This unit complies with Americans with Disabilities Act (ADA) specifications.
Powerful cleaning
The Power Clean spray provides 50 percent more power for the spray for a higher flow rate when compared to other pull down and pullout faucets.
Pros:
Built to last, with Moen's limited lifetime warranty
Simple to install as it features the Duralock quick connect system
Resists spots, so no need to constantly clean fingerprints and water spots
Three functions for the sprayer: Power Clean, Aerated Stream, and Pause
Cons:
Some users say that this unit works best with an AC adaptor (sold separately) rather than just using 6 AA batteries
---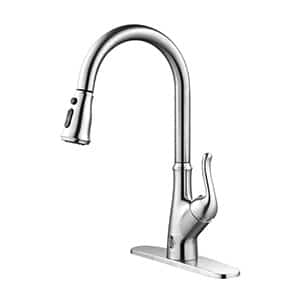 You will love this Forious touchless kitchen faucet with its brushed nickel finish that ensures you can enjoy a beautiful look for your kitchen without having to worry about rusting.
This space-saving faucet offers excellent hands-free operation while being simple to set up and use right away in your kitchen sink.
Touch less operation
The infrared motion sensor means you don't have to touch the faucet to initiate the flow of water. If you forget to shut it off, the water will stop flowing in about 3 minutes.
Auto or Manual operation
Turn the knob on the control box to choose between Touch less and Normal operation.
360 degree swivel sprayer
The sprayer will turn in any direction for easy cleaning, and the spout has a 2-function head.
Pros:
Sprayer activates automatically when you pull it out to use it
Simple to install with the quick connect design, no need for tools and you can install it by yourself in 10 minutes
Backed by Forious Faucet's lifetime warranty
Fits any sink (1 hole or 3 holes)
Cons:
Some users say the instructions weren't as easy as they'd anticipated
---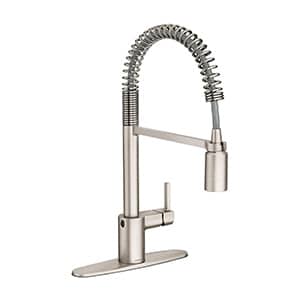 You will love the dramatic look of this faucet with its tall neck and gorgeous stainless finish that goes with any kitchen.
Turn water on and off with a wave of your hand with this fashionable, high-neck faucet. Adjust the water easily with the water handle. You can install it on either your sink or countertop.
Resists spots
The Spot Resist technology prevents fingerprints and water spots, keeping your unit looking like new.
Powerful sprayer
The Power Clean spray offers a flow of water with 50 percent more power than faucets that do not have this feature, making it easier for you to clean pots and pans.
Tall neck
The tall 22.5-inch neck spout has a 10-inch docked spout reach, so you can get into corners and around all sizes of cookware. Stacked dishes can be cleaned effectively and easily.
Pros:
Duralock connect system means simple installation
Comes with Moen's limited lifetime warranty for added peace of mind
Pulldown hose makes cleaning simple and the hose retracts with ease
Cons:
Deck plate not included. The 3-hole escutcheon is sold separately (part 141002SRS)
Related: Best touch kitchen faucets
---
Final Verdict: Best Touchless Kitchen Faucets
Having gone through the top touchless kitchen faucets you have decided to beckon the hands-free technology to your kitchen.
Congratulations on your wise decision. Besides hands-free operations, you are also going to experience:
Convenience
Cleanliness
Bacteria free kitchen
Savings of precious water
Better maneuverability
Ease of operation
Related Articles: