Sushi is a delicious Asian delicacy that is great to get at a high-quality sushi restaurant but is often most fun and delicious to make at home with friends and loved ones.
If you are looking to take the plunge into homemade sushi, you need to get the best sashimi knife that you can find.
---
Comparison Of 10 Best Sashimi Knives
| | | |
| --- | --- | --- |
| | Who doesn't love budget-friendly yet authentic sashimi knives? This knife sports an authentic 10.5-inch blade made with handcrafted Japanese white high carbon steel built by expert sashimi knife makers. | Read Our Review |
| | Mercer sashimi knives are widely known to produce the best sashimi knives. The razor-sharp Japanese traditional sashimi blade is made of high-carbon stainless German steel that allows you to cut through meat like a breeze. | Read Our Review |
| | Just starting out? This beginner knife is perfect for practicing and is incredibly budget-friendly. Focus on learning the basics of sashimi by never having to worry about this blade rusting. | Read Our Review |
| | If you're searching for a professional-grade sashimi knife that is perfect for beginner use, then look no further. This budget-friendly knife ensures a low-maintenance experience with no rust and maximum sharpness. | Read Our Review |
| | This Japan-made sashimi knife is as authentic as it gets at a wallet-friendly price. Slice through fish and rice rolls with ease and say goodbye to rusting with this knife./p> | Read Our Review |
| | Ultra-thin sashimi and sushi slices are within reach with this Wasabi Black 9-Inch Yanagiba Knife. The authentic Japanese blade and superior edge retention ensure optimal functionality and an optimized handle. | Read Our Review |
| | This Yasuki Yellow Steel Japanese sashimi knife is a great choice for Yoshihiro workshop fans. If you're searching for a handy and relatively cheap sashimi knife for home use, then this one is perfect for you. | Read Our Review |
| | All-around functionality is achieved with this 8" Chef's knife. Effortlessly julienne vegetables and disjoin meat cuts with the 420 Japanese stainless steel optimized for maximum edge retention and overall durability. | Read Our Review |
| | Be careful what you cut, this razor-sharp sashimi knife allows you to slice through sashimi cuts, raw fish and seafood with minimum effort. The molybdenum stainless steel blade ensures no chance of rusting. | Read Our Review |
| | Treat yourself to a handmade masterpiece made of high-carbon white steel #2 known for its optimal edge retention properties and reliability in producing paper-thin slices. Level up your sashimi and sushi game with a truly authentic Japanese blade. | Read Our Review |
---
Top 5 Sashimi Knives Reviews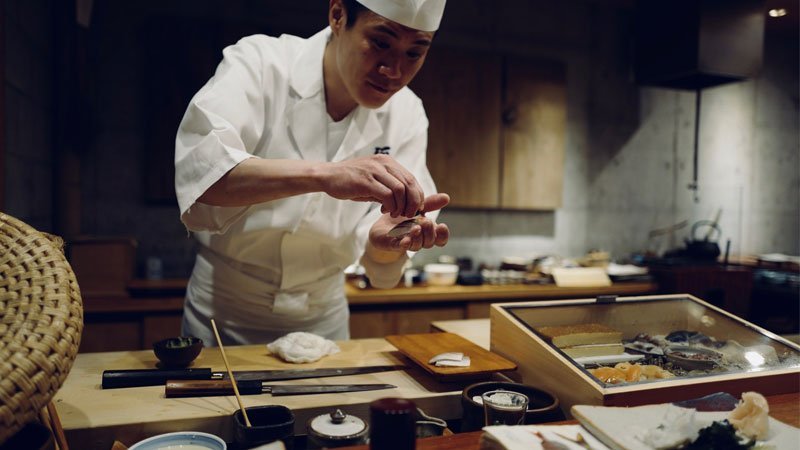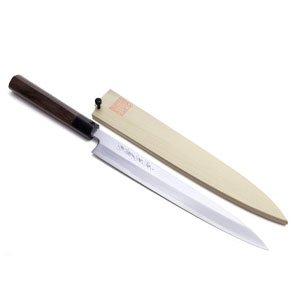 This knife has a 10.5-inch blade made out of Japanese white high carbon steel.
As a result,it is an incredibly sharp knife that you'll have to take special care to avoid rust.
However!
It has been hand-built by expert sashimi knife builders to create one of the best cheap sashimi knives.
Sharpening it regularly on a whetstone will make it even sharper.
As a result, it is probably best to leave this knife to those who have more experience preparing sushi or even for professional sashimi chefs.
While a beginner could probably get a lot out of this knife after mastering sushi and sashimi preparation, later on, they should really focus on a knife that is easier to use and maintain.
Pros:
Cons:
---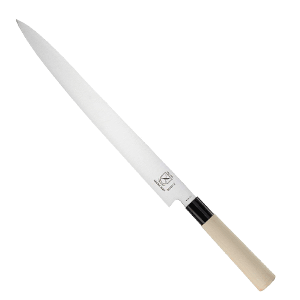 Mercer is often considered the best sashimi knife brand for a variety of reasons.
This particular knife lives up to that lofty goal in many ways. This mercer knife is made out of high-carbon stain-free German steel.
It is a razor-sharp traditional Japanese knife, which means it is a single-edged blade.
The blade angles are at six and 15 degrees, making a variety of different cut angles possible.
Pros:
Cons:
---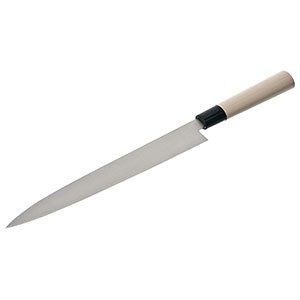 This particular knife doesn't quite live up to the quality of the other two mentioned sashimi knives, but it is still one of the best cheap sashimi knives on the market.
It offers a variety of benefits that aren't quite outweighed by the cons.
For beginners, this might be a good starter knife due to its low price.
However, it doesn't offer the same level of control and precision of other sashimi knives, making it a little lower on the list compared to others.
Pros:
Cons:
---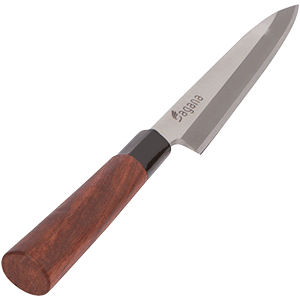 This double-sided blade is another good one for beginners, and it can even be adapted for use by more professional or advanced chefs.
It's not unrealistic to imagine finding this knife in the hands of a professional sashimi chef.
It has many benefits, but its disadvantages make it a little less interesting than other sushi knives.
This knife may be easier to take care of than other knives and offer a nice style boost to your home, but it lacks the sharpness and length that comes with higher quality knives.
Not a bad choice if you can find it at a good price, though.
Pros:
Cons:
---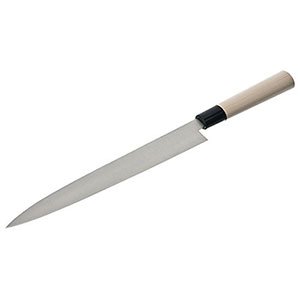 Last, but not least, is this cute little model. While not the best sashimi knife on the market, it's still not a bad choice.
One of the nicest things about it is the style: it comes in a white Japanese stainless still stamped with a few different designs.
A double-edged blade is also a nice option for beginners, though the blade is a little short for advanced sushi chefs.
This is another good and inexpensive sashimi knife choice for a beginner, but advanced sushi chefs will likely go with a more expensive or adaptable model.
Pros:
Cons:
---
What is a sashimi knife?
It is a knife that has been fine-tuned to help you cut your sushi and sashimi materials quickly and easily.
The following sashimi knives are essential for making great sushi, as they can cut your fish and your other sushi ingredients quickly, easily, and accurately.
Each has its own unique advantages, but any one of them would make you an excellent choice.
The Types Of Sashimi Knives
When looking for the best sashimi knife for your needs, it is important to understand the various types that are on the market.
There are two different sashimi sushi knives: the traditional blade and a Japanese western-style knife. These two differ primarily on their ways their blades are honed.
The traditional type is honed only one side. The Japanese style is honed on both sides to create a double-edged knife.
The latter knife has been influenced by western knife styles but uses Japanese decorative touches to make it unique to Japanese culture.
What is the difference between a single-sided blade or one that is double-edged? The traditional single side blade allows you to create the sharpest and deepest cuts.
That's because it's easier to keep one side sharp and you can also put your fingers on the dull side of the blade for extra stability and strength.
It's a good blade choice for someone who is a master at sashimi and sushi because it offers more precise cuts.
However!
if you're new to making sushi and cutting sashimi, you should probably invest in a Japanese style knife.
The double-edged blade might not be as sharp or as precise, but it still allows nice cuts.
Unlike more western-style knives, it has a 50/50 look or a "V" shape that makes it more appropriate for sashimi cutting.
This single-sided honing allows one to create the sharpest edge possible on a sushi knife, much sharper than can be accomplished with a traditional western style knife which is honed equally on both sides.
This allows you to slice thinner bits of sushi and sashimi, allowing accurate and delicious sushi.
So Which Type Of Sashimi Knife Is The Best?
There are just as many answers to this controversial question as there are people who use sashimi knives.
Many swear by the deep cuts of the traditional knife and argue that traditional blades are more culturally-appropriate when preparing sushi.
Others will argue that the extra blade edge on the Japanese type makes it more diverse and capable of handling a wider range of materials.
So which side is right?
Your best bet here is to buy more than one sashimi knife to find out which one works best for you.
There's a chance you might end up enjoying both types: many sushi chefs uses a traditional knife to make deep cuts and a Japanese double-edged blade to create thinner and easier to use slices of fish and even seaweed.
Experiment a little bit with each type of knife until you get a good feel for how to use them.
This will help you decide if you want to use both types of the knife when preparing sashimi or if you want to specialize in one knife style.
Just make sure the knife is sharp, as this is crucial to cutting great sashimi and preparing good sushi.
Other Attributes To Look For In The Best Sashimi Knife
The best sashimi knives on the market have a variety of benefits that will suit your personal taste. For example, each should be decorated with intriguing Asian designs.
This isn't just for aesthetics, though, as it will make it easier for you to identify the sashimi knife among your other knives. This is particularly true if you want to buy more than one sashimi knife.
A good sashimi knife should also come with a case and a cleaning cloth. This helps you store your sashimi knife and protect it from the elements.
The cleaning cloth lets you wipe off the blade and avoid rusting and other dangers.
A sharpener is also a good tool to consider with a knife like this, as it can help hone your blade and keep it powerful enough for a variety of cutting needs.
Important Considerations Before Using The Best Sashimi Knife
Make sure that you respect the sharpness of your sashimi knife, as they are typically honed to the point where they can draw blood.
Keep your hand on the handle at all times and avoid touching the sharp side.
A traditional blade has a dull side which you can handle, but keep your hands off the double-edged blade of the Japanese sashimi knife.
You also need to consider the type of steel in each knife. Carbon steel creates the sharpest edge but is the most prone to rust.
Stainless steel is the dullest type of sashimi knife, but will never rust. The composite steel knife is a good compromise between the two, as it's sharper than a stainless steel knife and resists rust easier than a carbon steel blade.
This is a good choice for a beginner.
---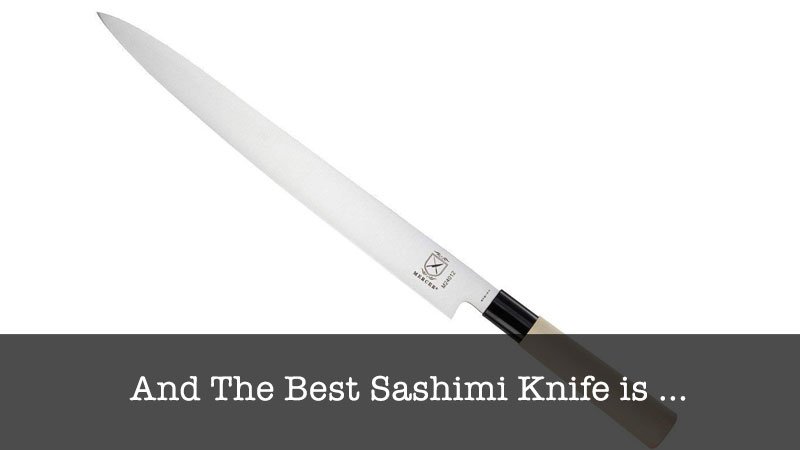 So, Which One is The Best Sashimi Knife?
After carefully examining each of these knives, it's easy to see that the Mercer offers the best advantages for people who are interested in getting into sashimi preparation.
Its sharp single-blade, stainless steel production, lifetime warranty, and multi-angle blade gives it the edge over other models.
While you might have to practice with this knife a little bit before mastering it, when choosing a best sashimi knife, it's definitely the one you should try.
---