If you're heading off to college in the fall, you might be worried about gaining the dreaded "freshman 15." But hitting the books need not equate to weight gain. Taking care to nourish your body with proper nutrition helps break the urge to binge on junk — and may improve your academic performance.
Good nutrition matters because, without the right combination of macro- and micronutrients, your health will suffer. Deficiencies in specific vitamins and minerals, for example, can lead to negative health outcomes such as lack of concentration and focus — both of which you need to excel in your studies. Plus, you get more out of your college experience when you're well-nourished and feeling your best.
From the building blocks of your body's nutritional needs to tips for healthy snacks, here's what you need to know to stay on top of your health during college.
Nutrition Basics
To stay healthy, you need to consume the right combination of macronutrients and micronutrients. Macronutrients make up the bulk of your diet and come in three forms.
Your body also needs micronutrients, which consist of vitamins and minerals. Deficiencies in some vitamins can impede your ability to focus and damage your health. For example, if you follow a vegan diet, you're prone to a deficiency in vitamin B-12, as this micronutrient exists in animal-based foods. Studies performed on vegans indicate some suffer nerve damage due to a lack of B-12. Talk to your physician about supplementary B-12 if you embrace this lifestyle.
Fill Up With Phytonutrients and Keep Track With Calories
Researchers learn more about the benefits of various phytonutrients nearly daily. Phytonutrients refer to chemicals in plants that give them their signature colors. Every color of fruit and vegetable represents a different phytonutrient profile.
To ensure you consume a full array of phytonutrients, strive to fill half your plate with fruits and veggies at each meal. Select those in a variety of vibrant hues. Break outside your comfort zone and sample new food varieties at the international tables in your college cafeteria. If you've never enjoyed baba ganoush or ratatouille, you're in for a treat!
Calories count, too, especially if you're fighting to stave off the freshman 15 — or to keep your weight within your target range, for that matter. If you struggle to lose weight, strive to choose healthier foods over trying the latest fad diet. Finding support from friends or a healthy community can help motivate you towards your nutrition goals. Just remember to exercise sensitivity even when joking about your weight struggles with friends — whether you're trying to lose or gain weight, remember others might have the opposite challenge.
Base your caloric needs off your age, gender and activity level. If you're an athlete, you'll need to consume more calories than sedentary students. Even if your exercise consists of little more than walking to class, you still need to eat at least 1,200 calories daily. The pressures of college life lead many young people, particularly women, to develop eating disorders, and overly restricting your caloric intake slows your metabolism.
Healthy Options to Have On-Hand
Now that you understand the basics about what you need to consume and how much, how can you make healthier choices? The demands of college life leave little room, after all, for weekend meal-prepping. Plus, most dorm rooms lack cooking amenities other than a small microwave or hot pot.
Fortunately, the miracle of modern conveniences makes eating healthy easier. Before heading back to school, or when hitting up your parents for a care package, make a list of healthy snacks and gadgets to make dormitory dining easier. Here are a few healthy favorites and dorm-room essentials:
Tips For Making Healthy Choices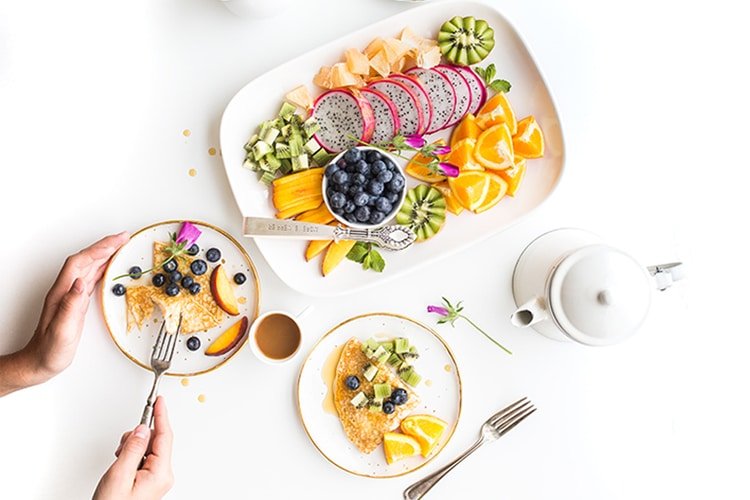 Eating healthy doesn't end in your dorm room. Many college students save on their food budget by enrolling in a campus meal plan. By following some of these savvy tips, you can make the most of your university cafeteria.
Suggestions and Recipe Ideas for Easy, Healthy Meals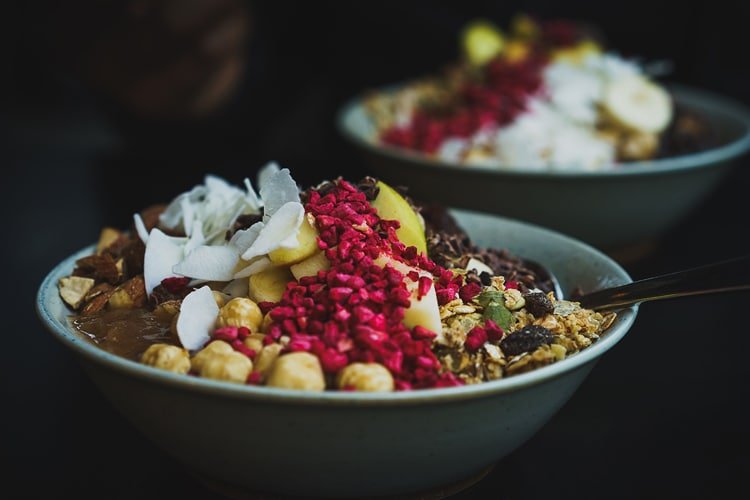 Whether you reside in a dorm or rent an apartment off-campus, you don't need to resign yourself to four years of ramen noodles to earn your degree. It's possible to create nutritious, inexpensive meals using only a microwave or a hot pot. That doesn't mean you have to stop eating noodles altogether — but you can do much better than a $.29 pack of processed springiness. Here's how:
First, you'll need to stock your mini-fridge with some staples. If you enjoy a friendly relationship with your roommate, you can coordinate your shopping. Take turns purchasing ingredients or work out another equitable system for splitting expenses.
You don't need your mama's spice rack for flavor, but keeping basics on hand helps. Feeling like you have a green thumb? Turn your dorm room windowsill into an herb garden chock-full of basil and oregano, chamomile and other spices you enjoy. If you leave a clove of garlic sitting out, it may sprout — meaning you get more of the awesome stuff for free!
Alternately, shop the ethnic aisle of your local grocery. Many spices in the baking aisle charge more for packaging than the product inside. Many Spanish herbs, for example, come in plain baggies that prove easy to store when space is tight, and they cost pennies on the dollar when compared to brand names. And, of course, remember your salt and pepper!
Other staples to keep on hand include milk, butter and eggs if you consume animal products. If you're vegetarian or vegan, stock almond milk, nondairy plain yogurt and applesauce as a baking substitute if you have access to an oven.Related reading: Convection Oven Buying Guide
Stumped for what to make, but don't like heading to the cafeteria? Try these inexpensive recipes you can make in a hot pot or without cooking at all:
For Breakfast
For Lunch
For Dinner
You Can Practice Good Nutrition in College
Going away to school doesn't automatically mean gaining weight or falling prey to unhealthy habits. By following the tips above, you can maintain your health and fuel your academic success.