Oh, the joys of stainless steel … it is beautiful, shiny, and brings a modern look to your kitchen. However, that shine can be gone in an instant if your sink is not properly cared for. Now lets talk about how to clean stainless steel sink.
For the best care, it is important that you know what you need to avoid, what cleaners are great for stainless steel, the steps to deep cleaning your sink, and what type of maintenance you should perform.
We know how tough it can be to keep your sink clean, shiny, and scratch free. We put together the following guide so you will know how to clean your stainless steel sink and keep it in great shape.
---
Things to Avoid When Cleaning Your Stainless Steel Sink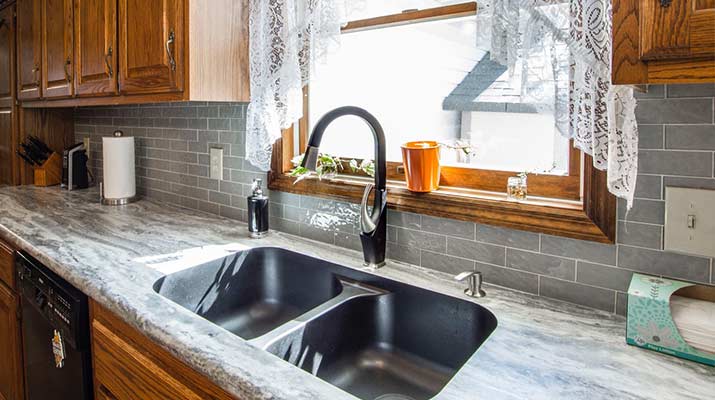 As much as you likely want to dig in and clean your sink when it looks bad, you should know what to avoid before you damage the sink during cleaning.
Harsh Cleaners
Most, but not all, store bought cleaners have very harsh chemicals in them. And it should come as no surprise that harsh chemicals can damage stainless steel.
They can eat through the protective chromium layer, causing your sink to rust. They can also lead to discoloration or make the sink permanently spotty, none of which will keep your sink looking good.
Abrasive Pads
It may seem like a no-brainer but abrasive pads can scratch your stainless steel sink. Why? The answer is in the name: they are abrasive. While some pads are slightly abrasive and can be gently used in the direction of the grain, it is often easier to avoid them altogether.
Leaving Cleaner Residue on Your Sink
This is especially important if you are using chemical cleaners. These have chlorides in them that can affect the shine of your sink. Rinse regularly during cleaning and throughout the day to keep your sink chloride free.
Leaving Your Sink Wet
If you have ever left a sponge, washcloth, or even wet towel laying on stainless steel, you have seen the damage it can do. The horrible rust spot it leaves behind is one of the most difficult things to remove.
Sometimes, it is completely impossible. Never leave wet objects in your sink. Also, dry water from your sink to prevent water spots from dulling the stainless steel.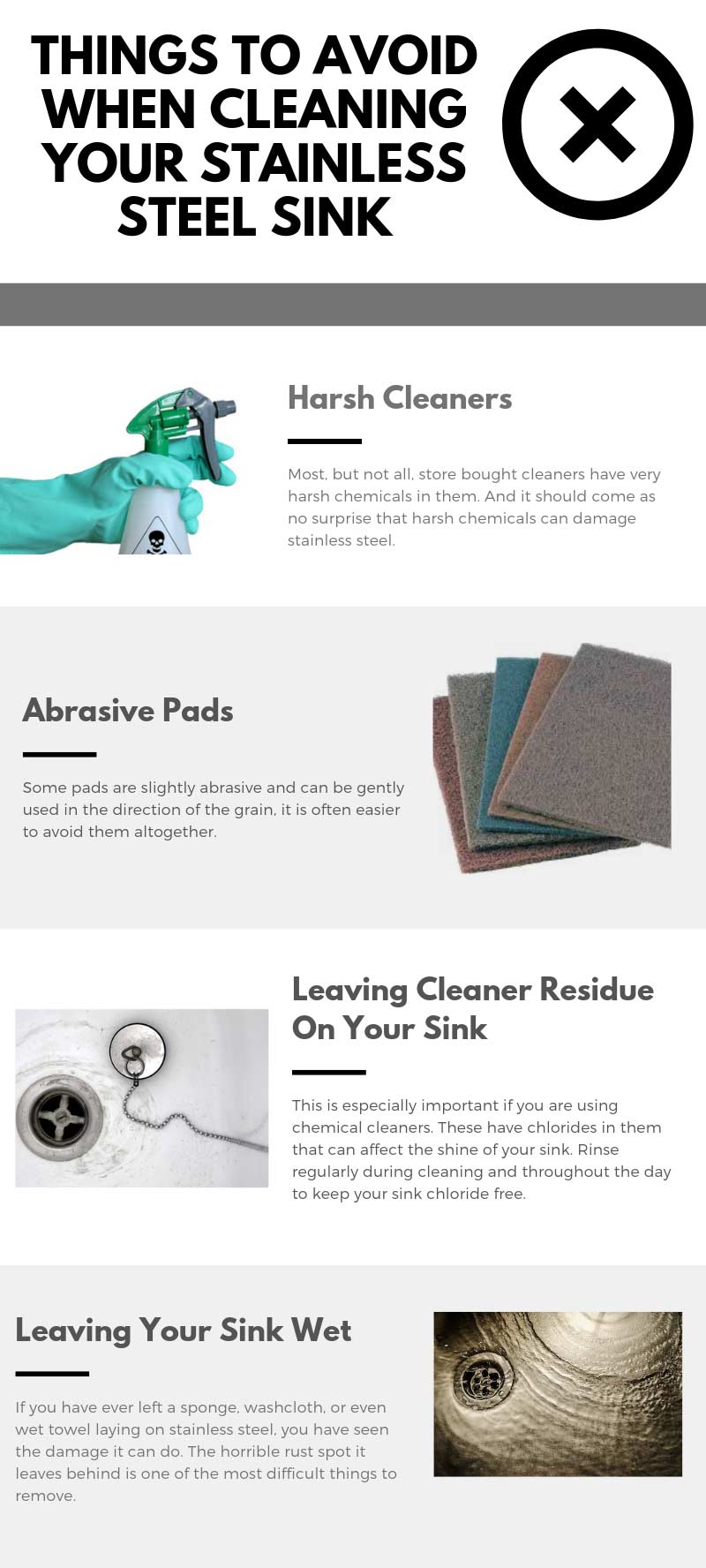 ---
Homemade VS Store Bought Cleaners
The debate between store bought and homemade natural cleaners continues to go on throughout generations. It is an intensely personal choice, and each has benefits to consider. The following are the pros and cons of each type:
Pros and Cons of Store Bought Cleaners
Pros
These cleaners are already mixed and in bottles. All you have to do is buy and use.
The ingredients that are combined to form these cleaners are often very strong and tough on mess.
Cons
Store bought products can get pricey, especially if you calculate the amount you spend over a year.
Those same strong chemicals that are good for messes are often not so great for our health. Case in point: have you ever sprayed either your oven or your bathtub with cleaners and then tried to breathe?
Without proper ventilation, these products are dangerous to breathe in. Additionally, the harsh chemicals can eat through protective coatings and damage items, like your sink.
How many of the chemicals on the back of the bottle can you pronounce? How many can you actually say you know what they are? More often than not, store bought cleaners will have unknown ingredients.
Most often, store bought products are geared more towards buffing and shining than they are cleaning. For real cleaning, it is best to clean with soap and water, then use the store bought product.
They often leave residue behind that can damage your metal. You should always rinse well after using store bought cleaners.
The following are some common store bought cleaners for stainless steel:
1. Bon Ami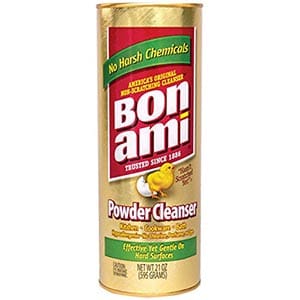 Bon Ami is basically baking soda but a little more abrasive. Using it is also similar to baking soda but how it is applied in a circulation motion and simply wiped away is different. It is a pretty safe store bought cleaner that has an A-rating from the Environmental Working Group.
2. Bar Keepers Friend Soft Cleanser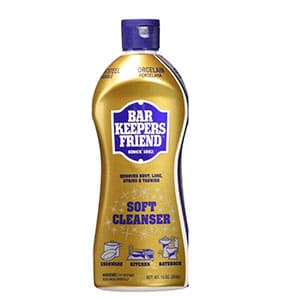 Bar Keepers Friend is a well-known buffing and shining product. Again, you should clean your sink prior to use as it is more helpful with buffing than actual cleaning.
3. 3M Stainless Steel Cleaner and Polish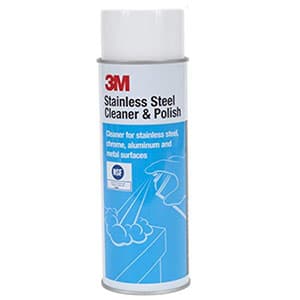 This 3M cleaner is used on clean stainless steel sink, aluminum, and chrome. It is instantly effective and gives a nice shine to metal. It is probably best to clean your sink with soap and water before use as it has more polishing features than cleaning features.
4. Weiman Stainless Steel Cleaner & Polish Trigger Spray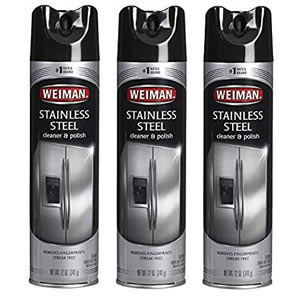 This product is similar to the 3M product, but it is a bit more effective on mess. It also adds a protective layer to keep your sink clean a little longer.
Pros and Cons of Homemade Cleaners
Pros
Homemade cleaners are consistently cheaper than store bought ones. In fact, for the amount I spend in one month on store bought cleaners, I can make an entire year (minimum) of homemade cleaners.
Natural ingredients, such as vinegar and lemons, are very strong, as well. The great thing, though, is that they are not harmful, unlike store bought ones can be.
You know exactly what you put into your cleaners, so there is no guesswork to it. And, if you have little ones or pets, you have no need to worry about chemicals harming them.
Cons
Inconvenient here is actually a relative term. Homemade cleaners are inconvenient in the sense that you have to make or mix them (combination homemade cleaners).
At the same time, they are extremely convenient because you likely have all or most of the ingredients already in your kitchen.
---
Homemade Stainless Steel Sink Clean Recipes
These homemade recipes are very simple to make and use:
Cleanser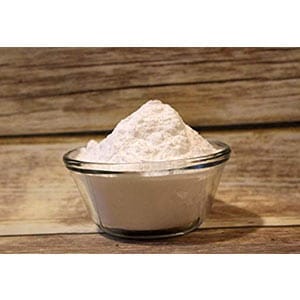 Baking Soda and Vinegar
Let's just be honest: two of the greatest natural cleaning products to clean stainless steel sink are baking soda and vinegar.
Baking soda is a gentle yet tough natural scrubber that fights odors, water deposits, grease, and more.
Vinegar has the amazing super power of an acidity strong enough to obliterate any calcium deposits from water. When they are used together, the results are almost magical. For use on your stainless steel sink, simply:
Rinse the sink with water.
Sprinkle baking soda all over the sink- liberally.
Use a soft cloth, soft sponge, or other gentle cleaning tool to scrub the baking soda. If you happen to have a lemon nearby, cut it in half and use one half to rub in the baking soda instead of a sponge or cloth. Lemon juice has its own natural acidity that can help eat away unwanted particles. It is also a great deodorizer. Remember to go with the grain.
After the baking soda is spread well, spray on plain white vinegar– no water should be added if you want the strongest results.
After the solutions bubble up enough to have lifted any unwanted particles- a few seconds to a couple of minutes- rinse the solution away.
Last, dry your sink, of course. Easy peasy.
This cleaning solution can be used on and around the faucet, and even on the counters.
Spot Free Rinse
There are two simple words for this recipe: hydrogen peroxide. Spray your sink with hydrogen peroxide, then rinse. That's it.
Buffing Cream
This will likely be the simplest recipe you have ever used. Find a lint-free cloth, put a little olive oil on it, then rub the sink with the cloth. It adds a beautiful shine to your clean sink.
---
Steps to Deep Clean Your Stainless Steel Sink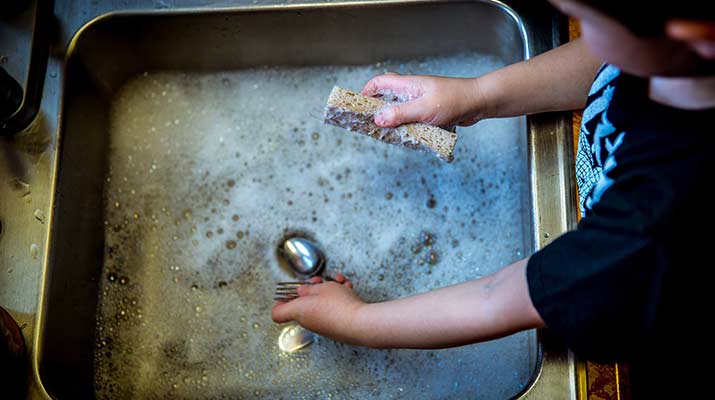 Deep cleaning your stainless steel sink is really not as tough as it sounds, especially if you are not tensed about how to clean stainless steel sink, let's follow a maintenance schedule. In fact, four simple steps should get your sink clean, germ free, and sparkling in no time.
Scrub Your Sink Clean
First and foremost, you have to remove the surface mess. A very simple way to do so is to stop up your sink, pour a few drops of dish detergent in the sink, and then put one to two inches of water in.
Get your soft sponge and scrub away. Be sure that you also get your faucet and sink rims. When you have scrubbed to your heart's desire, let out the water and rinse your sink.
Next, it is time to put your homemade or store bought cleaner to work. These are intended to clean beyond the surface, so do not skip this step just because you scrubbed the surface.
Remove Stains and Rust
Hopefully you have kept stains and rust away from your stainless steel sink, but life is rarely perfect.
If you have stains and rust, there is a chance that all of the cleaning you just did took them away, or at least minimized them.
If they are still present, generally using some rubbing alcohol and a cleaning rag will take them away.
Buff Out the Scratches and Make It Shine
Again, buffing out the scratches will likely have been done with the previous steps- especially thanks to the baking soda- but sometimes scratches want to be stubborn.
Either use a homemade buffing cream (recipe above) or your store bought buffer and polisher. Scratches should become nearly invisible, and your sink will be shiny once again.
---
Routine Cleaning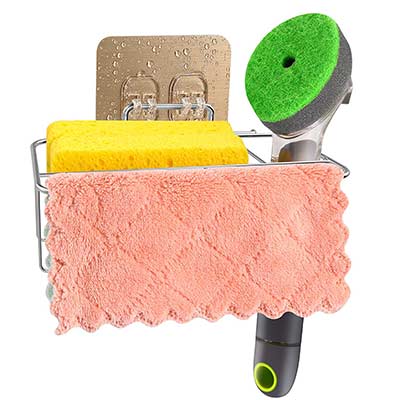 Regular maintenance will prevent rust, stains, lackluster, and bacteria build up. Add reminders to your calendar or planner so you will keep your sink in great shape. The following are some great steps to follow for your maintenance routine:
Daily Maintenance
Dry your sink on a regular basis so that water does not have the chance to leave spots.
Wipe down and dry your sink each time you use it.
Wipe away any residue, food, or waste you see immediately.
Keep your sink empty until you wash dishes.
Preventative Maintenance
To keep your stainless steel sink in tiptop shape, it is important to deep clean on a consistent basis.
How often you do so will really rely on how often you use it and how many people use it. In other words, a single resident will not put a sink through as much use as a family of four or more.
Small households will likely be okay deep cleaning once a month. Large families may find it best to deep clean every one to two weeks.
When you notice the shine wearing away between cleanings, buff it with olive oil again. This is not a good idea if you have a huge build up of food and such, but if the sink is clean, you should be good.
If your sink seems to smell in between cleanings, grab a half of a lemon and rub it around your sink. Let the juice work for a minute or two. Rinse with warm or hot water, then thoroughly dry the sink.
---
General Tips
These additional tips will take your maintenance a step farther:
Never Leave Foreign Objects in the Sink
Leaving anything foreign in your sink for lengthy periods can trap water, harbor bacteria, encourage rust, and cause discoloration. This includes dish mats, sponges, towels, cleaning pads, and dishes.
Basically, keeping your sink empty when not in use is important in keeping it healthy and clean. Do not even leave your dish soap bottle or dispenser on the sink.
Knives and other sharp objects can easily scratch and damage your sink. Therefore, you must take great care, even when washing.
It might be safer to place knives in another dish in your dishwater, and again on the rinse side. Try not to let them touch the sides or bottom of the sink if at all possible.
Do Not Let Soap or Cleaners Dry Onto Your Sink
If you allow these things to dry, you are risking discoloration and possible damage to your stainless steel sink.
Always Clean in the Direction of the Grain
Just like shaving, cleaning and scrubbing, especially with sponges and scouring pads, should be done in the direction of the grain. Going any other way can cause unnecessary and unsightly scratches.
Forego Chemical Drain Cleaners
Any chemical has the potential to damage your stainless steel sink, so it stands to reason that avoiding these cleaners will help protect it.
Before rushing out to the store to purchase Drano or another chemical drain cleaner, try something less drastic first.
You can purchase a generic brand "snake" that you can stick in your drain to pull or push blockages. You can also use a wire hanger for the same purpose. Again, baking soda and vinegar can work wonders.
Shake some baking soda down into the drain, then pour some vinegar into it. Often, the bubbling reaction will loosen or push blockages away.
Try leaving it for at least 15 minutes, but longer if you can. Then, rinse with warm or hot water.
If all else fails and you absolutely must buy a chemical drain cleaner, be sure you wear gloves and use a funnel to make sure it gets nowhere but into the drain. If it does, wipe it with a damp cloth immediately so it does not have time to damage your sink.
Pay Attention to the Cleaners You Purchase
Do not use a chemical cleanser that is not specified to be safe on stainless steel. If you are unsure, you can always contact the cleaner's manufacturer.
---
Cleaning Supplies to Keep Stocked for Easy Maintenance
Natural Cleaning Items
Lemons
Olive Oil
Lint-Free Cloths
Gentle Sponges
Baking Soda
Distilled White Vinegar
3% Hydrogen Peroxide
Spray Bottles
Soft Cleaning Cloths
Towels
Old Toothbrush for Hard to Reach Spots
If you choose to use store bought cleaners, you need
Your Favorite Cleaner
Soft Sponges
A Spot Free Rinse
A Buffing Cream
Towels
Old Toothbrush for Hard to Reach Spots
---
It should be evident that effective sink maintenance is an essential part of having a beautiful and functional sink.
As the kitchen is the heart of most homes, a sink full of grime, germs, and water spots can be discouraging and uninviting. Cleaning and shining your sink is important to the beauty of your whole kitchen.
---
Kitchen Sink Related More Articles: